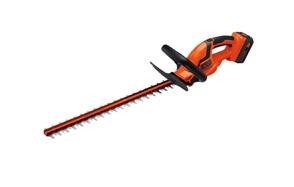 BLACK+DECKER LHT2436 Cordless Hedge Trimmer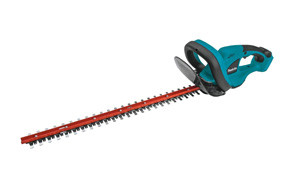 Makita XHU02Z 18V LXT Hedge Trimmer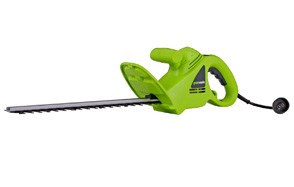 Greenworks 18-Inch 2.7 Amp Corded Hedge Trimmer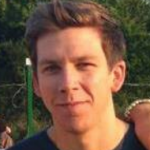 A well-kept hedge is an essential part of a beautiful garden. It can turn even the scruffiest patch of land into something that would rival the Garden of Eden. You'll be the envy of the neighborhood. But first, you need to choose the best hedge trimmer. It's not just a matter of buying the cheapest option, there are loads of things to consider.
Trimming a hedge can be an exhausting job, so you need to find a trimmer that suits you. You don't want a heavy-duty, gas hedge trimmer for small bushes. Equally, you don't want a cheap electric hedge trimmer if you've got a long hedgerow to get through. Also, if you buy an electric hedge trimmer you need to plug them into a socket, so you might need to buy a power extension. Fortunately, we've found the eleven best hedge trimmers and also written a buying guide and FAQ section underneath, to answer any hedge trimmer questions you might have.
The Best Hedge Trimmer
Hedge Trimmer Buying Guide & FAQ
Buying hedge trimmers are a big deal. Careful consideration must, therefore, be made before deciding on which product to purchase. Below are a few things to consider before buying a trimmer.
How We Chose Our Selection of Hedge Trimmers
Brand - Potential buyers will be spoilt for choice on the hedge trimmer market based on brand alone. But we consider only the best brands with the best designs and quality output. The brands we consider are known for their good output.
Price - On a competitive market, prices will vary. We believe that it is possible to get top quality trimmers at prices that would seem like a bargain for their output.
Reviews - Reviews are the internet's answer to the "word-of-mouth" method of recommendation. A product is only as good as the feedback it receives. We considered the feedback of people who have truly used these hedge trimmers to be sure the products deliver on their promises.

Features To Look For In Hedge Trimmers
Here are a few features to look out for when purchasing a Hedge Trimmer:
Power - The power of a hedge trimmer is usually determined by finding out whether it uses a cord, or is cordless. If it uses a cord, there is the assurance of constant power. Cordless hedge trimmers will need to be recharged periodically.
Length of Blade - The length of the blade is a good indicator of potential performance.
Blade Types - The type of blade a hedge trimmer has, also tells what kind of quality to expect. A dual-action blade will almost always outperform a single blade model hedge trimmer.
Weight - Because hedge trimmers are used for periods at a time (owing to the nature of the task) the weight of the hedge trimmer is to be considered. A lighter trimmer will cause less stress to the arms and shoulders than a heavier one.
Ease of Use - Hedge trimmers that are designed for easy handling allow for better maneuvering.
Maintenance - Some hedge trimmers are designed to allow for easy replacement of parts when a fault arises.
Safety - The design of the trimmer must consider the safety of the user.

Types of Hedge Trimmers
Corded – Electric hedge trimmers are often powered from an electrical socket in the wall. That means you have to plug it in and be very careful not to cut through the wire. If you do choose a corded hedge trimmer, make sure it comes with a residual current device to stop it from electrocuting you if you cut through the wire.
Cordless – Cordless hedge trimmers are more portable and easier to use than their corded counterparts, but you have to remember to charge them up before you use them. Sometimes they aren't as powerful either, but modern batteries can often give them plenty of power to cut even the thickest branches.
Hedge Trimmer FAQ
Q: What does a hedge trimmer do?
A: A hedge trimmer is used to prune or cut hedges and bushes.
Q: Are hedge trimmers dangerous?
A: Because of their sharp nature, hedge trimmer blades are rather dangerous. The operator's manual should be carefully read and followed before use.
Q: What is the difference between a hedge trimmer and a hedge cutter?
A: Because they do the same thing, there is no difference between a hedge trimmer and a hedge cutter – they are essentially the same instrument.