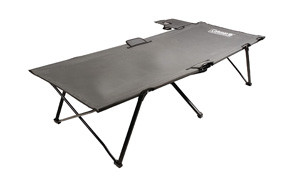 Coleman 80×32 Pack-Away Cot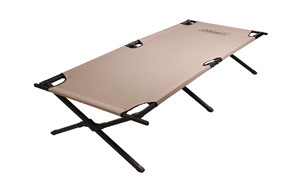 Coleman Trailhead II Cot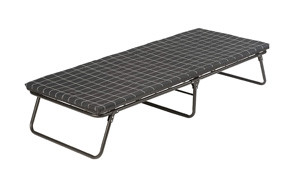 Coleman Comfortsmart Deluxe Cot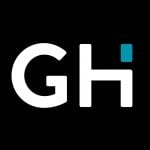 The camping cot is a type of collapsible camping bed that can really help enhance the comfort in many camping situations. No one in their right mind, however, is going to carry a camping cot all the way up a mountain which means they are primarily designed for more recreational camping done in family friendly campsites, National Parks and summer camps to name a few places. The thing that makes the camping cot possible is the metal frame which unfolds to create a platform for sleeping. Typically some form of strong fabric is used to serve as a base on which to put memory foam mattress with a sleeping bag on top of that. In many cases however people prefer to forego the foam or air mattress. Some will also forego the sleeping bag and use standard blankets / vests and a pillow.
That said, there are a lot of sleeping cots for adults on the market and finding the best one for you can be a bit of a chore. That's why we're here. We've sifted through the camping cot landscape and determined the 10 best camping cots; one of which is sure to be right for your next camping holiday.
The Best Camping Cot
Camping Cot Buyers Guide and FAQ
Below we'll look at some of the things you'll want to keep in mind when shopping for a new camping cot.

Q: Inflatable Mattress Vs Folding Camping Cot?
A: There's no way to overstate how important a good night's sleep (check out our sleep pad guide) is to your ability to enjoy yourself in the outdoors and there are plenty of opinions as to whether the inflatable mattress or the folding camping cot is the best way to achieve that good night's sleep. Let's look at the pros and cons of each:
Inflatable Mattress: Pros
Longevity - Because there are no moving parts other than the valve or valves on an inflatable mattress there aren't a lot of things that can go wrong. Basically if your inflatable mattress is made of high quality materials by a reputable manufacturer it should last for years.
Affordability - Air mattresses, while often very sophisticated, nonetheless require less engineering/design time and materials to construct than a first class camping cot. Fewer materials and design time equals lower price.
Portability - The inflatable mattress can be taken with you just about anywhere from the family campground to the highest mountain.
Inflatable Mattress: Cons
Tendency To Leak - Even the best inflatable mattress will sometimes incur a tiny puncture that will cause it to slowly deflate. Valve problems can also cause air to leak from the mattress leading to a very uncomfortable night.
Have To Be Blown Up - While there are a few self-inflating mattresses out there that don't require your intervention, most will need some help from you to either fill completely or to find the right pressure. If you're in a hurry blowing up the mattress manually may be the only choice.
Tendency To "Bottom Out" - If the inflatable mattress you're lying on is relatively thin and the air inside is not compartmentalized you'll likely wind up with some body parts like the hips coming in direct contact with the ground as the air is pushed to the side.

Camping Cot: Pros
No Bottoming Out - While your hips and other body parts will often touch the ground with an air mattress that will never happen with a camping cot. For larger folks this is a real problem and eliminating it by using a camping cot can substantially improve their outdoor experience.
Versatility - Camping cots often come with add-ons that can really ramp up the quality of your experience. These extras include pockets, built in table, drink holders even the ability to attach your camping cot to a backpacking tent.
Durability - While they have more moving parts than a simple inflatable mattress a high quality folding camp bed will nonetheless last for many years, even if you use it on a fairly regular basis.
Camping Cot: Cons
They Cost More - Most camping cots will cost more than a simple inflatable mattress. That's because they take more time to concept, design and manufacturer and more materials go into their construction. On the whole however the cost gap between the best camping cots and the best inflatable mattresses is not that large.
They're Not Very Portable - Because of their weight most camping cots are not designed to go with you to the summit. The best tent cot is ground level gear designed and built to be used in roadside campgrounds, when camping at the beach and when setting up the base camp for your elk hunt; as well as to be used at home as an emergency backup bed.
Q: Can Camping Cots Damage The Tent Floor?
A: They can but they don't have to. Many people use cots in their tent and protect the floor by covering the feet of the camping cot legs. Some use tennis balls for this purpose. Others will bring small pieces of carpeting with them and place those under the legs while others will cut off the bottom of plastic bottles (the thicker the better) and use those as "coasters" for the cot legs. Any of those solutions will provide excellent protection for the floor of your tent.
Q: What To Sleep In When Camping?
A: There are a couple of good reasons not to sleep naked when camping. The first is simple modesty and respect for others you're camping with (if you're camping with others). The second is that some warm, dry clothing can really take the edge off on a cold night in the outdoors. Whatever you do you shouldn't wear wet, sweaty or dirty clothes in the sleeping bag or when laying under blankets on a camping cot unless you want to risk hypothermia. Moisture will defeat the ability of the inflatable mattress, camping cot and sleeping bag to keep you warm. Change out of your hiking shoes, dry off and slip into some dry long underwear if you have any available, before climbing into your camping cot or bed. Also, if it's a particularly cold night bring warm socks, a warm wool hat and some gloves into the bag with you in case you need them.

Conclusion
The best camping bed is not always the most expensive or the heaviest or the most radical looking. It's the one that combines practical features with durability and a reasonable price. We hope you found the above information useful and that it helps you select the most comfortable camping cot for your next outdoor adventure. Don't forget to bookmark us and stop back regularly for more insightful product review guides from Gearhungry.