Best Sleeping Pads For Camping & Backpacking In 2022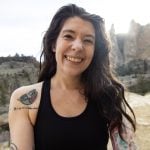 This product guide was written by Tuesday Kirby Kahl
Last Updated
June 1, 2022
Tuesday Kirby Kahl
Tuesday Kirby Kahl is a contributor at Gear Hungry. Her fierce love for the outdoors fuels everything she does. Her professional pursuits include writing, creating art, and photography. These professional passions allow her the time to live life outside as a rock climber, skier, runner, backpacker, paddle boarder, swimmer, and explorer. When Kirby is indoors, she enjoys tea, whisky, old films, cooking, and baking. Her product testing and feedback have shaped the design of everything from climbing shoes to candles.
GearHungry may earn a small commission from affiliate links in this article.
Learn more
Camping and backpacking are great fun but come with their own set of challenges like making sure you bring enough of the right kind of food, making sure your camping lantern is up to the task, and making sure you're prepared for inclement weather. What most campers don't give a lot of thought to, however, is the importance of getting a good night's sleep. They assume their sleeping bag will take care of that but the fact is that without a first-class sleeping pad under the bag, you're in for long nights of tossing and turning.
A good night's sleep can be the difference between obtaining your objective or having to bail before the summit. A sleeping pad also helps insulate you from the cold ground and can keep you much warmer than a sleeping bag or bivy bag alone can. To help you find the best option for your next outdoor adventure, we've rounded up some of the best sleeping pads out there.
The Best Sleeping Pad
Stoic Double Cloud Camp Bed
While this product got chosen as Editor's Choice, this one really should be labeled "Editor's Partner's Choice". Given that this is a double pad, I had my boyfriend test this one with me. First, he borrowed it for a guy's climbing trip in Leavenworth where he came back raving about the sleep he got on it. He said I should either replace my current bed in my van with this one or simply put it on top. That's some high praise. So I loaded it on top of my van bed and we tested it during a weekend camping trip with friends and we both got some of the best sleep we've ever gotten in the van and it provided ample space for both of us. This rectangular pad was a hair larger than the current bed in my Transit Connect but it fit fine.
I particularly love that this is a self-inflating pad, meaning all I have to do is turn a valve. One of my complaints with some sleeping pads is the squeaky noises that happen when you move as you sleep or lay on the pad, but the soft stretchy fabric didn't irritate me much at all, and the foam padding helped. This durable pad was quite comfortable for me as a side sleeper. Overall, I'm a fan of this pad. It's perfect for couples and works really well for car camping and short hikes in sites but even with the stuff sack, this is not an ideal option for backpacking or sites that require any amount of trekking.
Key Features:
8.4 R-value
Stretchy fabric with water-resistant coating
Durable bottom reinforcement
Ample space for two people
Self-inflating
Foam padding
Specification:
Brand

Stoic

Model

Double Cloud Camp Bed

Weight

10 Pounds
Fantastic R-value, a true 4-season air pad
Great for car camping
Super-comfortable
Affordable
Not suitable for backpacking
Big Agnes Rapide SL Insulated Pad
When you start to dive into this pad, it's clear Big Agnes is detail-oriented and ensured every centimeter of the Rapide SL Insulated Pad was designed for comfort and extra warmth. Let's go top to bottom. Durable nylon ripstop is tear-resistant and provides exceptional durability, even on rough ground. The offset I-Beam construction creates a cradle that keeps you in the center of your pad and from rolling off of it. The quilted top is impeccably soft and all materials are quieter than most on the market so you won't be awoken by those obnoxious squeaks–one of my biggest pet peeves.
I hadn't used an inflation sack before as I usually stick to folding pads or self-inflating options but I found it easy to use and had this set up in no time. This model has one of the highest R-value ratings of the pads on our list at 4.2 (but Stoic Double Cloud Camp Bed has a whopping 8.4 R-value). This means this is a truly three-season tent and maybe a four-season if you have mild winters. The additional Primaloft insulation and up to 4.25 inches of loft keep you much higher off the floor and much warmer than many other pads on the market which offer half the loft. There's a huge variety in sizing, meaning you can snag a pad for your child, yourself or for cuddles with your partner, and even to cover your entire tent floor. I've had several Big Agnes products and have yet to destroy them, which is a big deal and the Rapide SL Insulated Pad is another exceptional product from a dependable brand.
Key Features:
R-value of 4.2
Additional Primaloft insulation
Included inflation sack to save breath
TPU lamination for durability
Durable nylon ripstop
Quilted top
I-Beam construction for durability
Specification:
Brand

Big Agnes

Model

Rapide SL Insulated Pad

Weight

18-40 Ounces depending on size
Excellent R-value, ideal for three seasons
Plenty of size options
Up top 4.25 inches of loft
May not be ideal for deep winter camping
Wilderness Technology Reflective Zag Pad
Comparable to the classic Therm-a-Rest, the Wilderness Technology Reflective Zag Pad is a lightweight, durable and cost-effective folding sleeping pad that's great as a liner or stand-alone pad. While I have a thru-hiker friend who has taken this identical pad on the PCT and is currently on the CDT with it and swears it's comfortable on its own, I prefer this model as a supplemental pad. On bouldering trips, I usually sleep on my crashpads and use this light pad for extra comfort and warmth.
This pad features an r-value of 2.6, making it great for two or even three-season camping, and is quite durable. Rips or tears can be ripped off the pad with some ease or repaired quickly with duct tape. The closed-cell foam also won't absorb water and this pad can be carried on the exterior of a pack for ease.
Key Features:
R value of 2.6
Folds quickly and features two straps to keep it in place
Closed cell foam construction
Specification:
Brand

Wilderness Technologies

Model

Reflective Zag Pad

Weight

14 Ounces
Light and portable, great for backpacking
Easy to repair
Extremely durable
Budget-friendly
May not be thick enough for some users
Definitely not suitable for winter
Klymit Insulated Static V Sleeping Pad
This brand has succeeded in winning the hearts of millions of customers with its super-affordable products. It has debunked the claim that quality comes at a steep price, with the release of the Klymit Insulated Static V Sleeping Pad. This sleeping pad is constructed from 30-denier nylon, which is an impressive denier rating for a sleeping pad. Just in case you were wondering, the denier rating is a measurement of the durability and strength of a product made from nylon or polyester material. Since nylon fiber is stronger than polyester, it would make sense if it was slightly pricier. Surprisingly, that is not the case here. Klymit still managed to offer the Klymit Insulated Static V Sleeping Pad at a budget-friendly price.
To facilitate the folding and unfolding process, the sleeping pad is fitted with a nozzle. You just have to pull the nozzle to open and unfold the pad and then push to shut it. It takes less than half a minute to inflate the pad. Once you shut the nozzle, you will hear a "clasping" sound, which is an indication that it is closed and secure. When the Klymit Insulated Static V is unfolded, it measures about 72 x 23 x 2.5 inches, which is unarguably one of the largest sleeping pads you can find. In fact, if you are as tall as 6'4", you will still find the pad spacious enough. Since it's a large sleeping pad, you may be under the impression that the pad is very heavy. But that is not the case. It weighs only 1.5 pounds, making it quite portable and travel-friendly. Don't forget to also check out these handy blow-up tents, as well.
Key Features:
4.4 R-value
Constructed with a 30-denier nylon material
V-chamber design and synthetic insulation
Dimension: 72 x 23 x 2.5 inches
Weighs 1.5 pounds
Lifetime warranty
Specification:
Brand

Klymit

Model

06IVOR01CEU

Weight

1.6 Pounds
Lightweight and portable
Incredibly warm
Great for year-round adventures in all seasons
Larger V-shaped cells have the potential for larger leaks
Sleepingo Camping Sleeping Pad
The cushioning that a sleeping pad offers goes a long way to determine whether it will be comfortable or not. If you've used a lot of sleeping bags and pads in the past, you will probably agree that sleeping on poorly-padded ones can be quite uncomfortable. Sometimes you'll toss and turn all through the night in a bid to find a comfortable sleeping position. Thankfully, the Sleepingo Camping Sleeping Pad is equipped with foam that's a whopping 2 inches thick.
Sleepingo understands the rough nature of outdoor activities such as camping, mountain climbing, and hiking, so they decided to produce a sleeping pad that can withstand harsh weather conditions and stand the test of time. The Sleepingo Camping bed is fitted with ripstop nylon material that won't deform over time. Furthermore, the nylon material has a 20-denier rating, which makes it almost as strong as the Klymit Insulated Static V Sleeping Pad. Additionally, it is 100% water-resistant. So if you find yourself on rainy camping grounds, you don't have to worry about getting wet. If that's not enough, this comfortable pad comes with a cover that's also water-resistant. When it comes to size, the Sleepingo Camping Sleeping Pad does not disappoint. It measures 75 x 23 inches when unfolded. With such dimensions, you have enough space to sleep comfortably regardless of your size. On the flip side, if you fold the sleeping pad, it measures only 8 x 3.5 inches, making it quite a compact and portable piece. Plus, it can easily fit into any travel backpack for you to carry along on your hiking or camping trip. 
Key Features:
R-value of 2.1
Constructed with a 20-denier rating nylon material
2″ thick sleep support
Waterproof construction
Weighs 14 oz, packs down to the size of a water bottle
Lifetime warranty
Specification:
Brand

Sleepingo

Weight

14.4 Ounces
Packs down small
Weighs less than a pound
Great for backpacking
Not as durable as other models
Definitely not suitable for winter camping
WELLAX Ultralight Air Sleeping Pad
For many good reasons, the Wellax Ultralight Air Sleeping Pad is an excellent option when you are looking for a sleeping pad. To start with, it is super comfortable. Contrary to popular belief, it's hard to fall asleep after a hectic day of hiking and climbing. Your body will crave sleep, but the rough terrain can make sleeping practically impossible. To make you nice and comfortable, the Wellax Ultralight foam is nearly three inches thick. Even better, if you find yourself in a cold environment, the 2.1 insulation rating of this air pad will give you all the warmth you need to enjoy your sleep in late spring, summer and early fall.
Apart from comfort, the Wellax Ultralight Air Sleeping Pad is also very portable and compact. It weighs just over a pound, making it a lightweight sleeping pad that you can effortlessly carry on long-distance trips. And if you do not want to carry it in your backpack, you can simply attach it to the side of the backpack. For added convenience, you can fold the sleeping pad to a size of 10 x 3.5 inches when not in use. But when it's unfolded and inflated, it measures up to 78 x 24 inches. So, it can comfortably accommodate anyone, regardless of their height and it's wide enough to accommodate some movement throughout the night.
Key Features:
2.1 insulation rating
Weighs 1.01 pound
20-denier ripstop nylon and TPU pad
2 flat valves for faster inflation
Lightweight and compact
Specification:
Brand

WELLAX

Weight

1.08 Pounds
Extremely lightweight
Air sprung cells offer adjustability and conform to your body
Packs down small
A small leak or tear could leave you sleeping on rocks
Gear Doctors Self Inflating Camping Sleeping Pad
The Gear Doctors Self Inflating Camping Sleeping Pad is made with a 75-denier polyester foam that is non-allergenic. This is a great choice for people with sensitive skin – you can be confident that your skin won't react to the foam even when laying directly on the air pad. Additionally, you don't have to worry about the longevity of the sleeping pad because it is resistant to ultra-violet rays and water, all thanks to its 75-denier polyester fabric construction. In addition, it is well-cushioned with a 4.3 thermo-insulation foam rating to offer you a warm sleeping experience on those cold nights.
Even though the R-value rating of this foam is two times higher than many of the other options on the market, the Gear Doctors Self Inflating Camping Sleeping Pad still manages to come at a low price. The pad also takes less than 15 seconds to set it up – just have to turn the knob and then unfold the pad. And unlike most sleeping pads that require you to pump air in with your mouth or a portable ai, the Gear Doctors pad is self-Inflating. So once you turn the knob, air automatically fills the pores of the foam, inflating it. For a perfect night's sleep, make sure to also have a quality camping pillow.
Key Features:
4.3 r value
75-denier polyester fabric
Skin-friendly hypoallergenic outer coat
Self-inflating
Specification:
Brand

Gear Doctors

Weight

2.6 Pounds
Quick set up
Great comfort at a great price
Warm, great for three seasons
A bit heavy for backpacking
Doesn't pack down as small as other air pads
ECOTEK Outdoors Hybern8 Ultralight Inflatable Sleeping Pad
If you're looking for ultralight sleeping pads that are hammock-approved, the ECOTEK Outdoors Hybern8 Ultralight Inflatable Sleeping Pad is the perfect option. This air pad features air-sprung cells that contour to your body and the hammock to provide exceptional comfort and additional insulation. Weighing in at 1.13 pounds and packing small, this model makes an excellent backpacking sleeping pad too.
For cold weather or chilly nights, this lightweight pad features 2.5 inches of loft and an r-value of 2.2 for three-season warmth. However, on chilly nights you will certainly want a warm sleeping bag too. Back sleepers and side sleepers can use this pad and even if you wiggle in your sleep, as the 75 denier polyester blend is durable enough to take a few scratches against the rough ground. If you love hammock sleeping but want more support and insulation, we highly recommend this one.
Key Features:
R-value of 2.2
2.5″ of loft
Air sprung cells
Durable polyester blend exterior
Wear-resistant and weatherproof
Specification:
Brand

Ecotek

Weight

1.13 Pounds
Weight and packed size is perfect for backpacking
Perfect for hammocks or tents
Comes with a stuff sack
Needs to be inflated by mouth
Could be warmer
Therm-A-Rest Z Lite Sol Sleeping Pad
Therm-a-Rest has long been an industry leader in the field of outdoor sleeping comfort and their Z Lite Sol Mattress sleeping pad is yet another feather in their company cap. It features an innovative design with layers of foam of varying densities that ensure you're comfortable while never in direct contact with the ground. It's a warm sleeping pad as well thanks to the ThermaCapture coating applied to the exterior which allows it to more effectively capture and retain radiant heat. With an R-value of 2.6 and an affordable price, the Z Lite Sol earns its place on this list as the backpacker classic and one of our favorite lightweight sleeping pads.
The fact that this camping mattress folds up so nice and tight and weighs almost nothing, makes this an ideal sleeping pad for those intent on venturing deep into the heart of nature. There's a good reason this is a common pick for thru-hikers attempting the PCT, AT and CDT. The clever distribution of the foam core elements and the ThermaCapture coating means that whether you sleep like a rock or rock and roll in your sleep you'll be warm and comfy. There has been a lot of digital ink spilled over what a great supplemental sleeping pad this is (and it is) but we think that distracts from the fact that it stands tall on its own as one of the best backpacking sleeping pads out there. If your next adventure is taking you into the wilderness you owe it to yourself to have the Therma-Rest Z Lite sleeping pad in your backpacking backpack.
Key Features:
2.6 R-value
Reflective ThermaCapture coating
Closed cell foam pad
Great backpacking sleeping pad
Weighs 14 ounces, packs small
Specification:
Brand

Therm-a-Rest

Weight

0.41 Kilograms
Incredibly portable, perfect for backpacking
Can be carried on the exterior of your pack
No risk of punctures
A reliable, trusted brand
May not be comfortable or thick enough for some users
Not the warmest sleeping pad on our list
TETON Sports Outfitter Camp Pad
The TETON Sports Outfitter Camp Pad has a throwback look to it, but don't let that fool you. There's nothing throwback about the versatility and comfort of this awesome sleeping pad. The Sports Camp Pad is built for comfort and convenience from the built-in compression straps to the pillow pocket to the clip it has at each corner that allows you to secure the pad to just about any sort of cot. There are 2.5 inches of closed-cell foam to cradle you and a slew of other amenities designed to make sleep in the outdoors as comfortable as it is indoors.
The TETON Sports Camp Pad is a recreational closed-cell foam mat that hits all the right notes as far as being comfortable and versatile. It's definitely not made to be dragged up K2 as this comfortable pad weighs nine pounds, but it's perfect for outdoor holidays with the family, hunting trips, weekends at the shore, or out in the yard to catch some rays on that perfect summer afternoon. The pillow pocket is large enough to accommodate a regular-sized pillow or you can roll up your sweater and slide it into the pocket to create a less comfortable but perfectly useable elevated headrest. While this is one of the most expensive camping pads out there, it's also one of the best sleeping mats, and you'll likely conclude it's worth the stretch. Make sure to also browse our list of the best camping cots on the market.
Key Features:
R-value 6.2
Durable 300D polyester canvas
Closed cell foam mat
Rectangular shape
Compression straps for portability
Specification:
Brand

TETON Sports

Weight

4.08 Kilograms
One of the most comfortable sleeping pads
Minimal setup and takedown
Warmer than air pads
Heavy, so only ideal for car camping and guests
The PowerLix Sleeping Pad is the perfect companion you need for your nights atop mountains and under the stars. With a 2-inch thickness (or 5 cm), you get adequate space between you and the ground, ensuring cushioned comfort that will give you a great night's sleep and keep your bones and joints feeling tip-top and ready for tomorrow's 4 AM hike. The lightweight design is ideal for adventures, and unlike many other sleeping mats, it won't weigh you down. It's also ultra-comfortable, giving you the perfect snoozing experience.
The dual-action air valve makes this air pad easy to inflate and deflate, especially if you are in a hurry first thing in the morning to pack up camp. The thermal insulation will protect you from the cold ground too. The pump sack is also highly versatile and will serve a wide range of purposes, including a stuffable pillow and waterproof bag. There are several colors to choose from, and the 75D nylon ripstop exterior is durable enough for adventures both near and far. People often underestimate how crucial a good night's sleep and general comfort are when out in the wilderness, but with the PowerLix, you'll have one less thing to worry about.
Key Features:
1.6 R-value
2.5″ thickness
Dual-action air valve to inflate/deflate
Thermal insulation
Specification:
Brand

PowerLix

Weight

1.32 Pounds
Easy to set up and takedown
Stuff sack is versatile
Budget-friendly price
Potential for punctures
Not recommended for cold conditions
Why Trust Us
As avid outdoors people, our testing crew is well suited for testing outdoor gear and has been camping and using sleeping pads for many years. We come armed with the experience to find the best sleeping pads on the market.
Who This Is For
This guide is for anyone who needs a sleeping pad or air pad. We have a strong variety present in this guide and lots of brands represented so we think you'll find what you need on this list regardless of your budget. And if not, you'll be armed with the information to make an informed choice about your next sleeping pad.
How We Picked
Selecting the best sleeping pads started with our favorite tested sleeping pads and then reading hundreds of customer reviews. We ensured we had sleeping pads in each of the major categories: from closed-cell foam pad models to air pads, ultralight sleeping pads, pads for backpacking trips, car camping, winter camping options, and glamping pads. We found these models by reading verified reviews, scouring the internet for the best sleeping pads, and looking at bestsellers.
How We Tested
Testing sleeping pads required a few nights of sleep on each. My partner and I both tested these models by sleeping on them in either his car or my van, or both, and we tested each one tent camping as well. To really round things out, we also napped on them indoors in a more controlled environment. We looked for durability, comfort, ease of use, warmth and our general quality of sleep.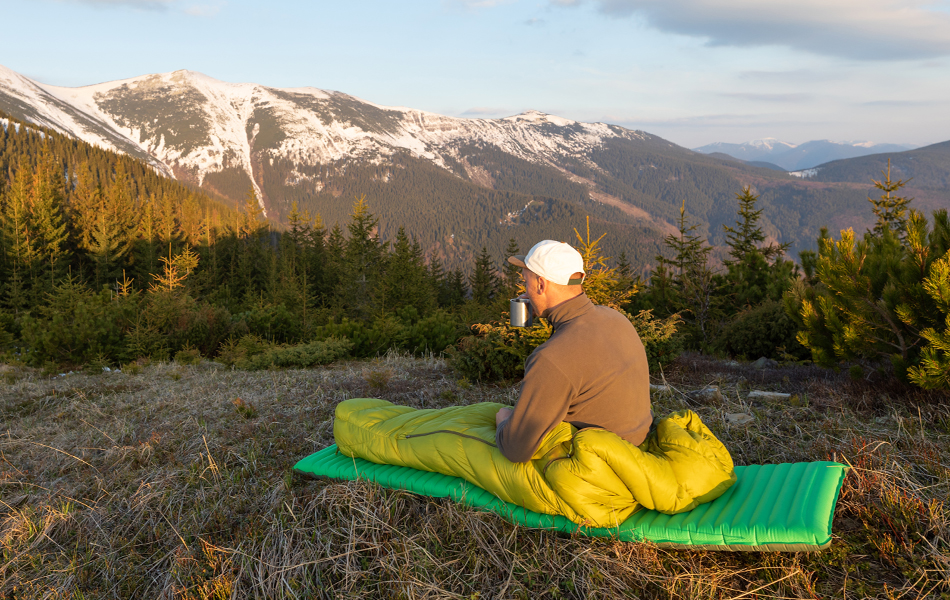 Features To Look For In Sleeping Pads
There are a number of things to consider if you're in the market for a sleeping pad and the best one for you will be determined by how you respond to these considerations.
Inflatable vs foam - The 2 main types of camping mattresses today are inflatable pads and foam pads. Each has its merits and will appeal to different types of outdoor enthusiasts. Because they rely strictly on air to provide loft and insulation, inflatable sleeping pads or air pads break down smaller and are typically quite a bit lighter than foam sleeping pads. Those things – carry size and weight – are important to serious mountaineers but not so important to casual campers (or folks who stay in your typical family-friendly campsites). For them, closed-cell foam sleeping pads provide a high degree of comfort and practicality and are a common-sense choice.
Thickness - The higher you're lifted off the ground the more comfortable you're going to be. Again, however, added thickness will often mean added weight, whether you have a foam or inflatable pad. Thicker pads also take longer to self-inflate – or manually inflate for that matter – and won't self-inflate all that well when you're high in the mountains where the air is thinner. So, as a general rule, hardcore mountaineers will want a thinner, lighter inflatable sleeping mat that can be easily inflated and doesn't require a lot of maintenance. While those in the beach campground have the luxury of having a sleeping pad that's as thick as they want it to be and which can be either open or closed-cell foam or inflatable. Keep in mind that your weight will cause the pad to compress overnight and bring you closer to the ground.
Insulation - This is something that comes into play if you're heading into the mountains for a week of elk hunting or if you're one of those outdoor types that love cold weather camping. If you mainly confine your outdoor activities to public campgrounds during warm weather, the R-value of your camping mat won't be such a big deal. But for cold weather fans, you'll want the highest R-value you can find as this will be essential to making sure you have the best night's sleep possible even when the mercury plummets. However, even in summer, temperatures can drop into the 50s and 60s in many places and a higher R-value can make a huge difference in your overall comfortability.
Size when fully deployed - Most sleeping pads today will accommodate people up to 6 feet tall and perhaps an inch or two larger. Beware though because there are a growing number of ¾ length pads on the market and you don't want to find out when you unroll the sleeping pad for camping in the tent that your legs are going to be hanging off the end. Some of us side sleepers may curl up through the night and a shorter pad may be fine but for back sleepers, it's a different ball game. We have both regular and tall pads on our list.
Ease of use - If your sleeping pad is problematic to use, you likely won't use it often. You don't want to make yourself lightheaded inflating your air pad, so self-inflating pads and closed-cell foam pads are common options. Of course, electric pumps can make inflatable pads easier to use, too.
Weight and pack size - Weight and packed size will matter most for backpacking trips, mountaineering and hike-in sites. If you're sleeping in your car or are able to drive to your campsite, this is less of a consideration. The best sleeping pads for backpackers will be closed-cell foam pads like a Therm-a-Rest or lightweight sleeping pads or air pads that are resistant to abrasion and don't take up much space in your pack. More leisurely campers can opt for a variety of models with few limitations.
Design and materials - Design and materials often come back to the factors listed above. Your desired r-value, weight and packed size, and preferred style tend to determine your design and materials.
Types Of Sleeping Pads
Air - Air pads come in a variety of shapes and sizes from streamlined options that make a great backpacking sleeping pad to fancy glamping pads. Inflatable pads can pack down the smallest and are adjustable based on how much air you let in or out, so it's easy to adjust for your comfort level. Most air pads are durable but one thing to watch for is that any small holes or leaks can cause air to be lost overnight and subsequently, all your padding, leaving you with a rough night of sleep. While air can be a great insulator, air pads often don't provide the same r-value as foam pads and may not be ideal for cold sleepers.
Self-inflating - Self-inflating pads use a valve and foam to inflate. As the valve is opened, the foam pad expands. Self-inflating pads often use open-cell foam and don't compress as easily as air pads. You can find pads in this category for backpacking trips, car camping trips and nearly everything in between. These pads have a variety of insulation levels but often provide extra warmth compared to air pads, and at times, depending on the level of insulation, can be slightly warmer than some closed-cell foam pads. If there are rips, tears or holes in a self-inflating pad, the foam can still provide some comfort until you're able to patch it with a repair kit.
Closed-cell foam - You've probably heard a backpacker friend talk about a Therm-a-Rest pad. Closed-cell foam pads are popular for thru-hiking and are some of the best backpacking sleeping pads. These pads can be carried outside a pack and are lightweight and cheap. A closed-cell foam pad offers consistent insulation but not as much padding as the other two categories. This type of insulated pad often folds up in a z-pattern and isn't as comfortable. The plus side, other than the carry method and cost-benefit, is that there are no worries about punctures or holes with this durable pad.
5 Tips To Help Get A Great Night's Sleep When Camping
Here are 5 tips for getting a good night's sleep in the great outdoors.
Get the right sleeping pad - When there are so many outstanding sleeping pads on the market there's no excuse for heading into the wild without one. Make sure you use the above information to pick the right camping mattress for your adventure and you'll be well on your way to a great night's sleep. Consider your most common activities, whether you are a cold sleeper or warm sleeper, side sleeper or back sleeper and your budget before deciding on a pad. You may even want a double pad if you have a partner.
Make sure the tent is level - There are few things worse than constantly rolling or sliding toward one side of the tent because you pitched it on uneven ground. Take a little while longer and find a spot that has enough level ground to at least accommodate your bag and sleeping pad. You'll be glad you did.
Make sure you have a temperature-appropriate bag - Winter camping with a summer bag will be a miserable experience no matter how comfy the sleeping pad might be, and it could even become dangerous. Likewise, if you're using an extreme bag in the summer, you're going to sweat your way through the night as it traps body heat. Many folks have multiple bags for varying temperatures or you can look at options like the Big Agnes system bags.
Use a ground cloth - A lot of novice backpackers neglect to bring a waterproof ground cloth into the woods with them to lay under the tent. Huge mistake. The ground cloth will help reduce heat loss when the ground is cold and prevent your camping mat and bag from soaking up moisture if the ground is wet.
Make sure you wear yourself out - One of the best ways to ensure a good night's sleep in the wild is to push yourself during the day (instead of sitting around in that comfy camping chair, drinking coffee) so that when you lay down you fall asleep as quickly as possible. You don't have to over-exert yourself but being active by hiking, swimming, climbing or canoeing will pay off when you lay down.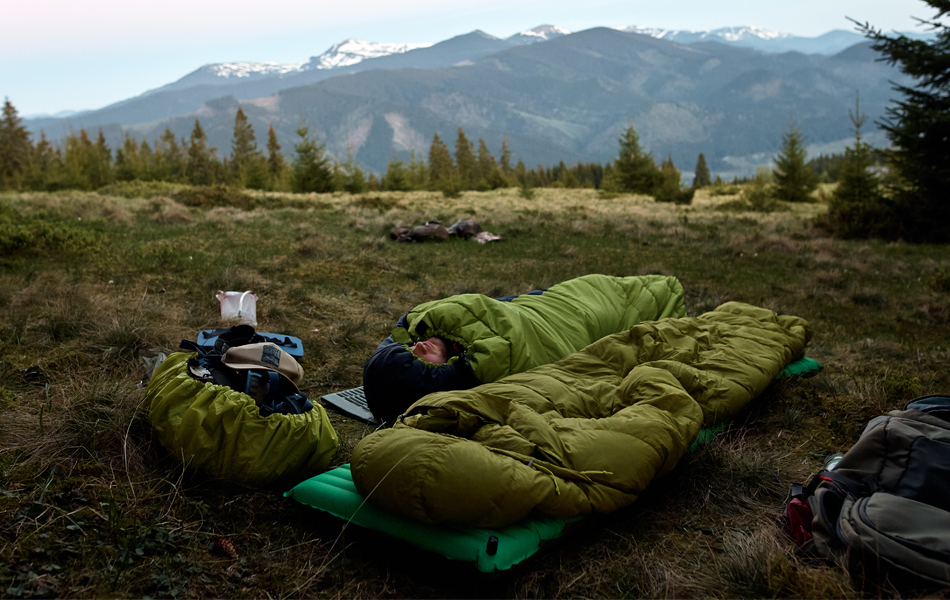 Sleeping Pad FAQ
Q: How do self-inflating sleeping pads work?
A: Self-Inflating pads work by allowing airflow which helps expand open-celled foam. When it's time to put the pad away, you can compress the pad to remove the air and place it in its stuff or pump sack.
Q: What does the r-value mean for sleeping pads?
A: R-value is how well an object resists heat transfer, or in easier terms, how insulated or warm it keeps you. Sleeping pads provide a barrier between your body and the ground, preventing your body heat from escaping and keeping you warm. R-value doesn't necessarily correlate to a particular temperature and is a stand-alone scale. A higher r-value means more insulation and a warm pad. 1-7 is a normal r-value range but some modern fancy pads inch towards double digits.
Sources:
Guide To Sleeping Mats - Camping In The Forest
How To Choose Sleeping Pads - REI Co-Op
Sign Up Now
GET THE VERY BEST OF GEARHUNGRY STRAIGHT TO YOUR INBOX