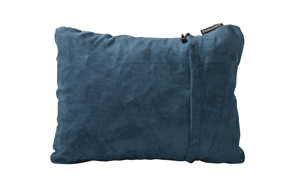 Therm-a-Rest Compressible Travel Camping Pillow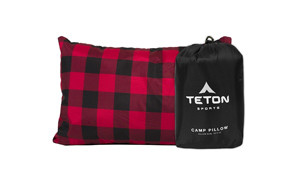 Teton Sports Camping Pillow in Plaid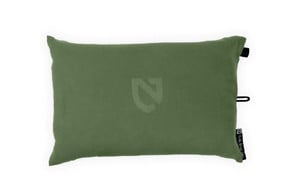 Nemo Equipment Fillo Pillow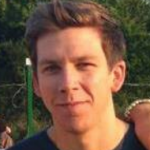 The best camping pillow models on the world are on this list, tested (this one was really fun to test), and rank among hundreds of different brands. Basically, we really like these pillows, and need you to understand why they're so important for camping, travel, and even having a spare in the back of the car. Everything from comfort, size, durability, and how to clean them is all coming up, right after the top nine camping pillows and their main features.
The Best Camping Pillow
Camping Pillow Buying Guide and FAQ
Pillows - they seem simple, but in reality, there's a lot that goes into them. This is how we came to our deliberations, broken down into each category. We'll also answer a few of your burning questions regarding camping pillows, and what to do with them.

Q: What to Consider When Purchasing a Camping Pillow?
A: Weight - You're already packing a bunch of stuff with you on your trip. Tents, mess packs, additional clothing; the list goes on and on. The weight of your pillow shouldn't be an issue. There are some on this list that are less than two ounces in weight, going up to about nine ounces. Either way, they're lightweight, but each ounce counts when it's hanging on your back.
Size - Not just for storage (more on that later), but for comfort. A tiny corner pillow isn't going to support you, it's not going to be comfortable. The total dimensions are direct reflections into how much this pillow is going to support and comfort you throughout your trip.
Shape - May not seem like a big deal, but it's all about how you sleep. If you roll a lot in your sleep, you may want to opt for an ergonomic design to help keep your head in the right spot throughout the night. For some, the simple rectangle is enough. It's all about preference, but it's still a considering factor.
Compressibility - You're going camping; things extend, inflate, and become larger than life when they've been set up. If your pillow is deflatable, it's going to have a predefined size. If it's not, you'll have to know how plush it is and how tightly you can compress them for space reasons.
Comfort - I mean, what's the point of a pillow if it's not going to be comfortable? You'd might as well be sleeping on the ground. We're not fans of ears-on-vinyl camping, and the puddles of sweat that it produces. The material is going to come into play here.
Support - Support is the key factor to furniture in general, especially your pillow. Many folks think that the comfort of your pillow, or the lack thereof, is the reason for neck pain or minor irritation in the morning. It's all about support; you're using your body's weight against you if your head and neck aren't positioned right during your sleep.
Durability - Most camping and travel pillows are going to be good for a lifetime. Thanks to modern materials like ripstop and ultra strong inflatable components, these pillows shouldn't cop-out on you anytime soon. So long as you're not beating them to death, you'll be okay.

Q: Why do you Need a Camping Pillow?
A: Do you like sleeping on the dirt? I know I don't. Apart from the obvious, you get the benefits of various materials (depending on your pick) that absorb sweat without becoming saturated. If you're the type of guy to bring a sleeping bag, you can immediately relate to that unfortunate slicked feeling on the back of your neck in the morning. Yeah, we don't like that either. Camping pillows provide you with a lot of comfort for such a little package.
You also need support. Sleeping flat on the cold, hard ground may be good for your spine, if you're sporting a crappy mattress at home, but your neck needs to be supported at all times during your sleep. Otherwise, you're going to wake up sore, fatigues, or possible even with a back-of-the-head headache from tendon restriction during sleep.
Q: How do You Wash a Camping Pillow?
A: If it doesn't say that it's machine washable, you're going to have to get your hands dirty. Roll up your sleeves, and turn the faucet hose on lukewarm. Spray, drain the water from the pillow's primary material, and leave it out to dry before either packing it up, or deflating it to pack up. They're some of the most simplistic things to maintain, and add major comfort to your trip.
Q: Are Camping Pillows and Travel Pillows the Same?
A: For the most part, they are interchangeable. Most people will bring travel pillows on train rides, flights, or extended car trips as either the driver or passenger. Travel pillows are traditionally smaller, since you're not going to be sleeping with them (most of the time). You can use a camping pillow as a travel pillow, but not vice versa.