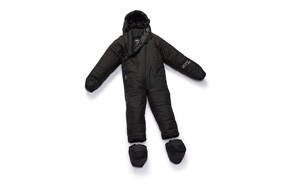 Selk'bag Adult Lite 5G Wearable Sleeping Bag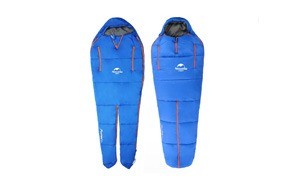 OUTERDO CampingSleeping Bag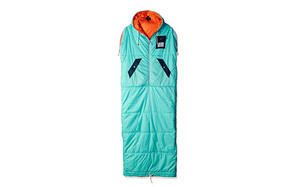 Poler Men's Classic Napsack Wearable Sleeping Bag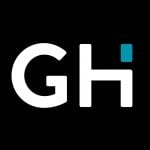 As the name suggests the wearable sleeping bag is a combination down coat and standard sleeping bag that allows you to move about the campsite in cozy comfort. Like any standard sleeping bag it packs away into a stuff sack when you're not using it. Although you're likely to wind up using it a lot more than you imagine. Below we present our choices for the 8 best wearable sleeping bags on the market today.
The Best Wearable Sleeping Bag
Wearable Sleeping Bag Buying Guide & FAQs
What to Consider When Buying a Wearable Sleeping Bag
While selecting the right wearable sleeping bag isn't like choosing a bag for your Everest expedition the qualities you're looking at are essentially the same: temperature rating, size, comfort, durability, waterproof capability and to a lesser degree, weight. The one area where wearable bag considerations will diverge significantly from extreme bag considerations is in mobility. Here's a quick rundown of the various considerations.
Temperature rating - Due to the nature of their mission the design of the wearable bag is going to be limited in how effective it will be at lower temps. Almost all are 3 season bags and most have an effective rating of around 40 Fahrenheit, with some able to handle slightly colder temps. In general though these are recreational bags and should be thought of that way. For extreme mountaineering you'll want something more traditional.
Size - When it comes to the walking sleeping bag sizing is a slightly different animal than it is with traditional bags. That said you'll want one big enough to accommodate you comfortably from head to foot once you are fully enveloped by the bag. However, you don't want the bag to be so big you're flopping around inside or so small you feel the hood pulling down on your head while you're trying to sleep. Keep in mind too that size can sometimes differ from manufacturer to manufacturer so it might be worth your while to peruse customer comments to see what different people say about the sizing of a particular bag.
Comfort - Making sure you buy the right size bag is vital to ensuring comfort. But there are other things to look for as well. Are there detachable booties? Are there draft tubes that minimize air infiltration? Are the zippers two way and do they seal effectively, or are they lose and drafty? Can you get your arms in and out of the bag easily? Is the shell at least water resistant even if it's not entirely waterproof? Is the bag comfortable when you're sitting? What about when you're walking?
Weight - When you're heading into the wilderness on foot you need to be aware of every ounce you're going to sling on your back. So if you intend to pack one of these bags away in your backpack for a long hiking excursion or hunting expedition you're going to want the lightest bag you can find that will also meet your temperature requirements. If you're like most people however, your wearable bag is never going to leave the roadside campground or state park. As such the weight of the bag is not really a primary consideration. The same goes for compression as well. If you're taking the bag on a trek you'll want to be sure it stuffs down into a tight little bundle. If you're not going to do serious hiking with it how big or small the stuff sack is doesn't matter all that much.
Mobility - This is the one area where the wearable bag is unique. You buy a bag like this specifically because it will allow you to get around in the campsite while you're wearing it. Therefore you don't want one that's going to impinge on your movements. Standing, walking and sitting should be hassle free experiences. If the bag is going to restrict your movements it's more than a little self-defeating.

Wearable Sleeping Bag FAQs
Q: Why Are Wearable Sleeping Bags A Good Choice For You?
A: A wearable sleepsuit like this is designed to optimize your recreational camping experience. The concept and design is based on years of input from ordinary campers who have stated over and over again what a drag it is to have to leave the comfort of the sleeping bag behind to make a trip to the outhouse or just to sit at the picnic table late in the evening and enjoy a cup of tea. At the end of the day it's all about versatility so the wearable sleeping bag is part coat, part bag and the best do an admirable job fulfilling both functions.
Q: Are Wearable Sleeping Bags Machine Washable?
A: Many a wearable sleeping bag is indeed machine washable. But just because some can be washed in the machine doesn't mean it should be washed in the machine after every use. In general, even if you use the bag regularly, you shouldn't wash it more than once a year. If you do your insulation will lose loft and be rendered fairly useless. If you are not sold on the idea of washing your wearable bag yourself there are a number of bag cleaning services available via the Internet that will clean your bag for you.