Best Bubble Baths of 2022: Sudsy Soaking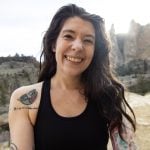 This product guide was written by Tuesday Kirby Kahl
Last Updated
January 26, 2021
Tuesday Kirby Kahl
Tuesday Kirby Kahl is a contributor at Gear Hungry. Her fierce love for the outdoors fuels everything she does. Her professional pursuits include writing, creating art, and photography. These professional passions allow her the time to live life outside as a rock climber, skier, runner, backpacker, paddle boarder, swimmer, and explorer. When Kirby is indoors, she enjoys tea, whisky, old films, cooking, and baking. Her product testing and feedback have shaped the design of everything from climbing shoes to candles.
GearHungry may earn a small commission from affiliate links in this article.
Learn more
Bubble baths aren't just for kiddos. Science shows that bubble baths are excellent for soothing sore muscles, making them a perfect choice for athletes and after long, physical days. Bubble baths also improve blood circulation, elevate your mood and help you sleep better. We've conducted hours of research, read through numerous customer reviews, and performed a little in-house testing to bring you this list of the best bubble baths on offer.
If you're unsure of where to begin, we recommend starting with our Buying Guide and FAQs below.  Don't be afraid to try a few different options — or to try them out with someone special (and maybe a nice bottle of bubbly). So, grab a bottle, dive in, and soak it up!
The Best Bubble Bath
Dr. Teal's Lavender Foaming Bubble Bath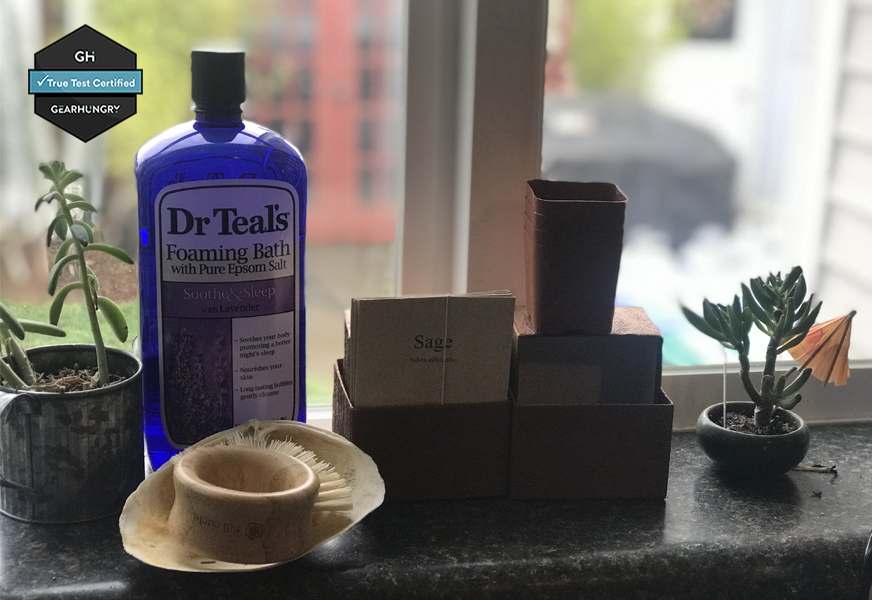 If you're a serious bubble bather and need to stock up, Dr. Teal's Lavender Foaming Bath 3 Count is the way to go. Thirty-four ounces of bubble goodness per bottle will fuel bubble baths for your whole family, and long-lasting bubbles mean you can soak as long as you need.
When trying this product, I found three to four capfuls to be the perfect amount for a regular-sized bathtub. When I hopped out at the 30-minute mark, I still had plenty of bubbles left, too. A little of this relaxing bubble bath goes a long way!
This bubble bath is a double whammy. Not only is the lavender excellent for sleep, but athletes will also rejoice with the added Epsom salts that soothe and support tired muscles. This is the best bubble bath for evening baths to help you unwind from a busy, tiring day. I love using it after long days of hiking and rock climbing or even days spent standing over an easel in my art studio. Read the in-depth review here.
Key Features:
34 ounces per bottle
Three bottle pack
Pure Epsom salts
Lavender scent
Great for sore muscles
Specification:
Brand

Dr Teal's

Model

GP-BUTTY16802

Weight

2.6 Pounds
Philosophy Amazing Grace Shampoo, Shower Gel & Bubble Bath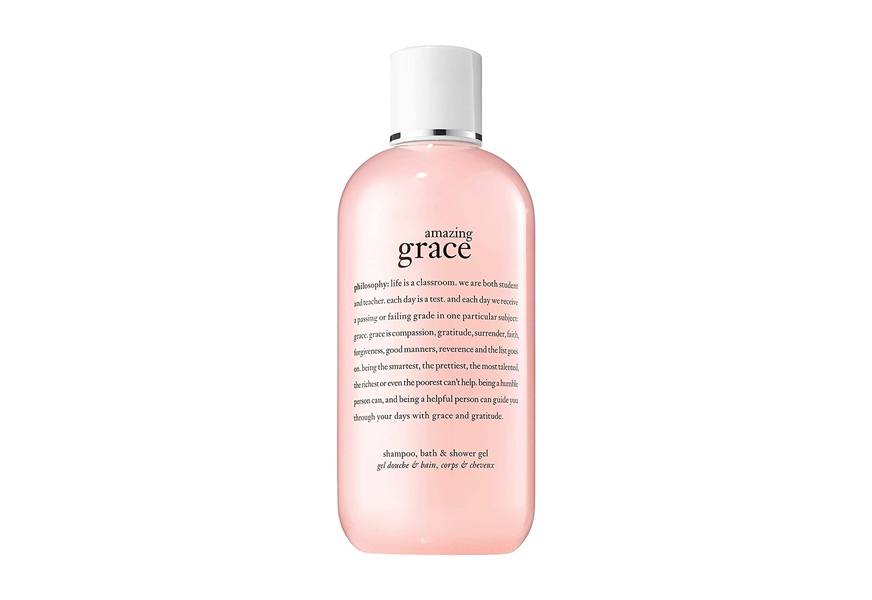 If you enjoy the convenience of multi-use products and would like to avoid cluttering your shower caddy, consider Philosophy's Amazing Grace Shampoo, Shower Gel, and Bubble Bath. Philosophy has made quite a name for itself in the beauty world, and their signature Amazing Grace scent dazzles users with its notes of Muguet blossoms, musk, and bergamot. The soft floral scent has become somewhat iconic and particularly beloved.
Beyond the scent, this product also has multiple purposes. This concoction functions as a shower gel, shampoo, and bubble bath, so every part of you smells like the classic Amazing Grace scent. Hydrolyzed silk and oat oil leave the skin moisturized and soft whether you use it as a shower gel or bubble bath and makes an excellent choice for dry hair as a shampoo.
If you happen to have a dandruff problem, these amazing dandruff shampoos are guaranteed to help!
Key Features:
Signature Amazing Grace scent
Three in one product
Contains Hydrolyzed silk and oat oil
Specification:
Brand

Philosophy

Model

56001179001

Weight

1.21 pounds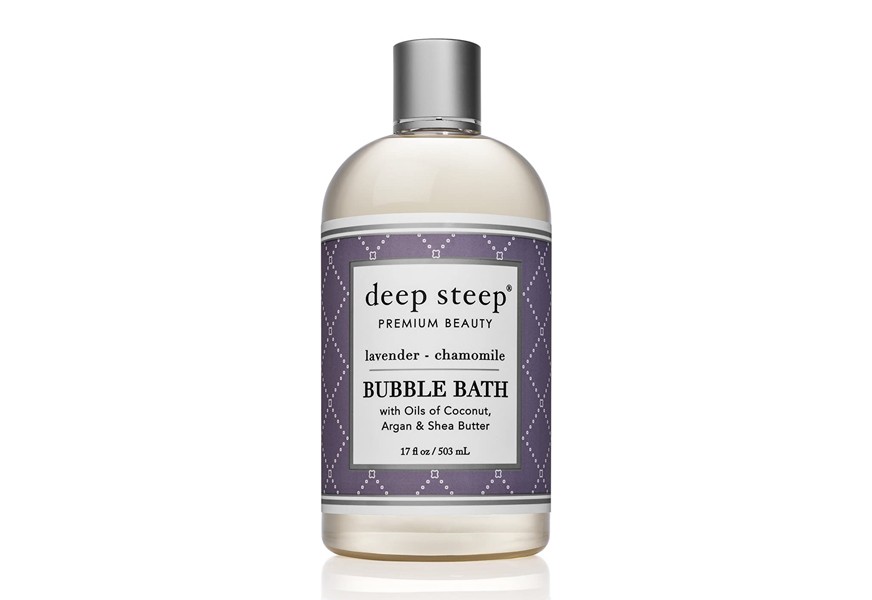 Finding natural bubble baths is a tricky feat; finding an organic bubble bath is even more challenging. The Deep Steep Bubble Bath is a relaxing bubble bath product that boasts plenty of organic ingredients like shea butter, coconut butter, aloe, and more. Additionally, it boasts more natural products and fewer chemicals than most other products on this list. 
This lavender-scented bubble bath is great for relaxing after a long, busy day. Lavender, chamomile, orange, and rosemary create an intoxicating blend that will immediately put you at ease and soothe sore muscles. Shea butter, cocoa butter, and argan oil will moisturize and nourish dry skin, and aloe vera makes this product suitable for sensitive skin.
For absolutely perfect skin, make sure to also use a quality body lotion.
Key Features:
Calming scent
Organic ingredients
Great for dry or sensitive skin
Paraben-free 
Specification:
Brand

Deep Steep

Model

SG_B071YNKT55_US

Weight

1.06 pounds
Alaffia EveryDay Shea Bubble Bath Lavender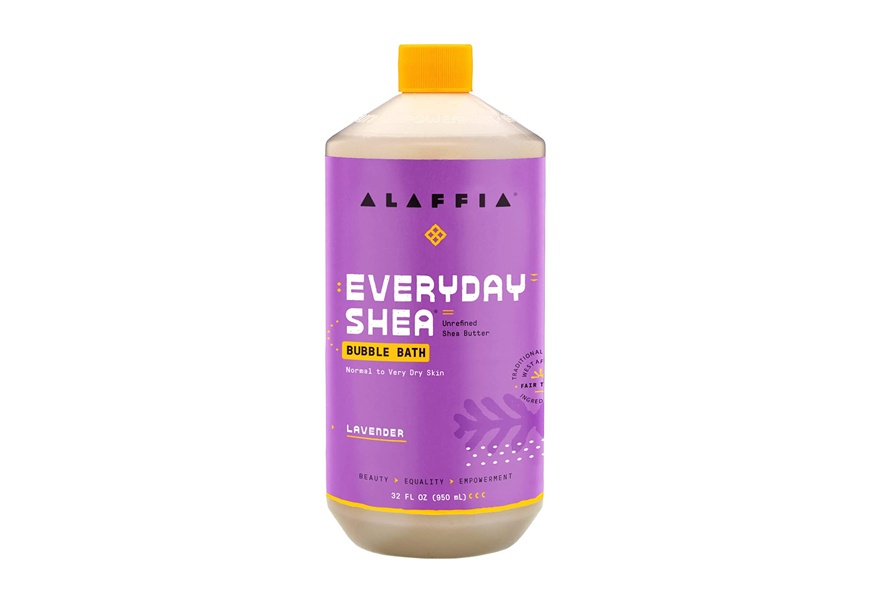 At times, fewer ingredients can be better. The Alaffia EveryDay Shea Bubble Bath excels not in spite but because of its simplicity. With just six ingredients, this product creates a decadent and moisturizing tub of bubbles that soothe dry skin and encourage relaxation. This bubble bath is excellent for relaxing bubble baths before bed. After your bath, as you drift into dreamland, your skin will be cradled by the moisturization from the raw shea butter, this product's namesake. 
Not only is this product great for your skin, affordable, and simple, but the company behind it also has a focus on sustainability and humanitarianism. Alaffia provides bicycles, glasses, school supplies, maternal care, and education support in West Africa. If purchasing from ethical companies is a focus of your buying habits, any product from Alaffia is likely a good fit for you.
For more must-have grooming products for men, take a look at our list of these amazing coffee scrubs everyone is buying right now.
Key Features:
Loaded with fair-trade raw shea butter
Sulfate and Paraben-free
Vegan
Specification:
Brand

Alaffia

Model

SG_B007200FW4_US

Weight

2 pounds
Babo Botanicals Calming 3-in-1 Bubble Bath
The Babo Botanicals Calming 3-in-1 Shampoo might say it's for babies and kids, but you can use this product too. This gentle formula is excellent for all skin types, especially sensitive and dry skin. If you have various folks in your home who need a multi-use product, Babo Botanicals is your answer. This product is a shampoo, body wash, and bubble bath, meaning you get some serious bang for your buck with this hypoallergenic bubble bath. 
The Babo Botanicals Shampoo is the only bubble bath product on our list with the PETA Statement of Assurance. It can display the bunny logo that ensures a cruelty-free product. Animal testing for beauty products is dwindling with a more informed consumer base and the rise of ethical buying patterns. 
Key Features:
Achieved PETA's Statement of Assurance
Paraben and sulfate-free
Organic ingredients
Specification:
Brand

Babo Botanicals

Weight

2.5 pounds
Amazon Brand – Solimo Lavender Bubble Bath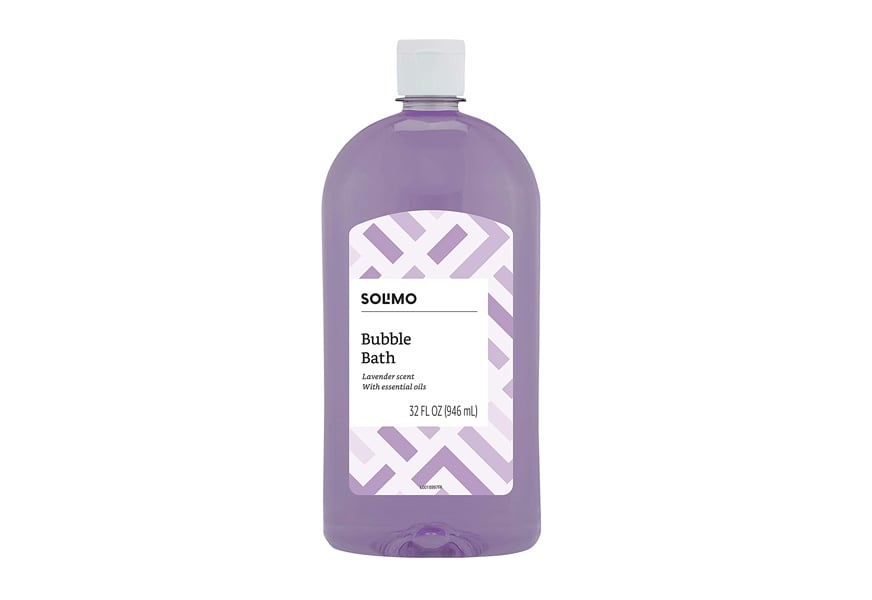 Affordability and simplicity are what you get with the Amazon Brand Solimo Lavender Bubble Bath. Thirty-two ounces of the product makes this one of the larger and more affordable products on our list. The ingredients are mostly either a soap or a color, meaning you'll have bubbles galore with this bubble bath for adults. One to two capfuls will give you plenty of bubbles and a lavender scent for relaxation. 
This product is not inherently gentle, and we recommend children and those with sensitive skin avoid this bubble bath. There isn't much in the ingredient list that would be moisturizing, so those with dry skin should also be cautious. If you want a strong scent and plenty of bubbles without any extra fuss, this is the product for you. 
Key Features:
Lavender Scent
32 ounces
Specification:
Brand

Solimo

Weight

2.1 pounds
L'Occitane Verveine Foaming Bath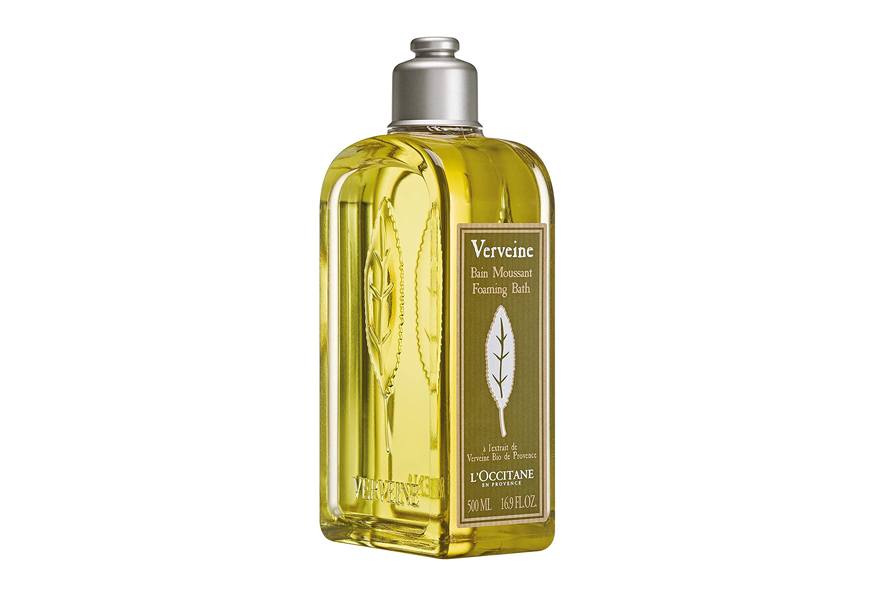 L'occitane is one of my favorite skincare companies. I've visited their stores in the USA and their Provence and Marseille stores in France and am a long-time user of their products. The L'Occitane Verveine Foaming Bath has a luxurious and uplifting lemon verbena scent. A coconut and palm oil foaming agent will leave your skin silky smooth, making this foam bath an excellent choice for dry skin. 
The light verbena scent might transport you to a field of verbena in Provence, France. Is there any better way to relax than that? We don't think so. Add a little bit of this concoction to your next bath, and get ready for a luxurious and uplifting experience.
For more fragrant products like this one, check out these solid colognes.
Key Features:
Verbena scented
16.9 ounces
Great for dry skin 
Specification:
Brand

L'Occitane

Model

15BA500VB7

Weight

1.4 pounds
Bath & Body Works Aromatherapy Luxury Bubble Bath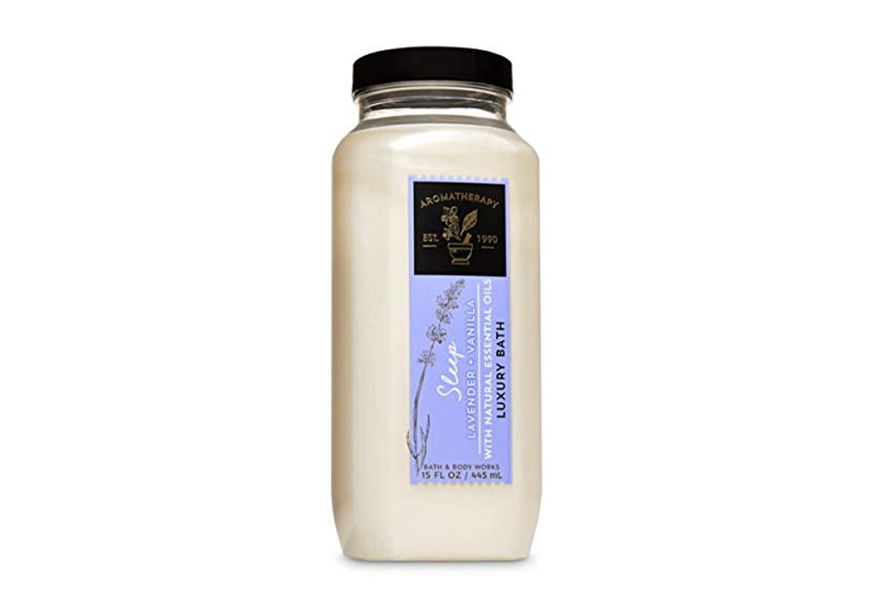 If there's any brand that is well-known in the skincare world, it's Bath & Body Works. Its candles have a cult following, and who can forget the signature Warm Vanilla Sugar scent that permeated every middle school girl's locker room for the better part of a decade?
Bath & Body Works is still here and producing quality products. What other beauty company has followed you from the middle school locker room to adulthood? The Bath & Body Works Aromatherapy Luxury Bubble Bath is a luxurious and moisturizing bubble bath for ages. 
Warm vanilla sugar days are over, and more eloquent scents like Cedarwood Lavender are in. The combination will lull you into dreamland. Earthy and relaxing, it's a scent perfect for rounding out a long day.
To give yourself a full spa-like experience, pair this bubble bath with a soothing face mask.
Key Features:
15 ounces
Cedarwood lavender scent
Specification:
Brand

Bath & Body Works

Weight

0.96 ounces
Alpen Secrets Goat Milk Foaming Milk Bath with Lavender Oil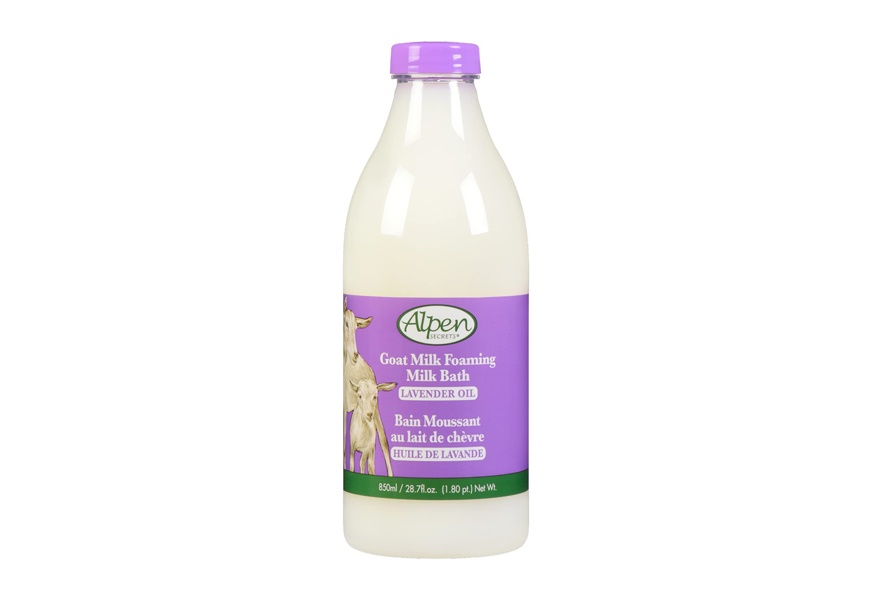 While not quite a proper bubble bath, the Alpen Secrets Goat Milk Foaming Milk Bath is an excellent bubble bath for sensitive skin. This milk bath uses a combination of traditional bubble bath, goat's milk, lavender, aloe vera, and safflower oil for an indulgent bath experience that is highly nourishing for the skin. This product will leave your skin silky smooth and without irritation if you have dry or sensitive skin. 
The milk bottle shape and humble drawing of a goat make this product appear unassuming at first glance. Once out of the bottle, however, you'll find that it's luxurious and indulgent. Of all the products on this list, this natural bath product contains the most skin-nourishing ingredients, making it a fan favorite.
For more skincare essentials, browse these excellent exfoliators for men.
Key Features:
Made with goat milk
Paraben-free
Lavender oil
28 ounces
Contains aloe vera 
Specification:
Brand

Alpen Secrets

Weight

2 pounds
Camille Beckman Bubble Bath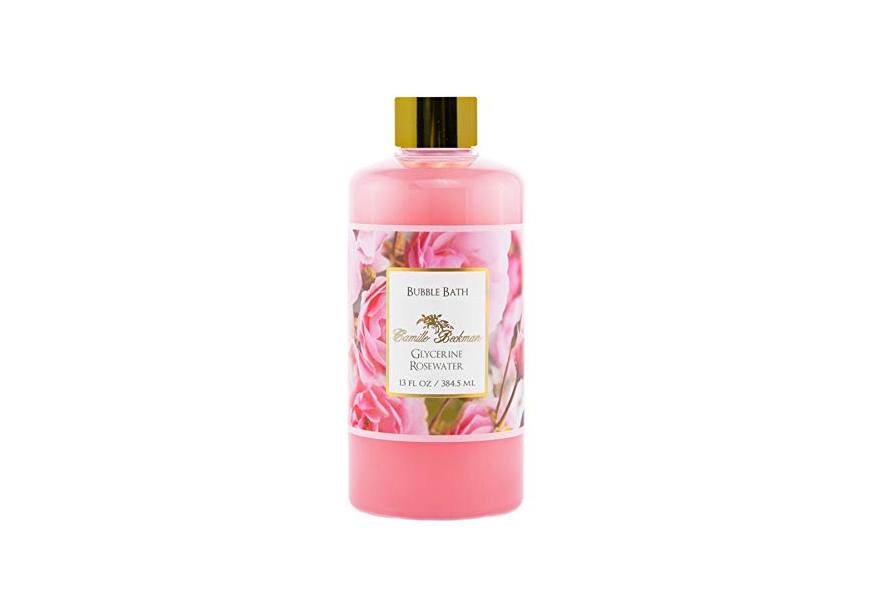 For those looking for a romantic bubble bath to share with someone special (even if you are that someone), the Camille Beckman Bubble Bath rounds out our list and makes an excellent choice with its romantic rosewater scent. This bubble bath comes out of Eagle, Idaho, by a family-operated company. Camille Beckman provides income for stay-at-home mothers with its hand-tied rosebuds that top each of its products. 
Thirteen ounces means you have plenty for a few baths. The glycerin, aloe vera, and vitamin E in this bubble bath nourish dry skin, and the rose scent makes this a product that you can use any time of day.
For more high-quality bath and body items, take a look at these deodorants for men.
Key Features:
Gluten-free
Rosewater scent
Moisturizing formula
Family-owned business
Specification:
Brand

Camille Beckman

Weight

15.2 ounces
Bubble Bath Buying Guide & FAQ
Features to Look for in Bubble Baths
Ingredients - Most bubble bath products, both commercial and homemade, have three main components: glycerin, soap, and water. Other ingredients often occur for fragrance, effect, bubbles, or preserving the product. This contributor's personal rule is that you should be able to pronounce or recognize all the ingredients in anything going on your skin or in your body.
Four harsh ingredients you may want to avoid in your bubble bath are parabens, gluten, alcohol, and phthalates. Additionally, sulfates, a common dirt and oil cleansing agent, can irritate sensitive skin. Before trying a new bubble bath, we recommend conducting a patch test on your skin to ensure you are not allergic or sensitive to it.
Fragrance - You will want to make sure any fragrance in your bubble bath is one you find pleasing (since you will quite literally be soaking in it). We also recommend looking for products with scents that come directly from the source versus artificially created aromas.
Bubbles - All bubble baths should inherently bubble when added to warm running water. Bubble baths will vary in the number of bubbles they provide, but keep in mind that environmental factors such as water temperature and pressure will also affect the number of bubbles produced.
Size - The more bubble bath, the more bubbles, right? If you take bubble baths regularly or have kiddos who enjoy them, stocking up on more bubble bath can't be a bad thing. If you are an infrequent bather, a smaller bottle might be what is for you. You don't want anything taking up precious cabinet space that you are not using regularly, especially if your bathroom space is limited in the first place.
Skin Type - Skin type is a less crucial factor to consider when purchasing a bubble bath unless you have sensitive skin. Those with sensitive skin should carefully examine the ingredients in a bubble bath solution to ensure nothing will agitate their skin. If you have dry skin, you might look for something with moisturizing ingredients like aloe or shea.
Benefits - Bubble baths have quite a few benefits, such as relaxing sore muscles, improving blood circulation, elevating mental state, and better sleep. Each bubble bath mixture has properties that can make it better for one purpose or another.
Many bubble baths also have essential oils that offer different aromatherapy benefits or soothing effects. For instance, Lavender can help with sleep and relaxation, whereas eucalyptus and peppermint can nurture muscles.
If you are looking to use bubble baths to help with a particular purpose, look for one with ingredients best suited for that.
Bubble Bath FAQ
Q: How do I make my bubble bath really bubbly?
A: Crafting a super bubbly bubble bath requires a mixture of adequate water pressure and just enough bubble bath solution. To create a very bubbly bath, wait until there are a few inches of water in the tub, add your bubble bath, and make sure the water pressure is high and the water is warm.
Keep in mind that the bubbles will continue to grow as water fills the tub. To avoid overdosing the tub with foam, refer to the manufacturer's guidance (usually found on the label) first.
The higher the water pressure, the more bubbles you'll get. If your faucet has low water pressure, you can also use your arms or hands to agitate the soap and create more bubbles.
Q: What is the safest bubble bath?
A: A safer bubble bath will be one without harsh chemicals and colorants. There isn't really a safest type of bubble bath because the needs and tolerance of everyone's skin are different. Generally, however, try to avoid bubble baths with alcohol, parabens, gluten, and phthalates. If your skin is particularly sensitive, avoiding sulfates is a great idea as well.
One of the main concerns with frequent bathing is UTIs in women. Avoiding harsh chemicals and excessive fragrances can minimize this risk but will not eliminate it.
Q: Does a bubble bath clean you?
A: Yes, because a bubble bath contains soap, a bubble bath can clean you just like regular soap would. Some folks prefer to shower after using a bubble bath to rinse off any residual soap.
Q: How long should you sit in a bubble bath?
A: Generally, 20 minutes is an adequate soaking time. Those who want to get their money's worth out of bath bombs and bubble baths have reported soaking for an hour or more. Your soak time is a matter of personal preference; listen to your body and let it be your guide to how long you sit in the bath.¹
Q: Can you use shampoo as a bubble bath?
A: Yes, you can use shampoo as a bubble bath. It has soap in it, meaning it will make for great bubbles. Shampoo may make fewer bubbles than a proper bubble bath would, but you will still get plenty of luxurious bubbles that fill your tub. Some products on our list even function as shampoo, body wash, and bubble bath all in one.
Sources:
Are Your Baths Too Long? - Safety Bath
Sign Up Now
GET THE VERY BEST OF GEARHUNGRY STRAIGHT TO YOUR INBOX