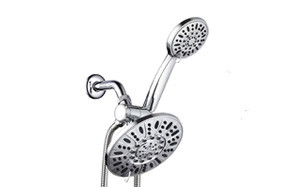 AquaDance 3328 Shower Head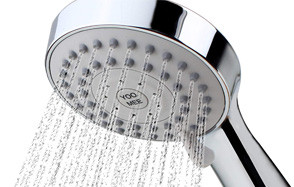 YOO.MEE High Pressure Handheld Shower Head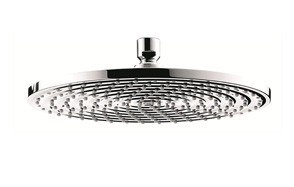 Hansgrohe Downpour AIR Showerhead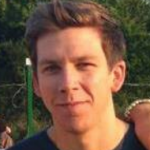 A shower head is one of those little things that help us have a better life though they don't usually call attention to themselves. Unless of course you go out and pick up one of today's versatile, rejuvenating, multi-setting, low flow shower heads. It's hard to keep those puppies in the background because as soon as you install it everyone is lining up to get into the bathroom and experience it. And who can blame them? Whether you like your shower to mimic rainfall in the Amazon or the effects of a traditional Thai massage today's shower heads have you covered. So sit back and take a look at our list of the 10 best shower heads for 2019. Then go get one for yourself and see what all the fuss is about.
The Best Shower Head
Shower Head Buying Guide
How We Chose Our Selection of Shower Heads
Brand - Just about everything having to do with the home has been affected by the shift in the manufacturing base to Asia. Whereas 20-30 years ago your choices of shower heads were likely limited to a few well-known American or European brands, today there are dozens of brands from across the Pacific few people have ever heard of flooding the market. Some are not worth the plastic they're made of. But some are of extremely high quality and, because of their low price, are a significant value. We look at everything to find the best shower heads to present our readers.

Reviews - Consumer reviews for shower heads tend to be pretty simple affairs: "Love it!", "Hate it!", "Does a pretty good job." And so forth. They usually don't reveal much except the writer's personal preferences. Since our product reviewers all enjoy a good shower we relied almost entirely on their input for this list of best shower heads.
Quality - There are plenty of shower heads out there that look great in the package. When you unbox them though it turns out that they're not stainless steel but just shiny plastic. Or the adjustment mechanism that looked so simple and reliable actually snags every time you try to move it. While we're not stainless steel snobs we insist that every item on a list like this be well-made of high-quality materials. If there is any plastic involved it needs to be high-quality ABS or something similar. ABS (Acrylonitrile Butadiene Styrene) is a highly durable opaque thermoplastic notable for its high impact strength.
Design - One person's masterpiece is another person's garage sale item. Meaning that taste is subjective. What you love someone else may hate. What they think is ugly you may find beautiful. Therefore, it should be noted that when we comment on the design of this item or that we're expressing our own opinions, which may differ from yours. Some aspects of design, however, are more objective, such as whether the weight of a shower head is nicely balanced. Or whether the mechanism that allows you to switch between one setting and another is easy to access and use.
Price - Most heads cost about as much as a large pizza, or maybe two. Those like the Hansgrohe Raindance that clocks in at 300-400 dollars are the exception to the rule. Not the norm. As such price wasn't a big factor in determining which of the current generation of shower heads deserved a spot on this list.

Features To Look For In Shower Head
Adjustable Shower Head Spray Patterns - Some folks like their shower head to envelope them fine, luxurious mist. Others want their shower head to pummel their back like a massage therapist to work out the stress and strain of the day. While still others enjoy the feeling of a heavy, steady downpour. The best shower heads provide you myriad choices so that everyone in your house emerges from the shower with a smile on their face.
Fixed vs Handled - A hand-held shower head provides you with greater flexibility. You can hold it to target specific areas of your body as you shower, or you can fix it in its base and go all old-school. If flexibility is important to you then you should definitely go the detachable shower head route. If on the other hand, you're one of those who doesn't want to be bothered holding something while you relax in the shower (and there are millions of you out there) then a fixed shower head should be right up your alley.
Water Saving - Water conservation these days is a necessity. So much so that many municipalities have regulations governing the type of shower head you can install. But even if you aren't subjected to such regulations where you live (yet) water conservation is still every bit as important as energy conservation. So you should always look for a shower head that makes the most of the lesser amounts of water.
Ease of Installation - Installing a shower head is typically a straightforward project. Essentially it comes down to unscrewing the previous one, cleaning off the threads and screwing in the new shower head. There are a few shower heads on the market that may involve a bit more work than that but even then any competent do-it-yourselfer should be able to handle it.
Filtration - While some shower heads come with water filters installed most do not. Filters can be an important feature because a lot of municipal water is loaded with things like chlorine and ammonia which may irritate the skin. If your shower head doesn't have a built-in filter there are several kinds on the market that can be installed fairly easily including carbon filters, KDF filters, bioactive filters, and even vitamin C filters.
Types of Shower Heads
Single-Setting Shower Heads - This type of shower head offers only one type of shower experience. They're either on or off and that's that. While these are fast being replaced by multi-setting shower heads there are still millions of them in use worldwide.
Multi-Setting Shower Heads - The opposite of the single setting shower head is the multi-setting shower head that offers an array of spray options from mist to spring shower to massage and everything in between.
Low-Flow Shower Heads- The low-pressure shower head either generates an on again, off again pulse to reduce the amount of water being used or introduces air into the water stream to cut down on the amount of water. These are excellent environmentally and financially responsible devices every homeowner should look into.
Rainfall Shower Heads- The biggest news in shower heads over the past decade has been the rise of the rain shower head. This notion of spreading the water out over a large area and allowing it to fall virtually straight down has caught the attention of the public. And now they're everywhere. Some can be as wide as 8 or even 10 inches. With some custom jobs even bigger than that.

Shower Head FAQs
Q: What is a Shower Head?
A: A shower head is a device that attaches to the end of the water pipe the feeds water into the shower stall or tub area. It essentially accepts the water flow in its bulk form and disperses it over a wider area so that it is a more effective cleaning and relaxation tool.
Q: Is the Shower Head easy to install?
A: In a word, yes. In most cases installing a new shower head requires nothing more than unscrewing the old shower head, wiping off the threads, and screwing in the new one.
Q: Will I need different spray settings?
A: That is entirely up to you. Most people though choose to have a variety of different spray options available and there are a couple of reasons for that. First, because there is very little difference in price between a static shower head that offers only one setting and one that offers multiple settings. Second, there's usually at least one other person in the house, condo or apartment. And different people have different preferences.
Q: What makes a Shower Head Low Flow?
A: There are 2 primary ways low flow shower heads restrict water flow. The first is to create a pulse. With this method water flows for a fraction of a second, is cut off for a fraction of a second flows, is cut off, flows, is cut off etc. This way only half the total amount of water is used. The other method is to introduce air into the water stream. This produces a physically lighter flow as some of the space within the stream is taken up by the air.

Q: Can Shower Heads affect water temperature?
A: It can in the sense that if you have a high flow shower head you'll likely run out of hot water faster. Also, if your shower head is old the diverter valve, which is designed to regulate water temperature, may have worn out O-rings. In which case hot and cold water become mixed haphazardly and the water temperature can be affected. However, this is not a problem you'll encounter with a new shower head.
Q: How long do Shower Heads last?
A: A good shower head is designed to last for years. However, as with most things in life, the less maintenance you do on your shower head the faster it will need to be replaced. Maintenance? On a shower head? Absolutely. Being that the shower head spends its entire useful life in the damp, warm confines of the shower stall it becomes a prime target for bacteria, who thrive in such conditions.
Q: How do you remove mineral deposits from a Shower Head?
A: Hard water from wells is often high in calcium, lime, silica, magnesium and assorted other minerals. When the water passes through the shower head many of these minerals cling to the inside of the nozzles, along with bacteria and other contaminants. There are a couple of ways to remove mineral deposits and bacteria from a shower head and keep it clean. You can:
Rub the nozzles directly - If the shower head has flexible rubber shower nozzles try rubbing them vigorously. This is often an effective way to dislodge bacteria.
Soak the shower head in vinegar - Fill a small plastic bag with vinegar and wrap the open end around the shower head, fixing it in place with a strong rubber band. Make sure the shower head is completely immersed in the vinegar. Leave it like that for a few hours. Then remove the bag and run the shower for a few minutes to clear the vinegar from the head.