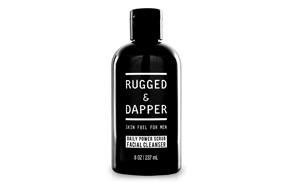 Rugged and Dapper Foaming Scrub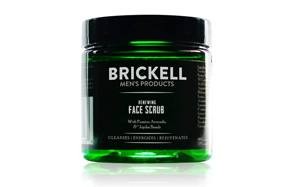 Brickell Men's Renewing Exfoliating Facial Scrub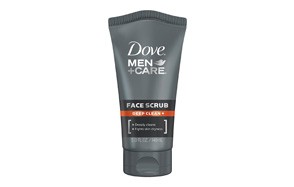 Dove Men Care Face Scrub
Exfoliating is important guys. You've no doubt seen one on the shelf in your bathroom and wondered why your other half needed yet another skincare product. Exfoliating is a powerful way of sloughing away dead skin cells that naturally form over time and can lead to cogged pores, dull and dry looking skin, nasty breakouts and in the case of men you are regularly shaving, annoying in-grown hairs too. What an exfoliator is going to do is make you look instantly younger too! Yes, you heard us right. Imagine that? A little scrub a dub dub to reclaim your youthfulness and rehydrate your skin so that your wrinkles are reduced and your skin is smoother than the proverbial baby's backside! Just in case you are clueless and think AHA's and BHA's are just letters of the alphabet we've randomly jumbled together to confuse, we're covering off 6 of the best exfoliators for me below.
Our Picks Of The Best Exfoliators For Men
Jack Black Face Buff Energizing Exfoliator For Men
See More Reviews

Part of a whole skincare range this a deep cleansing pre-shave scrub that contains tiny little micro particles that will allow you to get really up close and personal with your razor. It's got a little sting in its tail too with the addition of invigorating menthol and Vitamin C so that it really wakes up your skin to clear away congestion and get rid of deep down oil and dirt. Jack has most definitely got your back (and your front obviously) with this innovative male skincare regimen that is backed by his Pure Science promise. Only the best natural ingredients are used – no nasties, paraben-free, vegan friendly and dermatologically tested. Thanks Jack Black for introducing us to your men's exfoliating facial scrub.
Specification:
Brand

Jack Black

Model

1008

Weight

6.1 ounces
Rugged and Dapper Foaming Exfoliator For Men
See More Reviews

Especially formulated with men's skincare needs in mind, this is a facial scrub and cleanser combined into one power packed product that is like facial fuel. It's doesn't hold any punches and will attack grime, dirt, oil and clogged pores to ensure that you have smooth, moisturized skin ready for a razor sharp deep shave. Rugged and Dapper is a premium skincare line for men and boasts potent and highly effective but naturally organic ingredients like Aloe Vera to sooth and nourish skin, Burdock Root to balance PH levels, Vitamin C which is fantastic for delivery a burst of extra hydration, Tea Tree oil well knowing for its anti-bacterial effects and Willow Bark that works to increase cell regeneration. No excuses that you don't have time either, just 2 minutes as part of your daily shower routine for clearer more toned and regenerated skin that you'll love and she won't be able to keep her hands off touching.
Specification:
Brand

RUGGED & DAPPER

Model

NA

Weight

8.2 ounces
Kyoku Exfoliating Facial Exfoliator For Men
See More Reviews

If you're serious about good skin, then this is a brand to check-out. Established back in 2010 they've won plenty of coveted industry awards already from the likes of GQ Magazine and Men's Health so you can be sure that you are really get one of the best exfoliators for men around if you invest in this brand. With active ingredients like Vitamin A and E, this is a seriously hard working multi-tasking product that will tone, nourish, protect and leave your skin feeling and looking more radiant, re-invigorated and ruggedly refreshed. Blended from volcanic ash no less, it soaks up excess oils like you'll be soaking up all those compliments coming your way. You can wave goodbye to breakouts and say hello instead to healthy balanced skin.
Specification:
Brand

Kyoku for Men

Model

SKN-WS 331

Weight

4.6 ounces
M3 Premium Activated Charcoal Scrub
See More Reviews

This is manly in size and masculine in the impressive results it delivers too. You are definitely getting plenty of product for your money with this whopping 12 oz. jar and with its natural and premium grade charcoal, you'll soon be back on track to enjoying clean, clear and blemish free skin. This is like giving your complexion a detox and not only will it work to tone and tighten your skin, it will also minimise the appearance of pores and support your anti-aging goals by working to reduce wrinkles too. With all the everyday pollutants your skin gets regularly exposed to, especially if you are a man who loves adventure in the great outdoors, then this is a great exfoliating product for you.
Specification:
Brand

M3 Naturals

Weight

12 ounces
See More Reviews

With its naturally occurring pumice, this man's face scrub from Dove delivers an effective but gentle exfoliation that will lift away dirt, oil and dead skin cells without stripping your skin of essential moisture. Choose from either their hydrating version or for those of you of a more delicate constitution, never fear as their sensitive option will lather up a treat for an unparalleled and deeply satisfy facial cleanse that is both invigorating and refreshing. Dove's range of exfoliators for men are also clinically proven to fight the effects of skin dryness and are gentle enough to be used daily, day or night.
Specification:
Brand

Dove

Model

10011111333885

Weight

2.9 ounces
Brickell Men's Renewing Exfoliating Facial Scrub
See More Reviews

This exfoliating facial scrub forms part of an extensive range of skincare and grooming products for men by relative new-kid on the black, Brickell. The brand was established in 2014 in the owner's garage and has fast become one of the biggest and most popular growing men's ranges available today, currently sold in over 20 countries worldwide and with an army of supporters. Containing extracts of coffee and green tea, this revitalizing and energizing exfoliator will nourish and protect the skin whilst at the same time removing deep down dirt and impurities. This product is certified 100% organic, vegan friendly and not tested on animals too so if you are as concerned about the environment as you are your skin, then this is a great brand to invest in.
Specification:
Brand

Brickell Men's Products

Model

FS134

Weight

4.8 ounces
Exfoliators For Men Buying Guide & FAQ
Things To Consider
When it comes to choosing the best exfoliator, you really need to consider what your skin type is and look for something that matches your needs. There's nothing wrong with admitting you're a little bit on the sensitive side and so is your skin too! You want your exfoliator to be powerful in performance but gentle on your skin. Whilst you might think you look ruggedly handsome, you want your skin to be soft and smooth.
Also consider any additional active ingredients that are important to you. Exfoliators come with a host of added extras that will do anything from toning to tightening, brightening to blitzing those zits.
Read the packaging to make sure that what your buying is ethical and environmentally friendly too if those are important standards you live by and also need your skincare products to also live up to.
Talking of which, if you're not already familiar with it, check out the campaign for beat the micro bead HERE.
You probably never considered that simple everyday tasks like brushing your teeth and washing your face could be harmful to our oceans. We're all aware of the damage that large plastics can cause but many products contain plastic micro beads that still end up in the sea and back into our food chain so choose your exfoliator wisely and make sure you are conscious about which ingredients can potentially cause harm and avoid them wherever possible.

Ingredients To Look For
There are so many active additional ingredients that you will find commonly listed in your exfoliating product all of which provide extra power. This is by no means an exhaustive list but these are just some of the powerful extra you might find included: Vitamin A, Vitamin E, Vitamin C, Menthol, AHA, BHA, Aloe Vera, Burdock Root, Vitamin C, Tea Tree Oil, Willow Bark, Activated Charcoal, Dead Sea Salts and Pumice to name but a few. As a basic formula your exfoliator will probably contain granulated pumice, sea salts or fruit seeds mixed with a hydrating cleansing formula. It's these ingredients that give your exfoliator its gritty sand like texture.
Tips When Using An Exfoliator
Apply a dime size amount – there's no need to go over-board with the amount of product you apply. Usually you are best applying to a wet face and rubbing in gentle circular motions, giving yourself an energizing facial massage as you go to really help stimulate the lymphatic flow and drainage as well as exfoliating your skin as you go. Rinse off with cool water and pat dry with a towel.
Most exfoliators are best used 2-3 times a week for optimum results but be sure to check your products instructions and be guided by how your own skin is looking and feeling too. Don't be tempted to over scrub either as that might upset the PH balance of your skin and cause mirco-tears. You might well be exfoliating but there's no excuse for not being gentle either. Easy does it lads when it comes to using your face scrub.
Follow by applying your favourite facial moisturiser to ensure post scrub your skin is soft, smooth and firm.
FAQ
Q: Why Do I Need To Exfoliate?
A: Don't be under any illusions guys, for healthy skin you really need to be adding an exfoliation stage into your skincare regime. How regularly you decide to do that will in large part be down to the type of skin you have but nonetheless, it needs to be done to speed up skin renewal which isn't just going to help your skin look in better condition, but more importantly it's going to help prevent those annoying little ingrown hairs you're likely to suffer from as a result of regular shaving. Exfoliation is basically the process of removing dead skin cells from the surface of the skin which can lead to clogged pores, acne, dull and lifeless skin and, you guessed it, an increase in the deepness and on-set of those aging wrinkles. So if you want to have smooth skin and keep aging at bay, then exfoliation is the way forwards. The word you'll commonly hear associated with exfoliating is "slough" and guess what, it rhymes with "tough" which is what you will still be no matter how dedicated you are to your skincare regime.
Q: Should I Consider My Skin Type When Using An Exfoliator?
A: Absolutely yes. Depending upon what kind of skin you have will determine a couple of important active ingredients you should be on the look-out for and those that are best avoided if you have more sensitive skin.  For anyone with predominantly dry or sun damaged skin you should be looking out for something like an added AHA. In case you don't know that means Alpha Hydroxy Acid and normally takes the form of either Glycolic Acid or Lactic Acid.
If on the other hand you have skin that tends to be more oily and you're prone to breakouts and blackheads or have a skin sensitivity and suffer with rosacea for example then a BHA or Beta Hydroxy Acid is going to work better for you so look out for the active Salicylic Acid within the list of key ingredients.
Q: What Is the Best Aftercare Solution When Using an Exfoliator?
A: Rinse with plenty of fresh cool water as this will help close up the pores which you've opened and thoroughly cleaned. Then, follow up with a hydrating daily facial cream or lighter style lotion to get plenty of essential moisture back into the surface of your skin. Exfoliating regularly is great for skin cell renewal and will encourage new cells to form and grow, resulting in fresher and younger looking skin so do yourself a big favour and make sure you put essential moisture back into your skin with a daily dose of a good hydrating cream.

Q: What Other Products Can I Use To Combine With an Exfoliator to Complete my daily wash routine?
A: Use in conjunction with a gentler daily cleanser and follow with an astringent toner to close your pores or if you don't have a separate toner, plenty of cool water will do the same job splashed on your skin. Always apply a hydrating daily moisturiser afterwards, preferably with an added SPF to keep your skin looking handsome. Whilst you might still want to retain your devilishly rugged charms, you want your skin smooth, just like your moves! Don't forget your delicate eye area either. You don't want to look like Deputy Dog!