Lather Up With The Best Shaving Soaps For Men In 2022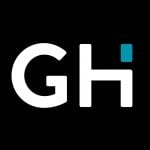 This product guide was written by GearHungry Staff
Last Updated
June 8, 2022
GearHungry Staff
GearHungry Staff posts are a compilation of work by various members of our editorial team. We update old articles regularly to provide you the most current information. You can learn more about our staff
here
.
GearHungry may earn a small commission from affiliate links in this article.
Learn more
Shaving soaps are the very definition of old school. They've fallen out of widespread use half a century ago and lingered in obscurity until just recently when their tangible qualities were rediscovered by a new generation of men intent on preserving some of the finer things in an increasingly virtual world.
Shaving soap forces you to slow down and unplug, and consider yourself and your physicality. If you, too, don't see shaving as something to be rushed through but as an opportunity for a little self-pampering, then the classic shaving soap will be right up your alley.
The best shaving soaps will create not only a rich lather, helping your razor move smoothly across your face, but also moisturize your skin, leaving it supple and soft. To help you get a great wet shave, we've rounded up some of the best men's shaving soaps on the market. Some of these are pricy, luxury soaps that will elevate shaving to a satisfying experience you'll actually look forward to, while others are affordable, basic soaps that will still last you months.
The Best Shaving Soap for Men
Van Der Hagen Scented Shave Soap
The Van Der Hagen Scented Shave Soap produces a creamy, slippery lather that is suitable for any type of skin or facial hair. It's made from moisturizing, lubricating ingredients, including glycerin, shea butter, cocoa butter, and mango butter, that will leave your skin feeling supple and nourished.
The scent is mild, clean, and pleasant; far from overpowering. But, if you prefer unscented shave soaps, the Van Der Hagen offers an unscented version, too. The package includes three soaps that are long-lasting, making this is great value shaving soap. To give the consumers more confidence in their purchase, Van Der Hagen has a 90-day money-back guarantee so if you are for any reason not happy with the product, you can return it.
Key Features:
Contains shea, mango and cocoa butter
Mildly cleansing thanks to sodium laureth sulfate
Mild, clean scent that lingers
90-day money-back guarantee
Specification:
Brand

Van Der Hagen

Model

400052

Weight

4.5 Ounces
Creates a rich, slippery lather
Lasts longer than most creams and gels
Great value for money
While it lathers well, it doesn't lather as great as pricier soaps
Not ideal for sensitive skin
Proraso Shaving Soap In a Bowl
Backed by three generations of Italian ingenuity, the Proraso Shaving Soap In A Bowl is a great product that provides the user with a shave that won't be forgotten in a hurry. Shaving can be a bit of a chore, especially if you opt for the classic method of shaving, but with this shaving soap, you can enjoy a thoroughly pleasing shaving experience. Made with Eucalyptus and a dash of menthol, the soap provides a refreshing shave that cools the skin and prevents nicks and cuts.
The soap creates a generous lather which is exactly what you want for classic wet shaving with a shaving brush. The fact that it comes with its own shaving bowl is a bonus and the tub closes to prevent drying so you can take the soap with you when you travel. What makes the Proraso Shaving Soap In A Bowl even more attractive is that it is made with predominantly natural ingredients and is devoid of SLS, artificial colors, and other harsh ingredients. However, since this formula is made with menthol, we don't recommend it for sensitive skin. Proraso has a shaving soap specifically designed to soothe sensitive skin.
Key Features:
Made with natural ingredients
Contains menthol and eucalyptus
Refreshing menthol scent
Cools the skin
Specification:
Brand

Proraso

Model

8004395001149

Weight

7 Ounces
Lathers wonderfully
Smells great and cools the skin
Comes with its own container
The soap can develop mold if the bowl is closed for extended periods
The green version is not ideal for sensitive skin (but the white one is)
Lather & Wood Shaving Soap
Some of the best shaving soaps are the ones that last the longest and the Lather & Wood is a tallow-based shaving soap that will outlast most other canned shaving cream options. It comes in a convenient 4.7oz tin and is available in several scents, including Barbershop, Bay Rum, and our favorite, Sandalwood.
Lather & Wood handcraft their products and make them in small batches to protect their integrity and ensure consistent quality so you know you're getting a top-quality product. This tallow-based soap is made with simple, high-quality ingredients and includes coconut oil, glycerin and shea butter for that irresistible skin softness. The lather is so dense that it can sit in a shaving mug for hours without dissipating. If you're looking for the best shave soap made from tallow that doesn't cost a small fortune, definitely get this one.
Key Features:
Made from tallow and natural ingredients
Includes coconut oil and shea butter
Rich, dense foam that lasts for hours
Luxurious sandalwood scent
Specification:
Brand

Lather & Wood Shaving Co.

Weight

5.4 Ounces
Produces thick, slippery, luxurious lather
Prevents razor burn, nicks and cuts
Made in small batches for consistent quality
Lasts a long time
The scent may be too much for some
The tin can be tricky to open
The Art Of Shaving Shaving Soap Refill
With decades of experience in high-end men's shaving and skin care accessories, The Art of Shaving's Soap is, hands down, one of the best shaving soaps on the market. Formulated with gentle and moisturizing ingredients, including glycerin and coconut oil, this shave soap provides, rich, creamy lather when used with a shaving brush and hot water. Thanks to the moisturizing ingredients, it helps soften even the toughest of stubbles for a smooth, irritation-free shave.
With a distinct woody sandalwood scent, the Art of Shaving Shave Soap elevates boring hair removal to a ritual you'll actually enjoy. Whether this is your first shaving cream soap or you've been de-fuzzing your face for years, this great soap is the soap to get as it's suitable for all skin types. All you need is a shaving brush and your preferred style of razor and you can be sure of a smooth shave every time.
Key Features:
Formulated with gentle, moisturizing ingredients
Includes coconut oil and glycerin
Creates dense lather that softens the hairs on the chin
Available in two scents, sandalwood and lavender
Specification:
Brand

The Art of Shaving

Model

M-BB-2479

Weight

2.56 Ounces
Creates rich, creamy lather for an irritation-free shave
Smells amazing, and the scent lingers for long
Helps protect the skin from irritation
The new vegan formula doesn't lather as much as the original tallow-based one
One of the priciest shaving soaps in this guide
Henry Cavendish Himalaya Shaving Soap
Henry Cavendish Himalaya shaving soap for men has it all. An elegant packaging, a light refreshing, almost exotic scent, and the ability to generate a thick, satisfying lather with little effort.
Right out of the box, you can see you are getting a great shaving soap. Once you start working your wet brush over the moistened soap, you'll get a thick lather that feels soothing on the skin. The slick lather that only comes from glycerin-based soaps softens the stubble and moisturizes the skin so you can glide your razor over your face with ease. With glycerin and coconut oil making up the shave soap base, the formula is moisturizing and non-irritating, leaving you feeling like you had both a clean close shave and a facial massage. Yes, it's that good.
Key Features:
Formulated with natural ingredients only
Contains glycerin, coconut and castor oil
Produces thick, soothing lather
Subtle, clean scent
Specification:
Brand

Henry Cavendish

Weight

4 Ounces
Made from all-natural ingredients
Ideal for sensitive and dry skin
Rich, smooth lather that actually feels soothing
You may need a bowl to use this one properly
Lather may not be silky enough for extremely sensitive, irritated skin
Men's Soap Company Shaving Soap With Natural Ingredients
Give your face the VIP treatment with this all-natural shaving soap from the Men's Soap Company. This is a no-fuss natural shaving soap that delivers a good lather and works well with straight razors as well as disposable ones. The Men's Soap Company has focused more on the product and less on the packaging, but the good news is, the cardboard box is recyclable.
Generating a rich lather is a breeze once you've bloomed the soap for a couple of minutes and the subtle Himalaya scent that gently envelopes you while you shave produces a pleasant sensory experience. The shea butter and coconut oil provide ample protection and leave your face feeling buttery smooth and silky. All in all, a fantastic USA-made all-natural shave soap.
Key Features:
Made with all-natural ingredients
Contains vitamin E and shea butter
Softens and moisturizes
Mild fresh scent
Specification:
Brand

Mens Soap Company

Weight

4 Ounces
Contains naturally-derived vegan-friendly ingredients
Provides rich, fluffy lather
Multi-purposed, great for both men and women
The lather is rich but not slick enough to prevent razor burn on extremely sensitive skin
Come customers find the scent overwhelming
Taylor Of Old Bond Street Sandalwood Hard Shaving Soap Refill
Taylor of Old Bond Street makes some of the best triple-milled soaps. Their Sandalwood Hard Shaving Soap smells like expensive cologne and it works like a charm producing a rich, lubricating lather after minimal prep. This refill puck is designed to fit comfortably into the company's wooden shaving bowls or any receptacle you have for your shaving soaps.
If you're looking for a shave soap with that old-school, classic masculine scent, you'll love all Taylor of Old Bond Street soaps, especially this sandalwood formula. The soap also comes in a surprisingly sophisticated package considering it's a refill and it's well priced making it a little luxury everyone can afford.
Key Features:
Glycerin based formula
Discreetly fragranced with essential oils
Classic sandalwood scent
Refill only
Specification:
Brand

Taylor of Old Bond Street

Model

01051

Weight

3.52 Ounces
Creates luxuriously thick lather
A classic, masculine scent
Long-lasting formula
The scent can be a little overpowering
Not suitable for sensitive skin
If you're looking for a well-made natural shaving soap that is soothing on the skin and gives you a very close shave, then Badger Shaving Soap is a must in your bathroom cabinet. This one uses pure, organic ingredients including coconut oil, glycerin, shea butter, and aloe to produce a lather that's as good at moisturizing your skin as it is at preparing even the toughest beards for the straight razor.
Men's shaving soaps don't need to be complicated to be great and this one is proof of that. Made with straightforward natural ingredients, including quite a few oils, this soap is particularly great for dry and normal skin types. It also has a great, mild scent that's anything but overpowering (which is not something that can be said about other shave soaps with artificial fragrances). Overall, a great organic shaving soap that locks in moisture for a smoote, friction-free shave.
Key Features:
Made with organic ingredients
Contains coconut and palm oil, shea butter, glycerin
Mild, pleasant natural scent
Refill only
Specification:
Brand

Badger

Model

634084130201

Weight

3.15 Pounds
Made with top-quality ingredients
Moisturizes and soothes the skin
Easy glide, smooth shave
The lather may not be thick enough for some beards
D.R.Harris & Co Arlington Mahogany Shaving Bowl & Shaving Soap
Fall in love with the beautiful Arlington mahogany bowl that holds triple-milled D.R. Harris & Co shaving soap. This is a pure white shaving soap that produces a luxuriously rich, beard-softening lather that will feel fantastic on your skin long after you've rinsed off the last traces of foam. This is a little luxury you can afford that will transport you to a time when people knew how to enjoy life's little pleasures.
Some shaving products stand out from the pack and this happens to be one of them, and no, it's not only due to its price. This high-quality tallow-based soap lathers up quickly and makes shaving easier thanks to the protective, slick leather that provides a close, smooth shave. The mahogany bowl is reusable so all you'll need when you eventually use up the soap is a refill which is also available from D.R. Harris & Co.
Complete your grooming the right way and check out our review of the aftershaves for men for our top picks.
Key Features:
Triple-milled solid white soap
Tallow-based formula
Fragranced with citrus and fern blend
Sustainably sourced Sheesham wood bowl
Specification:
Brand

D.R. Harris

Model

34

Weight

9 Ounces
Creates voluminous, lubricating, beard-softening lather
Lightly perfumed, fresh, masculine scent
Specially formulated to be long lasting
The mahogany bowl is reusable
The scent may be a too subtle for some
One of the most expensive shaving soaps on the market
Col. Conk's World' Famous Shaving Soap
The lather produced by Col. Conk's World Famous Shaving Soap needs a little work, but once you get the hang of it, you'll love it. It's rich and creamy and it will leave your skin feeling baby-bottom smooth. It also has a nice, mild scent that won't clash with your favorite cologne.
Col. Conk's soap is affordable, conveniently sized, pleasant smelling, and does the job while leaving your skin nice and supple after a shave. It's nicely priced, too, so this is the pack to get if you're looking for an affordable soap you can use every day. It may take a bit of practice to get a good lather but this soap is still better than any shaving foam and you'll still get a decent shave.
Key Features:
3 compact shaving bars
With avocado Oil and Vitamin E
Long lasting lather
Non-toxic
Specification:
Brand

Colonel Conk

Model

112

Weight

5.6 Ounces
Lathers up well, provides good razor stroke
Pleasant, subtle fragrance
Pack of 3 will last a while
This one needs a little effort to get a good lather
Not recommended for sensitive skin
Arko Shaving Soap In Bowl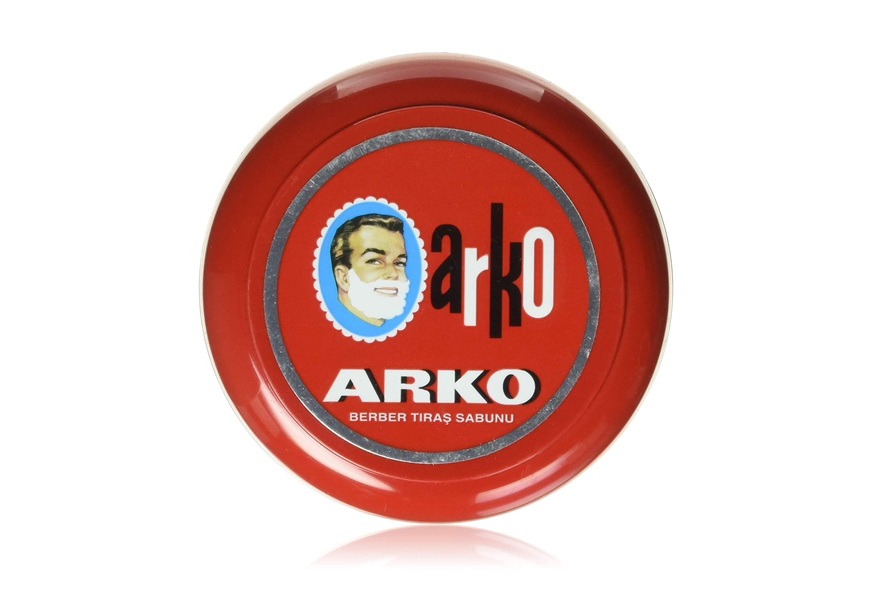 Take a trip down memory lane and enjoy old-school shaving with Arko Shaving Soap In A Bowl. This traditional tallow-based shave soap creates a thick, lubricating lather for a clean shave that you'll love the feel of. The soap is easy to use and you won't need a separate plastic bowl to get the lather going.
This is a really good shaving soap for those with a little bit of experience using shaving brushes and soaps, but even novices won't need much time to get the full benefits from this type of shaving product. This is a tallow-based soap that also contains glycerin so it's gentle on the skin, including sensitive and dry skin types.
Key Features:
Tallow-based soap
Contains glycerin
Retro-style packaging
Refreshing citrusy scent
Specification:
Brand

Arko

Model

AK90

Weight

3.17 Ounces
Creates a rich, protective lather
Leaves skin smooth and supple
Lathers easily regardless of water quality
The scent is unique; either you love it or you hate it
May not be moisturizing enough for extremely dry skin types
Dr. Bronner's Peppermint Organic Shaving Soap
For something completely different in the arena of shaving soaps, Dr. Bronner's Peppermint Organic Soap comes in the form of a gel soap. Made with organic, plant-based ingredients such as grape juice, and coconut, olive, hemp and peppermint oils, it provides a light, foamy, yet very slick lather for a smooth, close shave.
The product also contains shikakai powder to help prevent raw, itchy skin as well as the dreaded beard dandruff. If you're looking for a great organic shaving cream with a minty scent, this is a great option. Don't forget to check out our solid colognes review to find something to go with your shaving soap!
Key Features:
Certified organic and vegan
Liquid soap base
Natural minty scent
Specification:
Brand

Dr Bronner's

Weight

10.6 Ounces
Made with top-quality organic ingredients
Light, foamy, yet slick lather so the razor glides over the skin
Multi-purpose formula for face, underarms and legs
Not recommended for sensitive skin
Lathers up nicely but dries quickly
Why Trust Us
We know our shaving soaps because, like most men in the western world, we shave before going to work every day (well, some of us can skip a day here and there). Shaving can be drying on the skin so we focused on soaps that are made with moisturizing and lubricating ingredients that leave the skin feeling soft and smooth.
Who This Is For
This guide is for anyone looking for a good soap for wet shaving. Remember the simpler times when men went to a barber shop for a shave? Perhaps not, but you've most likely seen them in a movie. Nothing beats the type of shave you get from a hot water towel followed by a thick, luxurious lather before the barber artfully scrapes off the stubble with no nicks or cuts. You may not have a barbershop nearby but if you use the right shaving soap, you can experience shaving the way it used to be.
How We Picked
Choosing the best shaving soaps wasn't easy because there are so many to choose from. However, after a few hours of brainstorming with our fellow shavers, there were a few criteria that we weren't willing to compromise on. We focused on shaving soaps that are made with moisturizing ingredients, lather really well, and have a nice scent.
Features To Look For In Shaving Soaps
Keep the following in mind when selecting shaving soaps and you're sure to find one that's a good match for your beard and skin.
Lubricating ingredients - Frequent shaving can be rough on the skin, which is why it's crucial to get a soap formulated with moisturizing, lubricating ingredients that won't irritate your skin but leave it nourished and happy. Tallow is a great ingredient in shaving soaps, but if you're looking for plant-based formulas, glycerin is pretty amazing as well.
Scent - If you have sensitive skin you'll probably want to avoid shaving soaps with artificial fragrances as well as anything overpowering. However, if that's not an issue for you, you'll find a wide array of scents to suit just about every preference. Still, most scents associated with men's shaving soap tend to be earthy, masculine, and quite strong.
Size - Most of the time, the size of a shaving soap doesn't matter. However, there may be instances (like when you are traveling) when lugging around a full-size puck of your favorite shaving soap for men just isn't necessary or practical. Fortunately, shaving soap today is available in all sizes and shapes with many also coming in shaving bowls with lids for easy transport.
Price - Price is always a factor when shopping for anything and this includes shaving soaps. In this case, you do get what you pay for but keep in mind that the ones you may consider pricey tend to last a lot longer. Of course, you should stick to your budget and you can still get a fantastic shaving soap without spending a small fortune.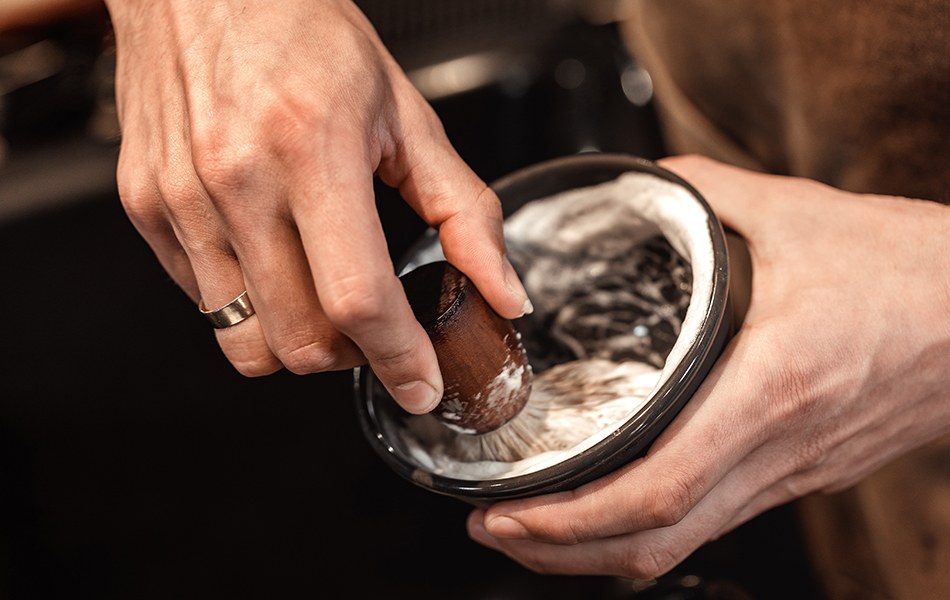 Shaving Soap FAQ
Q: How much shaving soap should you use?
A: There's simply no way to say you should use x ounces of shaving soap. The amount will be different depending on what type of lather you're after, how thick your beard is, and most of all how much lather you need to create for a nice comfortable shave. This is something you will need to experiment with but you should be able to quickly discover a lathering technique that works for you.
Q: How to use a shaving soap to achieve the perfect shave?
A: To achieve the perfect close shave, we recommend following these simple steps:
Prep your face - Take a hot shower or simply press a hot, wet towel over your face for a few minutes to "open" up your pores. This will help prevent your hair follicles from fighting so much against the razor.
Prep the soap and brush - Next, prepare the brush and the soap by soaking them in hot water for a few minutes.
Building the lather - Building a good lather needs water so run your shaving brush through water and then swirl it over the soap in the dish. Give it enough force to splay the bristles a bit. Keep swirling until you've got a light foam comprised of tiny bubbles.
Apply the lather - Once the brush is properly loaded with a light foam of tiny bubbles, apply it directly to your face. Keep swirling until a rich, thick foam starts to build. But remember, you're not going to achieve the kind of aerosol-induced foam you get with canned shaving creams. You're after something more organic which is typically heavier and slightly less lofty than canned foams.
Once the lather has achieved the desired consistency, it's time to pick up your straight edge and get to work. For a super-close shave, you may want to shave twice.
Q: How long does shaving soap last?
A: In most cases, hard shaving soaps will last even through daily use over several months. However, there are some high-quality milled soaps, such as the Taylor of Old Bond Street Sandalwood Hard Shaving Soap reviewed above, that can last up to a year.
Sources:
Getting A Close Shave - WebMD
Sign Up Now
GET THE VERY BEST OF GEARHUNGRY STRAIGHT TO YOUR INBOX