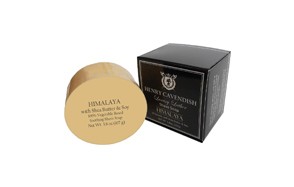 Henry Cavendish Himalaya Shaving Soap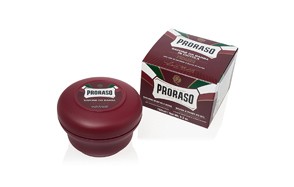 Proraso Shaving Soap in a Bowl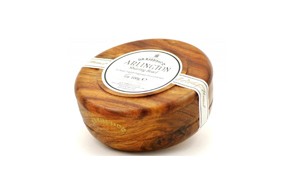 D.R.Harris & Co Arlington Mahogany Shaving Bowl & Shaving Soap
Shaving soaps are the very definition of old school. They passed out of widespread use half a century ago and lingered in obscurity until just recently, when their tangible qualities were rediscovered by a new generation of men intent on preserving some of the finer things in an increasingly virtual world. Shaving soap forces you to slow down and unplug. To consider yourself and your physicality. To ponder the scents, experience the textures and revel in the finished product. That's a lot to ask of soap but great shaving soaps deliver, which is why we keep coming back.
The Top Shaving Soaps for Men
Without further ado here are the 11 best shaving soaps for men.
Henry Cavendish Himalaya Shaving Soap
See More Reviews

Henry Cavendish Himalaya shaving soap for men has it all. An elegant box, a light refreshing scent, the ability to generate a thick, satisfying lather with little effort and the ability to produce a close, comfortable shave that will start your day off on the right foot. This is a great mens shaving soap that delivers on the stylish packaging and won't cost you an arm and a leg.
From the moment you open the box you'll realize you made a good choice and once you start working the moistened soap with your bristle brush you'll quickly forget about canned shaving cream. It's non-irritating and leaves you feeling like you had both a clean close shave and a facial massage. 
Key Features:
Rich creamy lather
Paraben free
Non-allergenic
Made in USA
Specification:
Brand

Henry Cavendish

Weight

4 ounces

Key Ingredients

Shea butter, coconut oil, soy extracts

Indications

Paraben free, non-allergic, non-toxic
Men's Soap Company Shaving Soap with Natural Ingredients
See More Reviews

This natural shaving soap from the aptly named Men's Soap Company doesn't have the tastefully designed packaging of Henry Cavendish but as the saying goes "never judge a book by its cover". The fact is that lurking behind the ordinary facade is a shaving soap of substance.
Generating a rich lather is a breeze once you've bloomed the soap for a couple of minutes and the Indian cedar, Himalayan blue pine and Indian amber scents that gently envelope you while you shave produce a high quality sensory experience. The Shea Butter and coconut oil provide ample protection and leave your face feeling smooth and silky. What more could you ask?
Key Features:
Shea butter
Non-toxic
Parabens free
Hydrates and moisturizes
Specification:
Brand

Mens Soap Company

Weight

4 ounces

Key Ingredients

Shea butter, vitamin E, and coconut oil

Indications

Non-toxic, paraben-free, no preservatives, dyes or fragrances
Razorock Mudder Focker Shaving Soap
See More Reviews

Razorock Mudder Focker Shave Soap is what shaving aficionados like to call "croap" because it exists in that middle kingdom between cream and soap. It's extremely mild, something you'll notice as your working up the lather. It's almost like it's not there. Because it's a croap there's no need to bloom. You can get right to shaving: a characteristic of the Razorock experience that will appeal to many but not necessarily to those enamored of the full sacrament of shaving.
Razorock's claim to fame (and it's a good one) is that it's made using thermal mud and there's no doubt it leaves your face feeling like a million bucks. The scent may be a bit off putting to some initially but has a tendency to grow on you with repeated use.
Key Features:
Enriched with thermal mud
Lathers easily
Natural scent
Protects against irritation
Specification:
Brand

RazoRock

Weight

5.6 ounces

Key Ingredients

Stearic acid, Coconut oil, tallow acid

Indications

Scented with amber, Sandalwood, Vanilla, Hay, Tonka Bean, Patchouli
Sir Hare Shaving Soap for Men
See More Reviews

Sir Hare produces a lather of extraordinary texture and fullness with a light old school scent that will have you wondering why you spent so long putting up with the mundane chemical odors emitted by pressurized canned shaving foam. Even if your razor isn't the sharpest in the barber shop your skin will emerge smooth and free of irritation and that's quite a trick.
The mango butter in particular leaves your skin feeling so good you'll want to rub it up against your sweetheart's face and share the experience. Achieving a rich, satisfying lather is easy with minimal prep and the attractive jar is a really nice touch.
Key Features:
Non-irritating
Shaving bowl included
"Barbershop" scent
Made in USA
Specification:
Brand

Sir Hare

Weight

9.3 ounces

Key Ingredients

Tallow, sunflower oil, grapeseed oil, mango butter

Indications

Non-irritating
Proraso Shaving Soap in a Bowl
See More Reviews

Unlike some cheap shaving soaps that leave your face feeling like it was worked over with sandpaper the oatmeal extract and glycerin in Proraso mens shaving soap leaves your skin feeling pampered. While we weren't big fans of the packaging we've learned to look beyond the cardboard and plastic to appreciate the contents and they are some very pleasing contents in this case.
Proraso as it turns out has been making high quality shaving products for men for more than 90 years so it shouldn't really be a surprise that they've learned a few things about what works. The ingredients in this natural shaving soap produce a surprisingly rich lather and it's always a plus when a product can say with authority that it contains nothing of animal origin. Great shaving soap for the enlightened shaver.
Key Features:
Moisturizes skin
95% natural ingredients
Cruelty free
Made in Italy
Specification:
Brand

Proraso

Model

400116

Weight

6.4 ounces

Key Ingredients

Oatmeal extract, green tea, glycerine

Indications

No parabens, silicones, mineral oil, artificial colors or ingredients of animal origin
Taylor of Old Bond Street Sandalwood Hard Shaving Soap Refill
See More Reviews

Taylor of Old Bond Street make some of the best triple milled shaving soaps around. This sandalwood hard refill is a great example. Not only does it smell like an expensive cologne it works like a charm producing a high quality lather after minimal prep. This refill puck is designed to fit comfortably into the company's wooden shaving bowls which is just the cherry on the cake.
All in all you get a satisfying shaving experience to please all the senses (except, hopefully, taste), a surprisingly sophisticated package considering it's a refill and you won't have to mortgage the house or skip the car payment to afford it.
Key Features:
Sandalwood and cedar scent
Thick lather
Natural ingredients
Refill only
Specification:
Brand

Taylor of Old Bond Street

Model

01051

Weight

3.52 ounces

Key Ingredients

Potassium palmate, sodium cocoate, glycerin

Indications

Refill only
See More Reviews

You'd be forgiven if you put this box in the refrigerator to freshen the air because the design looks more than a little like baking soda. However it's about as far from abrasive baking soda as one can get. The combination of coconut oil and aloe vera produce lather that's as good at moisturizing your skin as it is preparing even the toughest beards for the razor.
If what you're after is a shaving soap for men that doesn't wilt under the razor, doesn't shrink from a tough beard and doesn't leave your skin feeling like it's been assaulted Badger shaving soap is just what the barber ordered. It also provides a light, pleasant bouquet that's anything but badger-like. Thank the maker!
Key Features:
Sandalwood and cedar scent
Thick lather
Natural ingredients
Refill only
Specification:
Brand

Badger

Model

634084130201

Weight

3.15 pounds

Key Ingredients

Organic palm oil, organic coconut oil, sodium hydroxide

Indications

Good for sensitive skin
D.R.Harris & Co Arlington Mahogany Shaving Bowl & Shaving Soap
See More Reviews
We love the wooden bowl. We love the balance of citrus and fern. We love the rich premium lather and we love the way our face feels afterward. What's not to like about D.R. Harris & Co mens shaving soap in its beautiful Arlington mahogany bowl? Holding the bowl while you load up the brush is the kind of tactile experience you'll recall with fondness years down the road. While in the here and now you get to enjoy a smooth comfortable shave every time.
This soap lathers up quickly even if you don't have the thickest of beards to assist in the process and it doesn't lose its "oomph" if left on your face a few extra minutes. The real sign of a quality product. You're going to pay a bit more for this soap because, hey, mahogany bowls aren't cheap.
Key Features:
Triple-milled soap
Rich lather
Citrus and fern blend
Mahogany bowl
Specification:
Brand

D.R. Harris

Model

34

Weight

9 ounces

Key Ingredients

Potassium palmate, sodium tallowate, glycerin

Indications

Bowl is sustainably sourced mahogany
Col. Conk's World' Famous Shaving Soap
See More Reviews

The lather produced by Col. Conk's World Famous Shaving Soap is not up to the standards of say the just reviewed D.R. Harris & Co product but what it lacks in rich creamy foam it makes up for in the way your skin feels in the aftermath of shaving. Once you rinse off you're left feeling like you just emerged from a spa or just found that perfect moisturizer you've been seeking. One that doesn't make you feel like you rubbed 30 weight on your face or leave you with volcanic pimples.
Col. Conk's is affordable, conveniently sized, pleasant smelling and does the job you want it to do while leaving your face feeling great. If the destination is more important to you than the journey Col Conk has a mens shaving soap for you.
Key Features:
3 compact shaving bars
With avocado Oil and Vitamin E
Long lasting lather
Non-toxic
Specification:
Brand

Colonel Conk

Model

112

Weight

5.6 ounces

Key Ingredients

Avocado oil and vitamin E

Indications

Non-toxic
Van Der Hagen Glycerin Shave Soap
See More Reviews

Van Der Hagen Glycerin Shave Soap isn't cheap but it's well worth the price thanks to its generous lather, its pleasant scent, its hypo-allergenic qualities and the way you feel when you put the razor down and splash your face with cool water.
The packaging left us cold but the product itself has been thoughtfully formulated and is an excellent choice for those with sensitive skin who don't want people smelling them coming 3 blocks away. Another saving grace of Van Der Hagen shaving soap for men is that it's widely available both online and in many brick and mortar establishments; for those who really embrace the old school values of going to the store to buy things.
Key Features:
Hypo-allergenic
40-percent moisturizers
Protects sensitive skin
Unscented
Specification:
Brand

Van der Hagen

Model

VDH-GLY-12

Weight

2.4 ounces

Key Ingredients

Vitamin E and oat extract

Indications

Hypo-allergenic, protects sensitive skin
Dr. Bronner's Peppermint Organic Shaving Soap
See More Reviews

We wrap up this list of the 11 best shaving soaps with Dr Bronner's Peppermint Organic soap. It's the only one on the list that comes in a tube, a fact that's bound to turn off traditionalists. For the open minded though what you'll find here is a truly vegan and cruelty free product with a pleasant minty smell that lathers up nicely and is affordably priced.
Organic shikakai can trace its origins back several centuries to India where it was (and continues to be) a popular product for washing and conditioning hair. It's known to prevent raw, itchy scalp which makes it ideal for use on a face covered in more sensitive skin. You'll feel as good as you look when you shave with Dr Bronner's Peppermint Organic shaving soap.
Key Features:
Certified organic and vegan
Liquid soap base
Rich lather
No synthetic preservatives
Specification:
Brand

Dr Bronner's

Weight

10.6 ounces

Key Ingredients

Organic shikakai

Indications

Certified organic and vegan
Shaving Soaps Buying Guide & FAQ
Q: How Much Shaving Soap Should You Use?
A: There's simply no way to say you should use X ounces of shaving soap. The amount will be different depending on what type of lather you're after (thin or thick), how thick your beard is and most of all how much provides you with a nice comfortable shave. Which is only something you can determine through trial and error. There are some mens shaving soap basics you should adhere to when it comes to preparing the soap and we'll cover those in the answer to the next question.
Q: How to Use Shaving Soap for Men to Achieve the Perfect Shave?
A: A great shave depends on achieving a great lather and there are definite steps to take to achieve the perfect lather. They are:
Prepare the soap and brush - If you are to achieve the perfect lather for your face it's important to prepare the brush and soap by giving them a good soak in warm water. Typically you'll let the soap soak for 10-15 minutes. For the brush a few minutes submerged in warm water should do it.
Building the lather - You can go one of two ways with lather, either lots of water or very little water. With lots of water you'll typically get a thicker, creamier texture so exactly how much water you add will depend on how creamy you like your lather. For the purposes of this guide we'll assume you like a nice thick traditional shaving soap lather. So load your nice wet shave soap brush with soap by swirling on the surface of the puck. Give it enough force to splay the bristles a bit. Keep swirling until you've got a light foam comprised of tiny bubbles.
Apply to your face - Once the brush is properly loaded with a light foam of tiny bubbles apply it directly to your face. Keep swirling until the foam starts to build. If necessary dip the brush quickly into the warm water you took it from and continue swirling. Remember you're not going to achieve the kind of aerosol induced foam you get with canned shaving creams. You're after something more organic which is typically a heavier and slightly less lofty than canned foams.
Once the lather has achieved the desired consistency it's time to pick up your straight edge and get to work.
Q: How Long Does Shaving Soap Last?
A: In most cases where you shave every day or two a puck of shaving soap should last 2 to 3 months. There are however some milled soaps such at the Taylor of Old Bond Street Sandalwood Hard Shaving Soap reviewed above that could conceivably last a year.
Other Considerations When Choosing Shaving Soap
Keep the following in mind when selecting shaving soaps and you're sure to find one that's a good match for your beard and skin.
Allergens - Soap can produce a surprising number of allergic reactions in people and that includes the top shaving soaps. If you have sensitive skin make sure you select a soap that is allergen free and free of artificial colors or fragrances.
Scent - As we said if you have sensitive skin you'll probably want to avoid shaving soaps with artificial fragrances added. However if that's not an issue for you you'll find a wide array of scents to suit just about every preference. Although to be sure the various scents associated with mens shaving soap tend toward the manly, musky, burly type of scents.
Size - Most of the time size doesn't matter. However there may be instances like when you are traveling that lugging around a full size puck of your favorite shaving soap for men just isn't necessary or practical. Fortunately shaving soap today is available in all sizes and shapes.
Aesthetics - Some guys like their shaving soap in a bar, some in a bowl, some in a particular type of wooden bowl. Some insist on throwback packaging, others don't care about the packaging but want the puck itself to have a pleasing aura to it. Which type of guy are you?
Price - Of course you'll also want to consider the price of the shaving soap you buy. While there aren't any brands we're aware of that will break your bank some are definitely more expensive than others. In fact it's possible to buy some top shaving soaps for upwards of $100.

Conclusion
The top shaving soaps for men may seem like a quaint walk down memory lane but the fact is today's mens shaving soap is much more than that. It's the perfect way to get your day off to a relaxing, rejuvenating start and a great way to connect with traditional values that resonate even more fully in the digital age.