Best Bath Bombs for 2021: Self-Care Meets Science Fair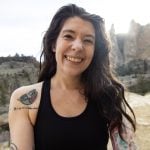 This product guide was written by Tuesday Kahl
Last Updated
January 15, 2021
Tuesday Kahl
Tuesday Kirby Kahl is a contributor at Gear Hungry. Her fierce love for the outdoors fuels everything she does. Her professional pursuits include writing, creating art, and photography. These professional passions allow her the time to live life outside as a rock climber, skier, runner, backpacker, paddle boarder, swimmer, and explorer.  When Kirby is indoors, she enjoys tea, whisky, old films, cooking, and baking. Her product testing and feedback have shaped the design of everything from climbing shoes to candles.
GearHungry may earn a small commission from affiliate links in this article.
Learn more
Bath bombs have enjoyed popularity amongst kids and kids-at-heart ever since their invention by Mo Constantine of LUSH Cosmetics back in 1989. In more recent years, bath bombs have become ever more popular as relaxation and skincare tools.  Today, you can find all scents, shades, and shapes in most grocery and beauty supply stores.
In this buyer's guide, we'll dig into the best bath bombs out there, their various applications, and what to look for when shopping for a high-quality bath bomb. As a former LUSH employee and someone who has enjoyed many bath bombs, I'll be your guide. So dab on that green tea facemask, pour a glass of wine, and let's dive in.
The Best Bath Bomb
Bath Bomb Buying Guide & FAQ
Features to Look for in Bath Bombs
Ingredients - The basic recipe for a bath bomb includes baking soda (sodium bicarbonate), citric acid, Epsom salts, corn starch, an oil such as coconut or almond, and essential oils. Most bath bombs should be labeled to have these ingredients, but you may see other ingredients that affect the scent or color. If you can't read or understand some of the ingredients, maybe avoid that bath bomb. Bath bomb ingredients are generally straightforward and uncomplicated.
Scent - Scents in bath bombs usually come from essential oils. When selecting fragrances, make sure you love the smell of the bath bomb; you'll be sitting in it and smell like it later! Scented bath bombs come in many scents, from singular fragrances like lavender or eucalyptus to blends like lime and wintergreen, rose, sandalwood, and many more. If you can dream up a scent for your bathtime aromatherapy, there is a pretty good chance that there is a bath bomb that brings it to life already.
Fizz - If you are all about the fizz, the color show, and the theatrics in your bath, bath bombs are definitely for you. Most bath bombs fizz for about five minutes, but fizz time will vary with every bath bomb. If a bath bomb has come into contact with any moisture, is stored in a humid environment, or had too much liquid added in production, it may not have the same fizz effects. The balance of ingredients matters also. Each bath bomb company will have its own recipe for their bath bombs that could affect the fizzing properties.
Color - Bath bombs come in every color of the rainbow and unique designs and layered colors. You can even find rainbow bath bombs! These colors will generally also change the color of your bathwater. Homemade bath bombs might use gel food colorings, whereas professional-grade bath bombs tend to use dry pigments such as micas. You may also see food-based colorants like blueberry or beetroot powders. Mica is by far the most common colorant in bath bombs, but there is still a wide variety of ingredients used to color bath bombs and your bathwater.
Dissolve Time - As we discussed earlier, when we talked about fizz, bath bombs should last for about five minutes. This dissolve time can vary significantly based on storage, environment, amount of liquid in production, and the bath bomb's age. Bath bombs are generally good for about 6 months and, after that, will often produce less and less of a show as they age.
Bath Bomb FAQ
Q: What is the purpose of bath bombs?
A: The primary purpose of a bath bomb is to soothe the body and mind. Cornstarch is excellent for softening the skin, as are the essential oils.  Epsom salts are great for sore muscles, providing relaxation as you soak.
The aromatherapeutic properties found in bath bombs aid in relaxation both physically and mentally.
Q: Is it safe to take a bath with a bath bomb?
A: Yes, taking baths with a bath bomb is generally safe. If you have sensitive skin, read the ingredients before jumping in the tub with it, or opt for a bath bomb with minimal additives like dyes and scents.
Women prone to pH imbalances down under should avoid using most if not all bath bombs. For women, bathing daily can throw off your lady bit's pH balance, leading to other issues, but not all bodies react in this way. The shift in pH  (or lack thereof) depends on the person.
Q: Is it bad to use a bath bomb every day?
A: Unless you have susceptible skin or experience the sort of pH imbalances we discussed above, there's no harm in using a bath bomb on the reg.
If your skin is relatively sensitive, read your bath bomb's ingredients before committing to a dip with it. Mystery ingredients like "fragrance" can be chemical mixtures that are more likely to irritate than natural essential oils. It is also important to be aware of any sensitivities or allergies you may already have and check bath bomb ingredients for potential irritants.
Q: Do I need to shower after a bath bomb?
A: No, you do not need to shower after using a bath bomb. However, if your bath bomb has intense colors, glitters, flowers, or other bits of botanicals in it and you would like to wash that off, then a shower afterward is not a bad idea. A shower can also help clean your tub of any debris, butter, colors, or glitters leftover from the bath bomb.
Q: Are bath bombs actually good for your skin?
A: Yes, bath bombs are excellent for soothing and softening the skin. As we've mentioned, if you have sensitive skin, you should be cautious when using bath bombs. Otherwise, bath bombs are a fun, fizzy, colorful way to soften the skin and add oils and butter to your skin. The softening effects of a bath bomb are similar to that of adding oils and Epsom salts to your bath, but they have all the extra theatrics and pizzazz.
Q: How long should you stay in a bath with a bath bomb?
A: How long you should stay in the tub is a debated topic. Some sources say 10 to 15 minutes is enough. Others say 30 minutes is appropriate. Bath bombs can get pricy, and some folks like to make sure they get their money's worth and stay in the bath for an hour or more. Let your skin and body guide how long you stay in the bathtub, and make decisions based on experience and feel.
Sign Up Now
GET THE VERY BEST OF GEARHUNGRY STRAIGHT TO YOUR INBOX