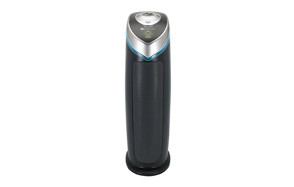 GermGuardian AC4825 3-in-1 Air Purifier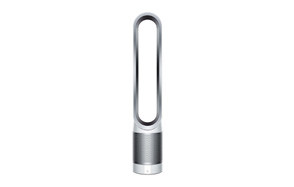 Dyson Pure Cool Link WiFi-Enabled Air Purifier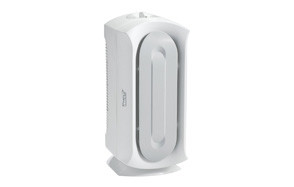 Hamilton Beach TrueAir Allergen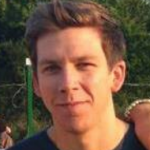 Airborne allergens are an ugly part of life, and 99 percent of these are invisible to the naked eye. As someone who frequently suffers from the effects of hay fever, life sucks when you are constantly experiencing a runny nose, sensitive eyes and an annoying cough which just won't go away.
While it's almost impossible to tackle the problem when you are outside, you can do something about it at home. This is where HEPA air purifiers come in. They contain filters made of many layers of fibers that trap harmful air particles as air is drawn into the filtering system. Once the particles are trapped, the air purifier blows back into the room the filtered clean air for you to breathe in. All homes contain airborne allergens that the eye cannot see, such as pollen, dust and even fecal matter from dust mites.
Having an improved air quality standard in your home can be beneficial to your health. If you suffer from allergies, you know the importance of breathing air free of pollen, dust, pet hair and other allergens. A HEPA air filtration system can remove those particles from the air at a higher efficiency than other filters and improve your quality of life.
In this article, we take a look at some of the most popular and best rated air purifiers that you can buy to keep your air clean and fresh.
The Best Air Purifier
Air Purifier Buyer's Guide and FAQs
Q: Why should I care about air quality?
A: According to a World Health Organization study on indoor and outdoor air pollution, over 4 million people die each year from indoor air pollution. This number is more than from outdoor pollution.
In the US, studies based on air quality monitoring have shown indoor air is more dangerous than outdoor air pollution by 2-5 times. If someone from your home smokes indoors, it can be up to a 100 times more lethal.
Nobody really knows why, but the fact is nowadays we spend 80%-90% of our time indoors.
With the convenience of the web and social media, we can buy anything and see anyone without stepping foot out of the door. This trend is reflected in our rising electricity costs.
Also, we are becoming overly obsessed with energy-efficient homes. Air conditioning and heating costs often make up 50% or more of our energy bill. So, it makes sense to want to save.
As a result, our homes are airtight to save energy. However, this leads to poor air ventilation, causing the indoor air to become stale and polluted. To fixe one issues, we've created a new one.
Even in well-ventilated places, polluted air can enter our windows due to the location of a lot of our homes and their vicinity to air pollutants, such as pollen, mold, or even second-hand smoke from neighboring tenants.
Other common sources of indoor air pollution include vehicular emissions from nearby highways, gas leaks, house pets, and fumes from cleaning supplies and furniture.
Indoor air quality not only impacts your life at home but in the office too.
A study showed that businesses lose 6%-9% productivity due to poor indoor air quality. Hence, if you need to be at the top of your game and think well, it helps to work in an environment that is clean.

Q: What is a HEPA filter?
A: HEPA filters are one of the most widely-known methods of air cleaning. In fact, when most people think of an air cleaner, they almost always initially think of a HEPA filter.
HEPA is an acronym for High-Efficiency Particulate Air Filter. HEPA has been around since World War 2 and was used in the U.S. military. The precise definition of HEPA varies from country to country and as well as the type of methods used to test its efficiency.
Still, most conventional HEPA filters consist of a single piece of unique paper-like, glass-fiber filter medium which is creased into a V-shape, with aluminum separators in between the creases. This creates the filter portion, which is then attached to a sturdy frame using a unique polyurethane compound. Standard filters are produced in a range of face dimensions and two standard depths of 150 mm and 300 mm.
Q: What are the benefits of HEPA air purifier?
A: Compared to traditional air filters, the HEPA air filters are the best choice because they are designed to trap smaller polluting particles through their state of the art mechanism. HEPA filters for air get rid of up to 99.7% of particles that are airborne that are larger than 0.1 microns.
HEPA filters let fresher and cleaner air into the room and are very useful in getting rid of smoke, pollen, dust and other smaller particles from your room.
HEPA filters for air will help manage your allergies, sometimes even more effective than conventional medications.
HEPA units are suitable for offices or houses that have odor problems or for people with bronchial asthma or allergic reactions.
Among all HEPA air filter advantages, one superior advantage over the others would be that a HEPA filter is cost-effective. While it is true that the air purifier unit that uses a HEPA filter may cost a bit more at the time of the initial purchase, the cost savings from not having to buy replacement filters will almost always make up for the difference.
HEPA replacement filters can cost anywhere from $10 to $30. The frequency that filters need to be replaced depends on the area where the air purifier is located.
However, a HEPA filter can be removed from the Air Purifier, wiped down and cleaned and placed back into the air purifier. This is a fact that many people overlook.

Q: Are there any drawbacks to using HEPA air filters?
A: Some HEPA filters are designed in a way where they cannot easily be replaced without disassembly.
As the amount of air increases, the resistance of air flow rises too and hence the pressure drops across the filter. This uneven filter loading can cause irregular airflow through the filter, thus decreasing the HEPA filter's effectiveness.
Additionally, inexpensive HEPA filter systems often do not cover the filter chamber properly, so contaminated air can escape through the leaks and gets circulated back into the indoor air.
Some manufacturers will even void your warranty on filtration systems if you do not replace the filter according to a particular schedule, and most will not cover damage caused to the unit by clogged filters, which can cause the fan motor to burn up.
Most HEPA air filters, even the larger models, don't have the power to cover an entire house. At most, a single air purifier can cover an entire small apartment. This is because, in order for the air to be scrubbed, it must pass through the filter. As a result, they can only clean the air that is surrounding the filter.
While some filtration systems do incorporate charcoal or other filtration media that can absorb odors, they tend to have limited effects on strong odors and virtually none on bacteria, viruses, germs and fungi like mold.
There are other disadvantages to HEPA filtration systems. HEPA filters are extremely fragile and can easily be damaged during installation, cleaning, and even when the unit is moved. There are now air cleaner brands using HEPA filters which now require that you change the filters at least once and often twice a year in order to validate the unit's warranty.
HEPA units are usually loud. While they won't be as loud as a Harley, light sleepers may be uncomfortable sleeping at night with a filter droning in the background.
Q: What about ionic air purifiers - Are they better than HEPA filter purifiers?
A: The short answer is no.
To know why that is, you need to understand the truth about ionic air purifiers – they are almost useless.
Ionic air purifiers are an obsolete technology from the 90s.
How it works is this - Instead of depending on fans to move air across filters, they emit a constant stream of negatively charged ions that electrify tiny bits of dust, dander, etc.
The airborne particles gain a negative charge and become attracted to positively-charged collection plates inside the device. (In most cases, they end up attracted to other positively-charged surfaces such as walls, electronic devices, and tabletops).
Also, if you are an asthmatic sufferer, ionic air purifiers can irritate your lungs due to the ions they emit.
To a certain extent, all ionic air purifiers release ozone gases, which is not only a potential environmental pollutant but can irritate lungs as well.
People who use several units at a time are especially likely to get an ozone gas overload. There are also recent studies which suggest that formaldehyde which is also released in small traces from ionizers is linked to cancer. So, my personal advice, stay away from ionic air purifiers!
Q: Allergies are annoying! How do I choose an air filter for allergies?
A: Allergies can be from a range of airborne sources. To find an air purifier that works against allergens, you should look at the effectiveness of the HEPA filter and motor quality.
This is because allergens are airborne particulates. A HEPA filter is the best way to remove allergy particles from your air.
Most large airborne particles are trapped by a pre-filter. This includes things like large dust, pollen, pet hair, or pet dander. Basically, any particles that the naked eye can see.
When a pre-filter is used, it protects the HEPA filter from being clogged so easily, thus extending the life of the HEPA filter. The HEPA filter can then concentrate on trapping the smallest airborne particulates.
Here are some considerations to keep in mind when choosing your purifier:
Power efficiency: The motor quality is essential so you can ensure there is enough filtered air flow. A cheap motor will not move enough air to clean your room. Otherwise, it may produce a lot of noise.
Carbon filter: Unless you need odor removal, a carbon filter is not going to be necessary. A carbon filter is a nice feature and can make your room smell better. It just may not contribute to allergy relief.
Room size: The other considerations include the size of the room. If your room is small (300 square feet or less), you can settle for a purifier with lower air flow. With air purifiers, you often get what you pay for so a unit with a stronger air flow will filter your air more effectively, giving you a cleaner environment.
Similarly, if you have a large room , such a rooms that are 500 square feet and above, you will need a much more powerful motor. A purifier with a small motor won't work well in this situation.
Location of the purifier: Ideally, you should place the air purifier in the room where you spend most of your time. Often, this would be the bedroom.

Q: My home is covered in dust! Which air filter should I get?
A: If you live in dry, desert areas like Arizona, the annual dust season can be problematic.
For most folks, dust shows up when the forced-air heating or air conditioning system is switched on. The system is either old or dirty, and this dust is circulated throughout your home.
Another source of dust is from pests such as dust mites or wild birds. Feather dust can generate huge amounts of airborne dust.
Like allergens, dust is tough to remove. Even our own skin produces indoor dust. If you have a household dust problem, you should keep your home as clean as possible, thus reducing any contact with the dust.
An air purifier for dust is the ideal solution to alleviate the dust woes in your home or office.
Since dust is an airborne particulate, you should focus on a high-quality HEPA filter. You will also want to look at the motor and air flow to make sure it can clean your room size.
Large-particle dust is easy to get rid of, but it is the fine dust that you should be worried about. The larger dust drops to the ground and can be easily cleaned up with a vacuum cleaner.
However, the fine dust particles can stay floating in the indoor air for hours or even days. They eventually get breathed in by us, causing health problems.
The better the HEPA filter, the more of these small dust particles can be removed from your air. You will want to choose a high-efficiency filter.
Also, you should get a good HEPA vacuum cleaner and ideally have someone who does not react to the dust do the cleaning. If your skin is sensitive to dust, you do not want to be around when the dust is being kicked up.
Q: I have asthma. Can a HEPA air purifier improve my life?
A: Absolutely. HEPA air filters can help people who suffer from respiratory problems such as asthma.
If you or somebody has asthma living in your home, you will want to go with a home air purifier that has a high-efficiency filter. This is especially helpful for small children and babies as all HEPA filters have a high MERV (Minimum Efficiency Reporting Value) rating.
The goal is to turn your room into a sterile environment. You will also want to make sure the purifier motor is strong enough to circulate the air in your room at a rate of between 3 to 4 times per hour, the higher, the better.
Here are a couple more things you can do to manage asthma:
Keep your humidity levels between 35%-50%. This will reduce mold growth and dust mites.
Get rid of items that can trap dust, such as carpets, curtains, and even furry soft toys.
Clean your home regularly with a HEPA vacuum cleaner. Wear a mask to keep from inhaling the particles that are kicked up.
Reduce outdoor activities on high pollen days and when ozone levels are higher.
Q: There's lots of tobacco smoke in my home! Can a HEPA air purifier get rid of it?
A: When there's cigarette smoke in the house, the air quality drops dramatically. It can even reach 100 times more polluted than outdoor air, making it a serious health concern for everyone inside.
When it comes to getting rid of tobacco smoke, most people are more concerned about getting rid of the smell. Well, it turns out that it's more complicated than that.
Getting rid of cigarette smoke smell is tough because the smoke is made up of small particles and hundreds of cancer-causing chemicals.
To remove the harmful effects of cigarette smoke, you'll need to get rid of everything. Moreover, when the smoke gets embedded into fabrics and carpeting, it can be extremely difficult to completely remove without professional cleaning services.
Getting rid of the fine particulates usually requires a highly efficient HEPA air filter. The larger, the better. The more efficient, the better.
You'll also need a strong carbon filter. Activated carbon can capture airborne smoke fumes and odors. Without a carbon filter, the HEPA filter alone won't get rid of the smoke odor.
Q: How much does it cost to operate an Air Purifier?
A: This is a difficult one to answer as there are far too many models available on the market and electricity costs vary depending on area.
While most people are concerned about the long-term cost of using an air purifier at home, such as running electricity costs to replacing expensive filters. However, nowadays this need not be as much of a concern.
Modern air purifiers are typically energy efficient. Some models use as little as 5W.
If you're concerned about energy consumption, look out for Energy Star certification as these air purifiers are usually around 40% more energy-efficient than standard units.
Filter replacement costs are another cost concern. If this is your concern look for manufacturers that produce air purifiers that are entirely 'maintenance-free' and require no filter replacement at all.

Q: What is the best Air Purifier if I live near a freeway?
A: If you are staying near the freeway, exhaust and air pollution from cars will greatly impact the indoor air quality. The pollutants are a mix of fine particulates that are smaller than 2.5 microns in diameter.
Therefore, the best way to improve your indoor air is to take the same approach as removing second-hand smoke. You'll want a high-quality true HEPA filter and at least 3 pounds of activated carbon in the air filtration system.
Q: How quickly will a HEPA air filter make a difference with a dust mite allergy?
A: As with most questions associated with air purifiers, it depends on the room size, air flow of the air purifier and air filter quality.
AHAM (Association of Home Appliance Manufacturers) has a standard called CADR (clean air delivery rate). Essentially, it is a measurement that represents the filtered air flow rate, measured in cubic feet per minute (CFM).
If the filter is a true HEPA (99.97% efficient) and has a CFM air flow of 200, then the CADR will be at or just below 200. If the filter efficiency is 70%, the CADR will be 140 (200 x 70%).
Ideally, you want 4-6 air changes per hour in a room. So, to have all the air cleaned about every 15 minutes. The AHAM standard is to take the CADR and multiply by 1.5 to have the optimal room size. So, if the CADR is 200 it can effectively clean a 300 sq ft room with the air cleaned every 15 minutes.
Do note that some brands such as Dyson do not include the CADR in their product specifications.
Q: How are dehumidifiers different from air purifiers?
A: Dehumidifiers primarily remove humidity from a room, while air purifiers remove airborne particles and gases.
Dehumidifiers have a compressor and are basically a small portable AC unit or Wall AC unit. Unlike air purifiers, dehumidifiers contain an air compressor.
Dehumidifiers typically have a small screen filter that can remove very large dust particles, but not the smaller particles that HEPA air purifiers are designed to capture.
When it comes to getting rid of mold, they work similarly. While an air purifier will remove the mold spore particles from the air that cause allergy and asthma issues. A dehumidifier will remove the water and humidity that mold thrives on. An air purifier can also help with mold odors if it has sufficient amounts of activated carbon.
Q: Is it a stupid idea to get an air purifier if I my windows are open?
A: If you live in a highly polluted city where the air quality is absurdly bad, buying an air purifier may seem like a good idea.
However, if any windows are open, no air filtration system will be effective. The amount of air circulating in and out of the room is just too much for an air purifier to keep up.
Q: If I am too broke to get an air purifier, what should I do?
A: Here's a piece of good news – get a houseplant!
Plants are nature's air purifier. NASA has done some research into air purifying plants that can clean the air in places such as a shuttle or space station.
NASA was looking for a way to improve indoor air in space stations. Having excess carbon dioxide in space have always been a concern.
So, they did a study and found out that certain household plants were very effective in purifying air. These included aloe vera, Florist's chrysanthemum, Red-edged dracaena, Bamboo palm, Chinese evergreen, Spider plant and English ivy can naturally remove toxic agents such as benzene and formaldehyde.
Although these plants can be very effective, many of them are not as effective as a properly calibrated high quality air purifier.