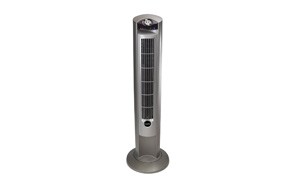 Lasko 2552 Wind Curve Tower Fan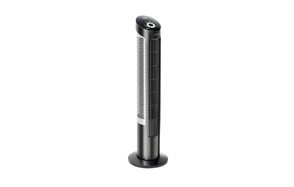 Seville Classics Oscillating Tower Fan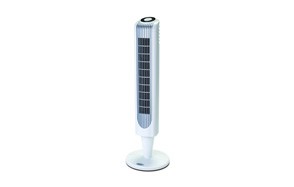 Holmes HT38R-U Oscillating Tower Fan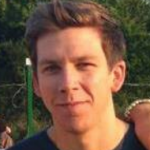 We all love the warmer summer months; time to pack away the winter duvet and go down a few togs! We don't enjoy the disturbed sleep and waking up a sweaty hot mess at 4am. Opening the windows won't circulate cool fresh air if it's warm, stale and still outside. Plus, depending upon where you live, that might not be the best option either. Cars and buses are screeching by, the neighbors having another row, those feral night animals getting up to their tricks! Depending upon your space and budget, an air conditioning unit or a traditional oscillating fan might not offer a practical solution either. So let's take a look at some of the best Cooling Tower Fans that will help induce a cool and calm restful night's sleep when it's getting hot in the city, and an unexpected heatwave is upon us.
The Best Cooling Tower Fans
Cooling Tower Fan Buying Guide & FAQ
How We Chose Our Selection of Cooling Tower Fans:
Besides reading and researching numerous reviews including consumer feedback to ensure that they reach only the highest standards of quality manufacturing, we also considered budget and brand. We'll go on below to look at more of the features, but our recommended range of Cooling Tower Fans had to be quiet, have good airflow, a decent footprint, a stable and supportive base and to be well constructed and reliable.
As always we recognize that our readers have varying budgets and disposable income to outlay on new products so we have a fully representative range that has the top end most recognized and loved global brands alongside cost-effective and lesser known products from brands you might not personally have been familiar with before now. Our intention is always to make you comprehensive guides as accessible as possible so that there is something for everyone among our carefully researched recommendations.
It's also essential that our selection of cooling fan products come with a range of convenient features that aren't too complicated to operate and that are useful rather than unnecessary. For the most part, Cooling Tower Fans will also feature oscillation settings which allow them to conveniently take in and sweep air from side to side within your room of choice. Other convenient features that pretty much all of our list today (except for just the one model) feature is the ability to operate via remote control. We don't know about you, and we are not saying that any of you are lazy, but how cool is it to reach over, grab a remote of any description and your will be done! We hope that you find a Cooling Tower Fan among our selection that is just perfect for you and your family.

Features To Look For In Cooling Tower Fans:
When choosing a Cooling Tower Fan remember that it will only do just that. Bring the temperature down. So if you are looking for something with dual functionality, then you need to do more research! Oscillating fans don't raise the temperature, they simply cool the space you set them up in by circulating that air all around you. Consider them to be like a soothing outdoors breeze. Just the ticket on a warm and muggy Summer's afternoon.
There are plenty of features that you need to be looking out for in your Fan. We recommend that you consider all of the following and more besides which we will give a quick brief summary overview of.
Size
Power
Weight
Design
Durability
Portability
Features
Customization
Noise
Let's talk in a little more detail about Noise. Hot, muggy nights are bad enough without also having to contend with the buzzing blades of a fan or a noisy unit in your room so ideally, you need to pick something that is noiseless or operates on a low noise level. For many people, the gentle low hum of the fan's white noise can be therapeutic and helps many a restless sleeper to drift off. So if this element appeals to you, then opt for a low noise operation and enjoy the additional benefit.
Let's quickly chat Airflow too. Depending upon the size of your room you might want a wide angle fan or if your space is limited, prefer a taller style unit instead. Size, weight, and power then are also significant. If you love a gentle breeze to lull you to sleep on a hot sticky evening rather than having to open the windows and contend with external traffic noise, then an excellent powerful airflow is a must have.
Don't know about you, but we hate cleaning! So you need a Fan that you can easily dust and clean without having to dismantle the whole thing. Ideally being able just to wipe the blades down to keep them clean.
Extra useful features to look out for include Remote Control, perfect if you are laid in bed and can't be bothered to get up. We've all been there. It's cozy once you get under the duvet! The last thing you want to be doing is getting up, switching on your fan and disturbing that Zen time! While we are talking controls, do you prefer a touch button or a digital display? All these opportunities are available to you so you can be sure to invest in the right Cooling Tower Fan for you.

Cooling Tower Fan FAQ
Q: What is a Cooling Tower Fan?
A: A Cooling Tower is basically a device designed to reject heat. It does this by actively extracting waste heat from the atmosphere, via a cool water stream to create colder air temperatures. It's a typical application found in air-conditioning units and power generation devices such as Tower Fans.  A cooling tower is characterized by the way in which it moves and circulates the air around. It is overall a more cost-effective alternative to an air conditioner and perfect for anyone living in hotter climates. Tower Fans typically also tend to be more compact and take up less space than an air conditioning unit which makes them a practical solution for keeping smaller offices and apartments at a comfortable regulated temperature. Small and compact in size, some of the better ones available are powerful enough even to keep a large living space cool.
Q: What Are The General Benefits To Tower Fans?
A: Tower fans can help you to cool your home in an energy efficient and cost efficient way which in today's ever-increasing world is a real bonus for any household. Better still though, they are space-saving too, and this is perhaps one of the key reasons that promote the purchase of a Cooling Tower over, for example, a more bulky and substantial air conditioning unit. If you opt for a Tower style, they can be very discreet and pretty stylish looking too. Easy to tuck away when not being used and contemporary and modern enough to be out on display when you require.
More and more units are taking on a stylish and modern twist, and so they won't negatively affect the design aesthetics of your home either. They've been designed to deliver quiet and efficient cooling relief around your home and are barely noticeable. You get all the benefits with minimal negatives. More importantly, they are reliable and efficient, providing cooling relief around your home and creating a comfortable environment in which to relax and recover from the heat outdoors.

Q: How To Clean And Maintain A Cooling Fan?
A: Dust can accumulate in even the cleanest of homes, so it's important that you keep on top of cleaning your Cooling Fan. What you don't want to have to do is dismantle your fan to do this. It's made up of complicated parts, so you don't want to run the risk of not being able to reassemble it.
First up you do obviously need to ensure that your Fan has been switched off before you attempt to clean it. Unplug it and pop it onto a clean, easily accessible surface. If it's really dirty and covered in dust and debris, you might want to ensure that you have a disposal bag close on hand to clear up after yourself. Assuming that you aren't about to take out your screwdriver set and entirely dismantle your unit, you could try spraying the dusty parts with a can of compressed air to get you started and to dislodge any larger particles of debris. Angle the spray in and around any crevices so that you can really get into the parts of your fan to give it a good old blast. Alternatively, just get a clean damp cloth and wipe any surfaces that you have access to. These two tips should do the trick and ensure that your cooling fan continues to run optimally.
Q: Tower Fan vs. Regular Fan
A: Both are great options for keeping you and your family cool over the warm summer months. Your crucial consideration is likely to be space and personal preference. While some people prefer the traditional oscillating blade style fans, for others, a more compact and modern, sleek tower style fan is going to be preferable. Pedestal style fans can quite often have very large blades which means they are not ideal for smaller spaces. Also, consider the purpose of investing in a fan. Is it just to circulate air, do you actually need to create cooler air and are allergens a concern too? If you are looking for a unit that can both simultaneously cool and purifies the air around you, then go for a particular Tower Fan that has an air purifier built in. Many of the newer style Tower Fans do have ionizers and other advanced features built in. Great for helping to alleviate any allergies which are always worse in the summer months and for improving the general air quality of your home environment.

Q: Are Tower Fans Loud?
A: Your Tower fan, depending upon which brand you purchased, shouldn't be noisy no. Some are entirely without noise whereas others emit a low noise, like white noise, that some people find soothing and relaxing as it helps to minimize other external noises which can be distracting. Most of the Tower fans more commonly available will emit around 60-70 decibels so check the reported output first before investing. Just to put that into perspective, a whisper measures in at 20 decibels and a library at 40 decibels so really an average fan is pretty low on the disturbing noise front!
Sources:
How To Clean A Tower Fan In Five Simple Steps - Housing Here