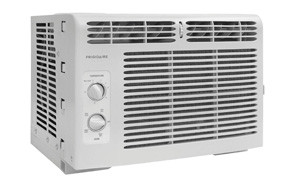 Frigidaire FFRA0511R1E 5 AC Unit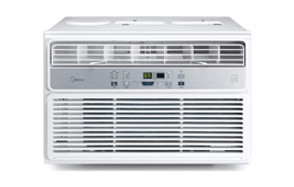 MIDEA MAW10R1BWT Window Air Conditioner 10,000 BTU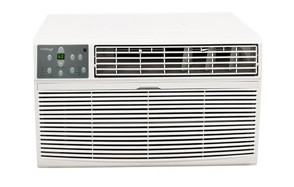 Koldfront WTC 8,000 BTU Air Conditioner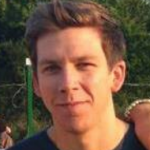 No matter how you plan to stay cool, you want an efficient machine that's going to be reliable for years to come. Well, that's where a wall AC unit comes into play. Better than fans and longer-lasting than portable units, wall AC's are the ultimate beast to cool your small room or large space, and they come in a variety of different strengths. Here are Gear Hungry's top seven wall AC units to chill out without cashing out.
The Best Wall AC Unit
Wall AC Unit Buying Guide
If you're thinking of investing in a wall-mounted AC unit, we recommend you consider the following essential criteria to aid your purchasing decision.
Room Size - Air conditioners are measured in terms of their BTU, which represents British thermal units. You should ensure that the unit you buy is powerful enough to cool the room space where it's going to be fitted. There are plenty of BTU calculators you can refer to on-line if you're to sure. Roughly speaking a unit with a 5000 BTU will cool a room of up to 150 square feet whereas or a 300 square feet space, 7000 BTU's is preferable. Besides the cooling performance, also consider the model's maximum airflow as a combination of these two performance indicators will enhance the overall cooling performance.
Efficient Rating - The more efficient your unit is, the higher the EER will be. The average energy-efficient rating of most wall AC units will be around 10.3 with the best units have an EER of up to 10.7.
Operating Modes - It pays to invest in a unit that has customizable settings and modes that can be matched to your preferences. You can find units with adjustable fan speeds as well as built-in dehumidifiers which will additionally pull moisture out of the air to help keep your home comfortable and mold-free.
If you plan on using your AC unit overnight, it's also an excellent idea to choose something with a quiet operation so that it won't cause unnecessary disruption as well as a sleep mode setting with which is conveniently pre-programmed to gradually raise the temperature to a comfortable level while you sleep and when you wake.
Timer - It can be expensive running multiple electrical appliances in your home, so if you select an AC unit with a range of pre-programmable timer settings, you can choose the one that's best of you and your budget without worrying about forgetting to switch it off. The automatic switch-off mode will save on electricity costs.
Digital Temperature Control - Many units feature not just a remote control so that you can adjust from wherever you happen to be positioned but also a digital temperate control panel which displays essential information about temperature setting and how much energy your unit is consuming.
Accessible Easy Clean Filters - Most air conditioners do come with filters which will require cleaning and changing. Look out for filters that are easy to access and clean and which can be quickly detached and wiped down rather than require professional or expensive on-going service and maintenance.

Wall AC Units FAQ's
Q: What are some of the benefits of Wall AC units?
A: Below we've listed out some of the key reasons why we think you will appreciate a through the wall air conditioner.
All-year-round comfort, not just for the hot summer months. Even if you see a spike in temperature in the winter, you can simply switch your AC unit on. If you had a window-mounted version, the chances are that you would already have stored it away.
Plenty of units offer flexible heating solutions and can provide cooling as well as heating functions. This can save you money in the long run and also reduce the space that would be taken up by two separate units.
Wall AC units are typically less obtrusive than their window-mounted counterparts and safer too, and they don't require an open window to operate. That means you can still enjoy the views from your windows and have the flexibility to open up your home and enjoy fresh air whenever you feel like it.
They're also far more energy-efficient than central air conditioning systems and more effective than window versions because they have form a together seal around the unit itself, presently cold air from escaping. In addition, they're also relatively inexpensive to run with the average wall mounted air conditioner costing less than $30 per month to run even if it's being used for 8 hours a day.