Sometimes you really need to take the edge off of the environment in your home but central air is too much of an investment. Happily there are an array of affordable, incredibly convenient and effective amazing portable air conditioners to choose from today that will fit the bill. These units can easily be moved in and out of different rooms so if, for instance, your city is experiencing a heat wave you can move the portable air conditioner unit into the baby's room to keep them safe and comfortable. Or, if you're having friends over for dinner roll it into the kitchen so everyone can enjoy the evening in air conditioned splendor.
As with most things, however, buying an effective portable ac isn't as simple as eenie, meenie, minie, mo. You need to do a little homework and find out which ones actually perform as advertised and which are all show and no tell. In this review guide we're going to take a close look at the portable AC and highlight those we feel are the 11 best portable air conditioners on the market today.
Our Top Picks For Best Portable Air Conditioner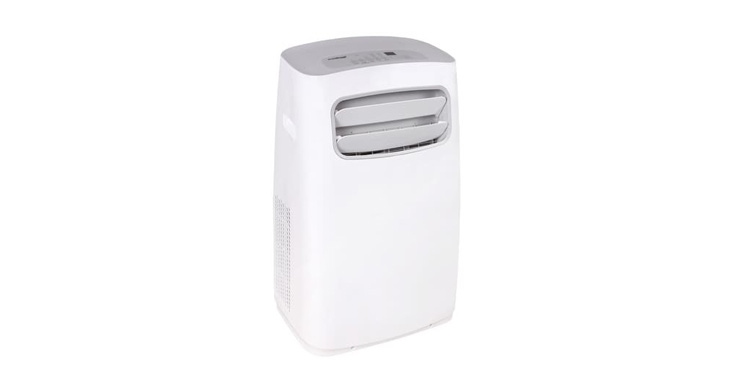 The Koldfront 8,000 BTU is a compact beast the delivers an extraordinary amount of cooling power. As long as you don't exceed the operational limits of the unit it will cool your room down in minutes and keep it nice and cool for as long as you like.
When used within the parameters laid out by the manufacturer this Koldfront 8,000 BTU will keep any room cool and dry. There's no need to have the HVAC guys over to set it up and when you move from the living room to the bedroom you can just take it with you. The cooling power of the unit is impressive and it does yeoman's work as a dehumidifier, removing 61 pints a day. The thing that really seals the deal for us with this unit is the price. At less than $300 it's a truly affordable. All in all a great value product.
Specification:
Brand

Koldfront

Model

PAC802W

Weight

57.2 lbs
Simply roll this portable air conditioner into place, set up the vent hose and engage.
A super easy to install kit makes it a snap to run the vent hose through the window in a safe, discreet fashion.
The dehumidifier will remove an impressive 61 pints of moisture per day from the air meaning you don't have to worry about furniture, rugs and artwork succumbing to excessive humidity.
There's no escaping the need to drain the unit periodically. If the weather is really humid you may have to do so every few hours.
2. Honeywell Fresh Breeze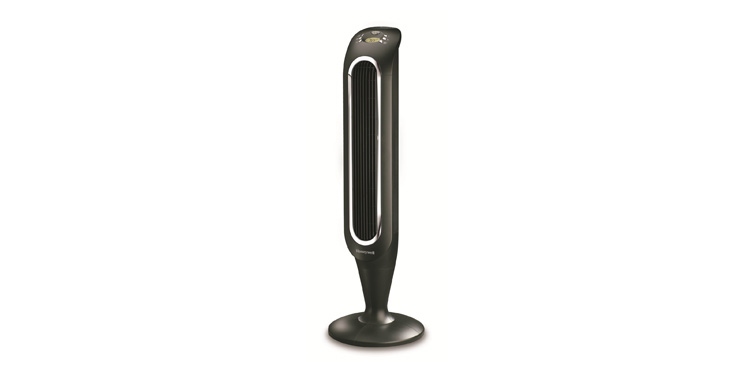 While it looks like just another portable ac the Honeywell Fresh Breeze is anything but. Using the 3 speed control you can replicate everything from a gentle breeze to a cooling wind. And it can get very cool indeed. Temperature control of the unit is an overlooked feature of the Fresh Breeze but it shouldn't be. The Fresh Breeze actually does an excellent job cooling down the room as long as that room doesn't exceed the unit's specs. Once the desired temperature is reached the unit will switch to fan mode automatically.
The Honeywell Fresh Breeze Tower Fan has all the advantages of an oscillating fan as well as those of a portable air conditioner. Set the unit to your preferred temperature and relax. Within a short time you'll feel the cool, dry air settle in and the tower will distribute it to all corners of the room. The attractive, sleek design of this model is another big plus and one that's sure to appeal to those who've put a lot of effort into their decor and don't want it compromised by the presence of a large white or black box. At the end of the day the Honeywell Fresh Breeze is a breath of fresh air due to its looks, its effectiveness and its ultra-affordability.
Specification:
Brand

Honeywell

Model

HY-048BP

Weight

14 pounds
An unheralded portable air conditioner as well as air freshener that effectively dehumidifies, refreshes and cools the air in any room.
The fan can be set to automatically shut down at 2 hour intervals up to 8 hours.
Light, compact, stylish design fits in with any decor and is also easy as pie to move around.
If you try and push it to cool a larger room than it is designed for you'll be disappointed.
Not the quietest fan on the list but not terribly loud either.
3. Honeywell MN10CESWW MN Series 10,000 BTU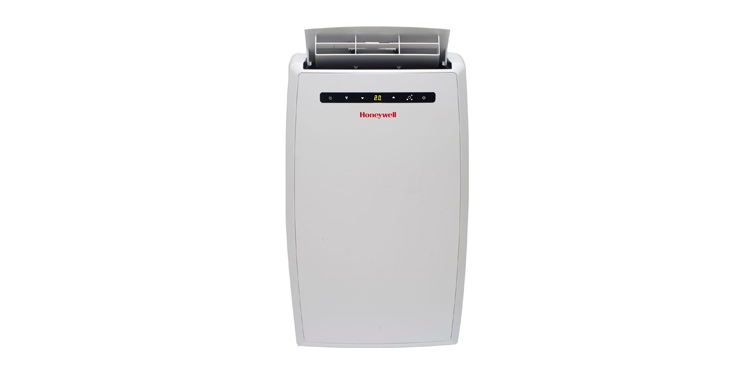 The Honeywell 10,000 BTU features a minimalist design and extraordinary cooling ability. It's as easy to set up and put to work as it is tough on hot, humid air. This portable ac unican handle a room up to 350 square feet and, unlike a fixed window unit, can be taken with you as you go from the dinner table to the living room to the bedroom.
The Honeywell 10,000 BTU Unit does an outstanding job transforming your hot, humid interior into a cool, dry sanctuary. It's extremely easy to set up and operate and that ease of operation is enhanced by the fact that there's no drainage tank to empty. As a dehumidifier, it's capable of pulling an astonishing 70 pints of moisture from the air every 24 hours (although to be sure you'd have to be living in the tropical rainforest for your air to be that humid).
Specification:
Brand

Honeywell

Model

MN10CESWW

Weight

61.7 pounds
Feather touch control means no more pounding on control buttons. Simply slide your finger over the desired control to initiate it.
Will effectively cool a room of 350 square feet (about that size of a good sized living room) provided the space doesn't have cathedral ceilings or open ends.
The remote gives you complete control of your portable air conditioner from across the room and the auto evaporation system means no drainage tank to watch.
Customer service is perhaps not all it should be.
4. Whynter 14,000 BTU Dual Hose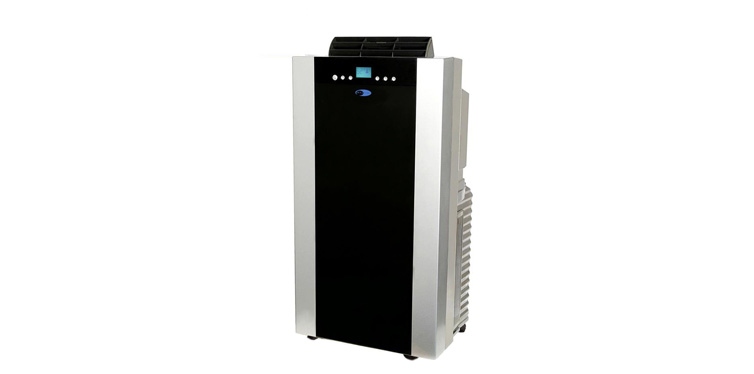 Winter (or at least a reasonable facsimile) is right around the corner with the Whynter ARC-14S 14,000 BTU Portable Air Conditioner. Don't spend another day sweltering in the summer heat. The Whynter ARC-14S can turn damp, stuffy air into dry, comfortable air in no time and this portable air conditioner can cool a 500 square foot room as long as environmental parameters are not exceeded.
If you operate this portable air conditioner by the book it will deliver plenty of cool even in the largest of rooms. If you just need to remove humidity from the air to protect furniture and carpets and discourage the growth of mold it will do that too: to the tune of more than 100 pints a day! And on those days when everything is copacetic and you just want a little bit of air movement switch it to fan mode and relax. The unit also sports patented auto-draining technology which turns collected moisture into cool air. If you have some large rooms that could use an injection of cool dry air this is the one for you.
Specification:
Brand

Whynter

Model

ARC-14S

Weight

80 pounds
A true heavy duty portable air conditioner if ever there was one.
Designers had mother earth in mind with the non-ozone depleting R410a refrigerant.
The 101 pints of moisture per day this unit will extract from the air is among the best of any portable air conditioner at any price.
The unit can generate some noticeable dust if the filters aren't properly cleaned.
At nearly $500 it's not anyone's idea of a cheap portable air conditioner.
5. Honeywell MN12CES MN 12,000 BTU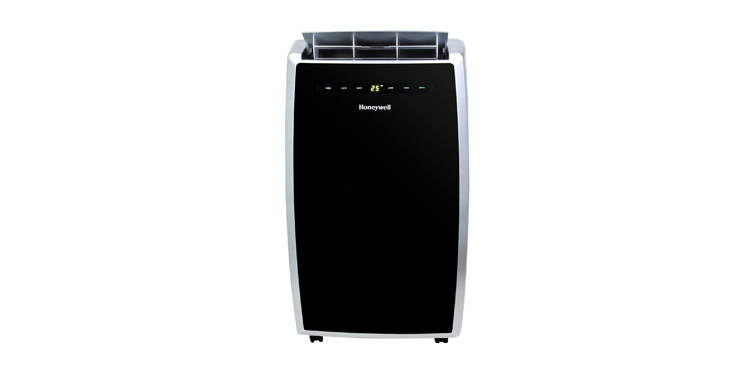 There's capable, there's good and then there's the Honeywell 12,000 BT. The unit is capable of handling 163 cubic feet per minute (CFM) of air and can remove up to 79 pints of water from the air in any given 24 hour period. It's quiet, efficient and you don't have to be a football player to move this unit around the house.
If you're looking to keep a large room cool and dry this is the unit. While the advertised 450 square feet might be pushing it a bit the unit will in fact keep a large room of a few hundred feet cool and dry without much effort. We found the remote to be maybe the most important component of this portable air conditioner because in a big room you become aware of how short the power cord is (the exhaust hose too for that matter). And if you're seated 20 feet away you don't want to have to keep getting up to adjust the settings on your AC. That said performance was right in line with expectations and we found ourselves flipping between air conditioning and fan mode pretty regularly, which indicates the AC was doing its job.
Specification:
Brand

Honeywell

Model

MN12CES

Weight

68.3 pounds
Designed to cool up to 450 square feet of open space quietly.
Uses environmentally responsible R410a refrigerant that won't destroy the ozone.
The innovative auto evaporation system allows for many hours of non-stop operation without having to empty a bucket or drain the unit. A major plus from a convenience standpoint.
Window bracket has been known to be a poor match for some windows.
Power cord on this portable air conditioner could definitely be longer than it is.
6. BLACK+DECKER BPACT08WT 8000 BTU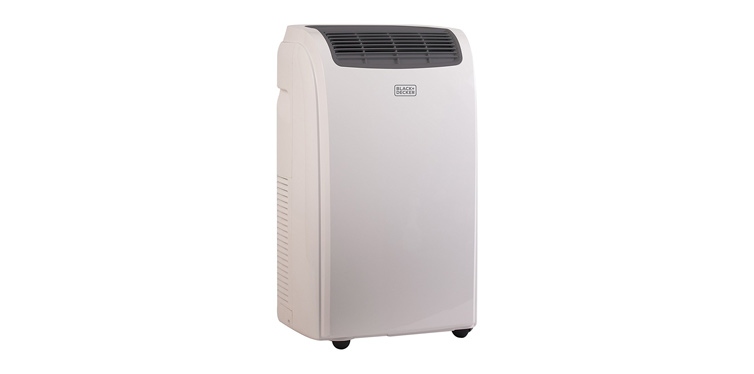 You may not think about Black and Decker when you think about a portable air conditioner but you probably should. This unit will keep even a large room nice and dry and when the AC kicks in the cool it brings to the table is formidable.
The Black and Decker 8,000 BTU kicks out the cold and can easily cool down most standard sized rooms. It's easy to set up, easy to operate – using either the feather touch controls on the unit or the remote – and can be programmed a full day in advance. From the design to the quiet operation to the effectiveness of the dehumidifier function, this moveable air conditioner performs as advertised and that alone can make it worth the financial stretch.
Specification:
Brand

BLACK+DECKER

Model

BPACT08WT

Weight

52.9 pounds
Quiet and versatile this Black and Decker portable air conditioner will do its job without generating much in the way of noise.
The window venting system is genuinely easy to set up even by non-DIYers.
This portable air conditioner is also a first rate dehumidifier that will help save your valuables from the scourge of high humidity.
Fan could be a bit more powerful than it is.
While it's not the most expensive 8,000 BTU unit on the market it's not too far off.
7. EdgeStar Extreme Cool 12,000 BTU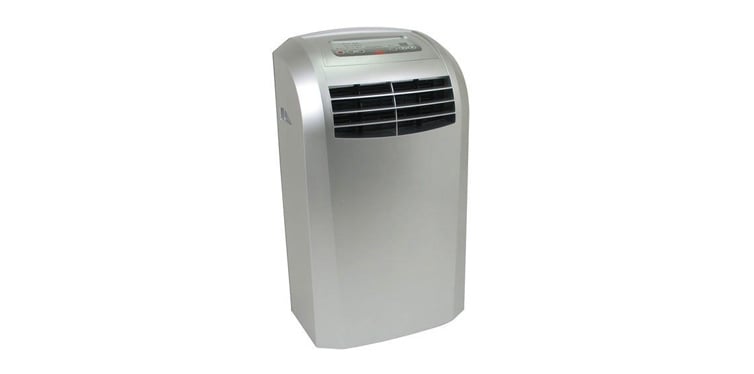 Make no mistake about it, this model is not cheap. It redeems itself though by being as effective as all get-out at cooling down your room and transforming it into a cool, dry, healthy environment where the deer and the antelope may not play but you and your kids certainly will. With the dehumidifier pulling an unbelievable 90 pints of moisture a day out of the air you won't have to spend any more time worrying that the dampness is ruining your furniture.
The Edgestar has an edgy design that may at first seem a bit self-conscious but will eventually grow on you. The unit itself is quiet and effective, fairly lightweight and easy to move around and the venting system is easy to set up and move with the unit. When set up in a room of appropriate size and environmental conditions this portable stand up conditioner will make short work of the heat and humidity and have everyone in the house breathing a bit easier.
Specification:
Brand

EdgeStar

Model

AP12000S-KF

Weight

69 pounds
The nice dry spaces this portable air conditioner creates will discourage the growth of potentially harmful mold making your home a healthier place for all.
The venting kit is easy to install even for non-DIY types and can be moved from window to window just as easily.
Fully controllable via the included remote which is great when you're across the room and want just a bit more cool or more fan.
The fact that this portable air conditioner costs north of $500 is not its strong suit, but we understand that quality can be expensive.
The feather touch controls are a little too feathery and can often be triggered by just being near them.
8. SPT WA-1420E 14,000 BTU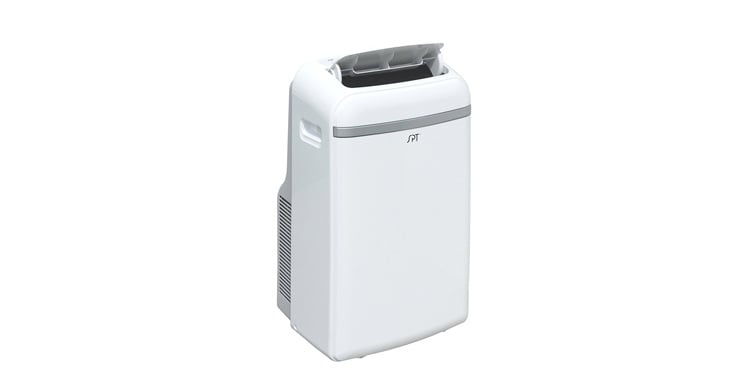 This SPT 14,000 BTU isn't going to win over many with its somewhat clunky design but it will earn legions of fans once they get a feel for how well it can cool down a substantial sized room. Whether or not the laws of thermodynamics will actually allow such a unit to effectively cool down a 700 square foot room is open for discussion but the fact is the unit does a great job on some great big rooms and for that you should consider buying it for your home.
While this portable air conditioner has a look only its designer could love it nonetheless works like a charm and that's all we really care about. You can set things up by running the fan for a while, switch to dehumidifier to dry things out and then switch to air conditioning mode and cool things down to boot. The finished product will remind you of central air effects and you won't have to wait hours to reap the cool, dry benefits. It's not the cheapest or the quietest portable ac on our list but it works like nobody's business.
Specification:
Brand

SPT

Model

WA-1420E

Weight

73 pounds
The intelligent restart is a nice feature by which the unit remembers your most current settings and restarts using them.
The unit is powerful but as we mentioned it's also relatively energy efficient with an EER rating of 8.9.
You can program this unit for up to 24 hours in advance so you can leave it off most of the day then have it kick in an hour before you get home.
This portable air conditioner will shut itself down if environmental conditions are too hot for effective use.
The exhaust hose can heat up and negate some of the unit's cooling effect.
9. LG LP1417GSR 14,000 BTU
The LG 14,000 BTU brings the cool to large rooms that used to swelter. It's designed to effectively cool up to 500 square feet and does so well as long as environmental parameters are not exceeded. Should the weather not call for full on air conditioning switch to dehumidifier and remove up to 3.1 pints of moisture per hour from the air.
This model sets to work on your larger rooms and doesn't stop until they're cool and dry. It's a beast of an AC with 14,000 BTUs of cooling power so don't waste it on tiny rooms. Overall the unit is dependable, easy to use and effective. It also has an attractive minimalist design some will find very appealing. If you've been at a loss over how to keep your larger room cool on those hot summer days the wait is over. The LG 14,000 BTU portable air conditioner is here to answer the call.
Specification:
Brand

LG

Model

LP1417GSR

Weight

75 pounds
Handles the big rooms a smaller portable air conditioner can't.
Fully programmable so you can have a nice cool kitchen or living room waiting for you when you get home without having to run the unit all day.
The auto evaporation system means no more getting up to empty condensate buckets.
More expensive than most.
Might be a bit too loud for the bedroom.
10. Frigidaire FFRA0511R1 5000 BTU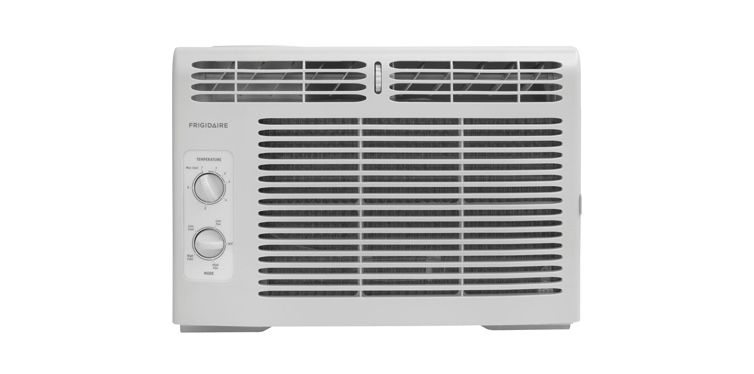 The Frigidaire 5,000 BTU Window Mounted is one of only 2 window units on our list. It earned a spot by virtue of its reliable performance, ease of setup, highly effective cooling abilities and the fact that it can be had for just over a hundred bucks. This is not a unit built to cool banquet halls. It's a bare bones unit built to create a cool, dry environment in your smaller rooms. It will do an excellent job as long as you stay within the parameters laid out in the specs.
While our list has been devoid of window units up to now we simply couldn't ignore the exceptional utility of this portable air conditioner. From the effortless setup to the long power cord that reduces dependence on extension cords to the fact that it does a great job cooling smaller rooms without sending your electric bill into the stratosphere the Frigidaire 5,000 BTU unit will make a believer out of you the first time you use it.
Specification:
Brand

Frigidaire

Model

FFRA0511R1

Weight

41 pounds
Can be set up by any reasonably competent person in about 20 minutes.
The window mounting kit is adaptable to a wide range of window sizes.
The extra-long power cord means you're not confined to using only that window with the outlet directly under it.
Not as easy to move around as a rolling portable air conditioner.
5,000 BTUs of cooling power is pretty modest so don't expect it to work miracles in large rooms.
11. Frigidaire FGRC0844S1 8000 BTU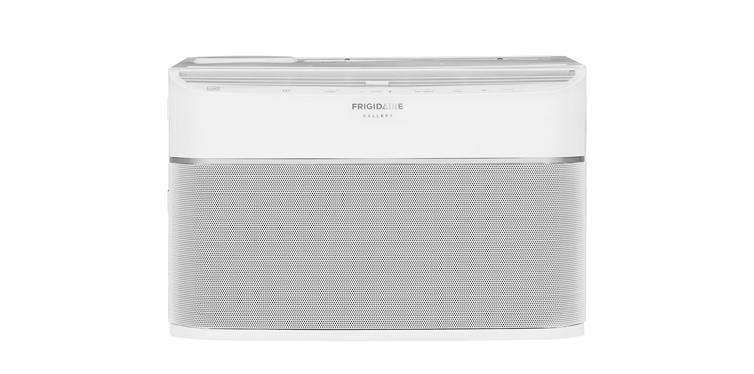 The feature that really sets the Frigidaire 8,000 BT apart from the competition is the smart features that allow you access to the unit from practically anywhere. Imagine being at the airport and realizing you forgot to turn your portable air conditioner off. Most people would be stuck. With this portable window air conditioner though you just pull out your smartphone and turn the unit off remotely.
We love the way this air conditioning unit looks. We love the job it does cooling the room. We love the fact that it can be installed in minutes and doesn't require the presence of the HVAC guy or electrician. We love that it's so effective dehumidifying the air. We love that it's quieter than most every other options. And we love the remote control even though the company could afford to put a bit more effort into the user interface and the app only works on Apple and Android handsets.
Specification:
Brand

Frigidaire

Model

FGRC0844S1

Weight

54 pounds
Having practically unlimited control over the unit via WiFi is a huge plus.
The unit is a cut above other, more expensive permanent window units in its design.
It's one of the most energy efficient window units, permanent or temporary, that you can buy.
As with our previous Best Bang for your Buck entry, this portable air conditioner requires a bit of effort to move from room to room.
Buyers Questions
The following are common questions.
Do You Have To Drain A Portable Air Conditioner?
With some, yes. With others no. If you think this is going to be an issue for you make sure you find out whether the portable air conditioner you have your eyes on requires manual draining or has an auto-evaporation feature.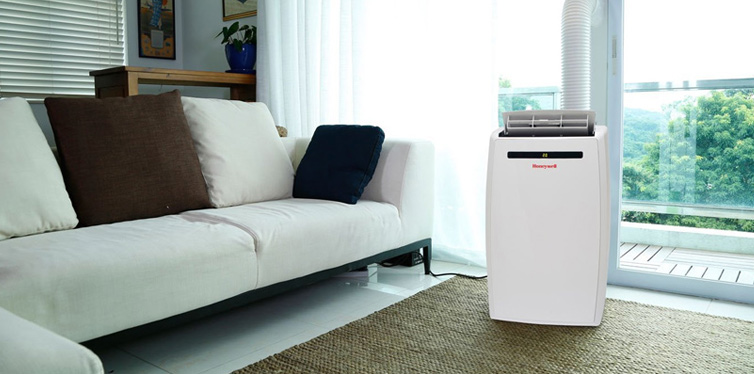 How Do You Set Up A Portable Air Conditioner?
Setup of a portable room air conditioner is typically very simple and painless. Anyone with the ability to follow directions should have no problem. The biggest thing to keep in mind is that the heat an air conditioner removes from the air needs to be vented somewhere. If it's simply allowed to escape back into the room the room will never get cool. Because of this a AC usually comes with a venting kit that fits in the window and accommodates a flexible hose that runs from the unit. Hot air is vented through this hose to the outdoors. This will take a few minutes to set up but once it is your unit is ready to go.
Portable Or Fixed Air Conditioning System?
When it comes to such things as home air conditioning your primary concern should be cost. Installing a central air system may make your home a uniformly delightful place to live but it may also cost so much you can't afford a night out. One of the great benefits of the portable air conditioner is its low acquisition cost, its free installation and the fact that you're typically cooling only a single room for part of the day or night and as such your energy bills won't go through the roof.
Things To Consider
Keep in Mind – The portable ac will need to be set up near a window so that the heat it pulls from the air can be vented to the outdoors. If the room you intend to cool doesn't have a window you'll either have to improvise some sort of vent or simply forget about an air conditioner. You'll also want to be sure there's an outlet near the window. The power cord on most units is not that long so the outlet and window should be near each other lest you need to use an extension cord, which is not such a great idea. Lastly, make sure your new unit has both a washable pre-filter and an additional carbon filter. These filter dust, mold spores and pollen from the air and make the environment healthier.
Noise Plays a Part in Your Selection  – We're not crazy about putting everything into a crazy scientific light—if you know a thing or two about decibels, then we applaud you. Decibels or DB, as you may see them referred to on sales pages, are measurements of sound. How loud a sound is depends on the decibel quantity. For instance, a human being breathing on their own registers as about 10DB. That's not that bad. Then, a standard air conditioner unit is roughly 50-75DB. So that's like having all your friends sitting next to you breathing. You're pretty familiar with how your old A/C sounded, but with a portable, you can position the hose and vents to mess with the sound just a little bit. When you're looking at your next potential air conditioner, pay attention to the decibel rating so you know what you're getting yourself into.
Single vs. Dual Hose - This is usually something that we, as a society of consumers, just pass right on by. This matters way more than you think in terms of personal safety and efficiency: single hose or dual hose, what's the better option?
Single hose units are alright for small spaces, but they mess with the air pressure in your space. If you're in a bedroom, and your door is closed, you'll be able to feel a vacuum-like effect—however minor it may be—when you open up the door. That's because you have all that air being sucked in through the façade of the machine, and the hot air being pushed out. Between temperature and suction, you have an odd effect. If you're using the single hose unit in a room with other electronics, and those are on and drawing heat, you're better off going with a dual hose unit.
Dual hose units are unique—the other hose is sucking air from outside, running it through the machine (usually there are also suction points on the bulky body of the machine as well), and this makes for a far more efficient process. However, the term portable becomes relative here. These units are sometimes a bit bigger, but they do a better job for larger spaces. You won't feel that vacuum-like effect, but they feel more permanent than single hose units do.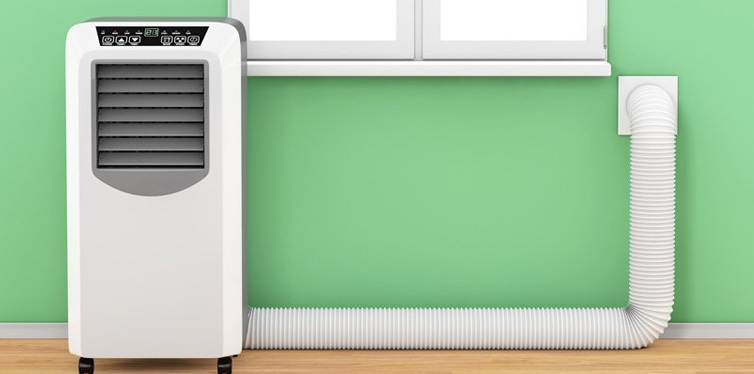 BTU (British Thermal Units) and What They Mean – You found the right portable air conditioner for your needs. Budget-friendly, ergonomic design, long hose, and you like how it looks—but hold the phone, that's not really the point. The point is that it does the job that you need it to do, and does it without interruption. That's when you look at the BTUs on a unit, which are measured like so:
We use BTUs in the United States more than they do in the UK—go figure—but what do they represent? It's the amount of thermal energy that needs to be properly generated. That thermal energy is used to raise the temperature of pure liquid to the prime point for water density—39F. For every BTU in a unit, you're used just over 1K watts of energy per second. That's why you freak out when the electric bill comes in every month.
However, BTUs are also how we decide how cold it's going to make our room. You may notice guides that tell you how many BTUs a unit should have depending on what size room you're going to throw it into. When you're dealing in portables, the more BTUs there are, the higher the price tends to go. There are such things as window-mount units that exceed 20,000 BTUs. You're going industrial there, but the point is it's rare to find anything like that in a portable.
However, how many BTUs do you really need? Here's a quick little chart to tell you what you should be looking out for.
200sq foot area – 4,000 BTUs
500sq foot area – 10,000 BTUs
1,000sq foot area – 20,000 BTUs
Basically, you're looking at about 2K BTUs for every single 100sq feet of space. Now's the time to us all that math you learned. Grab a tape measurer and figure out your room. Don't get caught up in, "I want it to be freezing in there." If you're using an overkill portable air conditioner in a small space, it's still outputting the same temperature. The only difference is, it may get there a little bit faster, but it's going to spike up your electricity bill.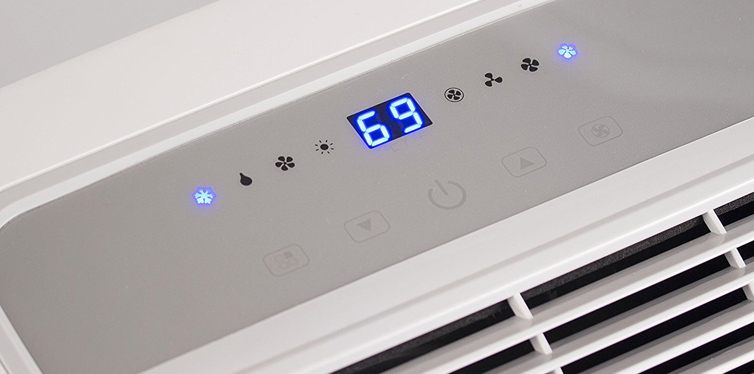 Conclusion
Like all the best air conditioners can change your relationship to your home. Where before it may have been the place you wanted to get away from on hot days it can become the place the family seeks out when the mercury rises. It will also allow you to sleep better and to entertain guests in comfort. If you'd like to buy a portable ac for your home any of the above models will serve you well today and for the foreseeable future.
We hope you found this information helpful and be sure to check back on a regular basis for more timely product review guides.