Chill Out With The Best Portable Air Conditioners In 2022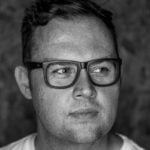 This product guide was written by Chris Worden
Last Updated
March 8, 2022
Chris Worden
Born and raised in Idaho, Chris's sensibilities are a small town, while his life experiences are anything but. He's had the chance to travel the globe with a camera in hand documenting action sports and cultural movements for over 15 years. His love of motorcycles, photography, adventure, and the outdoors has lent itself to a career telling stories and he wouldn't trade that for anything. Chris now resides in a small ski town in central Idaho and when he's not grinding away at his day job, he's feverishly penning articles at night about the products and playgrounds he loves.
GearHungry may earn a small commission from affiliate links in this article.
Learn more
On hot summer days, we all need to take the edge off the heat, and portable air conditioners are an economical and quick solution when central AC is prohibitively expensive or impossible. We did the research and found several capable portable AC units that cut costs and temperatures. Each portable air conditioner in this guide can be easily moved from room to room to keep you cool wherever you go, and of course, they all cost far less than renovating your home's central air. If you live in one of the many places in the US where the number of warm days doesn't justify the cost of central A/C, a portable air conditioner is an excellent fill-in.
Buying a good portable air conditioner requires a little homework, but don't worry – we did the work for you. Here are the best portable air conditioners we found on the market today.
The Best Portable Air Conditioner
Whynter 14,000 BTU Dual Hose Portable Air Conditioner
Don't spend another day sweltering in the summer heat! The Whynter 14,000 BTU Dual Hose Portable Air Conditioner is efficient, quiet and can improve the air quality in your room – in other words, it's one of the best portable air conditioner units available. It can turn a damp, stuffy space into a dry, comfortable room in no time. This small air conditioner can cool down a 500 square foot room, so it's perfect for that stuffy den or a studio apartment.
If you need to protect furniture and carpets or halt humidity-induced mold growth, this portable unit can also help with that. Featuring a sports patented auto-draining technology that turns collected moisture into cool air, it can dehumidify more than 70 pints a day! When you just want a gentle breeze, switch it to fan mode and relax.
For large rooms that need a breath of cool air, look no further than the Whynter Dual Hose Portable Air Conditioner. Be sure to also check out our review of the best cooling fan for our top picks.
Key Features:
Four separate operational modes – air conditioner, heater, dehumidifier, & fan
Ability to cool up to 500 square feet of space
Patented auto drain function
Eco-friendly CFC free green R-401A refrigerant
Programmable digital display and remote control operation
Specification:
Brand

Whynter

Model

ARC-14SH

Weight

80 lbs
A true heavy duty portable air conditioner if ever there was one
Designers had Mother Earth in mind with the non-ozone depleting R410a refrigerant
71 pints of extracted moisture per day puts this unit among the best of any portable air conditioners at any price
The unit can generate some noticeable dust if the filters aren't properly cleaned
With a (current) price tag of over $600 it's not anyone's idea of a cheap portable air conditioner
BLACK+DECKER BPACT08WT 8,000 BTU Portable Air Conditioner
Black and Decker has been one of America's top brands for decades thanks to its quality construction, durable materials, and unique manufacturing. When it comes to building portable air conditioners, they're one of the best, and this unit is one of the most reliable and one of the best portable air conditioner units. With a keen eye for user-friendly aspects, their 8,000 BTU unit comes out swinging. This unit has a vertical ventilation system, offering a substantially better airflow than most competitor models. This allows you to cool off your spaces relatively quickly, even if that calls for a slightly-higher BTU output.
While 8,000 BTUs (thanks to the 2017 regulation change) isn't the highest, what this portable AC unit lacks in power, it makes up for in additional features. The window kit is easy to install, while the settings make it easy to preset your preference and flip it on the moment you get home. If you plan on moving this around to different rooms, you'll be delighted at how easily the wheels move. Overall, this is an excellently-priced, superior-quality portable air conditioning unit for any occasion. 8,000 BTUs of power is ideal for bedrooms and smaller common areas.
For RV owners, we have selected the top RV air conditioners on the market that will help you keep your mobile paradise cool and comfy. Check them out.
Key Features:
24 hour on/off timer
Sleep mode
Remote control
LED digital timer
Cooling capacity 100 – 150 sq. ft
Specification:
Brand

BLACK+DECKER

Model

BPACT08WT

Weight

52.9 lbs
Quiet and versatile, this portable model will do its job without generating much in the way of noise
The window venting system is genuinely easy to set, up even by non-DIYers
This portable air conditioner is also a first-rate dehumidifier that will help save your valuables from the scourge of high humidity
Fan could be a bit more powerful than it is
While it's not the most expensive 8,000 BTU unit on the market, it's not too far off
SHINCO 10,000 BTU Portable Air Conditioner
If you find it difficult to sleep well at night with a loud air conditioning system, you'll love the SHINCO 10,000 BTU as it's one of the quietest portable air conditioner units on the market. With a low-speed mode, this model produces around 52 dB, so it's perfect for a good night's sleep. And thanks to its compact dimensions, this mobile air conditioning system can be easily accommodated in the smallest of rooms. In such a compact form, it's reassuring that this device can effectively work in spaces up to 300 square feet and keep any room comfortably cool. The size makes it an excellent choice for small apartments with minimal room to spare.
Although the manufacturer has labeled it as an air conditioner, a 2-speed fan and a 60-pint dehumidifying daily capacity help this unit stand out from the rest. It's equipped with three blower stages, and you can adjust the air direction as you wish. With these functions, you can prevent fungal and bacterial growth in rooms that tend to be more humid. The control panel is easily accessible on the top of the device. When the remote control is not in use, you can place it in the rear bracket so it's never lost.
If you are also interested in smart home devices that will make your life easier, check out our selection of the best ones on the market.
Key Features:
24-hour timer
3 modes -cooling, fan, dehumidification
Easy-to-use LED display
Comes with remote
Specification:
Brand

SHINCO

Weight

46.3 lbs
Super-quiet operation for a good night's sleep
Compact dimensions, great for small rooms
AC, fan, and dehumidifier
Remote control
Not suited for big rooms
While compact, the unit is quite heavy
LG 8,000 BTU Portable Air Conditioner
The LG LP0820WSR 8,000 BTU Air Conditioning Unit is about to become your favorite device during those steamy summer days. With some killer dehumidification power and an auto-evaporation setting, you can control the comfort level of your space by providing up to 8,000 BTUs of cooling power. With the potential to withdraw 4.71 pints of humidity per hour, you'll find yourself in dehumidified heaven. You also get a programmable system to control cooling — initiate it just before you get home and walk into a cool, calming space right from the get-go.
We were a little disappointed with the rear build — the metal vents that control the filtration and intake system are easy to dent/damage, which can interfere with air intake. That can prove problematic for extended use. Keeping this unit away from children and ensuring it's not against a wall/baseboard radiator should help prevent these issues from occurring. You'll be able to move the LG unit around freely thanks to its long power cable, and the simple window mounting system aids in its versatility.
For more quality cooling options that will keep you comfortable on a hot summer day, check out our guide to the top cooling tower fans.
Key Features:
Up to 4.71 pints-per-hour dehumidification
Two fan speeds, two cooling speeds
Programmable system
Cooling capacity up to 300 sq. ft.
Remote control
Specification:
Brand

LG

Model

LP0820WSR

Weight

54 lbs
Excellent price for great power
Specific ventilation technology removes "hot spots" in your room
Auto evaporation setting
Vents in the back are relatively fragile, denting them may affect performance if you're not careful
There's capable, there's good, and then there's the Honeywell 14,000 BTU. This unit is capable of handling 235 cubic feet per minute (CFM) of air and removing up to 51 pints of water from the air daily. It's quiet, efficient, and you don't have to be a football player to move it around the house.
If you're looking to keep a large room cool and dry, this is the unit. While the advertised 700 square feet might be pushing it, this is one of the best portable ACs for medium-sized rooms. The unit can also heat rooms up to 500 square feet. We also found the remote to be one of the most important components of this device. Why? In a big room, you become aware of how short the power cord can be (the exhaust hose, too, for that matter). If you're seated 20 feet away, you don't want to have to keep getting up to adjust the settings. And with three speeds and 24-hour energy-saving timer, the Honeywell is efficient too.
Love this product? If you are in the market to join the new world of smart home technology, check out our selection of the most sought-after smart air conditioners. 
Key Features:
Removes up to 51 pints per day
Powerful dehumidifier
Eco-friendly refrigerant
Remote control
Cooling capacity up to 700 sq. ft
Specification:
Brand

Honeywell

Model

MN12CES 14,000 BTU

Weight

74.5 lbs
Cool rooms up to 700 sq. ft. and heats rooms up to 500 sq. ft. quietly
Uses environmentally responsible R410a refrigerant that won't destroy the ozone
Auto-evaporation system allows for hours of non-stop operation without having to empty a bucket or drain the unit — a major plus for convenience
Window bracket has been known to be a poor match for some windows
Power cord on this portable air conditioner could be longer
RolliCool Alexa-Enabled Portable Air Conditioner
Are you looking for a smart portable air conditioner to add to your ever-evolving smart home? Luckily, with the RolliCool Alexa-Enabled Portable Air Conditioner, you have just that. With this product at your disposal, you will have full control of your living space ventilation from just about any location in the world. After downloading the accompanying mobile app, you can set up your device, set schedules to save money, switch operational modes, and more.
That's not all this device has to offer. This 14,000 BTU portable air conditioner comes fully integrated and can dehumidify, heat, cool, and circulate air in nearly any space. If energy efficiency tops your list of requirements, this noiseless unit also comes integrated with a sleep mode that ensures peaceful sleep and also provides noticeable energy savings when operating overnight. Other innovative features include the Amazon Alexa voice command incorporation, the eco-friendly R410A reusable filters, as well as the three fan levels.
For those looking for a more affordable alternative to an air conditioner, check out our guide to the best-quality oscillating fans that will help you combat the heat by consuming less energy.
Key Features:
14,000 BTU air conditioner
Digital menu
Eco-friendly R410A reusable filters
Amazon Alexa voice command
Smart portable air conditioner
Specification:
Brand

RolliCool

Model

COOL100H-19

Weight

62 lbs
Smart technology — can be paired with Amazon Alexa
Reusable filters are better for the environment
Fan, dehumidifier, and AC unit in one
Super powerful at 12,000 BTUs
On the heavy side of portable ACs
Portable Air Conditioner Buying Guide
Why Trust Us
Being from the South, I know a thing or two about heat and warm summers. Air conditioning is all over in the south, but most places have central AC, with plenty of cooling power to keep you from overheating during the five months of 95 degrees and hotter. It's not uncommon to see 100 degree days for weeks on end. Sometimes you might use portable air conditioners but it's less common. However, now that I live in the PNW, central AC is rare. Up here, if you have air conditioning at all, you likely rely on portable air conditioners, a window AC, or a wall unit. My apartment has a heater, but no way of cooling down in the summertime, so portable AC it is!
Who This Is For
This guide is for anyone looking for the best portable air conditioner or cooling options for their home. This guide focuses on portable air conditioners but there is additional info about wall and window AC units as well.
How We Picked
Curating a selection of the best portable air conditioners started with consulting our team of researchers as per usual, then diving into the best sellers on Amazon and elsewhere. Then, we put our noggins to the test and researched each option to ensure it was a good fit for this guide and our readers.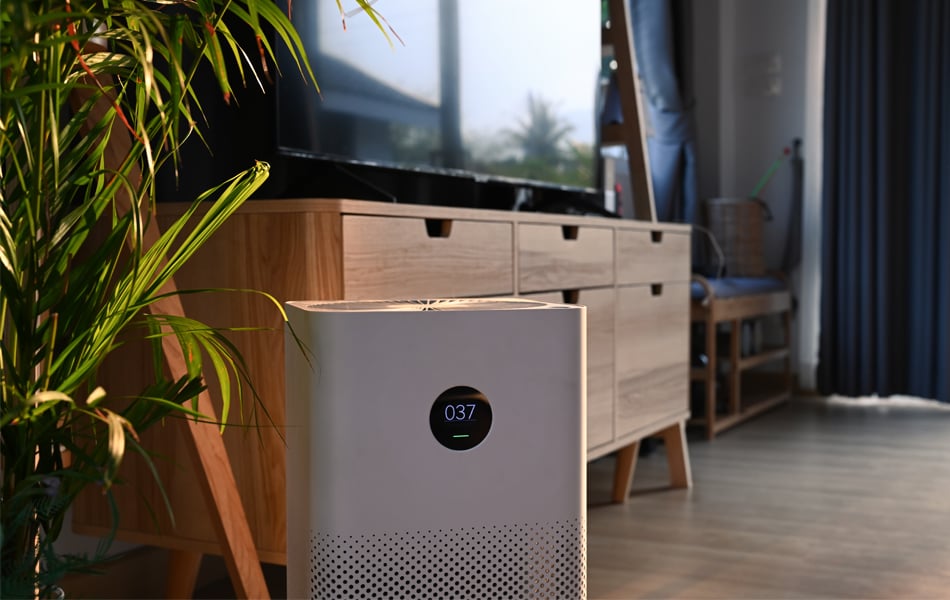 Features To Look For In Portable Air Conditioners
Before you purchase your next portable air conditioner, we recommend considering these essential features and useful extras.
Dehumidifier mode — Many portable AC units also double as dehumidifiers, and there are even air purifier options available. You will likely need to connect a hose to drain the moisture collected from the air unless the portable AC features auto-evaporation. If you struggle with humidity in your home or live in a particularly humid place, this feature is especially valuable.
Fan speeds — It can be useful to have a range of fan speeds to circulate air and deliver a cooling effect without the addition of cool air. This feature is also excellent if you don't have a ceiling fan but want to have air circulation in a room. It's fairly standard to have three-speed settings.
Heat mode — As with a dehumidifier, a heat setting might also prove useful if you want to buy a single appliance to serve multiple functions all year long.
Remote control operation — Many units will feature an advanced and easy-to-use digital display panel, as well as a remote control. The remote control proves nearly life-saving if you want to pop the air on without having to get out of your chair.
Sleep or night mode — A sleep mode will normally adjust to a quieter setting so that you can sleep better and be undisturbed by mechanical noises. Another idea might be to pre-cool your bedroom before you go to sleep, rather than have the appliance running overnight.
Timer function — A useful function if you want the ability to automatically manage what time your machine turns on and off. Many portable air conditioning units feature a 24-hour clock with countdown and delay settings.
Noise level — Decibels (DB), as you may see on sales pages, are measurements of sound. How loud a sound is depends on the decibel quantity. For instance, human breathing on their own registers as about 10 DB. That's not bad. A standard air conditioning unit is roughly 50-75 DB. That's like having all your friends sitting next to you breathing. But, with a portable ac unit, you can position the hose and vents to adjust the sound levels. When you're looking at your next potential air conditioner, pay attention to the decibel rating and look for options with night or sleeping modes for those times when you need a quieter, yet still cool, space.
Single vs. dual hose — Single hose or dual hose: what's the better option? Single hose models are good for small spaces, but they mess with the air pressure in your room. If you're in a bedroom, and your door is closed, you might feel a vacuum-like effect — however minor it may be — when you open up the door. That's because you have all that air being sucked in through the façade of the machine, and the hot air being pushed out. Between temperature and suction, you create the vacuum effect. If you're thinking of using a single hose unit in a room with other electronics, and those are on and drawing heat, you're better off going with a dual hose portable air conditioning unit.
Dual hose units are unique — the second hose is sucking air from outside, running it through the machine (usually there are also suction points on the body of the machine as well), and this makes for a far more efficient process. However, the term "portable" becomes relative here. A dual-hose system is often bigger, but they do a much better job for larger spaces. You won't feel that vacuum-like effect, but they are harder to move than single-hose units are.
BTU (British Thermal Units) — We use BTUs in the United States more than they do in the UK — go figure — but what do BTUs represent? It's the amount of thermal energy that needs to be properly generated. That thermal energy is used to raise the temperature of pure liquid to the prime point for water density — 39 degrees Fahrenheit. For every BTU in a unit, you're using over 1,000 watts of energy per second. That's why you freak out when the electric bill comes in every month.
However, BTUs are also how we decide how cold it's going to make your room. You may notice guides that tell you how many BTUs a unit should have depending on what size room you're going to use it in. When you're dealing with portables, the more BTUs there are, the higher the price tends to be. There are window-mount units that exceed 20,000 BTUs, but those are more industrial.
How many BTUs do you really need? Here's a quick little chart to tell you what you should be looking out for:
200 sq foot area – 4,000 BTUs
500 sq foot area – 10,000 BTUs
1,000 sq foot area – 20,000 BTUs
Basically, you're looking at about 2,000 BTUs for every single 100 sq feet of space. Grab a tape measure and measure your room or check your floor plan. If you're using an overkill portable air conditioner in a small space, it's still outputting the same temperature. It may get there a little bit faster, but it's going to spike up your electricity bill.
Most portable air conditioners will also have a Seasonally Adjusted Cooling Capacity rating or SACC - this can tell you a weighted average performance of BTU per hour, taking extreme conditions into account.
Setup — The portable air conditioner will need to be set up near a window so that the heat it pulls from the room can be vented to the outdoors. If the room you intend to cool doesn't have a window, you'll want to improvise some sort of vent. You'll also want to be sure there's an outlet near the window. The power cord on most units is not that long. Lastly, make sure your new unit has both a washable pre-filter and an additional carbon filter. These filter dust, mold spores, and pollen from the air and make for better air quality and a healthier environment.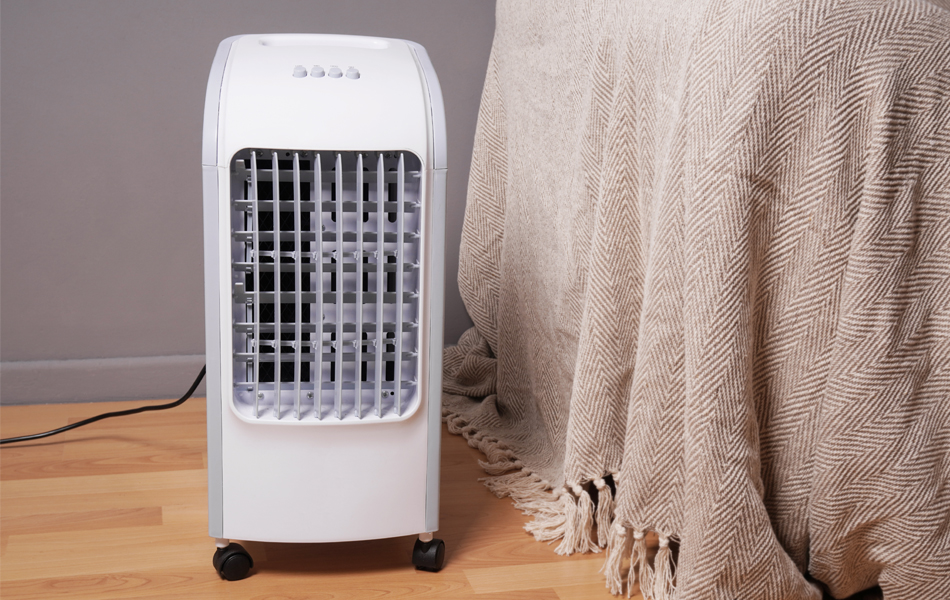 Portable Air Conditioner FAQ
Q: What is a portable air conditioner?
A: Portable air conditioners are air conditioning units that often have wheels or other mechanisms that make them portable and mobile. This portability allows you to move them around your home or easily transport them from place to place.
They operate more quietly and produce less heat, on average, than your standard window units. They also provide complete freedom from wall mounts. Installation, weatherproofing, and maintenance (both interior and exterior), are all issues that wall and window unit owners face. Portable AC units still need to be cleaned and have their filters scrubbed from time to time, but they don't require the same attention that mounted units need. In short, portable ACs move around freely, provide relatively equal power as window units, and allow you to just pack them up and go.
Q: How do portable AC units work?
A: Let's dive into the anatomy of a portable air conditioning unit and talk about each part. As with any AC unit, you have an electric motor that generates heat. This, plus your coolant, acts as the essential heart and blood of your machine. Depending on the BTUs that your portable AC can generate, your machine may require more dedicated power or throw off more heat. That leads to your vent unit: running this to the window allows the generated heat to collect in a safe area, and funnel its way outside.
Then you come to your electrical system which powers your control system or digital panel. Cool air runs through a separate conduit to your vents, effectively cooling off the room while you mess with the controls. The thick ABS plastic shell found on most models properly houses everything without risk of damage while providing enough insulation to keep warm temperatures in the room at bay while keeping the cool air inside.
Q: How do you set up a portable air conditioner?
A: Setup of a portable ac conditioner is typically simple and painless. The biggest thing to keep in mind is that the heat which an air conditioner removes from the room's air needs to be vented out somewhere. If it's simply allowed to escape back into the room, the room will cool very slowly, or one side may be warm while another is cool. Because of this, a portable AC unit usually comes with a venting kit that fits in the window and accommodates a flexible hose that runs from the unit. Hot air is vented through this hose to the outdoors.
Q: Portable or fixed air conditioning system?
A: When it comes to things like home air conditioning, your primary concerns should be cost and effectiveness. Installing a central air system may make your home a uniformly delightful place to live in, but it may also cost you hundreds more every month. One of the great benefits of the portable air conditioner is its low acquisition cost, its free installation, and the fact that you're typically cooling only a single room for part of the day or night — as such, your energy bills won't go through the roof.
Q: Do you have to drain a portable air conditioner?
A: With some, yes. With others, no. If you think this is going to be an issue for you, make sure you find out whether the portable air conditioner you have your eyes on requires manual draining or has an auto-evaporation feature.
Q: Are portable air conditioners energy-efficient?
A: If you pit a 10,000 BTU portable unit against a 10,000 BTU wall unit, the portable is going to win for energy efficiency and energy consumption. You never have to use above a 110/120 outlet with a portable unit, as opposed to wall AC's. When it comes to window units, it all depends on the Energy Star rating of each unit, as they tend to use the same power supply.
In general, however, portable units are energy efficient (especially when you compare them to central air). You will spend less on your average monthly/yearly cooling costs with a portable air conditioner as opposed to other models. The right brand and model matter when it comes to the life expectancy of your unit, which is why we've provided our top picks on the list above.
Q: Do multiple people require a higher BTU output?
A: For every person in the room (above two), you'll have to add roughly 750 BTUs of power for each individual. If you're getting a joint unit for a common area in an apartment or dorm of four total inhabitants for, let's say, a 500 square foot space, you would need 10,000 base BTUs. Plus 750 per person after the second. In total, you would need 11,500 BTUs for that shared space.
We throw off our body temperature like crazy, especially after coming in from a hot day. We sweat as a way to radiate heat instead of internalizing it, which would damage our organs and brain. As a result, you're actually throwing off more than your internal body temperature for about four hours after exercise, or thirty minutes to one hour after entering your room from merely being exposed to high temperatures outside.
Sources:
Test Procedure for Portable Air Conditioners - Department Of Energy
Sign Up Now
GET THE VERY BEST OF GEARHUNGRY STRAIGHT TO YOUR INBOX