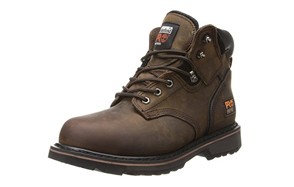 Timberland PRO Pitboss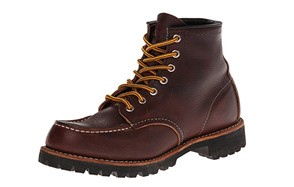 Red Wing Heritage Roughneck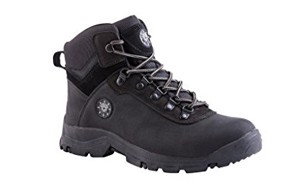 KingShow Work Boots
For some jobs protective footwear isn't an option, it's a necessity. So much so that you won't be allowed onto the jobsite without it. But even if you could choose, choosing not to wear work boots would open you up to foot injuries, twisted and turned ankles and penetrations through the sole of your shoes by nails, screws, broken glass and more. With all that in mind then the wisdom of wearing high quality work boots is readily apparent. They're one of the most effective means ever devised to guard against injury or long term disability.
Once you know how important quality boots are you then have to go about selecting a pair that will fit your needs. They'll have to have robust protective qualities and be comfortable and supportive of your feet at the same time. And all without draining your bank account in the process. Below, we're going to take a look at what we consider to be the 10 best pairs of work boots currently on the market. These results are non-scientific and represent the consensus opinion of our product review team.
(Top Picks) The Best Work Boots For Men
Timberland PRO Work Boots
See More Reviews

See More Reviews



If what you're after is a classic work boot you can do no better than the Timberland Pro Direct Attach series. Everything from the coloring of the upper to the laces to the overall profile of the boot can trace its lineage directly back to the classic work boots of the past 50 years and that's fine with us. This boot is extremely comfortable, extremely durable, shock resistant, waterproof and built to last.
You'll be able to wear these work boots all day without feeling any sense of fatigue because the fit and support by the comfort suspension system are that good. If it's raining out you have nothing to worry about either. Your feet will be dry and warm behind the insulated, seam-sealed waterproof uppers. These work boots will meet the most rigorous standards of any job site.
You can't lose with Timberland Pro Direct work boots. Whether you're an ironworker, carpenter, plumber, electrician or whatever the Pro Direct will have you covered. Support and comfort are unsurpassed and you're sure to have these boots for years. Timberland Pro Direct work boots set the bar for others to clear and do so with confidence and style. If there's a better work boot out there in general production we're not aware of it. A worthy member of our best work boots.
Specification:
Brand

Timberland PRO

Model

TIMB

Weight

3 pounds
Thorogood American Heritage Work Boots
See More Reviews

See More Reviews



Thorogood's Men's American Heritage work boots sport an evocative oil-tanned genuine leather upper that's extremely attractive and comfortable. The cushioned rubber insole is removable and odor resistant and the slip resistant vibram outsole makes for a boot that wears as well as it protects. The full 6" upper provides generous ankle support and the moccasin style foreboot keeps unwanted objects from crushing the toe.
Thorogood Men's American Heritage work boots are attractive, durable light work boots that won't wear you out by the end of a long day on the jobsite. While the boot provides more than adequate warmth when the mercury drops it's also breathable enough to keep your feet comfortable on those summer days when the dogs are taking cover from the sun. Best of all there's virtually no break-in period with the American Heritage.
There's an awful lot to like when it comes to Thorogood American Heritage work boots. They look great, wear beautifully and provide all the support you need where you need it. On top of that the oil-tanned upper keeps you dry in the rain and that same supple leather upper requires virtually no break-in time. And all for less than a smartphone. Maybe they should call them 'smartboots'.
Specification:
Brand

Thorogood

Model

6

Weight

3 pounds
KEEN Utility Pittsburgh Steel Work Boots
See More Reviews

See More Reviews


Keen has a slightly different take on traditional men's work boots. Their Pittsburgh steel toe boot resembles a hiking boot as much as something intended for the jobsite and that's fine with us. It encompasses many of the aspects of a high end hiking boot that make them so comfortable even after long days on the trail. The Pittsburgh aims to please your feet by shielding your toes from dropped objects behind a steel hood, keeping them dry behind a waterproof upper and keeping you upright by way of oil and slip resistant outsoles.
The Pittsburgh sports Keen's metatomical footbed design that supports the natural curves of your feet and cradles them in comfort as the hour's pass. On bone chillingly cold days the boot's insulation will keep everything warm and dry while also allowing your feet to breath. And on scorching hot days you'll be glad your work boots have a breathable upper to keep things cool.
Pittsburgh men's work boots are as comfortable and durable as they are attractive. They exhibit Steel City's tough, resilient qualities and will serve you well whether you're framing a house in mid-winter or securing the new roof on a scorching July afternoon. Your feet will enjoy long term comfort and you'll enjoy the fact that the money that went toward the purchase of these hybrid workboots was well spent indeed.
Specification:
Brand

KEEN Utility

Model

U610

Weight

3 pounds
See More Reviews

Timberland hits it out of the park again with their Pro Men's Pit Boss Steel Toe work boots. The Pit Boss sports Timberland's typical high degree of protection and comfort beginning with the steel toe which prevents your feet from being crushed by debris, falling materials and dropped tools. The upper metal lacing hooks allow for a snug, secure fit and the padded collar prevents wear and tear on the lower leg and achilles tendon. The boot's electronic hazard protection protocols keep you safe from the myriad electrical hazards so pervasive on busy job sites and the boot provides unparalleled traction and slip resistance.
We found the Pit Boss work boots to be extremely comfortable overall although a bit of a break in period is typically required. The fit is snug while at the same time your feet never feel like they're being shackled or confined in any way. We also appreciated the removable sock liner that helps keep blisters at bay and just knowing that our toes were safe from practically any type of dropped hazard.
It's easy to appreciate Timberland Pit Boss men's work boots. The craftsmanship is undeniable as is the quality of the materials. People who work on crowded job sites where multiple trades are plying their craft simultaneously will appreciate the electronic hazard protection and those who want to look good on the job site won't be disappointed either. Just great overall men's work boots with a classic look.
Specification:
Brand

Timberland PRO

Model

050751
Red Wing Heritage Roughneck
See More Reviews

The Red Wing Heritage was something of an eye-opener for us. We expected a quality boot. Expected comfort and excellent mobility. Expected a stylish profile with timeless qualities. What we didn't expect was the price. These are some of the most expensive men's work boots out there and once we discovered that our quest then turned into trying to figure out if they're actually worth the financial stretch.
There's no question the Heritage is stylish. It packs a classic work boot profile that's hard to miss and will appeal to purists. They're such a classic look in fact that you may be tempted to wear them for a night out with your buddies. There's no question the Heritage work boots are durable. All the materials used here from the genuine leather in the uppers to the genuine Vibram sole and heavy duty laces are all top notch and will stand the test of time. There's also no question that the Heritage work boots are comfortable. You won't be suffering leg or foot fatigue even at the end of the overtime shift.
So with all that said are the Red Wing Heritage men's work boots worth the coin you'll need to scrape together to pay for them? Because they do such an outstanding job in almost every category by which good work boots are judged we have to say "yes". There is simply no denying these are great looking, extremely durable footwear and as such worth the stretch if you can make it.
Specification:
Brand

Red Wing

Model

Roughneck

Weight

5 pounds
See More Reviews

The Carhartt Men's Composite toe work boots are as functional as they are durable and affordable. They provide you the protection your toes need, the slip resistance that is so vital in changing weather conditions and protection from all manner of liquid hazards. The full grain upper leather is beautifully conceived and executed with special attention given to seams and contact points with the sole and collar. The heavy duty laces are strung through tough metal eyelets and hoops ensuring a rock solid lacing job that won't leave your boots flopping around on your feet in the afternoon.
Toe protection is provided by strong, impact resistant composite materials. And while that may mean it comes up just a bit short of genuine steel toes the composite material will handle almost anything a steel toe can and is lighter to boot so it's easier on your feet as the day wears on. The almost hybrid appearance of these work boots also means you'll find plenty of owners wearing them socially or using them as their preferred outdoor boot for camping and hiking.
The Carhartt Men's Composite Toe work boots are as easy on the eye as they are on your feet. They're comfortable, durable, ergonomically advanced, attractive, protective, versatile and affordable. That's a lot of things for humble work boots to be, but the Carhartt Men's Composite Toe work boots are all those things and more.
Specification:
Brand

Carhartt

Model

CMF6366-M

Weight

2 pounds
See More Reviews

The Kingshow Men's 1551 work boots are an entry level boot not necessarily intended for veteran ironworkers or journeymen carpenters. Who they seem ideal for are those who might work in warehouses or lumberyards or on delivery trucks where the risk to your feet is real but not on the same level as you'd experience on a busy construction site. The boot is water resistant as opposed to waterproof work boots so be aware of that. The upper is also not genuine leather but a synthetic hybrid material that is both attractive and reasonably durable.
Why are the Kingshow 1551 men's work boots on our top 10 list you say? For a very simple reason: because there are literally millions of workers out there who aren't walking steel half a mile up but who nonetheless need to wear something that provides a higher level of safety than sneakers provide. For them the Kingshow 1551 is just what the doctor ordered. A reasonably durable, reasonably protective, well-built, affordable alternative to expensive, top of the line work boots.
If you're one of those truck drivers or dock workers or order pickers that need stable, comfortable work boots but don't necessarily need all the bells and whistles the Kingshow 1551 men's work boots are likely to fit your needs to a T. They're comfortable and warm, breathable and supportive and you won't have to spend your entire paycheck to pick up a pair. What could be better?
Specification:
Brand

KINGSHOW

Model

KS-1520
Timberland PRO Men's 26011
See More Reviews

The Pro Men's 8" Soft Toe work boots from Timberland are another example of the company's commitment to cover all the footwear needs of working folks. In this case the soft toe provides most of the features of Timberland's more expensive men's work boots with the noticeable exception of the steel toe. That's because, as we noted above with the Kingshow 1551, not everyone works in an environment where they're in danger of dropping heavy equipment or having their foot run over by a forklift.
Sometimes you need lots of support in your arch and ankle, warmth and breathability for indoor and outdoor work and boots that aren't going to start coming apart on you after a couple of months. Maybe you're a delivery person or a mail carrier or you're an electrician who works mostly in residential settings or you're on your feet all day hanging wallpaper. For all of those people and more there are the Timberland Pro Men's 8" work boots.
These are serious work boots that will serve you well for years while keeping your feet dry and warm and free from 99% of the hazards you're likely to encounter in a typical day of work, including electrical hazards. Quality wise (and price wise) these are a couple of steps up from the aforementioned Kingshow 1551. But they'll also outlast and outperform that boot. If you need serious work boots but don't have need of a steel toe the Pro Men's 8" Soft Toe from Timberland are here to answer your call.
Specification:
Brand

Timberland PRO

Model

26011

Weight

5 pounds
See More Reviews

The Ever Boots Tank is one of the truly great values in men's work boots. Somehow Ever Boots manage to use high quality materials throughout, ensure all the joins are secure and waterproof, provide extras like a padded collar and removable cushion insole and still offer this boot for less than $50. It's a pretty remarkable accomplishment.
The "Tank" are good work boots. So much so that you'll find yourself wearing them out after work. But their real value is as solid, comfortable, supportive boots that will allow you to stay safely on your feet all day without experiencing excessive footwear-related fatigue.
We love a great value which means we love these work boots. If they have one shortcoming it's that the sole is not necessarily the toughest ever made. But the boot is designed to allow repeated resoling so if you don't like what comes with the Tank, just take it in and have the sole of your dreams installed. A great value.
Specification:
Brand

EVER BOOTS

Model

EB611TAN

Weight

4 pounds
See More Reviews

While we really appreciate the many attributes of the Ever Boots Tank if we have a few bucks more we're going with the Caterpillar Men's Second Shift Steel Toe work boots every time. Simply because you get all the attributes of a top-of-the-line boot including looks, waterproofing, electrical safety, quality materials, steel toes and more for a ridiculously affordable price. You could be forgiven for looking at the Caterpillar Second Shift and asking "Why would I ever pay more for work boots?"
It's a fair question, and so is this: "What's not to like?" The Second Shift are great looking, comfortable, provide excellent protection and will keep your feet dry year round. The outsole is slip and abrasion resistant and the whole shoe is fabricated using Goodyear Welt Construction.
The Caterpillar Men's Second Shift work boots are a no-brainer for anyone on a budget. They're excellent all round safety toe shoes that will give work shoes twice the price a run for their money. There's nothing really more that needs to be said.
Specification:
Brand

CAT

Model

Second Shift ST-M

Weight

2 pounds
Buyers Guide
Q: What Are The Top Rated?
A: As there's no accounting for taste there's no absolute way to determine which are best without sparking a debate. Some will say it's this, others will say it's that. There are a few objective criteria you can typically apply to the question though that at the very least help define what should constitute the  work boots. Those things include everything we just listed for the Caterpillar Second Shift: looks, waterproof uppers, electrical protection, quality materials, steel toes and an affordable price. Most Comfortable?
What makes them comfortable isn't necessarily what makes a pair of loafers comfortable. With these you're looking for a shock absorbent outsole that will prevent leg fatigue, plenty of support in the arch, some wiggle room in the toe area, real ankle support and perhaps a padded tongue and/or collar. Waterproofing is also key to determining comfort in your boots as there are few things as miserable as slogging around on a job site all day with cold wet feet.
Things To Consider When Buying...
Not all are created equal. When you're in the market for new work boots you'll want to keep a number of considerations in mind so that you wind up with the right boot for you. Those considerations are:
Steel toes – If you work on a loading dock or in a factory or on construction sites where the possibility exists something heavy may fall on your foot you'll definitely want work boots with steel toes. If, on the other hand, there's little danger of anything crushing your toes you should probably go for soft toe shoes as steel toes weigh more and no one wants their boots to be heavier than they have to be. Keep in mind that slip and puncture resistance are often more important than steel toes.
Electrical protection – Work boots are available that will protect you from experiencing shocks through your feet. Such boots are made of non-conductive materials and are designed to eliminate the possibility of electrocution. Whether or not you need work boots that are non-conductive will depend on the nature of your work. Certainly, it's important for electricians, for instance.
Waterproofing – If you work outside this is an absolute must. If you drive a truck or work indoors driving a forklift you may not need your work boots to be waterproof. Still, it's one of those things they should have (even if you don't have a compelling need) just in case. You'll also want your boots to be insulated if you work outside unless you like the idea of frozen toes in the winter.
Durability – Durability will largely be a function of the quality of the materials used in its fabrication. The cheaper the materials the less durable. As a general rule the lower the price the lower quality the materials and the shorter life span.. There are exceptions to every rule of course but in a general sense, you're going to get what you pay for.
Brands – If what you're after are high quality boots at a reasonable price you'll want to confine your search to the major, well-known manufacturers. Beware of cheap imitations with names meant to sound like recognizable brands ("TimberCountry", "Big Cat" for example) and keep in mind the old adage "If it sounds too good to be true it probably is".

Safety Tips Explained
When you're out on the jobsite, anything can happen. Hardhats aren't the only thing that's going to protect you. Having safety tips on your boots can be one of the single greatest preventative measures for avoiding disaster. Nearly every type of work boot worth purchasing is going to have some form of a safety tip, but you need to know which one is right for you. Let's break it down.
Steel Toe – Perhaps the most recognized type of safety tip, steel toe boots are often the favored type by construction workers and carpenters. You get ultimate protection if something falls on your feet, along with reinforced soles along the bottom of your boots (in most models). These are important for a few reasons, but mostly, you don't want to step onto a nail or something small and have it puncture your boots. A thin, steel, reinforced bottom can prevent that, and come standard with most steel toe boot models.
Alloy Toe – Alloy consists of a various blend of metals depending on the batch, but often times, men will say that alloy toe boots are as durable as steel toe. The most common reason that someone would use an alloy toe boot in place of steel toe comes down to a weight problem. If your alloy toe boots can be guaranteed to be as sturdy as steel toe, you'll be able to carry yourself around with half the weight (in most cases). Why carry around the extra weight? Well, it'll make the work day a tiny bit harder, but most of us swear by steel toe.
Composite Toe – It doesn't sound as exciting, but you emerge with a lightweight boot when you choose composite. Many models will blend small amounts of steel with composite for weight distribution purposes. Composite is crafted of a myriad of multiple materials, such as Kevlar, fiberglass, rubber, carbon, and more. These are often popular for their ease of use, especially in less muscular men who can't afford to fatigue themselves with extra weight in their boots.
Soft Toe – You may be wondering, "What's the point? It isn't going to provide proper protection out on the work site." Well, it depends on the industry you're in. If you're not in a position where you have to be afraid of falling objects, going with soft toe, which is more lightweight, is definitely a viable option.
Puncture Proof – As we discussed in the steel toe section, having puncture proof isn't a safety tip, but an entire safety measure within your work boot. It's arguably the most important feature, so be certain to be on the lookout. Countless users have evaded punctures, which can save you from losing a digit or an entire foot. This is something that you really shouldn't overlook.

Slip Resistance Explained
Most of the time when someone needs slip resistant footwear, it's in the workplace. You don't exactly look for it for your leisure footwear. The two main industries that require slip resistant boots/shoes are the food industry, and any trade (carpentry, construction, etc.) where you'll be out on a jobsite or everchanging landscape. Slip resistance is a big deal, but what does it really mean to have slip resistant work boots?
Think of it this way: it's a liability not to have slip resistance in your footwear. If you aren't taking every possible precaution to prevent injury, when injury does occur, you're not going to see a single penny of workman compensation. If they can find one reason as to why it was your fault instead of theirs, they will, and they'll exploit it fully. You want to avoid injury in the first place, and be protected if you endure an injury on the job that puts you out of commission for a while. Slip resistance is extremely important.
Q: How Important Is the Fit?
A: It's not just about the features—slip resistance, safety tip, etc.—it's about how well it fits. You'll be standing in your boots for the better part of the day, so you don't want to be uncomfortable, especially if you have circulation problems or joint issues, like arthritis. If your boots aren't a good fit, it can cause far more problems than just feeling loose. It can actually be the entire reason that you trip, slip, or fall, and sustain injury.
When your foot rattles around, even just a little bit, you're not getting the full effect of slip resistance or the protection of your safety tip. Your boot needs to be a near-perfect fit, giving you room to wiggle your toes, but being tight enough against your ankle and calf that it's not going anywhere, even if you were to trip.
Q: How Long Does It Take To Break-In Your Boots?
A: Not every boot is going to break-in: hear us out. When you have a sturdy steel toe on the tip of your boot, you're looking at a pretty solid construction altogether. If you're rocking a soft toe tip, you'll be able to stretch out the boot, but otherwise, tough materials along the tip are going to prevent that. Don't put on a pair of boots and say, "Okay, these will stretch out," and run to the checkout counter. It doesn't always work that way.
If you're not going for a safety tip on your boots, it can take about a week of continuous use to break your boots in. Consider an average 40-45 hour work week. By the time the next Monday rolls around, you should be okay to fit in your boots without that overly snug effect. Be certain to look at the width and height of your boots when you go to buy—if they're sturdy and don't break-in or stretch out, you'll want to have the measurements right the first time around to avoid buying a duplicate pair at a slightly larger size.

Conclusion
Contemporary work boots embody all the modern advances in footwear technology and will enable you to carry on with your work safely and confidently. Remember you only have the two feet you were born with. Never take them for granted and always be sure to select the top safety boots for whatever your particular vocation. Thanks for reading these  and be sure to check back regularly for more Gear Hungry product reviews.