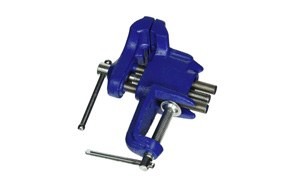 Irwin Tools Clamp-On Bench Vise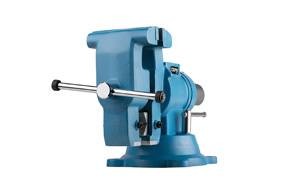 Capri Tools 10519 Rotating Base and Head Bench Vise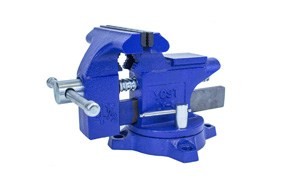 Yost LV-4 Home Bench Vise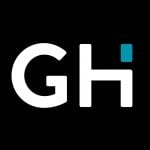 In order to work with metal and wood safely, a bench vise is an essential tool for your workbench. These units offer powerful grip and stability to make your work easier and quicker. At Gearhungry, we have created a list of our favorite picks to help you make the best decision when searching for the best bench vise. Our article also offers readers all the essential factors to consider when looking out for the best fit for your shop.
The Best Bench Vise
Bench Vise Buying Guide & FAQ
Most vises have the same design intention, and as such, they're all pretty similar in their construction. There are some bench vises with unique features that set them apart from the competition. Some features to note when making a selection include the anvil, swivel and quick release, but the most critical element is the jaw of your bench vise.

What To Consider When Buying A Bench Vise
Jaws - Two main jaws are used by the bench vise. One jaw is designed to be stationary while one opens to accommodate your metal pieces. An essential feature of the vise unit, the jaws are available in various styles and sizes, to suit the various jobs you undertake. It is imperative that the size and style of your bench vise are studied to know the best option for your required tasks. For example, some bench vises feature v-jaws, and these units are well suited for metal works, while flat jaws are ideal for use on planks of wood.
Quick Release - the quick release feature doesn't exist in all bench vises. Each time you want to release an object from the jaws of your bench, its quick release is the most vital feature to consider. With the quick release feature, you don't have to manually twist the spindle, making the release process easier and faster. It is essential that users keep an eye out to identify the presence of a quick release option in the product description section.
Swivel - the swivel feature of the bench vise offers extreme flexibility to holding objects, and it is advantageous to the general operation of your clamp. Most often, the base swivel is the most common type of rotation used for bench vises. Pivots are used to offer users with better access to the objects being worked on, making the process of cutting and sanding easier.
Anvil -  an anvil is a flat surface added to the bench vise to enable you to work with ease. It is a durable surface that helps users whose jobs involve regular striking of a material. The anvil is included in the design to enable users to apply repeatedly heavy pressure without affecting the workbench itself. Anvils protect your tools, materials and workbench from experiencing extreme damage associated with your works.
Mount Type - If you're planning to use significant clamping pressure, the mount is an essential feature needed in your bench vise. It is a heavy-duty way of fixing your unit. Typically, bench vises feature two different types of mounting interfaces, the clamp type and the bolt-on-type. The bolt-type helps secure the bench vise to your work surface via its four bolt composition. The clamp type bench vises lack the security of the bolt-on but are generally easier to install, and as such, they're ideal for lighter applications. Most often, bench vise experts recommend bench vises that feature the bolt-on mounting interface.
What Can You Use A Bench Vise For
A bench vise is used primarily to hold something in place securely while offering an extra degree of versatility when mounted onto a workbench. There are many uses of a bench vise, and some of them include;
Cutting: a bench vise allows you to cut through materials such as wood or metal easily within a short period. They hold your content in place and as such, reduces the amount of power needed for the cutting process.
Sanding: bench vises make the process of sanding quicker by offering stability in times where the pressure is needed.
Drilling: drilling is an activity that requires specific markings and measurements thus, it requires a great deal of precision and stability. The bench vise holds your material in place to prevent you from making a mess of your work.
Gluing: a lesser-known use of the bench vise is gluing. This unit can be accommodating when putting materials together in precise areas, holding them in place until it is thoroughly dried.
How To Install A Bench Vise
The bench vise is installed through its adjustable clamp, located underneath and above the bench top. This method is straightforward and the most common practice found in many fasteners.
Bench Vise FAQ
Q: How does a bench vise work?
A: A bench vise is an integral tool and a common mechanical device used to hold workpiece stationary. It is used mostly in metalworking and woodworking applications and can be attached to a workbench during operations such as planning, sawing and drilling.
Q: What are the main parts of a bench vise?
A: The integral parts of a bench vise include the static jaw, the moving jaw, the handle and the slide. Some vise models feature additional elements such as a quick release or the anvil.
Q: How important is a swivel base?
A: When it comes to working versatility, the bench vise is an essential unit needed in any shop or garage for the sanding or cutting of wood or metal.
Our Top Pick
The first product on our list and our favorite model is the Irwin Tools Clamp-On Vise. It features up to 3000 lbs of strong clamping pressure, which further enhances its durability and functionality. With the width of these jaws being a great 6-inches, this unit can be incorporated with pipe jaws and anvil to deliver excellent grip to users, in addition to its solid base. The main jaws feature a safety element that holds the slide in place during use. The major features that excite customers about this product are its strong locking feature, as well as its efficient rotating base, which helps in the smooth operations of the unit.
Sources:
Anvil - Wikipedia
Cast iron - Wikipedia
Die cast zinc - Wikipedia