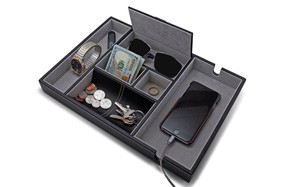 Houndsbay Victory Valet Tray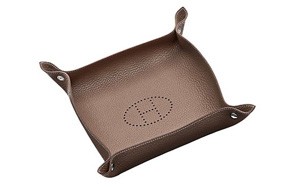 Hermes Change Valet Tray
Wolf Heritage Coin Valet Tray
First up you might be wandering a Valet tray even is and more to the point, why you need one? If so then you need to work on your levels of sophistication! Every self-respecting "gent" who's not got their own real life Valet on staff needs a Valet tray to keep all their gear organised! How on earth do you know where your keys are otherwise? Leaving the house in a flurry of activity – wallet, "check", mobile phone, "check", keys "oh bloody hell where did I put them again this time?"
Think of a Valet tray as a very elegant receptacle for holding the important contents of your pockets. You can't live without pockets so really you can't live without a Valet tray. It is a very classic and timeless way to store all your manly stuff. A Valet tray is the modern man's way of safely storing his Every Day Carry. Better still, usually made of luxurious materials and interesting design features, they can also double up as a piece of interior art commanding pride of place and bringing to life a boring bench or bedside table.
So let's delve in and take a look at some of the best Valet trays on offer.
Our Top Picks Of The Best Valet Trays For Men
Wolf Heritage Coin Valet Tray
See More Reviews

Wolf have been an iconic British heritage brand since 1843 and continue to lead the way in luxury leather goods that add a touch of style and sophistication to your home. With quality manufacturing techniques that are centuries unchanged all their products are designed and built in-house adding to their prestige. This valet come coin tray features elegant chrome snap corners, black pebbled faux leather exterior and matching plush ultra-suede interior lining. A classic rectangular shape it manages to be both functional and elegant at the same time and has plenty of room to safely house all your everyday essentials.
Specification:
Brand

WOLF

Model

290002

Weight

1.6 ounces
Scout Leather Mini Valet Tray
See More Reviews
A seriously elegant looking valet tray made from premium quality tan horse leather. Made in the USA and with contrasting metal button snaps, whilst this might be small at just 4 inches by 4 inches, it is uncompromisingly sophisticated and the perfect place to nestle your car keys and wallet at the end of a busy day. When you're not using it, it really handily snaps flat so that you can store it or even pack it for when you head off on business trips. This has "gent" written all over it.
Specification:
Brand

Scout Leather Co.

Model

Mini Valet Tray

Weight

1.8 oz
See More Reviews

Do they seriously get more old school elegant than Hermes? If James Bond had a Valet Tray, this would be the one taking pride of place in his apartment, perhaps housing not his mobile, but instead a deadly weapon. Constructed from the various finest Taurillon Clemence leather, this features the Iconic Signature H logo in a perforated design and comes with nickelled button detailing. Ok, so this is on the expensive side but it is built and designed to last and to be passed down through the generations as a family heirloom.
Specification:
Brand

Hermes

Model

H400060M 18
See More Reviews

A departure now from the timeless look and appeal of leather, this tray like design is made from solid American hardwood, milled and finished in Michigan. Manufactured out of American Black Walnut, this is going to look just as elegant and at home on your desk as it will your coffee table. 11 inches long and 7.5 inches wide, there's plenty of room to keep your everyday carry safe till you're ready to leave the house again.
Specification:
Brand

Craighill

Model

Nocturn Catch
Defy Bags Snappy Valet Tray
See More Reviews

Made in the USA and brought to you in Black Austin Calf leather, this is a simple but stylish choice. It's actually made from just one single seamless piece of prestige Horween leather and a couple of functional snap buttons. Embossed with its trademark "Defy Clutter" leather branding you've no excuse now for leaving your gear just randomly lying around the house.
Specification:
Brand

Defy Bags

Model

Snappy Valet Tray

Weight

3.6 oz
Fossil 10-piece Valet Box
See More Reviews

Coming from contemporary brand Fossil, this is a fantastic and roomy box design that is perfect for the contents of your pockets but also can safely house your luxury watch collection too. Made of rich high quality leather it is a very smart and stylish accessory that is designed to be hard wearing and stand the test of time. Available in two classic colourways, Black or Brown, this is a great option for neatly storing all your essential kit.
See More Reviews

This is a super chic and contemporary looking Valet tray that is both practical but also very versatile. It exudes a sense of decadence with its sumptuous purple divider trays off-set against the black leather tray which also comes complete with a lid too so you can discreetly stow away your possessions. Stay organized and always know where all your important essentials are.
See More Reviews

Made from the finest North American Bison leather with a sumptuous suede interior and ceramic snap-lock corners this is elegance personified in a Valet tray for only the most discerning and sartorial amongst you! With its hand painted edges and classic interior logo stamped on the front this really is exquisitely designed and manufactured. True artisanal craftsmanship has gone into the construction of this tray which is suitable for both home and expeditions. Let's face it! You don't go on holiday do you? You go on intrepid travels and you take your Valet Tray with you!
Specification:
Brand

Parabellum

Model

12004
Billykirk No 309 Valet Tray
See More Reviews

Offering a personalised embossing service, this Valet Tray is made from natural vegetable tanned leather and been exposed to UV rays from the sunlight to create its unique colour and shade. With handy molded trays to store your cherished personal belongings this is a unique looking Tray and can be made even more so if you have it etched with your family crest. Don't worry, if you don't have one, you could get your initials embossed instead.
Panhandler Daily Carry Tray
See More Reviews

If you are more of a bloke than you are a gent and prefer to have something altogether more sturdy and practical looking, then this is a great option for you. Interestingly manufactured and cut from belt weight leathers and fastened with solid brass stud hardware this would make the perfect desk tidy to house your keys, wallet, pens and various bits of stationery. Folds completely flat for when you are travelling and comes in two classic shapes, square or rectangle.
Specification:
Brand

Hollows Leather

Model

Panhandler
Houndsbay Victory Valet Tray
See More Reviews

This is super practical and versatile with the additional feature of a smartphone charging station so now you really don't have any excuse either for losing your phone or having a flat battery. It also very handily comes with a larger compartment that will ideally fit your smartphone and has been laid out in six handy sized compartments to ensure that you keep all your essentials organised and accessible.  Made from black leatherette exterior with felt and faux suede lining. Looks great and is really convenient to use.
Specification:
Brand

HOUNDSBAY

Model

4288-G

Weight

1.35 pounds
See More Reviews

Made from attractive solid Acacia wood this is a functional and practical tray that you can use to manage your keys, coins, rings and other essential everyday objects. With handy compartments you needn't worry about losing your smaller items either. There's also the option to get this laser engraved with a monogram so this makes the perfect personalised gift.
Specification:
Brand

Mark & Graham

Model

Acacia Valet
Brooks Brothers Signature Tartan Valet Tray
See More Reviews

Featuring distinguished and distinctive real tartan wool lining, this signature Valet Tray from Brooks Brothers offers real sartorial elegance. Perfect for your key fob or wristwatch this really will look fab on your bedside table or in your study commanding pride of place on your desk. The soft tartan lining also mean that this is perfect for safely popping down your glasses too without fear to them being scratched or damaged.
Specification:
Brand

Brooks Brothers

Model

UL00183
Paul Stuart Leather Valet Tray
See More Reviews

An elegant and contemporary calf skin leather Valet Tray this comes in three popular colors so that you can co-ordinate with your home or office environment. Choose from either orange, green or navy with contrasting stitching detail. Made in the USA, this is a simple, practical and very functional Valet Tray that looks uber chic and minimalist.
Specification:
Brand

Paul Stuart

Model

9301232
Tan Leather and Concrete Valet Tray
See More Reviews

Perfect for the urban gent, who likes to keep his workspace organised, this would not look amiss on the desk of a top exec. Manufactured with a waxy bridle tan leather interior it looks fantastic but is also super practical too and designed to last with its concrete casing. This feels at the same time solid but elegant and will easily take care of your essential items like key, wallet, sunglasses and your smart phone.
Specification:
Brand

Boarding Pass NYC

Model

Tan Leather and Concrete Valet Tray
Oji Masanori set of Brass Desk Trays
See More Reviews

Last but by no means least we present an altogether different design proposition with not one but three solid brass trays which have been sand molded in a legendary Japanese foundry. With a small, medium and large tray included, these have been designed by Oji Masanori who has won numerous accolades and awards for his design of beautiful household objects. These make for unique and old design statement and look great around your home or even used as decorative centre pieces.
Specification:
Brand

Kaufmann Mercantile

Model

Oji Masanori Brass Desk Trays