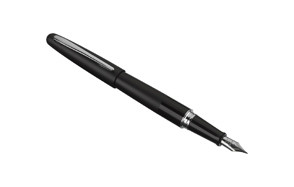 Pilot Metropolitan Collection Fountain Pen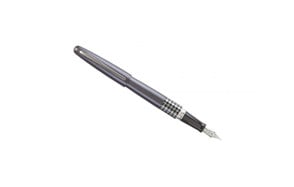 Pilot MR Retro Pop Collection Fountain Pen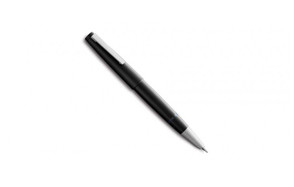 Lamy 2000 Fountain Pen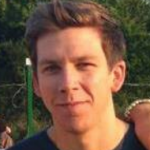 Despite the undeniable practicality of a ballpoint pen in today's world, it is difficult to replace the classical elegance of the traditional fountain pen. Each pen is an extremely personal writing implement. As you wear it in, it molds itself to the way that you write, becoming a truly unique representation of your writing style.
To help you find that perfect pen for special occasions and every day use, we have looked at ten of the best fountain pens on the market, with differing designs and functions to fit every writing style.
The Best Fountain Pen
Things to Consider When Purchasing a Fountain Pen
Features
Tip Size - This affects so much more than most give it credit for. First and foremost, the size is going to partially dictate the flow, which in turn determines how quickly your ink is going to run out. Furthermore, it's how you'll know how large the lines will appear.
Tip Shape - The shape defines how cleanly and at what orientation the lines appear.
Ink Filling System - You're mostly going to run into a standard/piston ink-filling system, or cartridge reloads. Cartridges bring fewer chances of making a mess with the ink, while standard/piston systems are a little more involved. If you're an aficionado, the latter may be preferable.
Body Design and Material - The best fountain pens come with a slew of different designs, including clips, ergonomic grips, and textured surfaces. One of the most important aspects of this pen is the material, which will also define the weight. A solid, weighted pen will last through every letter, contract and signature you use it for.
Weight - Holding a weighted pen gives purpose to whatever you're writing down. When you grab a cheap Bic ten-for-one pen, you'd might as well be scribbling down a cartoon. The weight comes from the materials, which also help define the worth.
Size - Referring to the length, the size defines how well you'll be able to handle it. Most of these pens & 3d pens fall within a uniform length to properly distribute weight between the ink reservoir/cartridge, and the rest of the pen and its materials.
How to Fill a Fountain Pen
Cartridge - Similar to the reservoir pen style, you'll have to turn the converter counterclockwise. You'll have to also pull (gently) at the nib until the cartridge seat releases. Take your new one, and simply replace where the old one was. Be sure to dispose of these properly.
Reservoir - This is guaranteed to get you excited. You'll have an ink reservoir, just like in the good old days, and you'll dip the nib right into it. Turn your pen's converter counterclockwise, and your internal reservoir will begin filling up with ink. Do this carefully and slowly, and if you can help it, never overfill your pen.
Fountain Pen FAQS
Q: Should You Wash Your Fountain Pen?
A: From time to time, you're going to have no choice. With a standard ballpoint, it gets jammed, we toss it out, no big deal. With these, you can still get that same jam from fibers, dust, and ink that settles and dries, creating a muck.
Cleaning your new instrument is relatively easy, so long as you know the internal anatomy of how it operates. For ink reservoir models, simply fill it up with water, and apply gentle pressure until the water runs clear. You may need to repeat this process one to three times. You'll know you've done a good job when the nib is completely clear from buildup.
For cartridge pens, you're only going to need to clean out the nib. This requires a bit more of a hands-on approach since you won't be using pressure to allow the water to flow. Rinse this under a strong current from your faucet, being careful not to drop it.
Q: Do Fountain Pens Work the Same on All Paper?
A: You can use your fountain pen on just about any type of paper, but that doesn't mean it's going to look good. Fountain pens were invented in 1827, way before we had industrialized production of paper. The main design has only come so far because there's no need to mess with a good thing. These are the results you'll get from different types of paper you see on a daily basis.
Delivery Receipts - If you're answering the door for the pizza guy, you likely aren't going to have your fountain pen on you. Whether it's a delivery receipt while you're out and about, or simply signing your name over a credit card on a restaurant receipt, you'll notice that you have to take a light approach so your ink doesn't run.
Printing Paper - Doable, but definitely not preferred. Ink bleeds through this ultra-thin paper far too often, turning an art form into an inky mess. Printing paper does come in higher grades, such as those used to draft up contracts and important documents. For those, take the fountain, and fire away.
Semi-Gloss Paper - We've all had a pamphlet from the mail sitting idly by, and tried to draw on it when taking down notes. You can't really get away with this, otherwise, it's going to feather and potentially run depending on the thickness of the glaze.
Photo Paper - Gloss or glaze will run horribly, but matte finished photographs are a canvas you rarely get to experience. You'll need a high-quality ink that doesn't mess with the photo quality, and you'll have an absolute blast. Much like semi-gloss paper, this will feather and split when you try to sign glossed photos.
Q: Is Ink Waterproof?
A: The short answer, no, it isn't. Ink that's made for fountain pens are very specific, and most formulas are going to dissipate in water. If you've ever seen an animation of ink spreading through clear, clean water before, that's basically what happens.
Your ink expands and swims through water. If water hits the page you're writing on, it's going to run the ink, even if it's been dry for over twenty-four hours. Fountain pen ink is very unique: it's far more permanent and everlasting than basic dime-store pen ink, but also water permeable to a fault.
Waterproof ink provides a little more protection, which may make a difference when it comes to light spills on documents, but ultimately won't do anything if a document gets waterlogged.