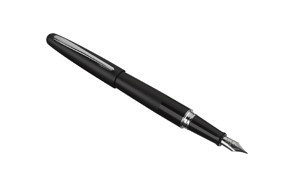 Pilot Metropolitan Collection Fountain Pen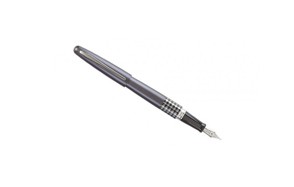 Pilot MR Retro Pop Collection Fountain Pen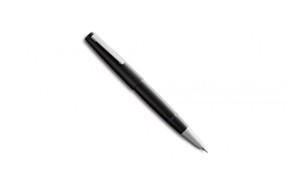 Lamy 2000 Fountain Pen
Despite the undeniable practicality of a ballpoint pen in today's world, it is difficult to replace the classical elegance of the traditional fountain pen. A fountain pen is an extremely personal writing implement. As you wear it in, it molds itself to the way that you write, becoming a truly unique representation of your writing style.
To help you find that perfect fountain pen for special occasions and every day use, we have looked at nine of the top fountain pens on the market, with differing designs and functions to fit every writing style.
Our Top Picks Of The Best Fountain Pens
Pilot Metropolitan Collection Fountain Pen
See More Reviews

Pilot specialize in all different types of pen, from the modern gel roller, to mechanic pencils, and of course, high-quality fountain pens. The Metropolitan Collection Fountain Pen combines modern convenience and style with some of truly classical features from the traditional fountain pen.
The pen itself is built from premium materials, with a brass barrel and a nib crafted from stainless steel. There are two types of nib available; medium or fine, which allows you to select a style that fits your writing requirements. The main barrel is sleek and attractive, with a matte finish that creates a beautifully refined look.
One of the best features of the Metropolitan Collection Fountain Pen is the addition of the press plate converter, which comes included with the pen, along with a black ink cartridge. The press plate converter allows for an easy transition between ink cartridge use, and ink bottle use – giving you full control over how you use the fountain pen.
Specification:
Brand

Pilot

Model

91111

Weight

15.4 ounces
Pilot MR Retro Pop Collection Fountain Pen
See More Reviews

The second additional from Pilot on our top fountain pen list, the MR Retro Pop Collection Fountain Pen, is a fine addition to any pen collection. The design of the fountain pen really stands out, forgoing the classical elegant look, and instead creating a pen that is truly memorable with a fun retro design.
The grey finish with hound's tooth accent is one of the more understated designs in the MR Retro Pop collection, with multiple different alternative designs to choose from; featuring varying accents, and bold, fun colors. With so many designs available in the range, it is easy to customize the style of pen to your tastes.
Each fountain pen features a beautiful matt finish, with the same high-quality nib made from stainless steel, and a brass barrel. The MR Retro Pop Collection Fountain Pens are designed for use with either bottle ink or ink cartridges, with a black ink cartridge coming included with the pen, along with a squeeze converter for use with Iroshizuku ink bottles.
Specification:
Brand

Pilot

Model

91435

Weight

3.2 ounces
Cross Classic Century Lustrous Chrome Fountain Pen with Fine Nib
See More Reviews

Cross are one of the most well-known and longest established American pen makers – specializing in luxury writing implements that reflect a unique sense of elegance. The Lustrous Chrome Fountain Pen, from one of their most iconic collections, the Classic Century Collection, boasts a very recognizable design.
For those who like to customize their pens, the Classic Century Collection is a fine place to start. The fountains pens are available in a vast range of beautiful finishes, including satin, medalist, and lustrous chrome, and two stunningly designed nib sizes; medium and fine. The lustrous chrome finish is a sleek, attractive, and truly statement choice.
All of the nibs are crafted from stainless steel, and the pens feature a threaded barrel and cap system, so that the cap in always securely fixed to the pen when closed. Each pen also has the excellent benefit of coming with a lifetime guarantee for the mechanical element.
Specification:
Brand

Cross

Model

AT0086-74FS

Weight

5.6 ounces
Lamy Safari Fountain Pen – Charcoal – Fine
See More Reviews

The exquisite design of the Safari Fountain Pen by Lamy has a wonderfully unique grip and a well-designed ABS plastic barrel. Lamy pens perfectly combine style and function, putting a lot of emphasis on the practicality of the writing instruments that they produce.  
With a charcoal body and a steel nib with black coating, the fountain pen is undeniably an original choice, standing out from the other fountain pens available. Each pen comes with a blue ink cartage included and are also compatible with Z24 cartridge converters. If you enjoy fountains pens with a difference, this is a wonderful option to go for.
Specification:
Brand

Lamy

Model

L17F

Weight

0.96 ounces
rOtring Fountain Pen, ArtPen
See More Reviews

The ArtPen, designed by rOtring, is an addition to our list that is a little different. Instead of classical designs, and traditional styling, the ArtPen has a primary focus on practicality and variance. The pen features a nib similar to that of a traditional quill, but the style and design of a fountain pen.
There are multiple types and styles of nib available, each of which is crafted from stainless steel, and features an easy replacement design. The nibs can be rotated through all the varying ArtPen designs produced by rOtring, for incredible practicality and ease of use.
Whether you are just starting out and learning how to write with a fountain pen or are seeking a writing implement to enhance your artwork and further your skills in calligraphy, the rOtring Fountain Pen, ArtPen is a fantastic choice.
Specification:
Brand

Rotring

Model

1903642

Weight

0.32 ounces
Pilot Vanishing Point Collection Retractable Fountain Pen
See More Reviews

Another outstanding offering from Pilot, the Vanishing Point Collection Retractable Fountain Pen, offers the convenience of a ballpoint pen with the elegance of penmanship from a beautifully constructed fountain pen. The retractable nib is a winning feature and sees the nib able to easily retract back into the body of the pen, much like in the standard ballpoint pen designs.
The modern design of black carbonesque highlighted with rhodium accents, is a standout choice, with further options available for brighter and more classical styles. Medium, broad, and fine nibs are available, crafted in 18 karat gold. The luxurious fountain pen will be an outstanding addition to any collection, featuring both practicality, and elegance with premium materials used from the metal body to the golden nib.
Specification:
Brand

Pilot

Model

60246

Weight

3.2 ounces
Scribe Sword Fountain Pen – Calligraphy Pens for Writing
See More Reviews

For a fountain pen that is crafted from high-quality materials, the Scribe Sword Fountain Pen is an outstanding choice. The fountain pen is a wonderful combination of antique styling mixed with contemporary design, combining traditional delicate accents, with a beautifully sleek and well-crafted finish. 
The pen is not just beautiful, but highly practical for everyday use, whether you are experienced with fountain pens or not. The ink flow is consistent, and the balance of weight is ideal for finer writing. The medium precision nib is customized to glide across the paper, ensuring that you get the best possible experience during use.
Specification:
Brand

Scribe

Weight

9.6 ounces
See More Reviews

The Lamy 2000 Fountain Pen is at the premium end of our list of top fountain pens and another spectacular addition from Lamy. The pen itself is exceptionally high-quality, weighing more than many similar pens. Despite the weight, it is easy to use for prolonged periods of time.
Crafted from a mixture of fiberglass and stainless steel, the pen is a luxury writing implement from body to nib. The nib is available in extra fine, fine, medium, and broad, for varying writing styles and needs. Perhaps the most outstanding feature of this luxury fountain pen is the 14-karat gold nib with a platinum coating – an assurance that you're getting nothing but the highest quality of writing implement. The fountain pen is a highly worthwhile investment for those who want a high-quality pen with excellent all-round performance.
Specification:
Brand

Lamy

Model

L01F

Weight

0.96 ounces
Faber-Castell E-Motion Fountain Pen
See More Reviews

Designed by Faber-Castell, the E-Motion Fountain Pen is created for ease of use, without compromising on the quality of the finish or the beautiful styling. The cap and clip are colored in pure black, making for a stylish and modern finish. The pen is heavy and well-balanced, feeling substantial when you use it, but without making it difficult to use for prolonged lengths of time.
Unlike many of the other fountain pens in this higher price region, the elegance of the Faber-Castell the E-Motion Fountain Pen in unstated, with the diamond-engraved barrel serving both as a decorative feature and an aid to make the pen easier to use. If you're more accustomed to the style of ballpoint pens, then this pen is especially wonderful, with plenty of similarities in design.
With a quality fountain pen like the Faber-Castell E-Motion, you have ultimate control over the way your writing appears, with the pen allowing you to change the color, thickness, and calligraphy, with ease after a bit of practice. While there are plenty of benefits to writing with a fountain pen, you need to make sure that you pick a pen style, and nib, that's right for you, and practical for your needs- this is a great all-rounder.
Specification:
Brand

Faber-Castell

Model

148620

Weight

5.6 ounces