A good cup of coffee is more than just the finishing touch on a great meal; it's the thing that makes getting up in the morning worthwhile. It's a multi-sensory experience that encompasses rich, evocative aromas, deep luxuriant color and full-bodied flavors. The brewing of a pot of coffee has cultural and ritual overtones that harken back thousands of years and are as much a part of the experience of coffee as the beverage itself. No true coffee lover would be caught dead drinking freeze-dried or any other type of "instant coffee." Because a true coffee lover knows that coffee is to be brewed, from freshly ground beans, in a high quality coffee machine like the 10 we're about to profile here.
Our Top Picks For Best Coffee Maker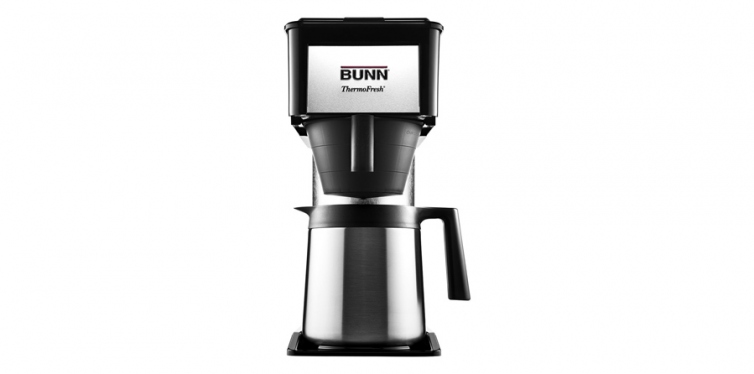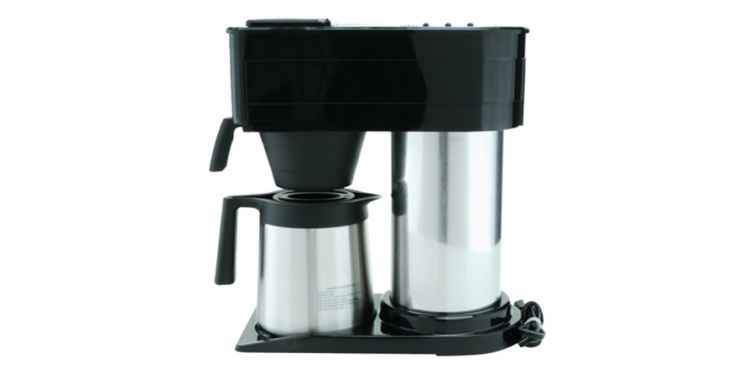 As you might expect from Bunn this 10 cup home coffee machine is as thoughtfully engineered as it is tastefully designed. It doesn't waste any time in the performance of its duties, brewing a full 10 cups of delicious, robust coffee in just over 3 minutes. When it comes to brewing coffee Bunn has been at it a long time and they've poured just about everything they know into this outstanding value product.
The Bunn BT is as solidly dependable as any coffee machine on the market. Some purists may object to the stainless steel (as opposed to glass) carafe but we found it kept the coffee warm longer (important since there's no heating pad) was generally easier to maintain and removed the threat of breaking or cracking glass. Most importantly though this coffee machine makes a superb cup of coffee.
Specification:
Brand

Bunn

Model

BTX-B

Weight

9.15 pounds
No more sitting around for 20 minutes while the coffee drips.
Stainless steel, vacuum insulated carafe means no worries about broken or cracked glass.
Limited 3 year manufacturer's warranty.
Sometimes hard to extract the last few drops from the carafe due to the design.
Heating pad not included so be sure not to make more than you need.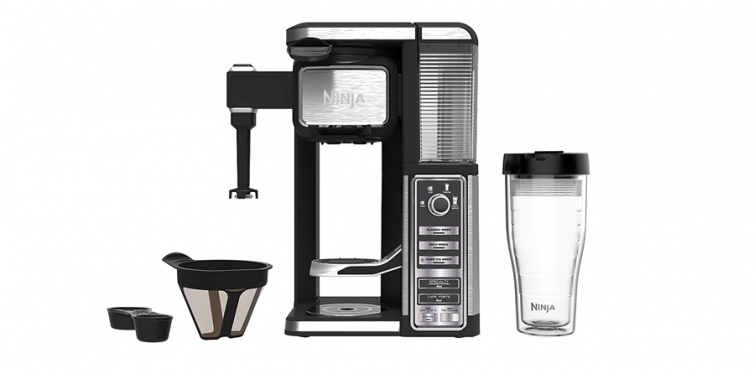 The Ninja coffee bar brew system is the closest you'll come to turning your kitchen into a cafe. With a range of brewing options and serving sizes to choose from and a built in frother to deftly handle cafe favorites like cappuccino you'll feel like you've been transported to the Latin Quarter of Paris every time you hit the 'brew' button. This is a high-quality all-in-one coffee machine and espresso maker without equal for the price.
If you really want to explore the wide world of gourmet coffee without having to travel or camping around the world, the Ninja Coffee Bar Single Serve System is for you. You'll have the ability to create all your favorite cafe drinks without having to worry about wasting your expensive coffee beans
. Just dial up the drink you want and relax. When the brew is finished, top it off with luscious foam at the push of a button and voila!
Specification:
Brand

SharkNinja

Model

CF112

Weight

12 pounds
A dizzying array of brewing styles and sizes to choose from.
The integrated frother transforms your regular coffee into a foamy delight.
Cafe forte brings out all the aromatic and taste potential of any bean.
Can sometimes be a bit of work to keep clean.
Not the fastest coffee machine on our list.
3. Moccamaster KBT 10-Cup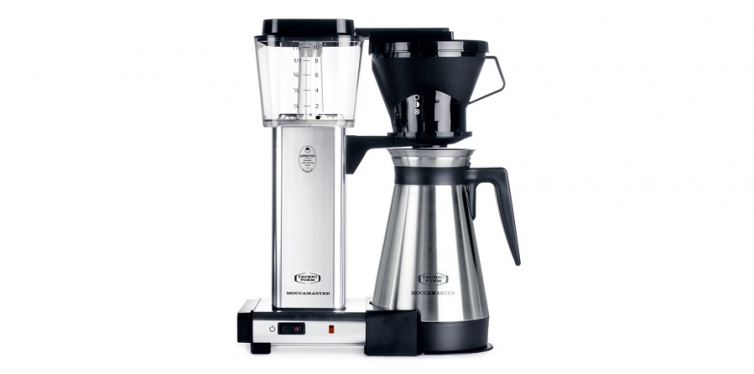 If waiting around 20 minutes for the coffee to brew is not something you look forward to, get the Moccamaster KBT 10 Cup Coffee Machine. Not only will you have your piping hot morning brew in front of you in just a few short minutes, but it will taste like you just ordered it from a high end Parisian cafe. Tired of the overpriced, acidic motor oil you get in most corporate coffee shops? Stay home and have a peerless cafe experience with the Moccamaster KBT coffee machine.
The Moccamaster KBT coffee machine produces some of the most consistently excellent tasting coffee of any product on this list. Each and every cup of each and every brew cycle is top notch (provided of course you keep all the components properly cleaned). With the ability to brew 10 great tasting cups of joe in under 6 minutes it's the ideal coffee maker for big family get togethers like Thanksgiving. If you can afford the financial stretch and you're not a stickler for things like foam you can't really lose with the Moccamaster KBT.
Specification:
Brand

Technivorm Moccamaster

Weight

6.5 pounds
There's nothing like the quick brew capability of the Moccamaster KBT.
Consistent water temperature means every cup will be expertly brewed.
No muss, no fuss design and engineering makes it incredibly easy to clean and maintain.
Maybe the most expensive home coffee machine you'll encounter.
Water dispersal over the grounds is sometimes less than perfect.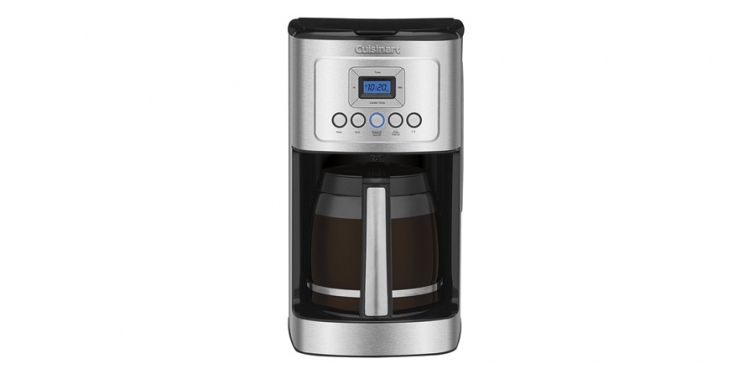 The Cuisinart DCC 3200 14 cup Programmable Coffee Machine isn't going to win any design awards but if they gave out awards for creating large batches of delicious, cafe-quality coffee it would certainly be in the running. The DCC 3200 coffee machine presents an array of programmable features that allows pinpoint control over the size, strength and duration of the brew and the adjustable warming plate allows you to keep the contents of the carafe at precisely the temperature you wish.
The DCC 3200 coffee machine from Cuisinart is a large volume coffee machine that acts like a small volume coffee machine and the proof is in the pudding, or in this case the coffee. From first cup to last you'll enjoy every drop you brew in the 3200 and your guests will likely be asking you if you use a coffee press or some other form of exotic brewing system to achieve such outstanding taste.
Specification:
Brand

Cuisinart

Model

DCC-3200

Weight

8.75 pounds
The built in water filter ensures every pot is as pure and delicious as the one before it.
The large capacity carafe means you'll always have plenty for large get togethers.
3 year limited manufacturer's warranty.
With such a large carafe you'll likely wind up wasting some coffee from time to time.
The water tank opening isn't small but it could be larger given the volume of the carafe.
5. Keurig K55 Single Serve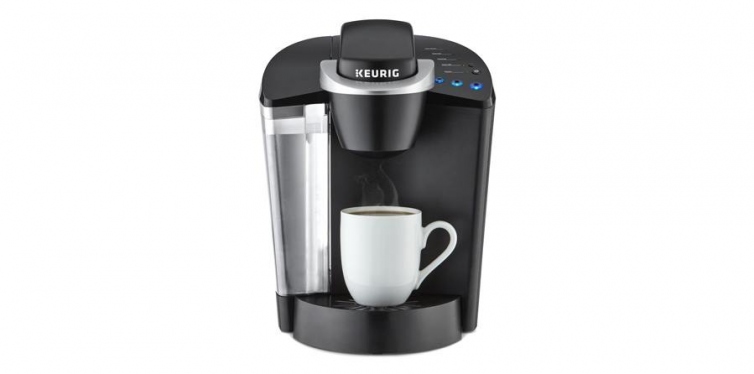 The Keurig K55 Single Serve K-Cup Coffee Machine may be the best looking unit on this list. The best part is that it's as easy on the wallet as it is on the eye and the coffee it brews is right up there with the best coffee maker costing 2 or 3 times as much. Controls are logically arrayed and clearly marked and the whole process is simplicity in action.
All in all an excellent value that will provide you with scrumptious cups of morning coffee day after day. About the only cautionary word on this coffee maker is that you need to maintain it properly. But of course any responsible owner will do that anyway. From the helpful array of control lights to the extra deep drip tray, the Keurig K55 coffee machine is made for coffee lovers who are also human beings.
Specification:
Brand

Keurig

Model

K55/K-Classic

Weight

12 pounds
The 'add water' blue LED indicator warns you if the water level is inadequate.
Other control lights include water heating and a descaling light.
A delightfully deep drip tray unlike many a coffee machine.
When the machine indicates it's time to descale thou must descale.
Obviously a single cup coffee machine will cause a backlog during big get togethers.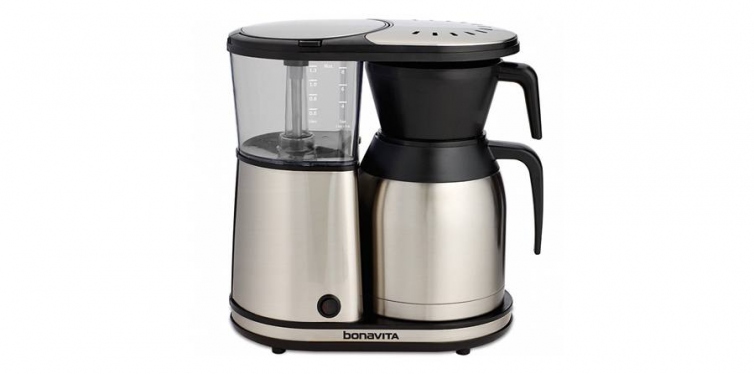 The makers of the Bonavita BV1900 TS coffee machine know that the secret to a great cup of coffee is a combination of how the beans are treated and the water temperature. The Bonavita gets both aspects of the brew cycle just right by way of its Pre-infusion mode which gently moistens the freshly ground beans to enable degassing which is then followed by a temperature controlled drip that optimizes flavor extraction. That pre-infusion of water prior to brewing is handled by a beautifully designed sprayhead that distributes the water evenly.
It's hard to find negative things to say about the Bonavita BV1900 TS coffee machine. It works as advertised which means it brews cup after cup of delicious full-bodied coffee with minimal muss and fuss and no need for an engineering degree to master the programming. It would be nice if the carafe did a slightly better job of keeping the coffee hot instead of just warm but that's a minor quibble that only comes into play if you brew more coffee than you want or can use at a given time.
Specification:
Brand

Bonavita

Model

BV1900TS

Weight

6.13 pounds
Your coffee is consistently excellent.
The sleek stainless steel carafe is fully insulated to keep coffee warm for several hours.
Few bells and whistles, just consistently great coffee.
Extracting the last few ounces of coffee from the carafe is more difficult than we'd like.
Should be descaled on a regular basis. No buts.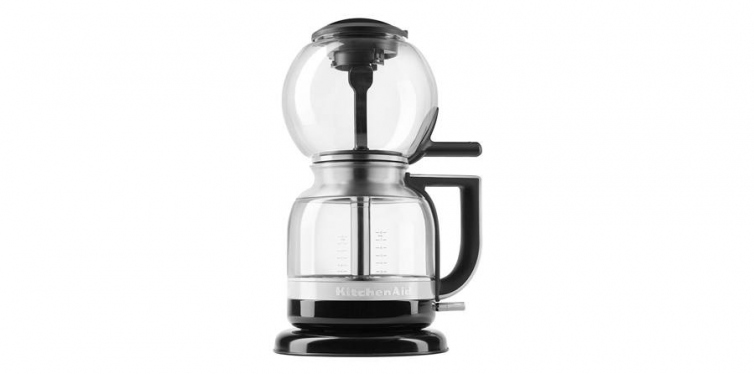 If you're into coffee brewing as theater (and who isn't) it's hard to beat the KitchenAid Siphon Coffee Brewer. You'll likely be reminded, at least to some degree, of grandma's percolator and the experience will be just as fulfilling. But there's more to the KitchenAid Siphon coffee machine than just "theater of life" visuals. The resulting coffee is as delicious as you hoped it would be.
In the intro at the top of the page we mentioned how coffee is as much ritual as it is beverage and there are no greater confirmations of that then the KitchenAid Siphon Coffee Machine. People will want to be in the kitchen when this unit is operating and watching their wide-eyed looks is almost worth the price of admission all by itself. But you don't have to be satisfied simply with theater because the coffee is also excellent.
Specification:
Brand

KitchenAid

Model

KCM0812OB

Weight

4.8 pounds
Hard to beat the aesthetics of this coffee machine from the looks to the process.
On top of the outstanding visuals you get an equally outstanding cup of coffee.
Magnetic seals mean no drips or leaks between components of the coffee machine.
Cleanup is more of a chore than with most other top rated coffee makers.
Coffee isn't so good that it necessarily justifies the extra expense. Basically you're paying a premium for the theater.
8. NESCAFÉ Dolce Gusto Genio 2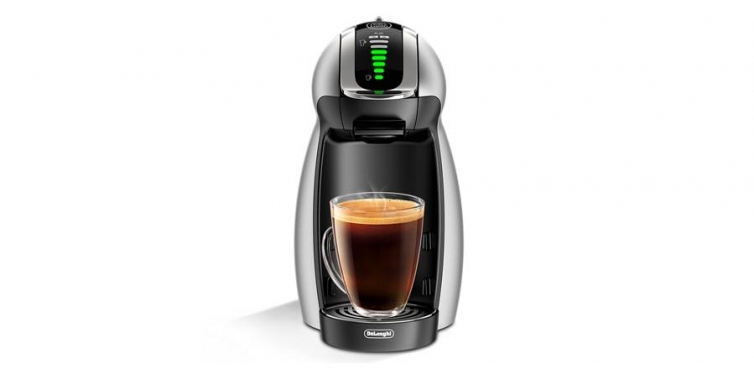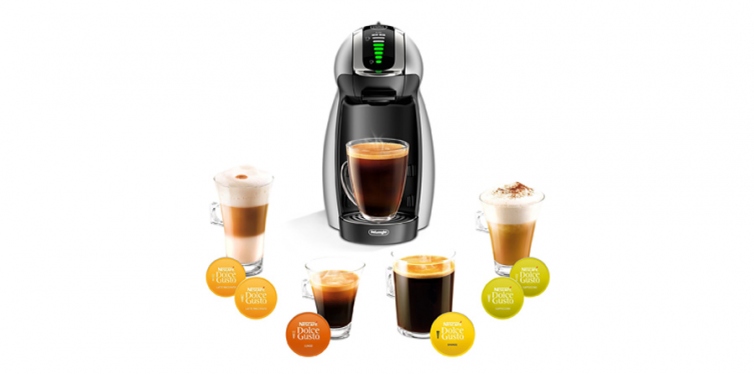 Nescafe is not a name you hear bandied about in gourmet coffee circles. They made their name producing instant coffee so it's with a certain skepticism that we approached their Dolce Gusto Genio 2 Coffee machine. Surprisingly we found it to be a top notch coffee maker and espresso machine which, while it perhaps tries too hard at times, nonetheless can produce an array of outstanding brewed coffee drinks.
For those who crave a recognizable brand name in their kitchen this will certainly fit the bill. Not only that, however, it will also produce a reliably excellent cup of coffee that will soon have you forgetting about the company's less inspiring instant coffees. The Dolce Gusto coffee machine also receives high marks for style and for energy conservation, as it automatically shuts off after 5 minutes of inactivity.
Specification:
Brand

DeLonghi

Model

EDG466S

Weight

5.4 pounds
In spite of the plethora of brewing options the unit is surprisingly easy to use.
Most of the coffee standards are flavorful and consistent in their quality.
The design of this coffee machine, while a bit self-conscious, will grow on you over time.
The Genio 2 coffee machine tries to be all things to all people and that adds unnecessary cost.
Can be something of a chore to clean properly.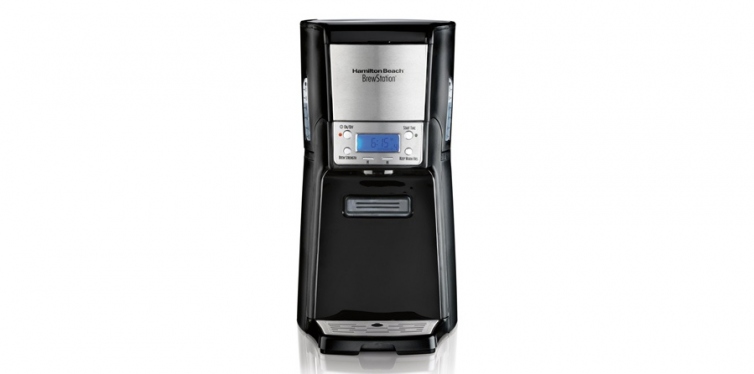 The Hamilton Beach Brew Station coffee machine attempts to solve the problem of coffee getting stale when it sits on the warming plate to long. It does this by getting rid of the carafe altogether and instead opting for internal self-contained storage of brewed coffee, a system that cafeterias et al have been using for years. The more important thing to our panel though was the quality of the coffee when it's first brewed. And that showed itself to be reliably excellent.
For about what you probably pay for Internet every month you can have this uber-dependable Hamilton Beach 12 cup coffee machine. The quality of the final product is consistently good and because that product is stored internally it's typically kept hotter and fresher than it would be in a standard carafe. While this coffee machine doesn't break any new stylistic ground the most important thing is that you can have really great coffee waiting for you every morning.
Specification:
Brand

Hamilton Beach

Model

48464

Weight

5.51 pounds
The internal storage tank is a plus for those who need to keep large amounts of coffee hot.
Basically easy to clean and low maintenance.
Coffee is consistently better than a standard drip coffee machine.
This coffee machine won't win any beauty contests, but it's a coffee machine right?
Feels a bit plasticky but that's to be expected for the price.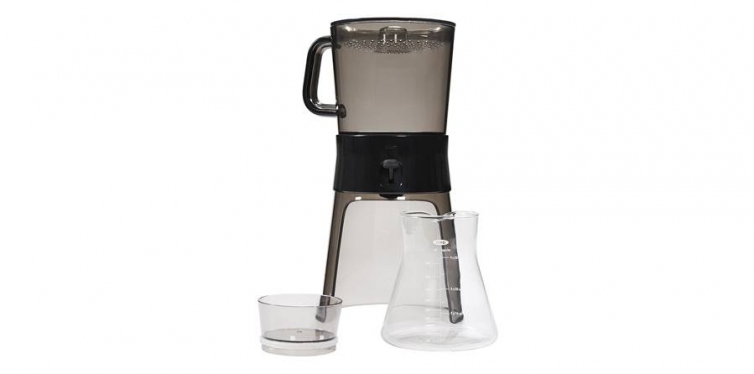 The cold brew process of this coffee machine is not for everyone. But for those who are drawn to the instant coffee concept (but don't want the nasty flavor that comes with it) the OXO allows you to have low-acidic, great tasting concentrate on hand that you can use to instantly create a delicious cup of hot or iced coffee.
The OXO cold pressed coffee machine is a viable alternative to both the drip coffee machine and flat out instant coffee. It occupies a grey area but that doesn't mean the product isn't satisfying. For the most part the coffee you make from the concentrate produced by this coffee machine will be every bit as good as the best you'll get from a drip machine and you'll have the convenience of not having to drip coffee every time you want a cup.
Specification:
Brand

OXO

Model

1272880

Weight

3.97 pounds
The whole coffee machine comes apart easily and can be stored away with minimal fuss.
The quality of the coffee you eventually make from the concentrate is surprisingly good.
You'll always be just a minute from a great cup of coffee.
There's no doubt that concentrate is not for everyone.
You don't want to leave the concentrate in the fridge more than a few days. Tops.
Buyers Guide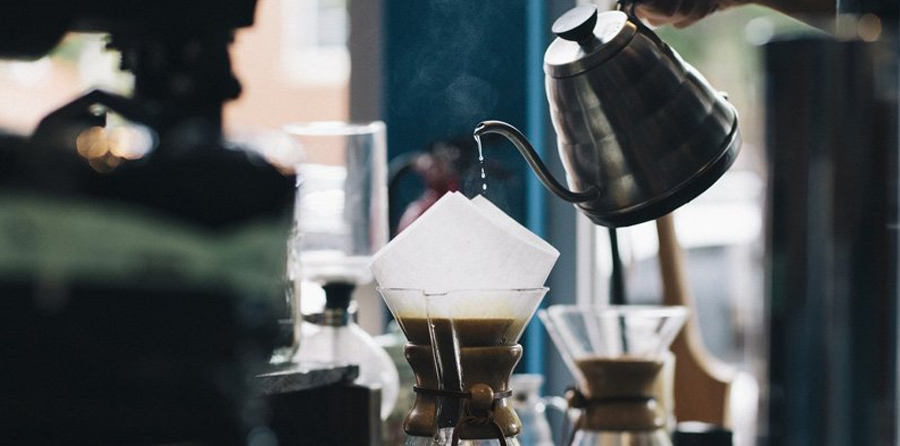 What Are The Top Coffee Makers?
Any of the 10 best coffee machines we profile above will serve you well and produce high quality coffee time and again.
What Is The Best Coffee Machine Under $200?
While you'll find plenty of debate on the Internet when it comes to a question like this, you can't go wrong in our opinion with the Bunn BT or the Keurig K55 coffee machine.
Who Makes The Best Coffee Machine?
Again, a question that will elicit a full range of passionate opinions. Bunn certainly have been doing things right for quite some time while others like Keurig, Moccamaster and KitchenAid put a lot of thought into some of their coffee machine products.
What Is The Best Dual Purpose Coffee Machine?
As far as a coffee machine that is featured on our list goes the Ninja Coffee Bar Single-Serve System is hard to beat. If you're looking for something more expensive with perhaps a more recognizable brand name you can't beat Krupps.
Things To Consider When Buying A Coffee Machine
While there isn't much difference between the standard drip coffee makers there's actually quite a range in options and quality when it comes to the coffee machine. Below are some things you should be looking for in your next coffee machine.
Type of Coffee Machine - If you're a traditionalist you'll likely want to go with something that will simply brew an outstanding cup of coffee time and again without a lot of bells and whistles, like the Bunn BT. If you want to be able to offer your guests a variety of coffee-based drinks consider a multi-function coffee machine like the Nescafe Dolce Genio 2.
Brew Capacity - While there is more than one coffee machine on the market that will produce large volumes of excellent coffee like the Cuisinart DCC 3200 (reviewed above) you may be the only coffee lover in the house and so such a large coffee machine will be impractical. If that's the case consider something like the Keurig K55 single brew coffee machine.
Bells and Whistles - Some folks like their coffee machine to be technologically advanced and fully programmable. If that's you try the Ninja Coffee Bar System or something comparable. If you like your coffee machine to be an unparalleled expression of minimalist design go for something like the Bonavita BV1900TS.
Brew Speed - One of the big drawbacks to many a coffee machine, drip or otherwise, is the amount of time you often have to wait for the brew cycle to finish. If you're the type that's never in much of a hurry this isn't an issue. If, however, you have better things to do than wait 20 minutes to get your hands on your morning coffee, either buy a coffee machine with a programmable timer so the brewing takes place while you're in the shower or get a coffee machine like the Moccamaster profiled above that will produce outstanding brew at lightning speeds.
Coffee Machine Price - It's time to mention the 600 pound gorilla in the room when it comes to the seemingly humble coffee machine: price. These producers of your favorite energy drink range in price from about that of a T-shirt to several hundred dollars and more. Once you're talking more than about $200 dollars though there's really very little difference in the quality of the product and the extra cost mostly goes into build quality; i.e. materials. That and name recognition. Unless you're a true coffee aficionado you should be able to get an excellent coffee machine for around $100 or even a bit less.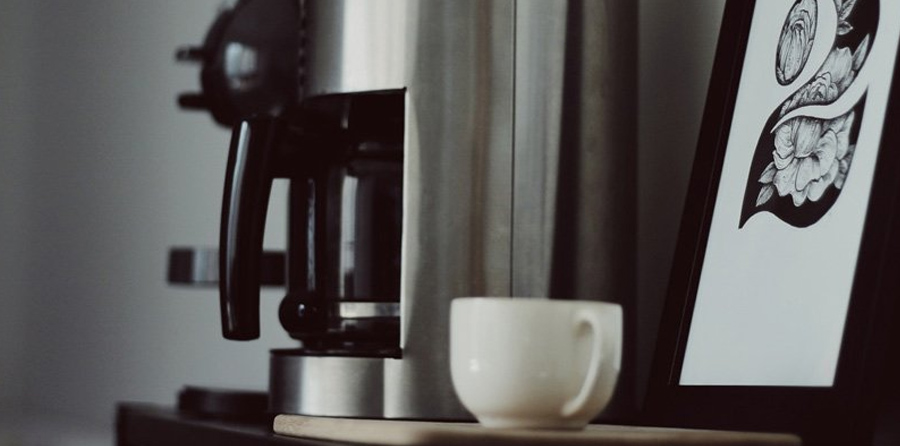 Conclusion
The modern coffee machine can be uber-simple or extraordinarily complex with all manner of high tech bells and whistle and more brewing options than Carter has little liver pills. The bottom line is that whatever your tastes and budget there's one out there for you that will produce robust, flavorful coffee for you time and again and be a valuable addition to your kitchen decor and appliance list.
We hope you found these coffee maker reviews helpful and be sure to check back regularly for new product reviews and comparisons.