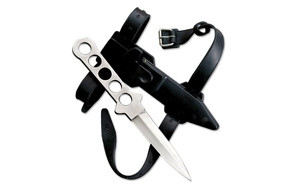 Snake Eye Tactical 1X Dive Knife ll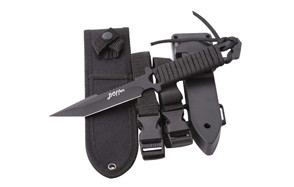 BOffer Scuba Diving Knife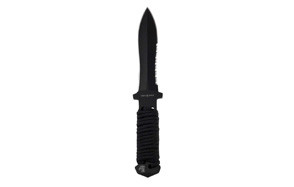 Aqua Lung Argonaut Titanium Diving Knife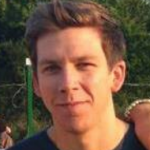 Diving is the most effective way ever created for humans to interact directly with the unknown world out beyond the breakwaters. But diving is not without its perils and because of that it is the foolish diver indeed who ventures into the abyss without a good diving knife at the ready. Below are the 10 best diving knives on the market today.
 The Best Diving Knife
Diving Knife Buyer's Guide
There are a number of criteria you should keep in mind before laying down your hard earned money on a diving knife. They include:
Size - An enormous knife is going to be unwieldy underwater and largely unnecessary. If you are a large guy or gal you'll want a blade that's no more than 4 or 5 inches. Any bigger is simply overkill. If you're average sized or a bit less stick to a blade that's 3 or 4 inches max. A bigger blade is going to scare the fish and your fellow divers. You may also want to consider a folding knife like our favorite, the Spyderco Pacific Salt.
Cutting edge - You're presented with some basic options when it comes to the type of edge on your knife. Basically a straight edge is good for slicing through plastic and smaller diameter ropes while a serrated edge is going to come in handy on larger diameter ropes or for cutting your way through kelp. Ideally you'll get a knife with both.
Blade material - Most diving tools, use stainless steel for their blades. 420 stainless is a good blade material because it sharpens easily, holds an edge pretty well and, if properly cared for and regularly oiled, won't corrode. 420C will do an even better job. But if you really want a blade that's going to stand up to constant exposure to salt water you'll want titanium. It's lighter than stainless, really holds and edge and is (almost) impervious to corrosion.
Blade design - When it comes to diving knives you'll want a straight edge, a serrated edge (or section of the edge) and a notch for cutting fishing line and small cord. You may also want to go with a blunt end blade since they greatly reduce the chance of painful accidents and they won't puncture your inflatable.
Handle design - The type of handle you choose will be entirely up to you. Diving knives are made with different handle designs and materials because different people have different sized hands that respond to different materials and shapes differently. The most important thing is that you feel absolutely comfortable working with the knife under water.
Cutting Ability - You bring a knife into the water with you for one primary reason; to cut things. As such you'll want a blade that holds an edge well and won't need to be resharpened every time you free a turtle from an abandoned fishing net.
Ease of use - What's easy for one is not so easy for another. Still the best knives are those you don't have to ever fumble with. They sit in their sheath securely, slide out of their sheath easily and provide a firm, sure grip. If you have a folding knife it should open without fighting back and the blade should lock open so you don't lose a finger while you're trying to cut fishing line or old ropes.
Corrosion resistance - You bring a knife with you into the water to cut things. But you are bringing it into the salt water. So beyond being able to hold an edge it also needs to resist the corrosive effects of immersion. 420 stainless does a good job of that. 420C does a better job. H1 stainless does an even better job and at the top of the dive knife food chain is titanium, which has more natural resistance to corrosion than stainless.
Durability - When it comes to diving equipment durability is crucial. You don't want your knife failing you when you've become entangled in lines while diving a wreck. A full tang blade is preferable as it's not ever going to snap on you. You also want your blade to be made of the best possible type of corrosion resistant metal (see above). A durable sheath is equally important as your knife won't do you much good if the sheath pops open and you lose the knife.
Grip - There are as many types of grips as there are diving knives. Which one you choose will depend on how you react to the different shapes and textures. Whether genuine rubber, artificial rubber compounds, plastic, paracord, bare metal or whatever and whether it's bare bones or elaborately molded to fit your physiology, the most important thing is that it feels right when you hold it.

Types of Diving Knives:
Blunt tip - We talked briefly about the blunt tip above. Basically the blunt tip blade helps prevent you from hurting yourself or someone else or accidentally puncturing your inflatable. These are often recommended for those less experienced with using a knife underwater. Although truth be told people with all levels of experience use them. The blunt tip also helps you pry things open or apart and is good for hacking or otherwise chiseling.
Pointed tip - The sharp tip often facilitates easy cutting but it's also popular among those who enjoy spearfishing. If you have a decent amount of experience using knives underwater a sharp point should present no problem.
Diving Knife FAQs
Q: What is a diving knife?
A: A diving knife is a piece of scuba gear divers use to cut through obstructions such as fishing lines, abandoned nets, rope and more. They are not intended to be a self-defense tool or otherwise used for aggressive purposes, other than spearfishing. The majority of casual divers will never use a diving knife. But those who dive on a regular basis consider them indispensable.
Q: How to use a diving knife?
As we said a diving knife is not a weapon, it's a tool used to facilitate scuba diving. If divers encounter abandoned fishing lines or nets they often need to cut through them to proceed into wrecks and the like. They are also commonly used to help free divers trapped by vegetation such as large forests of kelp. In addition divers are increasingly finding it necessary to rescue marine life that has been trapped by or otherwise entangled in the detritus of human activity like old nets, plastic 6 pack holders and fishing lines.
Q: How to sharpen the best diving knife?
A: At some point you'll need to sharpen your diving knife and thankfully sharpening the straight edge is pretty easy while sharpening a serrated edge is not. Sharpening a serrated edge is probably best left to professionals as there is special equipment involved and it's time intensive as well. Sharpening a straight edge is a two-step process that involves both grinding and honing. Most knives benefit from regular honing and don't need to be ground nearly as often as people think. Many sharpening stones come with both a grinding and a honing side. Check out our guide to best knife sharpeners on the market.
Q: Where to attach a diving knife?
A: A diving knife is typically attached to either the belt or the leg. All it takes to attach the knife to a belt is a simple clip. Some knives come with this clip built in. Others have a clip built into the sheath. Still others have a removable clip on the sheath. Many divers prefer to have the knife strapped to their leg. As the arms are typically relaxed and trailing while diving they are in a perfect position to simply reach to the leg and remove the knife from the holster.
Q: How to clean a diving knife?
A: Keeping your diving knife in prime condition is easier than you think. While blades made of titanium or H1 stainless won't in theory need as much maintenance as, say, 420 stainless blades you should nonetheless get in the habit of cleaning your knife with fresh water after every dive. This will remove any salt that is clinging to the metal. Once the blade is completely dry it's also a good idea to rub a little mineral oil into it and then remove any excess before you put the knife away.
Q: How to clean rust off your best diving knife?
A: In most cases light rust can be removed either with steel wool, a scotchbrite pad or even naval jelly. To help ensure the corrosion stays at bay make sure you start to clean and oil the blade as described above.
A: What is better: stainless steel or titanium?
A: Most diving knives are made from stainless steel. 420 and 420C are popular types of stainless used in diving tools. Either will provide decent resistance to corrosion but you will need to engage in regular maintenance of the blade. H1 stainless was developed in Japan and exhibits superior corrosion resistance when compared to 420 stainless or other, lesser stainless steel grades. However, none of the commonly used stainless steel alloys can compete with titanium. Titanium will cost you more for sure. But your knife should provide years of corrosion free service as long as you show it minimal TLC.