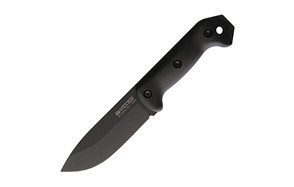 Ka-Bar Becker BK2 Campanion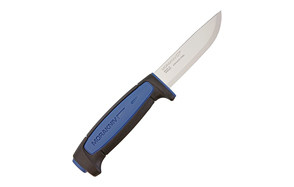 Morakniv Craftline Pro S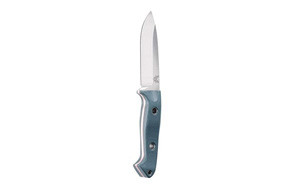 Benchmade – Bushcrafter 162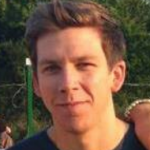 In spite of what it might sound like bushcrafting isn't the art of turning shrubbery into sculptures, it's the method by which people survive in the wild. Some of the tools of the bushcrafter include the compass, the firestarter, the tactical flashlight and other things like emergency blankets and a tactical or field watch. Of course maybe the most important item when it comes to effective bushcrafting is the knife. The best bushcraft knife will allow you to harvest wood for fires, cut small branches to build a shelter, carve tent stakes, clean fish and small game and defend yourself if the need arises. It's an all-purpose knife but with a more heavy duty task list than the average Swiss Army Knife. Below we're going to look at the best bushcraft knives on the market today as chosen by our product review team.
The Best Bushcraft Knife
Bushcraft Knife Buyers Guide and FAQ
Bushcraft itself is a relatively new term to most people even though the basic concepts of bushcraft have been around seemingly forever. Of all the factors that go into effective bushcraft probably none is more important than the knife you choose. Here are some common questions surrounding the choice of a good bushcraft knife.

Q: How To Choose A Bushcraft Knife?
A: Here are the main considerations that go into choosing a bushcraft knife.
The blade - You don't want some wallflower of a blade when it comes to bushcraft knives. You'll want something at least 3 ½ inches long crafted from durable high carbon steel so it will retain its edge as long as possible. Some will say that if you're going to chop wood you should bring along a machete or tomahawk. But since we can't choose when an emergency situation will arise it's best if your bushcraft knife is ready to answer the call. The blade on your bushcraft knife should ideally have a drop point that's good for piercing and either a Scandinavian, Flat, Chisel or Convex grind. Also, it's essential that the blade be full tang so you can lean into it as aggressively as you have to without worrying about it separating from the handle.
Type of Steel - Most bushcraft knives have stainless steel blades of one sort or another. High carbon steel is commonly used because it's durable and holds a razor sharp edge for a long time. But it's also prone to corrosion, so if you're going to purchase a bushcraft knife with a high carbon blade it should be coated or otherwise treated in some fashion to make it more corrosion resistant.
The handle - If you can't get a good solid grip in any conditions your bushcraft knife isn't going to be a lot of good to you. So the handle material is very important. G10 glass filled nylon is a popular choice because it's durable and can be textured to give you a nice firm grip. TPE is another excellent handle material for a bushcraft knife. It's a composite of various polymers that can effectively mimic the characteristics of rubber. Which makes for the all-important solid grip when you're chopping with your bushcraft knife. Some knives use walnut or other natural woods, though we wouldn't recommend those for your bushcraft knife if you don't have previous experience with them.
Serrated edge - Some blades will come with serrations down the spine intended to aid in the harvesting of wood materials in particular. While there are purists who will scoff at the presence of serrations if you believe they could help save your skin someday who cares what purists think.
Q: How To Use A Bushcraft Knife?
A: Bushcraft knives are used to build shelter, start and maintain fires, collect water (think carving through ice on a frozen stream), make secondary tools like batons or spears for catching fish, prepare food and for self-defense and rescue. But since the blade on a bushcraft knife is typically big and sharp you have to know how to wield it or your savior could wind up being your enemy. In order to wield your bushcraft knife safely then make sure you:
Maintain a proper distance between yourself and others when wielding your bushcraft knife.
Ensure that all your carving, cutting or hacking motions move away from your body.
Maintain your blade assiduously to prevent corrosion from taking hold and also to retain an effective cutting edge. As they say a dull knife is a dangerous knife.
Q: What Makes A Bushcraft Knife?
A: A bushcraft knife can loosely be defined as one that is at least 3 ½ inches long, is full tang, can be held firmly in any conditions and can cut effectively with the entire length of the blade.
Conclusion
Bushcraft knives are an essential component to any outdoor adventurer's basic kit along with a good compass and a tactical flashlight. In an emergency situation a bushcraft knife can literally be the difference between life and death. So it's crucial that you have one that won't shrink from difficult tasks that may be required to ensure your survival.
We hope you found the above information and reviews on the best bushcraft knives helpful and that it enables you to make an informed decision when it comes time to select the right bushcraft knife for your next adventure. Don't forget to stop back regularly for more insightful product reviews from the experts at Gearhungry.com.