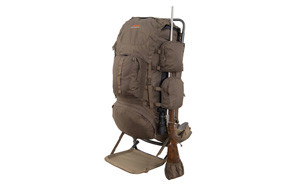 ALPS OutdoorZ Commander (External Frame Backpack)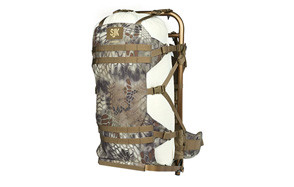 Slumberjack Rail Hauler 2.0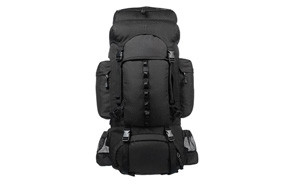 AmazonBasics Hiking Backpack with Rainfly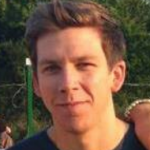 If traditional cloth packs just aren't enough for you, you're not alone. Those back-busting bolts of cloth don't cut it – an external frame is just the fix you're looking for. Designed to hold more weight, provide fuller storage capabilities, and just look freakin' awesome, external frame backpacks are your go-to secret for carrying heavy loads, all without putting unnecessary strain on your back. These can last a lifetime if you're smart and aim to make that life a hell of a lot easier. From the dream of the crop to every reason why we chose them, keep scrolling; we're just getting started.
The Best External Frame Backpack
External Backpack Buying Guide
After careful consideration, testing, (and a lot of failed packs that didn't make the list), we're all well aware of what makes them work, and a hell of a lot of what doesn't work for them. Everything you've ever wanted to know about the best external frame backpack models and their secrets are listed below, from cleaning to packing, and how we came to a deliberation on the top ten.

Q: What is an External Frame Backpack?
A: Initially designed for hikers, external frame backpacks are built to hold higher load capacities, all without wearing you down as quickly as traditional cotton/canvas backpacks. If you're commuting to work with a lot of electronics, or you're simply using a backpack every day, but find yourself having shoulder and back pain problems, you're smart to open up the realm of possibility, and opt for an external frame.
Most come with forged aluminum frames to properly and evenly distribute weight across the entire pack, which helps cut down on the possibility of putting all the weight on one shoulder, depending on the items inside. Depending on your creativity, you'll be able to use the additional features that come with external frame backpacks to your advantage. There are slots and attachments to equip flashlights, bulky carry items, and other essentials (remember, it was initially designed for hiking), but all this can be used depending on your imagination, and your needs.
We all know that carrying heavy loads in your backpack comes with unwanted back sweat; it's unavoidable. You've got 50-100lbs of gear you're schlepping around, and all that pressure/lack of airflow on your back is going to end with a wet backpack, and a wet shirt when you're done. With an external frame, that was one of the many issues brought to light - they're designed to protrude just far enough away from your back to maintain airflow, and cut down on fatigue as a result of constant sweating.
Things to Consider When Purchasing External Frame Backpacks
Every purchase you make is going to be reliant on a number of features. For some, it's cost, for others, it's long-term use and withstanding the test of time. We've outlined the main reasons that we, as well as Gear Hungry readers, decide on an external frame backpack during the purchase process.
Weight - The downside to external frames is the initial weight; it's like carrying an office chair on your back. You have an aluminum frame, and the actual material that the backpack is comprised of, not to mention the add-ons and attachments. Even empty, these packs can weight quite a bit, which is why looking at the item weight is critical to the purchase process.
Capacity - Usually doled-out in cubic feet, a backpack is only as good as how much it can hold. Storage capacity is the key here because, without enough of it, you wouldn't be buying these in the first place. Some packs offer minimal space, which is okay, depending on your needs. If it's the daily work commute, lower capacity, and therefore, a lower empty weight, may suit your needs. Think about the primary use, focus on that, and decide what sort of storage you're going to need.
Durability - The age-old question: how long is this item going to last? This will spill over into our warranty section in a moment as well. If it's not built to last, then you probably shouldn't be wasting your money on it. Durability matters, and again, it's akin to your specific needs. Commuting isn't going to come with the same hazards of the outdoors, and vice versa. If you're hitting the nature trail every weekend, the toughness of your external backpack is crucial.

Material - Nylon, cotton - what's the best? Each manufacturer is going to use a different blend of fabrics and materials to comprise the actual pack itself. For the most part, you'll run into aluminum for the frames, and rarely anything else. We can't really give a gauge for which material companies are going to use - once you find out, research that specific material or blend, and make the decision for yourself.
Sizing & Fitting - Are you a bulky bro or a slender gent? Either way, you're going to fit into backpacks and straps differently. Pay close attention to the dimensions of the frame, and the overall pack. It's always difficult to judge something online when you're going to put it on your body, but since these aren't leather pants we're talking about, you can calculate it pretty well. You want the fitting to be midway on your back, traveling up to neck level. Too low, and you're going to put a strain on your lower lumbar, and cause problems.
Warranty Information - If you're wondering what types of warranties can be offered on backpacks, you're going to be in for a real shocker. We'll be the first to say it: all of these companies suck with properly presenting their warranty information. From Amazon, you have to request specific access to it via customer service. As a result, we didn't really focus on it for the selection of our list, but still wanted to throw this little cautionary tale here for you to take a look at. Warranties on these are going to be a pain to find, though not impossible.
Benefits of External Frame Backpacks
Sounds like a lot, right? What benefits can there really be to a backpack that you're not already aware of? Buckle up - you're about to be pleasantly surprised.
Hunting Tray - External frame backpacks are also designed for hunters to use. Our top pick on the list is a shining example. Hang your backpack by the frame on a tree limb or nearby sturdy bush, and utilize the level tray to store rounds, and other quick-access items. It's like setting up a little one-stop hunting spot whenever you need it.
Rifle Rack - Similar to the hunting tray, this is more designed for hunters than anyone else (I mean, kudos to you if you can think of something else to put here). This allows you to equip a rifle to your side, making it much easier for transit to, and from your hunting grounds.
Airflow - Backpacks and body heat don't mix. Not well, at least. We've all had a pack slung over our shoulders for a little too long, and experienced a wet t-shirt (not the fun contest kind, either). External frames give just enough space between you and the internal storage pack, allowing you to retain proper airflow, and cut down on fatigue from overheating as a result.
External Backpack FAQ
Your burning questions are about to be answered. When people hear about external frame backpacks, the first thing is usually, "What the hell are you talking about?" We've covered that, but we haven't covered specifics yet. Everything you wanted to know is just a quick scroll down.
Q: Which Backpack Should I Choose: Internal or External Frame?
A: External frame backpacks aren't a simple switch. If you're dedicated to fitness, hiking, camping, fishing, and all of the above, they're definitely right for you. We've seen a few gents using smaller models on the commuter rail, and while we were like, "The hell is he doing?" it makes total sense. They're mostly designed for hiking and other outdoor activities. External frame backpacks require certain criteria from the wearer.
We're here at Gear Hungry, right? This is the definition of true gear that stays with you. We mentioned earlier that warranty information is hard to find. There are folks that have owned the same external frames since 1975, as far as we know, with minimal repairs required in the meantime. The benefits have been laid-out, so it's ultimately up to you. Our final verdict is this: commuters, stick with an interior frame, hikers and high-octane outdoor enthusiasts, you know what you should do.
Q: How do You Clean an External Frame Backpack?
A: Think of your old school bag, and how horrible it was to clean. You're an adult now, and you actually care about the cleanliness of your bag (after all, you're paying for it now, not your parents). External frames have a slightly more drawn-out cleaning regimen than a traditional nylon, cotton, or canvas backpack from your days at primary.
Empty Everything
While it may seem a tedious task, (especially since we're about to cover packing items efficiently in a moment), it starts with you dumping everything out until it's bare. You may find crumbs and little bits of fibers falling out that you truly thought weren't in there, and that startling realization is going to tie us into the next section: dry cleaning.
Dry Cleaning Your Bag
Well, you're not taking it to the dry cleaners, but you are going to apply a dry method before we take a disinfectant approach. Grab the nozzle of your vacuum cleaner, pop-on that narrowing attachment, and get ready to go to work. The biggest issue is separating the creases where the stitches meet inside, so you can suck up any dust, dirt, or debris that's made its way into those little nooks and crannies. This could have been from dry food knocking around, leaves and dirt from the great outdoors, or what have you. The point is, vacuum it until there's no tomorrow.
Frame Wash
Your frame is pretty damn important, so you need to clean it to the best of your ability. You're going to find grime from partial sweat and the presence of foreign items from the wilderness or improper storage. We're not all perfect, and while it's not going to kill your frame if you don't clean it, it's going to rub against the cloth of the interior compartment and cause odors or discoloration to the rest of your backpack.
White Distilled Vinegar Rub
White distilled vinegar is the secret weapon of all cleaning. It not only disinfects but unlike chemical sprays and overpriced wipes designed for specialty cloth, it doesn't leave behind a filmy residue. Wet a balled-up microfiber rag or face cloth (gently, not saturated) with WDV, and rub circles into the cloth. You'll have a slightly unpleasant vinegar scent once you're done going through the whole inside and outside of the pack's internal compartment, but it quickly dissipates and sanitizes everything it comes into contact with.
Q: Can You Use an External Frame Backpack for Skiing or Rock Climbing?
A: Absolutely not. External frame backpacks aren't to be used for sports. Yes, some consider hiking to be a sport, but here, we consider it to be an outdoor recreational activity (nice loophole, right?), which stays at a brisk pace, as opposed to physically straining sports like skiing or rock climbing.
With skiing, these bags just aren't designed to take on heavy snow, even if you're just on the lift. We hope you're not considering using a heavy bag while in the middle of skiing, but you also shouldn't leave it in the elements. It's not designed to carry proper gear, and would most likely have a lot of additional room, and be sort of a waste to bring up onto the trail.
When it comes to rock climbing, you're running a lot of risks while you're out and about. Even the most skillful rock climber understands risks, and not to appoint unnecessary ones to an otherwise treacherous and physically demanding activity. These will do nothing but add weight to your back, and aren't built to fit rock climbing gear. While these bags can be expected to last for decades, that's if you follow intended purpose. Putting sharp and jagged rock climbing gear into a bag that isn't designed for it will only leave you aggravated, and down a pack.

Q: How do You Properly Pack an External Frame Backpack?
A: We don't know what you're bringing, but we can lay out the three primary rules of thumb to follow when you're packing your bag. Regardless of the specific items fitting into your pack, these rules all play a vital place.
Plan Weight Distribution
Owning an external frame backpack helps with weight distribution, but it's not going to do the job for you. No pack will. You have to plan out the weight of specific items, their likelihood to jingle around (based on capacity and your intended loadout), and your need to access them. It's all about even weight on either side, thereby cutting down on shoulder strain and general fatigue. If you're bringing particularly heavy items, you should pack them towards the peak (highest compartment) of your external frame backpack to help you keep your balance and posture.
Only Put Necessary Gadgets Outside
Planning on using side compartments and gadget hooks to your advantage? They're useful, but don't rely on them fully. They're the tipping point for your weight distribution if you're not careful. You should only put necessities outside: hanging EDC kit, tactical flashlight, lantern, things of that nature.
Assume the Elements Will Grab You
One downside to external frames is that when you're hiking through dense foliage and covered paths, your external frame may get caught or snag on bushes and hanging branches. That being said, ensure to very tightly pack your tent, and keep gadgets secured with a bungee cable if possible. You want to cut down on potential snags by packing tightly.
Q: Can an External Frame Backpack Allow me to Hike Faster?
A: In short, no, it won't. There's an illusion that "better" gear is going to make it a quicker journey. What external frame packs can do is alleviate shoulder and lower lumbar pain, as well as sweat build-up, making the entire trip more leisurely and enjoyable. As for speed, it's all up to your physical fitness and abilities.
Q: Are External Frame Backpacks Difficult to Adjust?
A: It's best to adjust them properly when they're empty, even if you end up needing to adjust the straps after they're on your shoulders. Due to the frame positioning, you should maintain the same level of comfort and restraint even after loading up and slinging it over your shoulders.
Adjust while empty, load up, and test it on your shoulders. If you do this properly, you should only need minor adjustments at the very most, which can easily be rendered. When you wait to adjust until it's packed and on your shoulders, you run into issues (like it not fitting in the first place).
Q: Can You Bring an External Frame Backpack on a Plane?
A: There's usually no issues with bringing external frame packs on planes. If you're planning on hitting another country and camping out like a champ for a week or two, you'll want to pack everything you need in your external frame. That being said, you don't want a bunch of items just dangling off of the side while you're trying to find your seat. It's not going to make it into overhead carry, so you'll have to check the bag, and ensure everything is tightly inside. Here's what we recommend:
If everything you need, right down to the last bell and whistle, all fit perfectly, but some of those items are on exterior compartments, you'll have to pack them into your bag for air transit. Bring a thing messenger bag as a carry-on so you can still access certain items during your flight. When you land and rescue your pack from baggage claim, you can put those carry-on items in the pack, put the necessary items outside of it, and neatly fit your messenger bag/carry-on bag where the new empty slot in your pack resides.
Q: Why is my Center of Gravity so Important?
A: These packs offer a lot of weight carry, but they're also essentially extensions of yourself. When you're strapped in and can't just drop it off your shoulders, you need to think of your external frame backpack as another part of you, which is why we recommend heavy items (camping stoves, camping grills, etc.), always go along the top of your pack.
This helps you keep your balance, and maintain a certain level of control over your pack, even when you think it can get the best of you. It's about weight distribution and control, and those tie in together to make your center of gravity.
Q: Is There a Difference Between Men and Women When it Comes to External Frame Backpacks?
A: Touching on the center of gravity subject again, yes, there most certainly is. Women tend to hold their center of gravity in their midsection, around the pelvis and lower back. Men tend to hold theirs in their upper back and chest area, making a difference when it comes to packing and weight distribution.
If you're going for a guy-and-gal combo to hit the trail with your lady friend, there's no difference in packs. You don't need to search for specific woman-friendly packs, they just need to store items differently. Heavier items should be in the center of their pack, closest to their back area and frame. This actually improves efficiency, decreases fatigue, and will ensure she has a much better time.