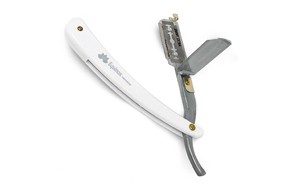 Equinox International Barber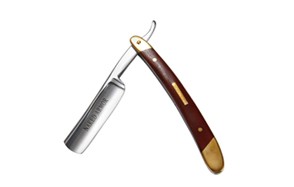 Naked Armor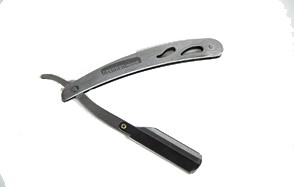 Barber Accent
There aren't many things in this life as openly manly as shaving with a straight razor and, thank the maker, straight edge razors are enjoying a bit of a renaissance in recent years. However, because they've existed outside of public discourse for so long the amount of information being passed from manly man to manly man about the straight razor today is practically zero. But rest easy, because we're here to fill the information void. In this product review guide we're going to take a close look at the straight razor and shine a light on what we consider to be the best ones on the market today.
Also, keep in mind that, as always, any opinions expressed below are just that; opinions. They belong to our product review experts and are not the result of any scientific analysis.
(Top Picks) For The Best Straight Razors
See More Reviews

The Dovo Carbon Steel straight razor is marketed by the company as being the "Best Quality" and it would be hard to argue with that statement. This is a simple razor with a classic design that feels great in your hand and even greater when it's working its way across your face.
If you're after the authentic straight razor experience as much as a quality shave, you won't find another straight razor better able to deliver on both fronts than the Dovo Carbon Steel straight razor. It's a simple piece of throwback bathroom tech that has no equal among 21st century mechanical razors and it will rightly assume pride of place in your bathroom.
Specification:
Brand

Dovo

Model

753640926147

Weight

4.8 ounces
A wide 6/8 blade provides stability and durability.
The scale is fashioned from water resistant celluloid that will last a lifetime.
Attention to detail the Germans are renowned for.
You'll need to strop it before using it.
Not cheap by any standard.
SmoovGroom Straight Razor
See More Reviews

The SmoovGroom Wood Handle Safety straight razor is a curious looking piece of bathroom tech that provides the close, comfortable shave you expect from a first class straight razor. It's designed to be ergonomically comfortable and the replaceable blades mean no need for stropping.
The SmoovGroom Wood Handle Safety Straight Razor is a great way to acquaint yourself with the timeless ritual of the straight edge shave. It feels great in your hand and the ergonomic design provides you with just the right angles to get the closest shave possible with the least fuss. You'll also never have to worry about the handle rusting on you.
Specification:
Brand

SmoovGroom

Model

S-101

Weight

0.6 ounces
Switching blades is a breeze.
The solid wooden handle provides a grip as satisfying as the whole experience.
An outstanding piece of grooming tech you'll want to show off to your friends.
The short disposable blade won't be to everyone's liking.
Dovo Silver Shavette (Straight Razor)
See More Reviews

Dovo has created a name for themselves by engineering fabulous straight edge razors and the Silver Shavette is no exception. While the styling is like that of a utility knife, the shave you'll get from the Silver Shavette leaves no doubt as to the thought that went into engineering this razor.
The Dovo Silver Shavette may look like it also includes a bottle opener but the utilitarian design belies the ability of this straight razor to provide a deeply satisfying shave. From the way it feels in your hand to the ease with which you can swap out blades to the ultra-compact profile it assumes, when folded this is a great straight razor by just about any measure.
Specification:
Brand

Dovo

Model

201087

Weight

0.8 ounces
One of the easiest razors on the market to handle.
You'll always walk away from the mirror with a great shave.
30 day money back satisfaction guarantee.
About the only thing to say is that it would be nice if the pouch had a Velcro closure. Beyond that it's all good.
See More Reviews

The Barber Accent Professional straight edge razor was designed by a barber for barbers. It has a wonderful feel to it, allows you to reach otherwise awkward areas with ease and has an appealing look that's a cross between traditional barbershop tech and sleek 21st century design cues.
An outstanding straight razor shave awaits anyone who purchases the Barber Accent Professional straight edge razor. It's a joy to use, produces a nice close shave every time and the handy carrying case means you can take it anywhere without worry. Just a great all around experience from the moment you open it to the moment you close it up.
Specification:
Brand

Barber Accent

Model

653801763348

Weight

3.2 ounces
Pinch the head to replace the blade.
Thoughtful design results in outstanding distribution of pressure for an effortless shaving experience.
Gum handle is heat resistant to 275 F.
This is a fairly small, light straight razor. Big guys with large hands might find it too small.
Pretty expensive for such a simple device.
See More Reviews

Here's a straight razor that takes the "straight" part of the name seriously. It's the only non-folding razor on our list but that's just an aside and not why it's here. It's on our list for the quality of the finished product.
The Feather SS Japanese straight razor is serious shaving tech with a comfortable handle, a no-nonsense method for replacing blades and a high quality stainless steel blade holder that resists corrosion. Once you use it a few times you'll stop questioning why it doesn't fold up and just appreciate the great job it does.
Specification:
Brand

Feather

Model

acs-nb

Weight

9.6 ounces
High quality, classically shaped stainless steel blade.
Includes leather strop, natural soap, applicator brush and more.
Attractive wooden case lets you take the barbershop experience with you wherever you go.
You'll need to strop the blade before using.
What's a straight razor kit without a bowl?
See More Reviews

For those who want the full barbershop experience it's hard to beat the Naked Armor Straight Razor Shaving Kit. It comes in an attractive wood carrying case and includes all the essentials. If there's a straight edge fan on your gift list you can't miss with the Naked Armor straight razor kit.
If you're into the ritual that often surrounds a straight razor shave you'll love the Naked Armor Straight Razor Shaving Kit. You'll not only be able to immerse yourself in the tradition of it all, you'll also get one of the best shaves of your life in the process. Who needs noisy, energy wasting electric razors when something like this is available to enhance the quality of your mornings?
Specification:
Brand

Naked Armor

Model

box-set

Weight

3 pounds
Easily accommodates most brands of double edge blades.
Peerless German engineering.
Holder also available in black or red.
The plastic inserts that hold the blade are not great.
Some might consider it too light to provide a truly great shave.
See More Reviews

The Parker SR1 Stainless Steel straight razor is a beautiful looking piece of grooming tech that's not quite modern in its styling and yet not quite fully traditional either. But while it may occupy a grey area when it comes to design there's nothing in-between about the shave it delivers.
The Parker SR1 feels great in your hand and this extreme comfort allows for an outstanding straight razor shaving experience. It's too bad they decided to use plastic for the scale. Still, blade replacement is easy, new blades seat securely and the overall experience is first rate.
Specification:
Brand

Parker Safety Razor

Model

SR1

Weight

1.6 ounces
The blade arm is fashioned from 100% stainless steel.
The blade holder snaps shut to ensure a secure hold that so that shave quality is never compromised.
40 years of Parker engineering expertise behind it
While the blade arm is stainless steel the scale is chrome plated plastic.
See More Reviews

The Velvet Forge Straight Razor is consciously stylish and that's always okay as long as the product delivers where it counts. In this case it does and then some. The blade is a single piece of matte black stainless steel that glides across your face leaving satisfaction in its wake.
A fine looking addition to any man's grooming kit, the Velvet Forge Straight Razor delivers both the visuals and the shave. It feels like it's built to last because it is and the attractive leather carrying case makes it easy to take with you on the road. Plus, Velvet Forge offer what they describe as a 100% no hassle, no BS, money back guarantee. We're there.
Specification:
Brand

Velvet Forge

Model

684758994837

Weight

5 ounces
Produces a shave that's every bit the equal of the stunning design.
Embossed leather carrying case and luxurious velvet bag included.
Classic round point cut throat straight razor.
You'll need to have it sharpened before using it.
Might want to invest in a strop.
Barber Professional Black Widow
See More Reviews

The Black Widow Straight Razor delivers a quality shave via a comfortable razor with blades that are easy to replace and all for about the price of a pair of boxers.
If you're looking for a great straight razor at a great price you can't go wrong with the Black Widow Straight Edge Razor. It feels as comfortable in your hand as it does gliding across your face. For a very reasonable price you can have this extraordinary straight razor in your bathroom for years to come.
Specification:
Brand

Black Widow Executive Brand Razor

Weight

2.7 ounces
Highest quality stainless steel shank.
Attractive throwback handle with barber pole motif.Attractive throwback handle with barber pole motif.
10 Derby pre-cut razor blades included.
Some might feel the barber pole motif to be a bit silly but we liked it.
Equinox International Barber
See More Reviews

This is the best looking "discount" straight edge we looked at. But it's more than just a pretty face because it also delivers an extraordinary close shave by way of the double edged Swiss blades it employs.
While the promotional material for the Equinox International Barber Straight Razor touts the outstanding quality of the replacement blades you'll want to have this straight edge razor in your bathroom just for the way it looks. In addition, you'll look forward to using it every day because of the way it feels when you hold it. That's a lot to deliver for such an affordable price.
Specification:
Brand

Equinox International

Weight

0.3 ounces
The design provides a firm hold on the blade as well as a simple, efficient means of replacement.
Has a difficult-to-quantify but unmistakable old world feel when you hold it.
Very reasonably priced.
The stainless steel seems a rather low grade.
Buyer Questions
Here are some common questions potential buyers have about straight razors.

Q: What Are The Best Straight Razor Brands?
A: While Dovo deservedly gets a lot of press for the quality of their straight razor offerings there are other manufacturers who hit the bull's eye with regularity, including most of the entries on the above list.
Q: How Do You Use A Straight Edge Razor?
A: Shaving with a straight edge is mostly common sense and not all that different than shaving with any standard safety razor.
First make sure you have a sharp blade. If yours is a classic fixed blade subject it to a brief strop session before use.
Shave right after showering or splash some hot water on your face to soften up the whiskers a bit.
Apply a generous coat of your favorite shaving cream.
Don't apply too much pressure and hold the blade at about a 30 degree angle.
Don't forget to shave in the direction of your hair growth. Shaving against the grain can create ingrown hairs and other blemishes.
Q: How Many Times Can I Use A Straight Razor?
A: One of the great benefits of the straight edge razor is that there's no expiration date on it and no mechanical components that are going to wear out from repeated use. If you take care of your straight razor your grandson should still be able to use it decades from now.
Q: How Do I Sharpen My Straight Edge Razor?
A: If your straight razor is a classic 6/8 inch fixed stainless steel blade you should subject it to the strop before every use. If yours is a straight edge with replaceable blades then swap them out whenever they start to get dull.
Pros/Cons Of A Straight Razor
As mentioned a definite "pro" is that this is simple, timeless technology that will last as long as you take care of it. Another is that it's a very cost effective way to handle the matter of removing facial hair and yet another "pro" is that it provides a link to a more tactile time in an era when such links are becoming increasingly rare. As for "cons" perhaps the only one worth noting is the safety issue. If young children have access to your bathroom you'll want to consider squirreling your straight razor away and taking it out when you need it.
Things To Look For When Buying A Straight Edge Razor
When looking for a straight razor be mindful of the following considerations:
Blade Quality – Nothing will spoil a shave more effectively that a poor quality blade. Whether you have a classic straight razor with a 6/8 inch blade or one with disposable/replaceable blades always make sure that the steel contacting your face is high quality steel. For fixed blades a high quality steel will sharpen up easier and more effectively than low quality steel. The edge on a low quality replacement blade will dull quickly and likely rust as well.
Blade Shape – The shape of a fixed blade straight razor will essentially be either square or rounded with subtle variations within the two types. Basically it comes down to a matter of safety. It will be easier to cut yourself with a square tipped blade than a blade with a rounded tip. So the choice is yours.
Country of Origin – Although, to be sure, there are exceptions to every rule, checking the country of origin can be instructive. If your straight razor is manufactured in Germany, Japan or even the good old USA it's likely to be a quality tool.
Style – Most men purchase straight edge razors as much for the visuals as anything else. They just look great: very manly and timeless. That said there is a lot of wiggle room within the words "manly" and "timeless" and designers exploit that to create straight razors that run the style gamut. To a certain degree the design you choose will be driven by the style of your bathroom decor. You don't want your razor to look out of place.
Price – There's no straight razor that's going to alter your financial landscape. They're all pretty affordable; even the high end ones. So how much you spend will be entirely up to you. However, if you're going to go the straight razor route it makes a certain amount of sense to spend a few extra bucks and get something you want to see in the morning.

Conclusion
The straight razor revival has caught the imagination of men around the world and breathed new life into a product that had once been left for dead. We hope you found this information helpful in deciding which straight razor will be best for you and don't forget to check back regularly for more product reviews and guides from your friends at gearhungry.com.