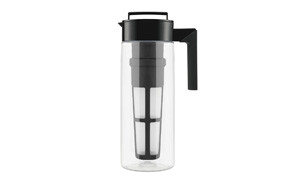 Takeya 1 Quart Cold Brew Coffee Maker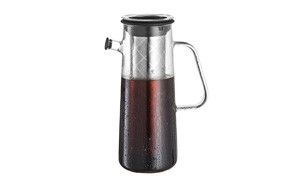 Osaka Glass 1 Litre Cold Brew Coffee Maker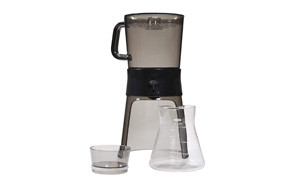 OXO Good Grips Cold Brew Coffee Maker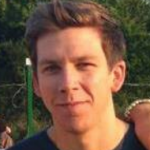 Fancy yourself as a bit of a hipster? Into all the latest trends when it comes to what's hot and innovative in the world of gadgets and appliances? Like to think that you are a bit of a connoisseur of the humble coffee bean? Well, then you are no doubt aware of the cold brew coffee scene and looking to get your hands on your very own cold brew machine so that you can wow your family and friends with your kitchen prowess!
If you thought that cold brew was just hot coffee poured over ice then quite frankly you don't even deserve to be here! Go off and make yourself an instant right now! For the more sophisticated amongst you, you'll already appreciate that cold brew is a way of steeping your coffee so that it takes on all the rich intensity and flavour of the natural compounds originally found in the coffee beans. Rather like a fine wine, we're talking top notes of chocolate and fruit.
As with any hot new trends, there are bound to be plenty of options to suit all budgets available to purchase so it might seem like a difficult task delving in and making a decision about which cold brew coffee maker is best for you. Besides the obvious consideration of budget, you might also want to review where you're going to house your new cold brew coffee maker. What kind of footprint do you need it to have and will it fit in your refrigerator? Are you only interested in coffee or do you think your new steak of experimentalism might pour over into producing teas, fruit infused waters or even your own oils? Take a few minutes to consider these important questions first.
Now I have your attention, let's delve in to the best of the cold brew coffee machines currently on the market.
The Best Cold Brew Coffee Maker
Cold Brew Coffee Maker Buying Guide & FAQ
Q: What is Cold Brew Coffee?
A: Cold Brew Coffee is much like regular coffee in that it should contain the finest of beans for a rich and intense flavour but for those connoisseurs who prefer their beverage cold without the acidity you can sometimes get when you add ice for example. The process of cold brewing allows your coffee to take on a really rich intensity and under no circumstances should it ever be confused with a mere iced coffee! Coffee grounds are typically going to be steeped in water for anywhere up to 24 hours so this is no quick cut and dash brew! It is all about concentration and intensity of flavour and prepared this way should really draw out all the natural occurring compounds and characteristics for a full on and flavoursome coffee drinking experience. Essentially cold brew coffee will have been brewed with either room temperature or cold water anywhere from 12-24 hours.

Q: How do I brew the best cold brew coffee?
A: It really is a breeze preparing cold brew coffee but there are some best practises you can adopt to ensure that you really maximise the full intensity and aromatic flavour. To start out you don't really need any fancy equipment either which makes it a popular choice although as you become something of an expert, you'll certainly benefit from and enjoy using a uniquely manufactured cold coffee brewer. To really get the best out of your cold brew, it goes without saying that the quality of both your beans and your water is of the utmost importance. Where you can, you ideally want both to be free of any nasty chemicals which might sour the flavour.
If you do want to create a cold brew at home for yourself and you've not yet taken the plunge and invested in a dedicated machine like the ones we've just reviewed, you just need a few essential bits of kitchen kit and you are away. Ideally a large cafetiere, some kitchen scales, water, coffee a muslin bag and some common or garden string!
Without a doubt, the best way to ensure the perfect cold brew is to go for the best quality coffee beans. Whilst a mediocre blend might just pass muster in a hot brew, cold brew takes no prisoners so choose your source wisely.
Q: How long can you keep cold brew in the fridge?
A: This is one of the real advantages of cold brew coffee. Sure it might take a while to make up and steep a fresh batch but once you do, it can be refrigerated and stored anywhere from 7 to 14 days which means you can be sure when you head to the fridge on morning to always be able to grab a refreshing and energizing glass of your favourite caffeine infusion! Is there really any better way to start the day than with a very zingy caffeinated pep in your step?
Q: Is cold brewed coffee stronger?
A: A cold brewed coffee will definitely be stronger than say an iced coffee. To make a regular iced coffee you generally just pour your usual hot coffee directly over ice cubes, the impact of the heat immediately making the ice melt into the water which, you guessed it, dilutes the strength of the coffee. This can also inadvertently lend an acidic tang to your cup of Joe too. Not nice.
Generally speaking too, the process of preparing cold brew does mean you end up with an all-round stronger and smoother tasting finished product. A cold brew coffee will typically be made up of at least twice the amount of coffee to water ratio so it creates plenty of kapow!

Q: Can you warm up cold brew coffee?
A: You can yes but do you really want to? It's recommended that if you do want to warm up a cold brew, you add boiling water at a ratio of 3:1
Q: How long do you cold brew coffee?
A: Depending on your beans of choice, you might need to steep your coffee for anywhere between 12 to 24 hours in order to really infuse your favourite caffeine beverage with the full and distinctive flavour and aroma you are looking for. It's also a good idea to then let it stand in your refrigerator, preferably overnight, before pouring yourself a fresh cup the next morning.
Q: Is cold brewed coffee better for you?
A: Well it's definitely less acidic which is better or your gut and it also keeps fresh for up to two weeks so it's a great refreshing but at the same time energetic choice. It could be a great option for sufferers of acid reflux or those suffering from a more sensitive tummy. You are going to enjoy a superior brew and that in itself has got to be better for you and your taste buds.

Q: Is cold brewed coffee less acidic?
A: For sure cold brewed coffee is going to be a whole lot less acidic than a regular hot coffee simply cooled down with ice. In fact, there's no comparison between the two and if you are a proper coffee connoisseur then cold brew will be the one for you so that you can really savour the flavour of your favourite beverage. There are some stats that report a cold brew as being 60% less acidic than a typical cup of hot coffee, so get ready to experience a sensationally smooth brew that is all together tastier and could work out better for you and of course, your budget too.