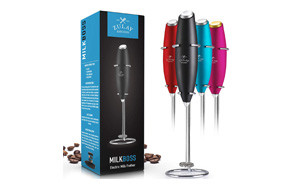 Zulay High Powered Milk Frother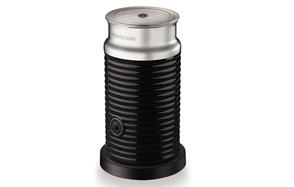 Nespresso Aeroccino3 Milk Frother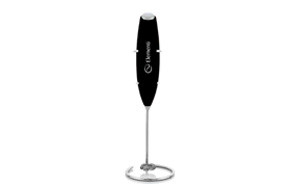 Elementi Handheld Milk Frother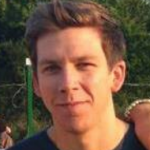 You want to make your own lattes and cappuccinos are home, dabble in some culinary arts, but using a stovetop saucepan isn't going to cut it. It just makes things messy. We've gone over the top milk frother models on the market to upgrade your kitchen, tested them, had a delicious time doing it, and came back to you with what we found. The best milk frother for your kitchen is a quick read and a simple click away, so without further ado, let's jump into the top picks, and our in-depth buying guide explaining everything you've ever wanted to know about milk frothers.
The Best Milk Frother
Milk Frother Buying Guide
Before you go ahead and purchase your next best milk frother, we recommend that you consider some of these essential features and useful benefits.
Types - Milk frothers basically come in two main styles; handheld or jug. As the name suggests, the former is held by hand as a whisk that is normally battery-operated, spins inside your liquid. They're a relatively inexpensive option and are usually supplied without a container. Jug style milk frothers are exactly the opposite in that they comprise of a storage container or beaker along with a whisk. Most of them also additionally feature a heating or cooling element so that you can simultaneously heat and froth that milk for your latte. Handheld units tend to overall be lighter in weight, inexpensive and also highly portable.
Temperature - On a hot summers day, you might prefer your coffee to be iced rather than heated so if you do like to vary the temperature of the milk you serve and drink, then invest in a milk frother with a heat temperate control setting so that you can adjust accordingly. Handheld options tend to be more minimalistic in design and are unlikely to feature this function, so you will have to find an alternative means to heat up your milk if that's your preference.
Construction - As with all appliances that you buy and intend to use regularly, quality matters if you want to get longevity and durability from your purchase. When it comes to milk frothers, stainless steel is an excellent material that's reliable, hard wearing and also looks very elegant too. Glass makes a nice addition for a container and will look impressive in your kitchen but will be more fragile. Most units are likely to comprise of some plastic components which isn't necessarily a bad thing. Just ensure that the brand you are purchasing from uses high-quality, preferably BPA free plastic.
Cleaning - Most milk frothers these days have been designed so that they are easy to clean and can simply be run under a hot running tap. Others, especially if they are constructed with glass parts, will need to be looked after and cleaned more carefully to avoid breakage. It's highly likely that the milk frother you purchase can also be effortlessly cleaned in your dishwasher. If that's an important consideration for you and you want as hassle-free an options as possible, then look out for this feature.

Milk Frother FAQ's
Q: What is a milk frother?
A: A milk frother is essentially a device to aerate milk into a lovely creamy texture with a rich, creamy foam, ideal for preparing cappuccinos and other hot beverages. You can use a wide range of milk, including popular dairy alternatives, to create versatile and cost-effective drinks at home but with Barista style results.
Top Frothing Tips
If you want to really savor and enjoy the best Barista style brew, there are two common mistakes that you would do well to avoid.
Firstly don't be tempted to over froth your milk. As soon as you see that lovely beautiful foam begin to develop, stop frothing before you end up killing the air bubbles.
Secondly, always make sure that you follow the minimum and maximum capacity instructions. Of course, that's more difficult if you're using a handheld unit, but with container styles, they should have clearly displayed quantity indicators down the side. If in doubt, err on the side of caution and froth in small batches instead.