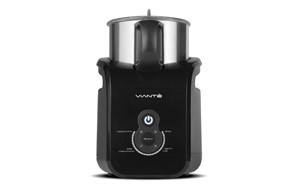 Viante CAF-20 Automatic Milk Frother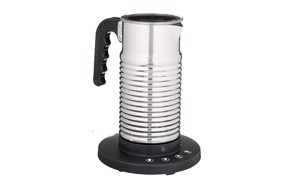 Nespresso Aeroccino4 Milk Frother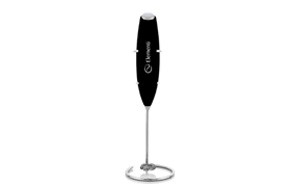 Elementi Handheld Milk Frother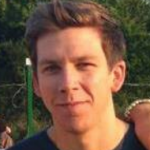 You want to make your own lattes and cappuccinos are home, dabble in some culinary arts, but using a stovetop saucepan isn't going to cut it. It just makes things messy. We've gone over the top milk frother models on the market to upgrade your kitchen, tested them, had a delicious time doing it, and came back to you with what we found. The best milk frother for your kitchen is a quick read and a simple click away, so without further ado, let's jump into the top picks, and our in-depth buying guide explaining everything you've ever wanted to know about milk frothers.
The Best Milk Frother
Best Milk Frother Buying Guide
Far more goes into crafting the perfect cup of coffee than you'd think. A quality milk frother can make or break your macchiato, either make your latte luxurious or lame, which is why we dug through what makes these things tick, and what you should be on the lookout for.

How We Chose Our Selection of Milk Frothers
Brand - There are so many cheap offshoot brands of electric milk frothers online, most of them through import companies who provide low-   quality garbage models. We combed through and selected from trusted brands, as well as combed through user reviews, to ensure you'd have the best warranty fulfillment and customer support available to you.
Reviews - User reviews are the voice of the people and carry a lot of weight when it comes to what we decide to order and test. Milk frothers are fairly straightforward devices, so user reviews are mostly based around overall experiences and prove valuable.
Quality - Unmistakable, sheer quality is just that: you can't mistake it for poor quality. When you use your frother and test all the features, whether it's quiet operation, motor power, or whatever the specifics are, you'll be able to tell right off rip if it's a quality coffee maker.
Price - Milk frothers all rest at a fairly low price range for a small kitchen gadget, with the exception of a few brands. You get what you pay for, and price absolutely reflects quality in most cases.
Features to Look for in Milk Frothers
Handheld or Jug Style - This comes down to preference. Are you looking for a countertop piece or something you can pull out to whip up a froth at a moment's notice? Handheld units almost always run on batteries, while countertop models run on standard 115V outlets.
Capacity - Making this for you, or whipping up a couple's set of lattes? Some models on our list have enough space for a single medium-sized beverage, while others can hold massive amounts of milk (but take longer to run).
Milk Type - There are an insane amount of milk types to choose from: whole, almond, skim, rice, the list goes on and on. Most frothers work with just about every milk type. You can put just about anything in the pitcher/container, but each of these kinds of milk have a different consistency and composure, so you want a model that specifically states it works with that type of milk.
Temperature - The ideal temperature for a milk frother is between 155 F and 165 F, heating it up well past the food safe limit, but not getting it close enough to the dangerous 170 F mark where it starts to smell and taste burnt.
Noise Level - This is where handhelds and countertop models run into some serious friction. A handheld model always has a bit of noise going, whereas most countertop models include magnetic motors. Those magnetic motors offer an extremely quiet operation, so you can use it early in the morning without waking anyone up.
Price - For small kitchen gadgets like these, you probably already have a good idea of your budget. Price impacts the decision, but you'll be happy to know that most of these models are underneath or just around a Benjamin.

Types of Milk Frothers
Handheld Milk Frother - Like a handheld mixer wand that you'd use for your stovetop cooking, this whips up a great hot or cold froth without needing to be plugged in. These usually run on a couple of AA batteries and take up very little space. If you hate cluttered counters and want a more hands-on approach to your milk froth, this is the way to go.
Jug Milk Frother - These are the most common systems. Countertop models that sit nice and steady, with a simple operating system. You'll have more working parts to clean, such as a whisk, the jug itself, and the base. These models usually use magnetic motors, which prove to be extremely quiet throughout the entire operation. Peace of mind, and a simple way to get that perfect cup in the morning.
Stovetop Milk Frother - Simple as can be, these are pitchers that have a safe handle, where you can just hold them over the flame or electric coil on your stove (some models can be placed on top like a kettle), and work up a bit of heat. You'll still have to manually froth the milk, but it takes out the electrical elements, and always costs less than an automatic milk frother.
Pitcher Milk Frother - These are simply a pitcher (usually made of stainless steel) that also has a French press-like plunger and mesh system in the lid. You either deposit your hot or cold milk into the pitcher and use the plunger for an average of a minute to whip up an excellent froth. These are excellent if you're very particular and want to control every single aspect of your beverage, or if you've used one-touch automatic milk frother gadgets and didn't like the result.
Milk Frother FAQ
Q: What is a Milk Frother?
A: Primarily used on specialty coffees and espresso beverages, a milk frother uses a steam wand or steam system to infuse air into your milk, while subsequently heating it up. Milk frothers act within very specific temperature ranges to maintain the integrity of the milk, whipping it up into a hot froth to top your beverages off with.
If you're just getting started with making coffee at home, milk frothers are the only way to get a true latte, cappuccino or macchiato at home. You'll most commonly see this built into an espresso machine in a coffeehouse, acting a two-in-one unit. These run on low levels of energy or AA batteries depending on which model you go with and are a quintessential item to a coffee lover's kitchen.
Q: How Can I Easily Produce Delicious and Quality Milk Froth?
A: Luckily, most of these models come with simple one-touch operations. You simply measure out your milk to the appropriate level, insert it into the pitcher or container, set and forget. This puts a lot more trust and directive in the hands of the gadget, but if you want to know how to to get a quality froth with a handheld or manual milk frother, this is how to approach it.
For hand milk frother units, you'll want to measure out your milk appropriately. Place it in a container with high sides, preventing milk loss and keeping enough space for the milk to froth up. Start by placing the spinning section of the wand at the bottom of the milk. This enables you to mix it properly. Steam will push the milk around from the bottom, circulating it while you gently move the hand milk frother around the container. You'll need a steel-tipped liquid thermometer if your unit doesn't have a built-in temperature detector. Aim for between 155 F to 165 F, prod three separate areas to ensure the temperature has consistency.
If you're using a pitcher milk frother, you'll want to put the focus on your speed. These are simple enough to use, but if you move too quickly, you're going to have a froth that will quickly dissolve back into liquid form. Each push/pull should take 0.5 seconds. Essentially, plunge down, pull back up, and that should be one second. People often make the mistake of vigorously frothing the milk, expecting fuller and quicker results. The mesh netting will take care of most of the consistency, but it's up to you and your speed to handle the rest.
Q: Can I Add Other Ingredients Than Milk, Like Coffee, Sugar, Syrup, Chocolate or Ice Cubes in the Jug While It's Preparing?
A: You can, but it's not recommended. You're aiming for a specific temperature for your milk, and additives are not only going to make your frother a pain to clean, but it could interfere with getting a proper readout. Based on how professional coffeehouses and chain locations manage their methods, this is what you should be doing to prepare the perfect milk-frothed beverage.
Take your coffee or espresso of choice, and place it into the cup you'll be drinking from. Additives like syrups, (even clear ones like Torani) as well as any spices or sweeteners should be added here and mixed with an appropriate mixing spoon designed for iced tea and coffee.
Froth your milk according to your unit and type of milk. Depending on your desired beverage type (latte, cappuccino, etc.) froth your milk to the proper temperature. For most beverages, you want to aim for between 155 F and 165 F.
Use a spoon and hold back the froth, letting the 10-20% milk content run into the cup. Use that spoon to blend the coffee and additives, and then apply the foam on top. This isn't how you assemble every beverage, but it's a custom way to get a blended and immersed flavor while still getting that froth on top.
Q: What is the Best Way to Clean my Milk Frother?
A: First and foremost, act quickly, because dried, heated milk is difficult to clean when left unattended. You'll want to rinse and hand dry your pitcher and wipe down the base, depending on which unit type you've gone with. However, there's a more in-depth way that it needs to be cleaned at least every other use.
It's going to get a bit detailed here. Though steam is escaping through the wand, milk does get backed up into it. Because the steam is pushing out with force, those bits of milk immediately cook to the inside of the steam wand. It can become a problem if not taken care of.
If you're wondering about your countertop model, the ones that rest on a base with a magnetic motor, there's a simpler way to handle it. Those magnetic motors are far less invasive and whip up the milk via the small plastic whisk in the bottom. You'll have to disassemble the unit, remove the gasket from the lid or topper, and take the whisk from its housing. At this point, most unit jugs are no longer dishwasher safe, and cannot be submerged. Rinse everything, dry it, and return it to its proper place.
Last but not least, you may notice that over time, you'll build up thin amounts of milk in a ring around the usual height of the jug. If this is the case, make a mixture of one part baking soda, two parts vinegar, and use a non-abrasive sponge to wipe at the areas. This mostly occurs in stainless steel models.
Q: What's the Difference Between Frothed and Steamed Milk?
A: You'll notice that we talked about frothing and steaming milk separately in certain parts. Depending on what unit you've gone with, you might notice a steam wand or steam escape valve that comes into contact with your milk.
Steamed milk presses air and steam into your milk, which froths it, but is also the primary way that it's heated up. Frothed milk uses a small whisk to whip the milk, while the base of the unit (countertop models apply) uses a heating element to gently heat the container, thereby heating the milk.
When you're enjoying your frothed milk, there's no distinguishable difference or characteristics from steamed milk. They both whip up a nice froth on top, it's just a different way to get to the same results. We chose frothers for this post because steamers are more expensive, and are easier to burn the milk with.
Q: Do You Need to Choose Milk Depending on the Milk Frother?
A: Whole milk and skim milk all come from cows, and have a designated lactose volume, which helps in the frothing process. It's far more difficult to froth almond or rice milk, and in most cases, you'll need to apply more time to get a good froth on them. Most manufacturers will specify if their machines aren't good for a specific kind of milk, though every unit on this list is good for just about every type of milk that is commonly used in lattes and cappuccinos.
Q: Higher Volume of Foam: Hot vs. Cold Milk?
A: Paying attention to the specs on many of these models will show you that you have to deposit different amounts of milk depending on whether or not you want a cold versus hot froth. Cold milk is far easier to froth (think about blowing bubbles in your milk with a straw when you were a kid). Cold milk froth is easier to achieve and requires less to get started.