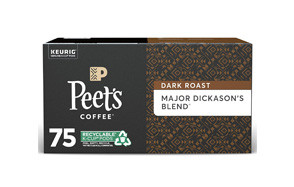 Peet's Coffee Major Dickason's Blend K Cup Coffee Pods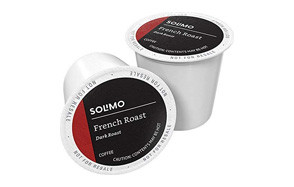 Solimo Amazon Brand Dark Roast K Cup Coffee Pods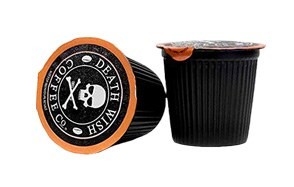 Death Wish Coffee Co. K Cup Coffee Pods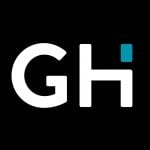 Who doesn't love a cup of coffee from a coffee shop? The trouble is, leaving the comfort of your home or office to get to that fantastic cup of java. K Cup Coffee Pods have made enjoying that special, perky blend as simple as loading your single-cup coffee maker. We love the single-serving format because it guarantees a hot, fresh brew with every cup and eliminates the wastefulness created by brewing an entire pot.
If you simply can't live without your morning cup of java and don't want to compromise on flavor, single-serve coffee pods are available in all roasts and varieties. We've checked out some of the best K Cup Coffee Pods and put together this guide to help you enjoy the luxury of coffee house coffee in a hassle-free way. We've taken into consideration flavor, intensity, and distinctiveness.
The Best K Cup Coffee Pod
K Cup Coffee Pod Buying Guide & FAQ
Features to Look for in K Cup Coffee Pods
Aroma - When you make yourself a quality cup of coffee at home, the very first thing that hits you is the aroma or smell. The aroma can be nutty, smoky, or even flowery. What is most important is how it smells to you. If the coffee doesn't' smell nice, chances are the flavor won't be much better. While you will naturally be drawn to specific coffee aroma descriptors, that first whiff of coffee is usually the most important part of the coffee experience.
Flavor - Many of us drink coffee for the caffeine hit, but we also need our coffee to have flavor. When we talk about coffee flavor, we often describe the flavor as mellow, acidic, bitter, or sweet. However, there are dozens of different flavor descriptors, and they are as individual as the people who drink these coffee flavors. Try different coffee flavors to see what you like the best, but at the end of the day, it still has to taste like coffee.
Aftertaste - The aftertaste of coffee is directly related to how well the beans have been roasted. When we swallow coffee, we can still taste it because the aroma is rising through your retronasal passage. If the aftertaste of your coffee has a mild flavor, the roasting time is shorter. If your coffee has a bitter aftertaste, it went through a longer roasting process. If the aftertaste is very bitter, the coffee beans have been over-roasted, or the extraction process was too long. If you like a smoother cup of coffee, choose mild, and you'll get a subtle aftertaste. If you like strong coffee, go for a dark roast, which will give you an intense flavor hit, including the aftertaste.
Acidity - One of the hardest things to describe when it comes to coffee pod reviews is acidity. The acidity of coffee can be defined as fruity, tangy, sharp, or lively and can even take on the flavor characteristics of other foods like fruit, chocolate, vanilla, etc. In general, though, the acidity is the sharpness of the coffee's flavor. If the sharpness is missing from the flavor, so is the acidity.
Body - Full-bodied, medium-bodied, light-bodied are terms used to describe coffee in terms of how it feels in your mouth. It basically measures the intensity of the coffee flavor and how well it lingers in your mouth. The richness of the coffee that has just been brewed will leave certain oils in your mouth, which accounts for the feel of the coffee as you drink it. Look for descriptions like full-bodied, light and smooth, or robust.
Balance - The best K cups of coffee will have balance. On its own, coffee is a complex marriage of aromas, flavors, acidity, and body. These characteristics will be evident from the first sip, but not one of these features will overpower the others. This is what is meant by a balanced cup of coffee when all of these other characteristics are evident but not overwhelming.
K Cup Coffee Pod FAQ
Q: What is the best tasting K Cup coffee?
A: The best tasting K Cup coffee is not easy to determine. Sure, we can read coffee pod reviews to find the best coffee pod brands, but it comes down to individual preferences at the end of the day. In short, though, some of the best tasting K Cup Coffees include The Donut Shop pods, Starbucks, and Nespresso coffee pod varieties, just to name a few but, in particular, most of the ones we've included are sure to become family favorites.
Q: What is the best medium roast K Cup coffee?
A: Medium roast K Cup Coffee pods are the best ones to choose if you're new to the K Cup Coffee circuit. It isn't as mellow as the light roast, but not as intense as a dark roast. If you need a place to start, try The Donut Shop medium roast, Green Mountain medium roast varieties, or simply grab a variety pack and choose the best medium roast from there.
Q: Which K Cup coffee has the most caffeine?
A: Coffee is the beverage of choice when we want to wake up in the morning or to clear a case of brain fog. Naturally, when you need this boost, you want the coffee with the most caffeine. DEATH WISH Death Cups will definitely give you a caffeine hit, but you can always check the caffeine content on other coffee pod brands' packaging.
Q: What's the difference between a coffee pod and a coffee capsule?
A: There really isn't much difference between coffee pods and coffee capsules. Once upon a time, coffee pods entailed coffee packed between teabag like paper and was used to make a single dose of coffee. On the other hand, capsules are usually packed and vacuum-sealed inside a plastic or aluminum case to keep the coffee fresher for much longer.
These days, however, most of us will refer to pods and capsules as being the same thing. Whether you call them pods or capsules, the most important aspect is how the coffee tastes.
Q: Will every pod or capsule fit every coffee machine?
A: Unfortunately, you need to do your homework before you buy coffee pods or capsules and even buying a suitable machine is a challenge on its own. There are literally dozens of different coffee machines in the market place. Many manufacturers have designed them especially to be compatible only with their brand of coffee pods or capsules. Before you commit to purchasing a K Cup Coffee machine, make sure the pods are readily available in your local area. Simultaneously, if you already have a machine you will need to check the specifications to ensure you always get compatible pods and machines together.
Q: Can I use coffee pods without a machine?
A: You can use coffee pods without a machine but seriously, why would you want to? K Cup Coffee Pods rely on the machine's pressure forcing water through the pod to extract as much coffee flavor as possible. Different types of machines require the insertion of specifically designed K Cup Pods. You may be able to make a cup of coffee using a pod and no machine, but when you consider the cost of the pods, you're probably better off making instant coffee or choosing another method of brewing coffee like drip coffee or a stovetop method of brewing.
Q: How many times can you use a coffee pod?
A: Most K Cup coffee pods have been designed to make a single serving of coffee, so in short, you can only use a K Cup Coffee pod once per cup of coffee. However, some K Cup Pods can make larger cups of coffee, and if you prefer smaller cups of coffee, you may be able to get 2 smaller cups out of one pod.
If these single-serve coffee pods are a worry environmentally, or financially for that matter, you can purchase refillable coffee pods, you will need to fill them up, use them, and clean them after each use, but the benefit is that you can buy your favorite coffee beans and make your own signature blend. This means that if you like the taste of coffee but not the caffeine, you can create your own decaf coffee pods, espresso pods, or even keto coffee pods.
Q: What is the best coffee pod machine for home use?
A: The best coffee pod machine for home use is easy to use and easy to keep clean. They are all relatively the same; however, some have special features such as a milk frother or preprogrammed buttons. Look at what you can afford, the amount of kitchen space you have, and the types of pods you prefer to be making.