What's better than a Sunday morning, and a nice cup of coffee while watching the sunrise? Having all of that alone, out in the wilderness, out of a tent. That's what's better. Brewing coffee outdoors is a simple task, but doing it right? That takes skill, and the perfect camping coffee maker. Your coffee is only as good as the beans it came from; your brew is only as good as the equipment is was made in—time to upgrade.
Our Top Picks Of The Best Camping Coffee Makers
1. Primula Single Serve Coffee Brew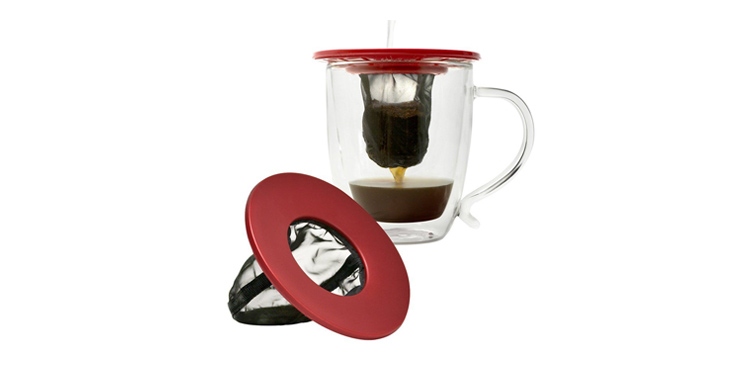 We all remember the innovative integration of the Keurig system—they're in every hospital, office, and store all across America. Single-serve solved the problem of wasting half-a-pot of coffee in the morning, and what better time to utilize single-cup innovation than out on the motorcycle camping trail by yourself?
Primula has one of the easiest systems to use. You grind your beans, toss the grinds in the mesh teabag-style container, and lock the cover into place. The cup itself is crafted of super durable plastic that can withstand any heat, and doesn't release harmful chemicals into your drink. You don't even need to dirty your camping mug (used to heat the water) if you don't want to—this coffee maker comes with a built-in handle so you can drink on the go. These are also great ideas for those who want to make coffee at home but not waste money on an expensive system. Can of pre-grinded coffee, single-cup maker, and your budget friendly caffeinated bliss is just around the corner.
Specification:
Brand

Primula

Model

PCBR-0146

Weight

1.6 ounces
2. Coleman Camping Coffee Maker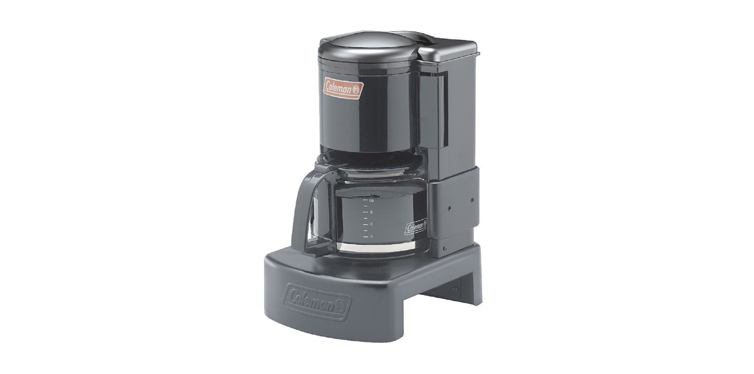 There's one name that comes to mind when you walk into a camping goods store: Coleman. Few can compare to the excellent quality, the top-of-the-line materials, and the brand name that goes with it. You have to pop this premier coffee maker on top of a burner—Coleman recommends their own, as their items are meant to cross the platform with one another seamlessly. The whole point of this coffee maker is to share a pot of coffee with your group and not sit with a French press or single-cup maker.
Coleman, as always, did a fantastic job of making this user friendly and simple. This acts just like any other coffee maker you use at home, only fueled by fire instead of electricity. Get up to 60 ounces of coffee to split between you and all of your friends, and continue your camping expedition with enough caffeine to boost you through the day.
Specification:
Brand

Coleman

Model

2000015167

Weight

8 pounds
3. GSI Outdoors Collapsible Java Drip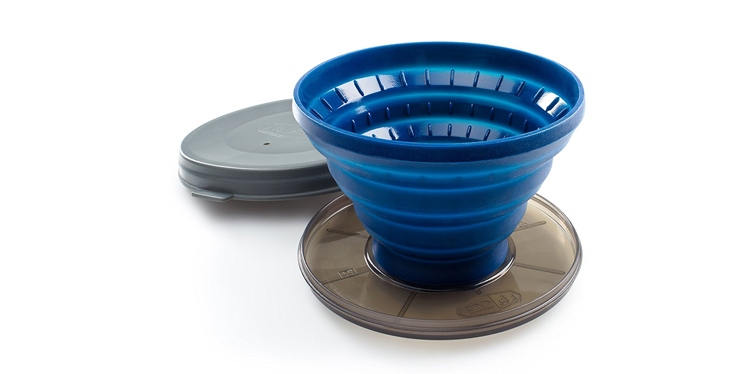 This is one of the products that you just get really excited about; don't pack up the instant coffee. Nobody really likes that stuff, anyway. This silicone-bodied java drip is a pop-up coffee station when you need it in a pinch. Pop it open, apply your grinds, and run your hot water through. This is essential for hiking and camping—it folds up flat like a disc.
We all get worried applying 200F water to anything silicone, right? We've all seen the news headings. This model comes with sealed silicone, so you won't release any harmful chemicals into your brew when you pour it. Just pop it open, run coffee through it into your cup, and fold it for easy backpack storage. What more could you want?
Specification:
Brand

GSI Outdoors

Model

79480

Weight

6.4 ounces
4. Coleman QuikPot Propane Coffeemaker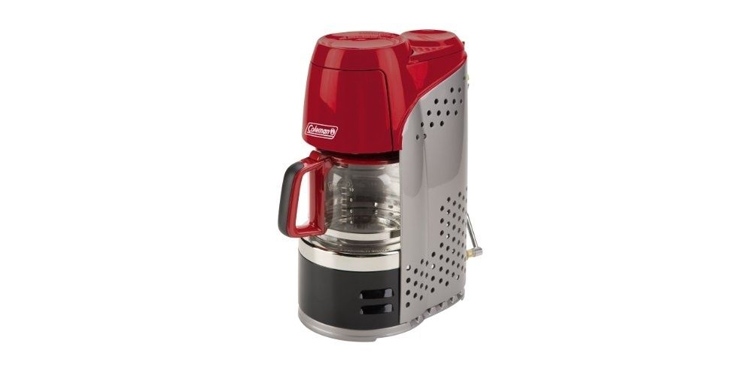 Coleman does what Coleman does best—propane. This is one powerful coffee pot that's not going to leave you wanting more. It's sleek silver-and-red design is eye-catching, but where function comes into flare, that's when you get the true value of this prime coffee maker.
Simply click an igniter button, and you're good to go. It takes a little while to fill up the pot, but it's PerfectFlow technology makes it one of the best cups you'll ever have. 4,500 BTUs of power just speak volumes. 16oz of propane in one little cylinder is going to last you over four hours, so you'll be able to use this coffee pot a dozen times or more before having to switch out your propane. It makes it last, so you don't have to blow money on the way to the hiking trail for the weekend.
Specification:
Brand

Coleman

Model

2000020942

Weight

10.9 pounds
5. MiniPresso GR Espresso Maker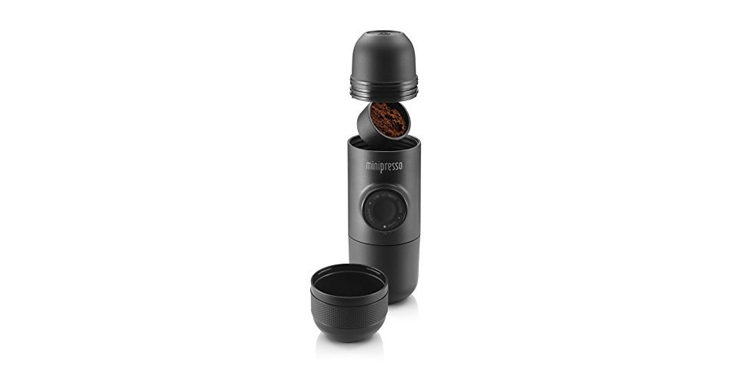 For some of us, coffee just isn't enough. We either need to spike it with a shot of espresso, or ditch standard coffee altogether and go for a hardcore coffee connoisseur brew. Not only is this lightweight as can be (you'll truly be amazed when you grab it out of the box; it's insane), but you also get the ability to kiss electricity goodbye. No compression, no canisters (like you may see in some other models)—this one is all hand-operated, so even when there's no electricity, you can pop on a propane heater for your water, and drink your espresso in the middle of the mountaintop.
Use the cover like a petite espresso cup, and use this all-in-one espresso maker anywhere you go. It's also fantastic for hotel travel. Company stuck you in a one-star? Hate all the chain coffee shops around? Snag some creamers and sugar packets (you know, if you're not a hardcore coffee drinker; it's okay, we understand), from the front desk, and enjoy espresso in your room. A little piece of paradise everywhere you go.
Specification:
Brand

Wacaco

Model

MPGR100

Weight

1 pound
6. Farberware Classic Stainless Steel Yosemite Percolator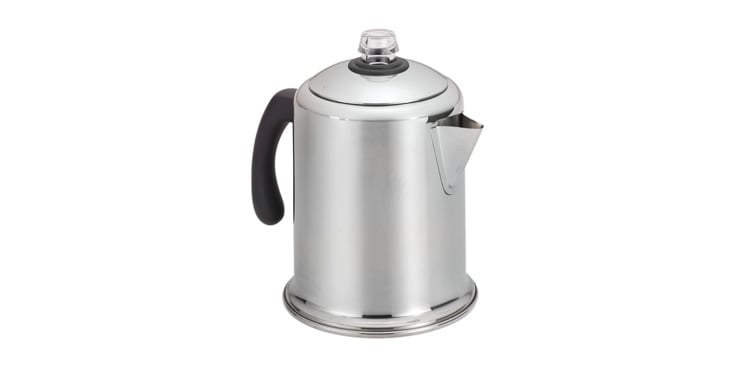 Farberware has been one of those brands that has flooded our household for years. When you head to the store and need something in a pinch, you usually see the inexpensive and quality option Farberware provides. Prepare to get the same durability you've come to trust, and one of the best-tasting mugs of coffee that you've ever experienced.
You can brew a pot for the whole campsite; if you brought your lady or a few of your mates, you'll be all set to go. Pop open a propane flame and get your percolator going; stainless steel ensures that you won't get an off-putting taste—nothing but that joyous java flowing through. If you're planning to hit the trail and can't do without your morning brew, grab the inexpensive, high-capacity percolator from Farberware.
Specification:
Brand

Farberware

Model

50124

Weight

2.25 pounds
7. GSI Outdoors Ultralight Java Drip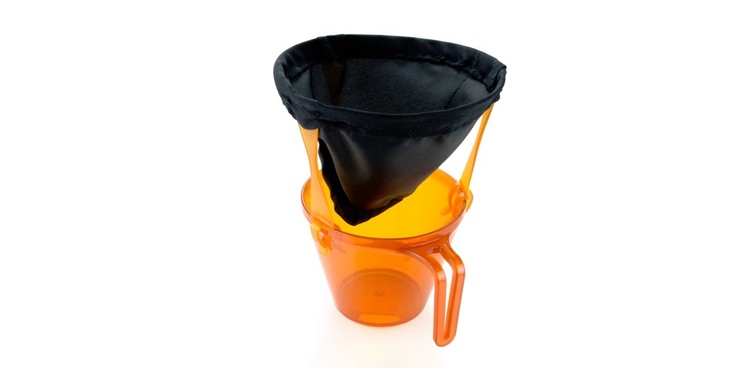 GSI is known for their lightweight and compact solutions, and they bring that promise to their Ultralight Java Drip model. It's easily storable in your backpack (but if you're just packing and living out of your trunk at a campsite, you may lose it in there; it's small!). One of the best parts about this is, once you grind your beans or just toss in your pre-ground coffee, you can pour your hot water without worrying about the Ultralight tipping over.
Plastic legs ensure stability, while the filter promises to maintain every grind perfectly. Nothing runs that last sip of coffee like grinds in the bottom. Pack up your super lightweight Java Drip and enjoy coffee wherever you go. (Just be sure you have a propane burner or access to hot water).
8. Gourmia Manual Coffee Maker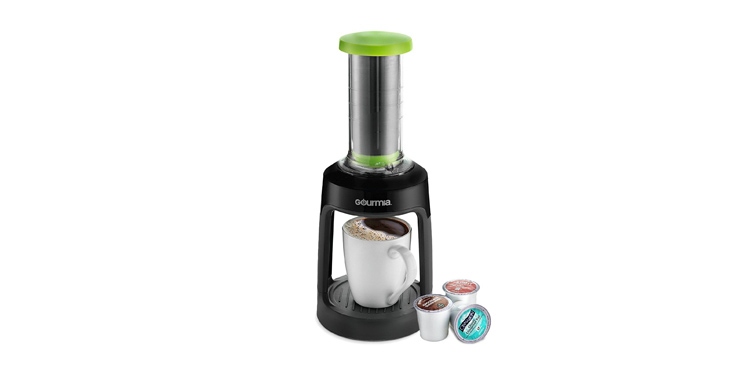 We all love Keurig machines and the ease of K-cups. Those little pods save us time, cleanup, and we don't open the coffeemaker to find moldy grinds (we've all done it once.). Instead, we are going to just pop in a littler K-cup pod, and enjoy all the benefits of having a Keurig machine in our home or office, only out in the wilderness.
Not only is this stylish and ultra portable, but your mess is contained in a single pod. As one of the most inexpensive models on our list, you can spend the rest of your coffeemaker budget on an economy-sized package of pods, and really enjoy your time. Pour your hot water in the top, and press down gently—you're less than one minute away from the perfect cup.
Specification:
Brand

Gourmia

Model

GKCP135G

Weight

1.75 pounds
9. Coleman 14 Cup Percolator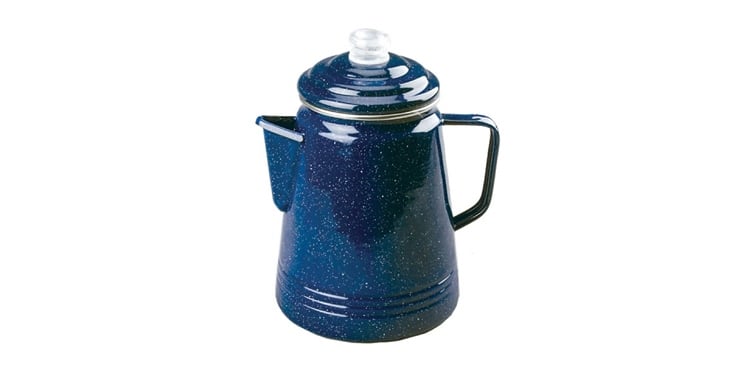 Coleman is one of the leaders in all things camping, and it's clear to see why. Without dropping half of your wallet, you get an immense capacity for all of your coffee needs. With this capacity, if you're more of an iced coffee drinker, you can grab the ice from your cooler and double-brew your way to bliss. You don't have to be next to an ice machine to enjoy the crisp, bold flavor of hot-brewed iced coffee.
With such a durable design, you're holding under three pounds in your hand (when empty). With a wide base for stability, and an evenly-distributed amount of material weight, you'll be able to pour with ease, and you won't have to worry about it tipping over. Percolators that are too lightweight can get knocked over easily. That's why you brought Coleman to the party. This is also great for picnics or outdoor gatherings at the park. Can't go without your coffee? Have your coffee go with you.
Specification:
Brand

Coleman

Model

2000016405

Weight

2.4 pounds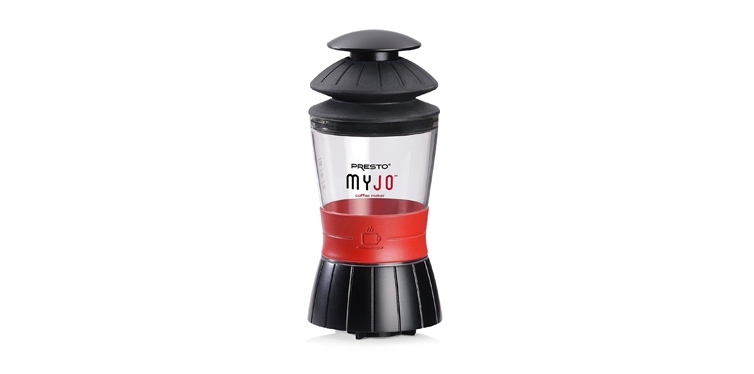 Just like the title suggest—presto, and it's done! We all love our Keurig machines, so why shouldn't we be able to bring that ease of use out into the wilderness? Use the plunger to slowly press hot water through your K-cup pod, and within a minute, you'll have a silky smooth brew. This model features the ability to actually see the water drain, and the coffee fill the attached cup.
This is the perfect solution (both cost and travel wise) for the travelling businessman. None of us want to use the coffeemaker in the hotel room. We don't know the last time it's been cleaned. If you've ever looked in your own coffeemaker at home after three separate brews, you know how discolored and grimy it can get. Pack this up, grab some hot water from the coffee station at the front desk, and brew your own excellent cup in under a minute.
Specification:
Brand

Presto

Model

2835

Weight

14.1 ounces
Buyers Guide
There are a ton of great models out there—more than we're able to even list here, but are they are right for you? You should be looking for the ability to choose your own brew strength, how portable the perfect model is, and every little detail in between. Need to know what to look for? We covered that, too.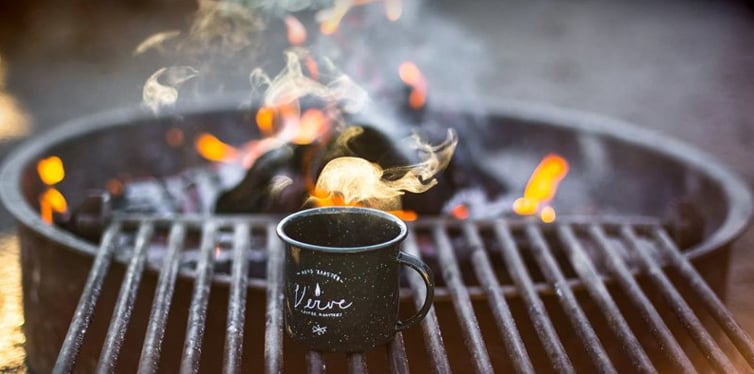 Brew Strength
Much like with our Primula single serve model on the top of our list, you should be able to choose how strong (or weak) you want your coffee to be. If you're in need of a serious pick-me-up, or if you just want to have something hot to sip on, it's all up to you. Let your mood tell you which strength you need to get through the morning and the rest of the day. Having the option to choose how strong your brew is going to be is absolutely crucial when going to pick out your own model.
Portability
We are talking about camping, right? We're not talking about using a camper. We've talking about using a camping mug to heat up some water over the fire, and brewing the perfect cup of coffee as if it were second nature. Without the amenities that a camper offers, (not to mention the storage space), you want to ensure two things: your camping coffee maker should be portable, and ready for anything. Imagine you were going hiking every single time you pulled out your outdoor coffee maker. You stop by the side of the trail, and you pull out the best portable coffee maker for camping out through the day or onward through the next morning. Perfect start to the day? Yeah, we thought so.
Cleanup
Nobody wants to make a mess on their backpack or their boots. Coffee grinds are basically like hot, wet sand; it's going to get everywhere if you're not careful. An easy cleanup, such as a mesh filter that can be easily cleaned, is an essential part of the ideal camping coffee pot. Coffee grounds are one of the leading ingredients in proper compost, so dumping coffee grounds on the forest floor and leaving the plastic containers behind is actually good for the environment.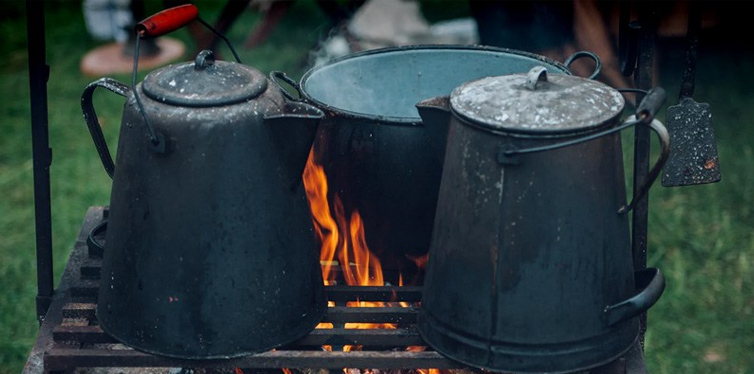 How To Brew The Perfect Coffee Outdoors
With coffee, everybody is finnicky. Our editor for this article ran a coffee shop chain for five years—nothing could be more true than coffee drinkers being particular about their perfect cup. When you're roughing it, but you still want that excellent morning cup of coffee, it's going to be a hard task to manage. Strap in and get ready.
The Right Grinds
If you're ambitious enough to bring a battery-operated coffee grinder out into the wilderness with you, then more power to you. Whether you're bringing a tin can of grinds or fresh beans, you need to know one thing: medium to high levels of acidity in your coffee is going to be the defining factor here. When you use a percolator, you're pulling every little molecule of bitterness out of your beans. The lower the acidity, the better off you're going to be throughout the whole process.
Setting Up Shop
Depending on which model you've decided to go with, you'll need to get your setup going. If you're using a standard percolator, get ready to sit over the fire for a while. Get your grinds out, measure them out, measure your water, and let's get moving, shall we?
Heating The Water
Percolator models are going to be tedious, but ultimately useful. Using a thermometer that can withstand boiling temperatures is crucial for getting the perfect cup. When you hit 200F (never exceeding 212F) you're in the perfect range. Keep it hovering in between, and you have the perfect temperature for piping hot coffee.
Actual Brewing
Shop's been set up, and now you're going forward with crossing the finish line and leaning back in your camping chair, and readying yourself for the day. Carefully handle your camping mug of hot water, and depending on your camping coffee maker type,  we're ready to go.
For French press style…>
Never used a French press before? It's one of the most simplistic processes, but you need to be certain that you don't overflow the press, or push down on the plunger too quickly. Fill the press, and gently, slowly press down. Doing so too quickly can send grinds floating up into your brew, and nothing ruins the last sip like finding a couple of grinds.
For single-cup style…
Straightforward as it gets—you need to find the optimal speed to pour over the grinds. Quickly enough that it's not leaking down the side of your cup, but slowly enough that it's only filling up the grinds area about halfway as it siphons the sweet coffee grind nectar into the chamber below.
If you're sporting a Coleman coffee maker (like the propane one in our list), then you'll be able to functionally craft your coffee as if you were at home, using the pot on your counter. When you're not using fully-automated systems, you're going to have a trial period of making a few less-than-perfect cups, but that's just the nature of the beast. After using your preferred brand and style of camping coffee maker, you'll be a master of melding the indoors with the out.