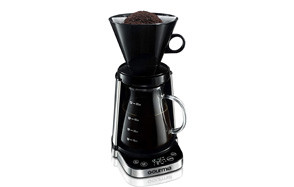 Gourmia GCM3250 Digital Touch Pour-Over Coffee Maker
Primula Single Serve Coffee Brew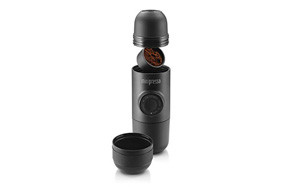 MiniPresso GR Espresso Maker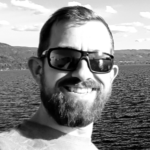 What's better than a Sunday morning, and a nice cup of coffee while watching the sunrise? Having all of that alone, out in the wilderness, out of a tent. That's what's better. Brewing coffee outdoors is a simple task, but doing it right? That takes skill, and the perfect camping coffee maker. Your coffee is only as good as the beans it came from; your brew is only as good as the equipment is was made in—time to upgrade.
The Best Camping Coffee Maker
Camping Coffee Maker Buyers Guide
There are a ton of great models out there—more than we're able to even list here, but are they are right for you? You should be looking for the ability to choose your own brew strength, how portable the perfect model is, and every little detail in between. Need to know what to look for? We covered that, too.

Brew Strength
Much like with our Primula single serve model on the top of our list, you should be able to choose how strong (or weak) you want your coffee to be. If you're in need of a serious pick-me-up, or if you just want to have something hot to sip on, it's all up to you. Let your mood tell you which strength you need to get through the morning and the rest of the day. Having the option to choose how strong your brew is going to be is absolutely crucial when going to pick out your own model.
Portability
We are talking about camping, right? We're not talking about using a camper. We've talking about using a camping mug to heat up some water over the fire, and brewing the perfect cup of coffee as if it were second nature. Without the amenities that a camper offers, (not to mention the storage space), you want to ensure two things: your camping coffee maker should be portable, and ready for anything. Imagine you were going hiking every single time you pulled out your outdoor coffee maker. You stop by the side of the trail, and you pull out the best portable coffee maker for camping out through the day or onward through the next morning. Perfect start to the day? Yeah, we thought so.
Cleanup
Nobody wants to make a mess on their backpack or their boots. Coffee grinds are basically like hot, wet sand; it's going to get everywhere if you're not careful. An easy cleanup, such as a mesh filter that can be easily cleaned, is an essential part of the ideal camping coffee pot. Coffee grounds are one of the leading ingredients in proper compost, so dumping coffee grounds on the forest floor and leaving the plastic containers behind is actually good for the environment.

Camping Coffee Maker FAQ
Q: How To Brew The Perfect Coffee Outdoors
A: With coffee, everybody is finnicky. Our editor for this article ran a coffee shop chain for five years—nothing could be more true than coffee drinkers being particular about their perfect cup. When you're roughing it, but you still want that excellent morning cup of coffee, it's going to be a hard task to manage. Strap in and get ready.
The Right Grinds
If you're ambitious enough to bring a battery-operated coffee grinder out into the wilderness with you, then more power to you. Whether you're bringing a tin can of grinds or fresh beans, you need to know one thing: medium to high levels of acidity in your coffee is going to be the defining factor here. When you use a percolator, you're pulling every little molecule of bitterness out of your beans. The lower the acidity, the better off you're going to be throughout the whole process.
Setting Up Shop
Depending on which model you've decided to go with, you'll need to get your setup going. If you're using a standard percolator, get ready to sit over the fire for a while. Get your grinds out, measure them out, measure your water, and let's get moving, shall we?
Heating The Water
Percolator models are going to be tedious, but ultimately useful. Using a thermometer that can withstand boiling temperatures is crucial for getting the perfect cup. When you hit 200F (never exceeding 212F) you're in the perfect range. Keep it hovering in between, and you have the perfect temperature for piping hot coffee.
Actual Brewing
Shop's been set up, and now you're going forward with crossing the finish line and leaning back in your camping chair, and readying yourself for the day. Carefully handle your camping mug of hot water, and depending on your camping coffee maker type,  we're ready to go.
For French press style…
Never used a French press before? It's one of the most simplistic processes, but you need to be certain that you don't overflow the press, or push down on the plunger too quickly. Fill the press, and gently, slowly press down. Doing so too quickly can send grinds floating up into your brew, and nothing ruins the last sip like finding a couple of grinds.
For single-cup style…
Straightforward as it gets—you need to find the optimal speed to pour over the grinds. Quickly enough that it's not leaking down the side of your cup, but slowly enough that it's only filling up the grinds area about halfway as it siphons the sweet coffee grind nectar into the chamber below.
If you're sporting a Coleman coffee maker (like the propane one in our list), then you'll be able to functionally craft your coffee as if you were at home, using the pot on your counter. When you're not using fully-automated systems, you're going to have a trial period of making a few less-than-perfect cups, but that's just the nature of the beast. After using your preferred brand and style of camping coffee maker, you'll be a master of melding the indoors with the out.