GearHungry may earn a small commission from affiliate links in this article.
Learn more
20 Father-Son Activities
Spending time with your children is essential to their growth and development and to the type of human's you subsequently go on to rear. Whether that's father-daughter, mother-son, mother-daughter or in the case of today's musings, father-son, the relationship between a parent and their offspring shapes the person they ultimately become. It's therefore of vital importance that you are able to spend quality time together engaged in purposeful as we as enjoyable activities that will provide ample bonding opportunities. There really is nothing more important than that paternal bond which can help to foster proud shared experiences and really cement your relationship. Every father hopes that their son will end up being a "chip off the old block" so getting them involved in pursuits that you can both enjoy together is a great idea.
So whether that's tinkering under the bonnet of a car, casting a fishing line or going out together in search of rare Vinyl at the weekend, we're taking a look at some of the most awesome activities you can do with your son so that you can spend more of that one-to-one time in each other's company. Be prepared for some heart-warming conversations too as your son might naturally open up more than usual and you may just end up getting a glimpse into the future man that you'll be super proud to still call your son.
While we're on that subject, if you are still lucky enough to have your own father around, you might want to suggest doing some of these father-son activities with him too and re-kindle that relationship while you still have the opportunity to do so. So let's get involved and discover some top ideas for your next father-son day out that will suit all budgets and interests.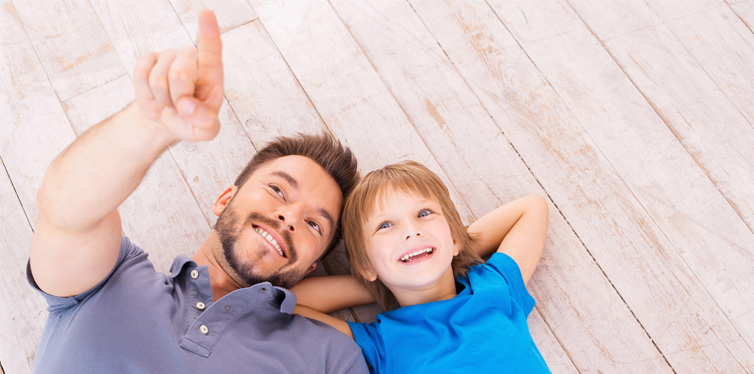 1. Get Outdoors together more
Whether you grab your bikes and go to the park or pop on your hiking shoes and hit a nature trail, get outdoors together to enjoy some free and fun fresh air activity. Even if you are an urbanite and live in a concrete jungle, there's no excuse for not exploring your local outdoor spaces. Create your own scavenger hunts or check out the Geo-caching opportunities that are literally popping up everywhere these days in your locality.
2. Fire up that Barbeque Grill
Leave baking the cakes to Mom, you want to teach him to Grill, Fry, and Saute and become the next family Master of the BBQ! There's nothing more liberating or enjoyable than cooking outdoors over an open grill.  It gives you a chance to share a trip to the butchers, picking out the perfect joints of meat, deciding on what flavored charcoal or wood chips to use plus passing down through the generations your secret and ever so spicy jerk chicken seasoning recipe.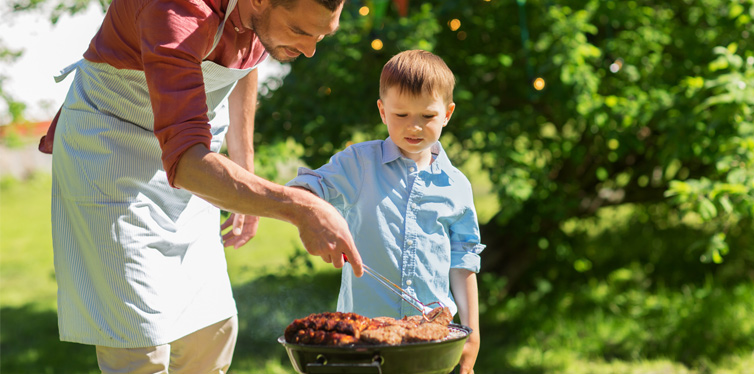 3. Go on a Camping Adventuring
While we are on the subject of the great outdoors, there's nothing quite like a survival style camping expedition to bring you and your son closer together.  You get to teach him some of the survival skills your father taught you back in the day. The great outdoors offers a fantastic opportunity to bond and re-connect plus to get away from the girls of the house for a few days as you answer your call of the wild! There are literally endless skills you can hone and perfect together. Teach him how to build his first campfire, how to navigate with only a compass and not the GPS and perhaps some knife skills too. Sitting around the campfire together you might both end up finding out quite a lot about each other. It doesn't matter how old your son is, a shared outdoors weekend adventure will always be a winner.
4. Put your mechanical skills to the test
Whether it's restoring a classic car, working on a motorbike engine together or tinkering your bicycle chains, working on mechanical based projects teaches your son the importance of essential maintenance skills so that he can be more self-reliant in the future. How many boys leave home entirely clueless about how to change the oil or the wheel of a car? Save them the humiliation of being stuck by the side of the road with their first ever flat tire and work on some garage based maintenance projects together. It needn't be a full car restoration but imagine that enormous sense of satisfaction when you turn on the ignition and spark back into life an old engine you've been fixing.
5. Plan a father-son road trip
Heading away for a few days in the car is a great bonding experience. Pick out your playlist for the journey, gorge yourself on all your favorite unhealthy snacks and enjoy quality time just chatting and chewing the fat about life, while you drive to your next destination. Simply soak up your surroundings and each others company for the next 48-hours. Choose different locations randomly, get out an old-fashioned map and blindly point a pin in it, then off you go! Or you could have already researched together your next road trip location from a bucket list you'v prepared.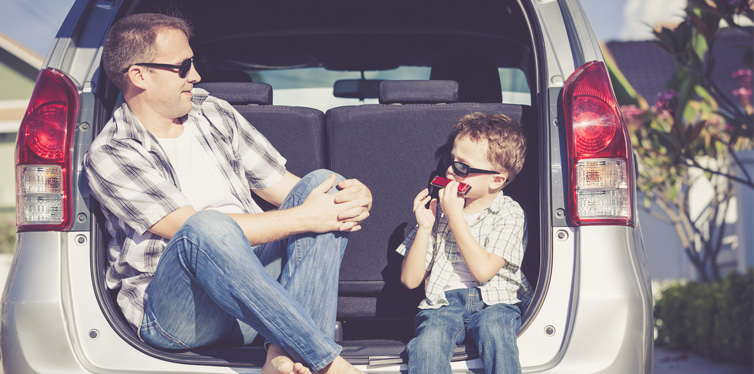 6. Take him on a traditional trip to the Barbers
These days, this rite of passage isn't anywhere near as popular as it used to be, but it still offers a tremendous manly bonding experience. Depending upon the age of your son, of course, how about taking him for his first ever wet shave at that classic barbershop in town. Get him involved in the Saturday morning chat about your favorites sports teams and their current performance plus come out with a sharp new haircut and a clean shave to boot.
7. Get green fingered with some shared gardening time
It's not all about throwing a ball around or heading out on your skateboard! Try doing something together like planting a garden or herb garden, maybe even spending time down the allotment. Managing a garden requires toil and labor, plus time and effort and can provide a simple, honest and healthy bonding environment. You might also end up with a great crop of veggies, fruits or even flowers that the rest of the family will also appreciate.
8. Enjoy some quiet time reading or helping him with his homework
So again, this is one of the activities you can do with your kids while they are still younger, but it's so important to read and share information together. Boys, in particular, need lots of encouragement during their formative years and reading good old-fashioned books can fire up their imagination and creativity. You'll both enjoy that simple, quiet and very authentic time spent together, engrossed in the latest adventures of his favorite Super Hero or Villain.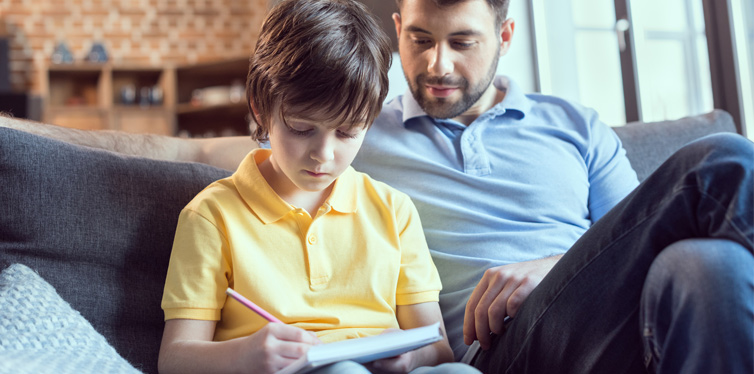 9. Build your own model or work on a construction kit together
Whether it's a model rocket, a boat, an airplane or perhaps a Lego set, working together on some sort of construction kit is a great way to spend some valuable father-son time together. You can discuss your strategy, pull together all your equipment and marvel at the finished end product. It requires discipline, diligence, and attention to detail, collaboration, co-operation and working together as a unit to get the job done. Plus, imagine your sense of pride when you take a minute to review your handiwork. Whether that's the fully completed Death Star, an Iron Man Mech figure or a matchbox car, working with your hands and heads together on a building kit is super rewarding and relaxing too.
10. Take him to his first soccer, cricket or rugby game
Depending upon where in the world you reside, it could be football, basketball, baseball, cricket or ice hockey that's the local passion and for whom your town has its most famous team. There's nothing quite like sport for bringing men together, rooting for their team and getting involved in all the pitch side action and banter. Get them their own team jersey or scarf too, and you might just be looking at investing in two season tickets. We guarantee that the first time you and your son go to a game together will definitely rank right up there as one of the most memorable in both your lives.
11. Try a good old fashioned day out Fishing or Hunting
OK, so again, this activity is mainly going to be determined by where you live. You're not going on a hunting trip if you live in London and you're unlikely to be fishing any time soon if you're entirely landlocked with nothing more than a dirty puddle as your local source of water. Fishing and Hunting though are archetypal activities, undertaken for centuries, between father and son. Teaching them how to rig a line than watching the look of sheer glee on their face as they catch they're first ever fish. It's powerful, life-affirming and totally manly stuff!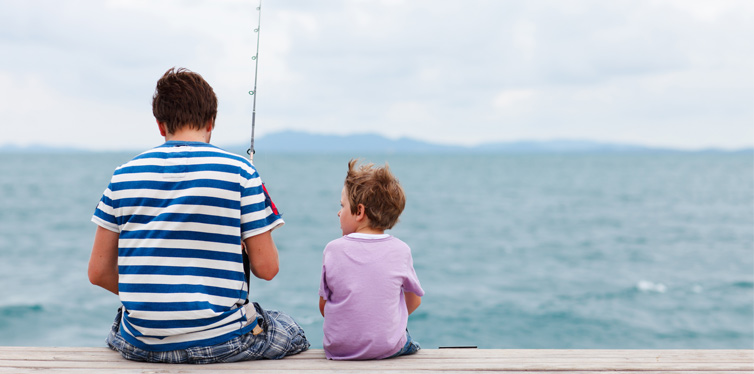 12. One for the younger kids but how about a good old father-son game of catch?
Hands up who hasn't spent many a happy hour being chased around the back garden or the living room by their Dad or throwing a ball around endlessly. It's simple, honest and old-fashioned fun and it doesn't cost a single penny either. You might be surprised just how much fun you both have together and what you might end up learning from your son about how he's getting on at school for example. Simple moments like these create enduring memories that last a lifetime.
13. Give Go-Karting a Go
One for the more adrenaline-fueled among you, Go-Karting can be excellent fun, and you might have your very own budding Lewis Hamilton in the making.  So even if you only manage the one session on the track, it's well worth a day out just for the fun of it! Just make sure you don't let him lap you too many times, you're still the man right!
14. Consider doing some Community work or Volunteering together
This might not be the first thing that sprang to your mind when you were planning out your next father-son day but volunteering together on some worthwhile local project is seriously good for the soul and will teach your son the importance and value of helping others. Creating a special bond and building memories that last a lifetime takes time and effort and quite often, it is basic actions like these that are ultimately the most rewarding and not how much money you throw at your activities.
15. Try your hand at some extreme sports together
Get him involved early on in your favorite extreme outdoor pursuits. Not necessarily a cheap option but there's nothing more exciting than hurtling down a mountainside with your son or taking to the ocean on your surfboards to catch some monster waves. With you, by his side, as he attempts his first ever black run or 6-footer wave, he'll be far more confident and likely to succeed. Just don't forget your camera.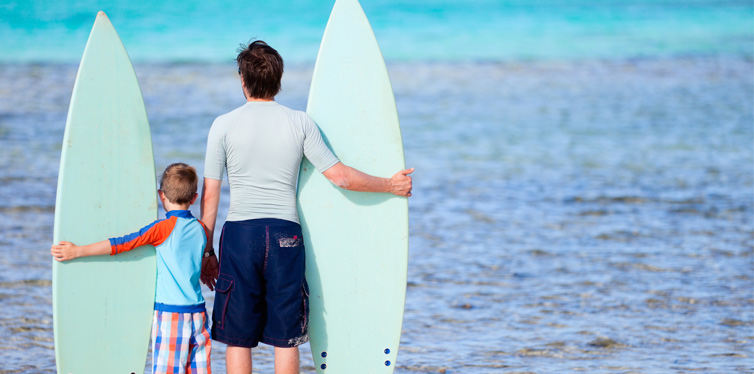 16. Hone those DIY skills together and give your son his first toolkit
Enjoy some proper male bonding time together over the garage workbench! They simply don't teach skills in school the way they used to, and many boys probably don't ever get to do woodwork and play around with vice grips, hammers, Allen keys or a pair of pliers! Get creative and busy with a woodwork project and pass down those essentials skills that you were taught as a lad by your own father.
17. Try your hand at bowling
A cold, wet and miserable day spent indoors knocking over some pins is a great way to while away a few hours. You can get them started young with this activity but its' also a pursuit that the two of you are likely to enjoy for many more years to come as you become engaged in healthy competition.
18. Pitch against each other in a mammoth video gaming session
Not strictly a bonding experience but we couldn't really undertake a review of the best 20 Father-Son Activities without the gaming console making the grade. Let's face it, you are both always going to be big kids at heart, and there's no denying that a gaming session can deliver hours of fun and help to develop that competitive spirit that is so crucial to foster and encourage in your youngsters.
19. If you are trying to limit screen time, then try a good old fashioned board game instead
Classic board games have been around for centuries, and it's easy to see why. They really do deliver hours of fun and the opportunity to spend quality time together. Try a strategy game where you need to pit your wits against each other, or a game of cards. There are so many different types of board games that you can enjoy plus they develop a whole series of vital skills your son can take out into the world with him.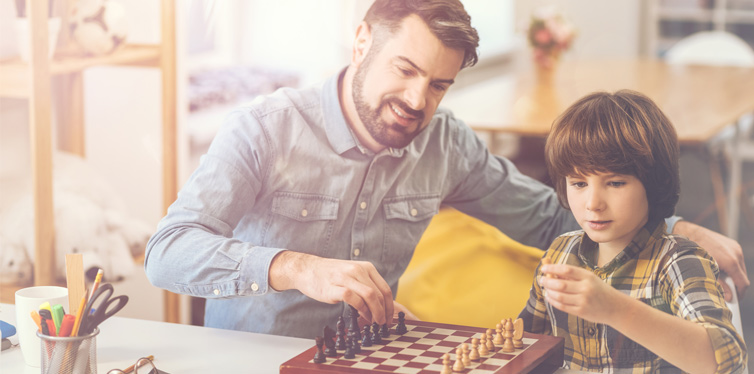 20. Start your Collectible range
A shared and collective interest in rare vinyl, model cars, baseball caps or coins could be a great way of spending more time together. Researching hot leads online, heading out to flea markets to trawl through the racks and traveling the world building up your collection. Collecting things can be a great bonding experience plus you are also going to have a legacy that your son can in turn hand down to his son in years to come.