Up The Ante: The Best Poker Sets Of 2022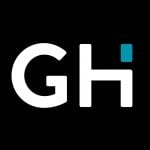 This product guide was written by GearHungry Staff
Last Updated
December 6, 2021
GearHungry Staff
GearHungry Staff posts are a compilation of work by various members of our editorial team. We update old articles regularly to provide you the most current information. You can learn more about our staff
here
.
GearHungry may earn a small commission from affiliate links in this article.
Learn more
Poker is one of the world's most popular card games and cardrooms on every continent are proof of that. While pros may make a poker game look easy, it is still a game that involves a fair bit of strategy, a good poker face, and luck. If you understand the game, you can win the big bucks but a single bad hand can wipe out all your winnings and then some.
If playing poker is something you enjoy doing, you can revel in the game without losing a fortune. Poker is a great way to spend an evening with your buddies and have some real fun challenging each other and testing each other's wits.
Put away those boring old board games and get a poker game started with your friends. The best poker sets include everything you need for a thrilling game, so grab some snacks and drinks, call your buddies and start shuffling those poker cards.
The Best Poker Set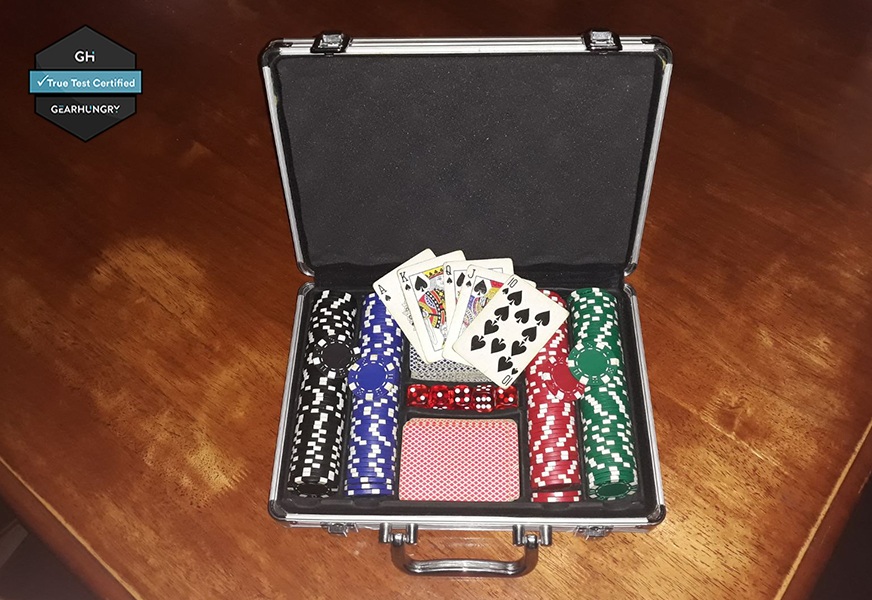 If you love card games, you'll definitely enjoy owning this simple but functional poker set. It has all the components you'd expect to find in a high-end set without the high-end price tag. The chips are high quality, incredibly durable, and have that authentic casino feel to them.
The case has easy to open latches and is strong enough to endure being transported to any location you deem worthy of hosting a poker match with a few of your friends. The interior is beautifully lined and molded so everything can be exquisitely packed for easy transport.
I bought this set on a whim many, many years ago and it has seen us through a lot of fun poker nights with family and friends. We've had many poker nights at home with great company, high-quality beverages, and snacks. When you organize a poker night, you've got to go all out for the high roller cardroom experience.
The NOLIE Casino Poker Chip Set has been a fantastic way to disconnect from reality. This set is a constant companion when we spend a weekend away in the mountains. TV reception is usually pretty bad at those altitudes so we've turned poker into our main source of entertainment. We've laughed, cried, and come close to blows. Let's face it, no one likes losing, but the game goes on. Because we don't play for real money, the first one to lose all their chips has to start dinner and the rest of the group continues to play with subsequent losers leaving the table to help with meal preparation until a winner is declared. The winner may not take all, but they get to relax while the losers do all the work.
All in all, if you're looking for a way to have fun and you enjoy playing poker but not losing real money, this poker set is a winner. It would also make an ideal gift for poker players.
Key Features:
200 poker chips – 50 each of red, blue, green, and black
Chips made from a composite resin with an iron insert
Durable storage case with black velour lining
Includes 2 decks of cards, 5 dice, dealer, small blind, and big blind buttons
Specification:
Brand

NOLIE

Chip Material

Aluminum, Resin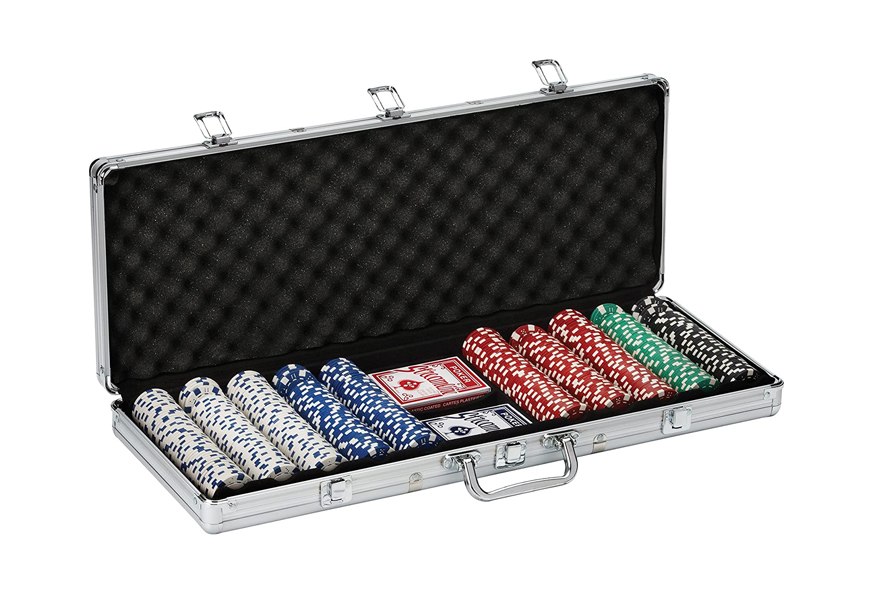 Turn an average poker night with your buddies into the real deal with the Fat Cat Poker Set. This is one of the best poker sets for all players from aspiring rookies to seasoned pros. The set consists of 500 poker chips in five different colors. The chips are striped and do not have printed denominations so you can designate your own. The set comes with all the poker accessories including a dealer button and dice so you get all you need for a full game of poker whether it's classic poker, Texas Hold 'Em, or other card games.
What sets this poker set apart is the chips. There are definitely enough chips for multiple players and the chips are made of Claytec for that authentic casino feel. They are the standard diameter we normally see in poker chips and have a weight of 11.5 grams. All of this comes beautifully packaged in a sturdy silver aluminum case with a molded in-tray to keep all your poker chips, cards, and other accessories neatly stored.
If you like your adult card games, this poker set is one you want to add to your collection.
Key Features:
500 striped dice chips
Big blind, little blind, and dealer buttons
2 decks of playing cards
Aluminum case
High-quality chips
Secure interior
Specification:
Brand

Fat Cat

Model

55-0605

Chip Material

Claytec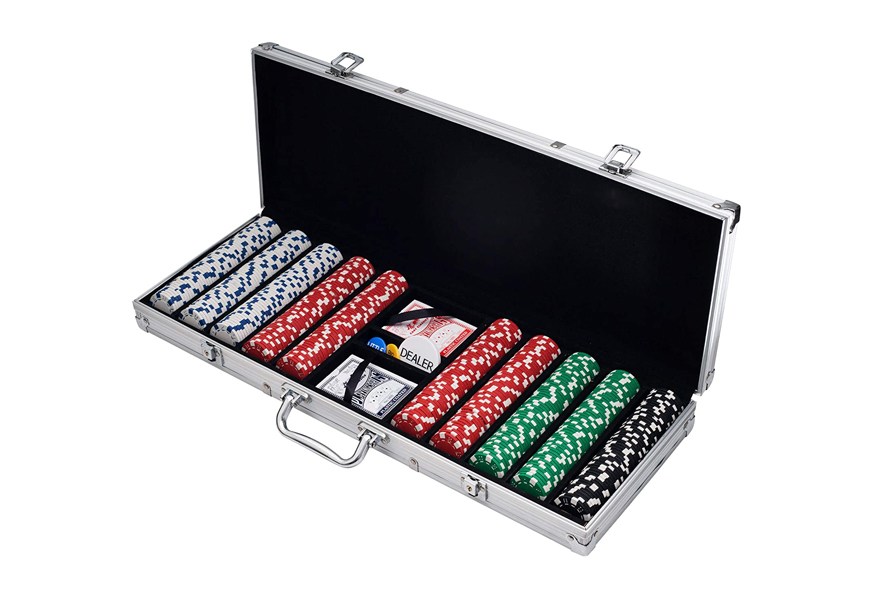 The Trademark Poker Chip Set is an awesome set for beginners and big ballers alike. This is the type of set any aspiring high-roller would love to get a hold of. Apart from being very attractively presented, it has everything you need to start a serious game of poker or any other card game of chance.
The set features 500 quality clay composite chips in various colors. Now, these may not the best poker chips out there, but for the price, they're brilliant. Uniformly round and thick, they have a good heft to them – actually similar to how higher-end ceramic poker chips feel. There is no denomination but that can be fun as you choose your own. What you'll really love about this set of poker chips is just how stylish and professional it looks. It comes presented in a black velour-lined aluminum case that is lockable and easy to transport so you can literally turn any flat surface into a poker table. There are two decks of cards and with all the chips you can include a whole lot of poker players and start a real tournament.
If you love playing games that don't involve a digital device, check out our board games review for our top picks.
Key Features:
Complete poker set
500 total clay chips
2 playing card sets
Durable aluminum carry case
Multiple poker-related games possible with this set
Dust-resistant interior
Specification:
Brand

Trademark Poker

Model

10-1090-500SQL

Chip Material

Composite resin
DA VINCI Monte Carlo Poker Set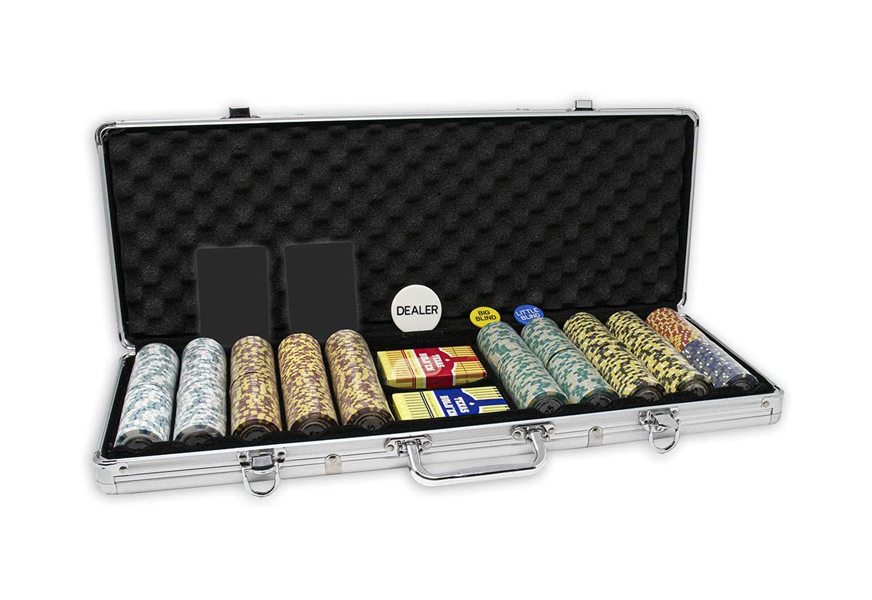 You may not be a high roller, but you'll definitely play like one with Da Vinci Monte Carlo Poker Club Set. The first thing you'll notice is the deluxe aluminum case with a padded lining that cradles everything neatly and securely. Then you'll pick up the poker chips and love the way they look and feel. This set of 500 clay poker chips complete with cards and dealer/blinds buttons has everything you need to transform any table into a swanky Las Vegas or Monte Carlo poker table. The chips have denominations printed on them from $1 to $1,000 so you can up the stakes and play like a pro. They're definitely some of the best poker chips in this price range.
Even if you don't play for real money, you can still start a serious game as this set also features two decks of cards that are made of plastic and are relatively waterproof which you'll really appreciate during those late-night poker games where the drinks are flowing and often get spilled.
The real magic with this set really is the poker chips. They are as close to authentic clay poker chips as you will find outside of a casino and at 14-grams, they have just the right amount of weight to them. Apart from being made from premium materials, these clay composite chips are also stunning to look at and feature a gold laser ring for a touch of elegance. The set is fabulously packed in a sturdy case that you can take with you anywhere you plan on starting a serious game of poker. For more fun options for your game nights, check out our selection of the top family board games.
Key Features:
Heavy 14-gram clay chips
Denominations on chips
Attractive chip design with gold laser ring
2 decks of playing cards
Dealer and blind buttons
Secure aluminum case
Specification:
Brand

DA VINCI

Weight

16.71 Pounds
Da Vinci Professional Poker Set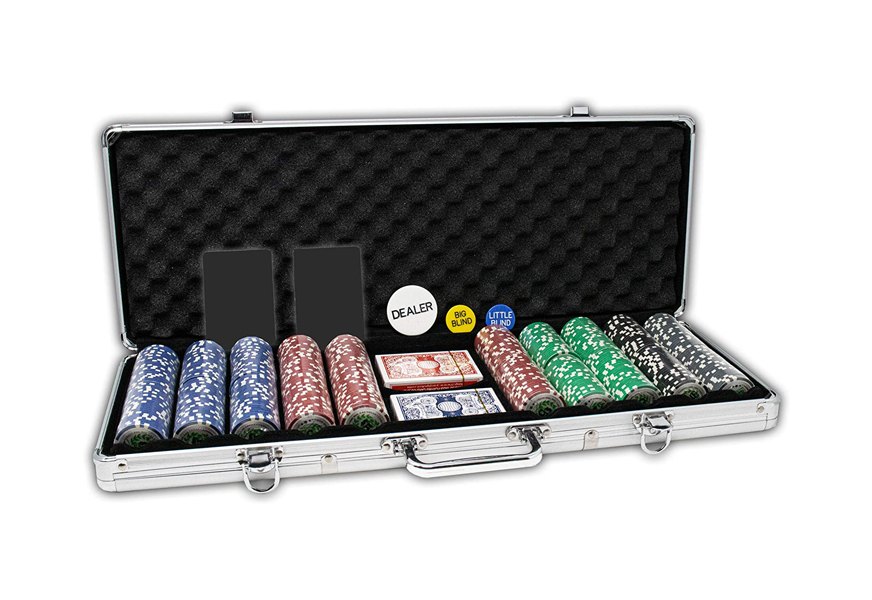 If you're looking for a poker chip set that is nicely priced for someone relatively new to the poker world, Da Vinci Professional Poker Chips Set is a great one to get started. This set includes 500 clay composite chips that are easy on the eyes and fun to play with. The chips weigh 11.5 grams and have denominations from $1 to $500 so you can up the ante and get a high stakes game going for your next poker night.
You get all the accessories you need with this poker set including the blind and dealer buttons as well as two decks of playing cards. Everything is encased in a professional-looking aluminum carry case that is certain to impress your poker-playing buddies. The chips have an authentic casino feel which makes playing poker a fantastic experience whether it's at home, at your favorite bar, or even on a picnic table when you're on a fishing weekend with your friends.
You can play a variety of different card games and if you combine this poker set with a card shuffler you can turn a home game into a serious night of poker.
Key Features:
500 denominated poker chips made of clay composite resin and metal
Includes dealer buttons, five 18mm dice, and two decks of playing cards
Heavy-duty lockable aluminum carrying case
Stylish tray inserts and thick foam interior lining
Reasonable cost for a high-end amateur Texas Holdem poker set
Specification:
Brand

Da Vinci

Model

102-317

Weight

16 Pounds

Chip Material

Clay composite resin
Brybelly Ultimate Poker Chips Set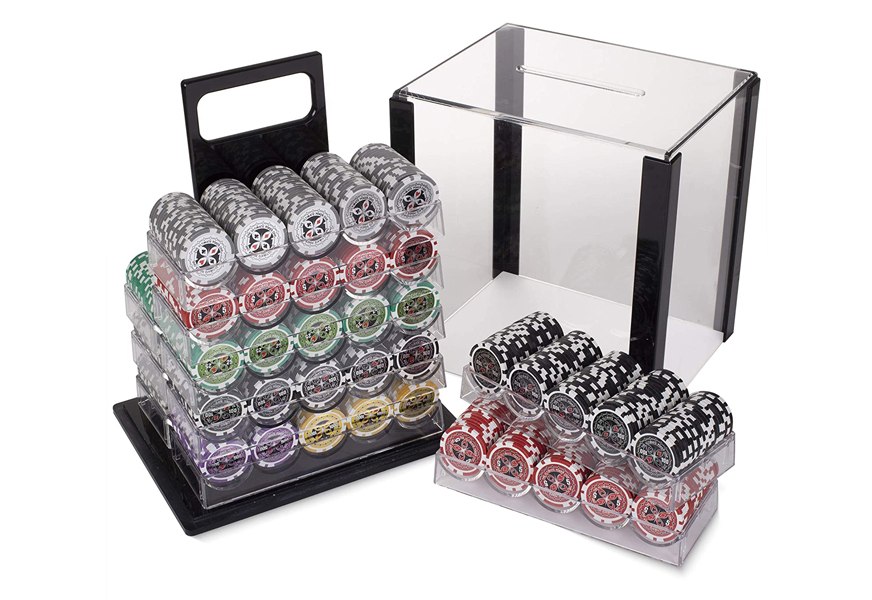 When you bring out this poker set, you're bringing out the big guns. This is one of those poker chip sets that will become the source of envy for all the carriers of cheap plastic poker chips. Let's start with the Casino Royale-style acrylic display case. Apart from being absolutely stunning, it holds a whopping 1,000 poker chips that are perfect to get a poker tournament started.
The chips are made from a clay composite with a unique textured inlay that gives them the high roller look without paying through the nose for a premium quality poker set. The case includes 10 acrylic chip racks that can hold 5 rows of 20 chips each so the entire set of chips can be stacked tightly and neatly for easy transport from your home to your next poker night extravaganza. The chips weigh 14 grams each and they have been beautifully embellished to give them the look of real casino chips. They stack really well too making them ideal for winning high-stakes games.
Whether you're planning on a game between friends or organizing a full-on poker tournament, this is one of the best poker chip sets you will find for multiple players. If you are planning on sitting through a poker all-nighter you might want to bring a fidget spinner with you to stop you from squirming around in your seat waiting for your next call. After all, keeping a cool poker face isn't easy when your patience is running low.
Key Features:
1000 denominated 14-gram poker chips
Quality clay composite material for an authentic casino feel
Uniquely textured chip inlay for easier recognition and stacking
Elegantly stored in a transparent acrylic showcase for display or gameplay
Customizable chip values
Specification:
Brand

Brybelly

Model

CSUP-1000AC

Chip Material

Clay composite
Cardinal Industries 200pc Poker Set
The Cardinal Industries 200pc Poker Set doesn't have all the flashiness of some high-end poker sets, but that makes it the ideal starter set for the aspiring poker star. The plastic poker chips come in four basic colors – white, green, blue, and red, with a dealer button and a deck of cards all neatly organized in a sturdy, yet compact aluminum carrying case. The set also comes with instructions for Texas Hold 'em to get the newbies started making this an ideal gift set.
This Cardinal Industries Poker Set is one of the best poker chip sets for casual or novice players and part of the charm is the simplicity of the set. The plastic chips are a decent size and although the colors are a little duller than casino quality chips, that shouldn't stop you from having hours of fun playing a variety of poker games. The dual-toned design of the chips stands out in such a way that is unpretentious yet versatile. The set delivers great value for money and comes with all poker supplies for leisure gambling. 
You'll love the versatility of this set as you try your hand at blackjack and other card games. Get a poker game started with friends and spend a perfectly amusing rainy afternoon. You may also be interested in some of the best chess sets from our list. Take a moment to check them out.
Key Features:
200 blank plastic poker chips of four colors for different value holders
Comes with a deck of 52 poker cards
An essential set of Texas Hold'em instructions for first-time players
Compact aluminum carrying case for convenient storage and transport
Specification:
Brand

Cardinal Industries

Weight

1 Pounds

Chip Material

Clay
Brybelly Poker Chip Set in Wooden Carousel Case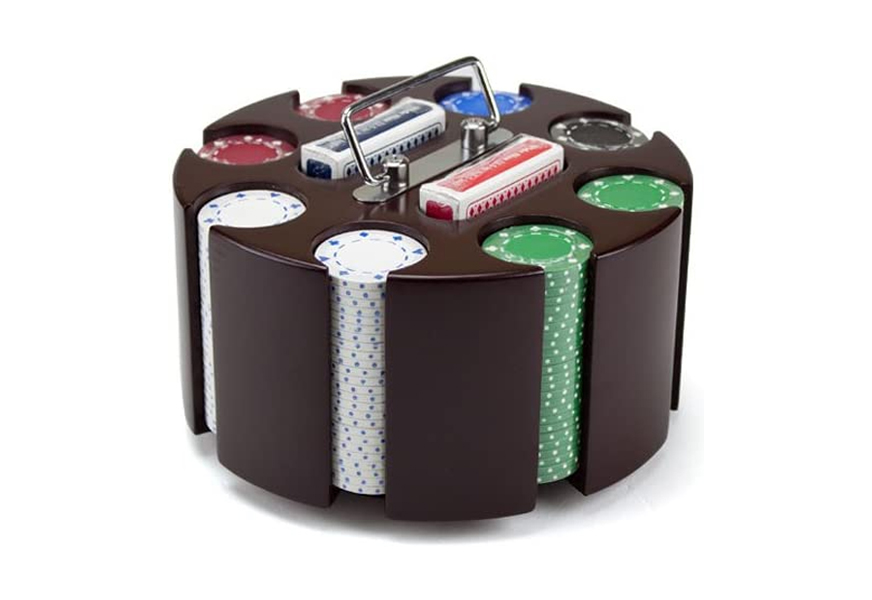 The ultimate gift for the casual poker player in your life – even if that's actually you – Brybelly Poker Chip Set is elegantly housed in a splendid wooden carousel case and comes in gift-ready packaging. This stylish and fun arrangement is eye-catching, to say the least, and will draw many admiring glances and a few envious ones as well.
The set consists of 200 chips in basic colors with no denominations which means you can set your own. There are two decks of cards that sit neatly in the middle of the carousel so all you need is a table and some friends to get a game going.
While they may not be ceramic poker chips, these are almost as good as authentic casino poker chips with an 11.5-gram weight. They may not be overly flashy, but they are still good quality and in the company of the wooden carousel, they actually look pretty amazing. If you're looking for a great housewarming gift for a bachelor or even a family of card players, this poker set will not disappoint.
Key Features:
Elegant entry-level poker set housed in a stylish wood carousel
200 clay poker chips of five colors and no nominated value, 11.5 grams each
2 decks of cards included
Sturdy silver handle for easy transport
Specification:
Brand

Brybelly

Model

CAS-200W

Weight

9.5 Pounds

Chip material

Clay composite
KOVOT 300 Chip Dice Style Poker Set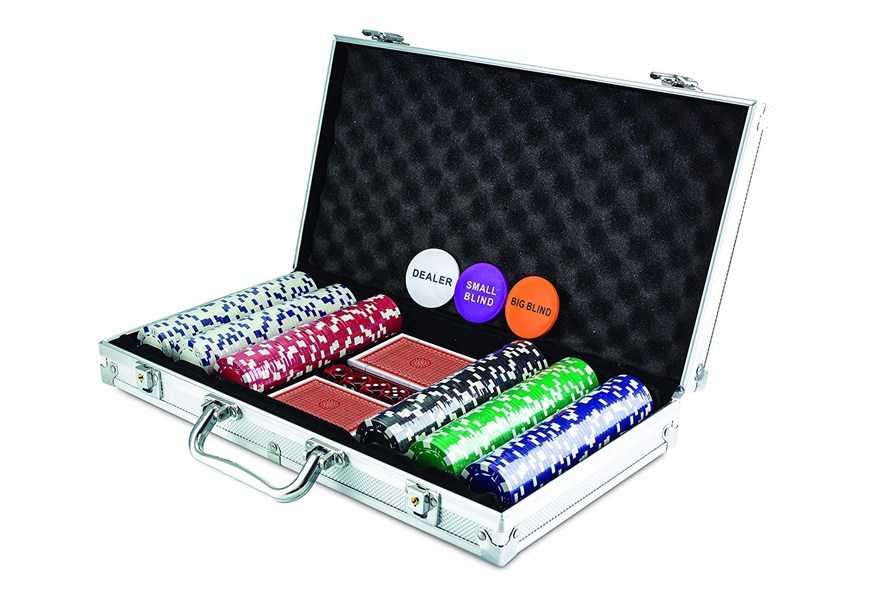 The KOVOT 300 Chip Dice Style Poker Set is a fantastic set for poker pros but even if you're a beginner, this one's an excellent option for those who want to stick to a smaller poker gathering with only a select group of elite players and are on a budget. The set may not have an abundance of poker chips but there are certainly enough for a smaller, more exclusive group.
The plastic chips feature a simple, yet attractive design and come in standard colors of white, red, black, blue, and green chips. They may lack denominations but that gives you the freedom to choose your own and turn an unremarkable poker game into a high-stakes one. The set includes two decks of cards, small and big blind, dealer buttons as well as dice if you want to try your luck with other card games.
As with any respectable poker set, this one comes beautifully presented in a heavy-duty aluminum case with a stylish black felt interior that keeps everything secure and neatly organized. The interior also protects the contents from dirt and dust while preventing the contents from scattering around. This ensures you'll be playing with this poker set for a very long time.
While this is the perfect set for poker-style games, why not utilize the accessories and try your hand at Craps, Hazard, Klondike, or whatever you can come up with a slow Sunday afternoon? Take a break from staring at digital screens for some good old-fashion fun with your buddies. Here are also some amazing two-player board games. Be sure to check them out.
Key Features:
300 quality plastic poker chips
2 playing card decks
Dealer, small blind, and big blind buttons
5 dice
Heavy-duty aluminum case
Black felt interior
Specification:
Brand

KOVOT

Weight

9.41 Pounds
Why Trust Us
If there is one thing we know at Gear Hungry, it's gear and games. Poker, in particular, is a game we love and it's up on the highest rungs of the ladder when it comes to world-famous games. Many of us have our own poker sets and those that don't have played their fair share with friends' sets.
Who This Is For
Our guide to the best poker sets is for anyone who loves to play poker and other card games, but may not be a frequent visitor to casinos or cardrooms. The guide has been put together with every type of poker player in mind, from beginners to enthusiasts and even poker pros. This guide has something for everyone who loves playing cards with high stakes in mind. Best of all, you can decide if you want to play for fun or up the ante and play for money. It's also good for those who want a decent poker set to practice to join the high rollers in a real poker tournament.
How We Picked
The only way to choose the best poker sets is to play with them or consult with people who use them regularly; we did both. Because we want to have a real casino experience even when we are playing at the dinner table, we looked at chips that felt like authentic casino-style chips with a bit of weight to them and designs that actually look like the real deal. The other factors we looked at before adding a poker set to this guide are the sturdiness of the case and other accessories such as decks of cards, dice as well as dealer and blinds buttons.
Sources:
Casino Token - Wikipedia
Sign Up Now
GET THE VERY BEST OF GEARHUNGRY STRAIGHT TO YOUR INBOX