Best Travel Chess Sets in 2022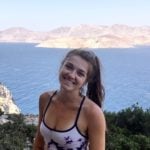 This product guide was written by Chloe Matthews
Last Updated
January 4, 2021
Chloe Matthews
Based in Austin, Texas, and bred in the Midwest, Chloe joins our team with a background in Health and Human Physiology, team management, and a wealth of customer service knowledge. After years of personal writing and journaling, her enthusiasm for the outdoors, travel, and continued learning has brought her to a professional journalism career. Chloe is an avid rock climber, currently enjoying the Texas limestone bluffs, and a passionate, lifelong runner. When she's not seeking sunshine outdoors, you can find her reading history books, volunteering at running events, or working on her latest automotive project.
GearHungry may earn a small commission from affiliate links in this article.
Learn more
It would be nice if you could pack up your old chess set to take along your journeys with you, but it's just not practical with the weight and size of it. A travel chess set is a fantastic substitute for your beloved chess set while you're on the road or vacation. Your traditional set is beautiful, but the best travel chess sets are smaller, portable, and offer storage options for the loose pieces.
We're gone ahead, found the best travel chess sets for you to choose from, and pointed out the best parts. Take a look and find your next travel chess set!
The Best Travel Chess Set
QuadPro Magnetic Travel Chess Set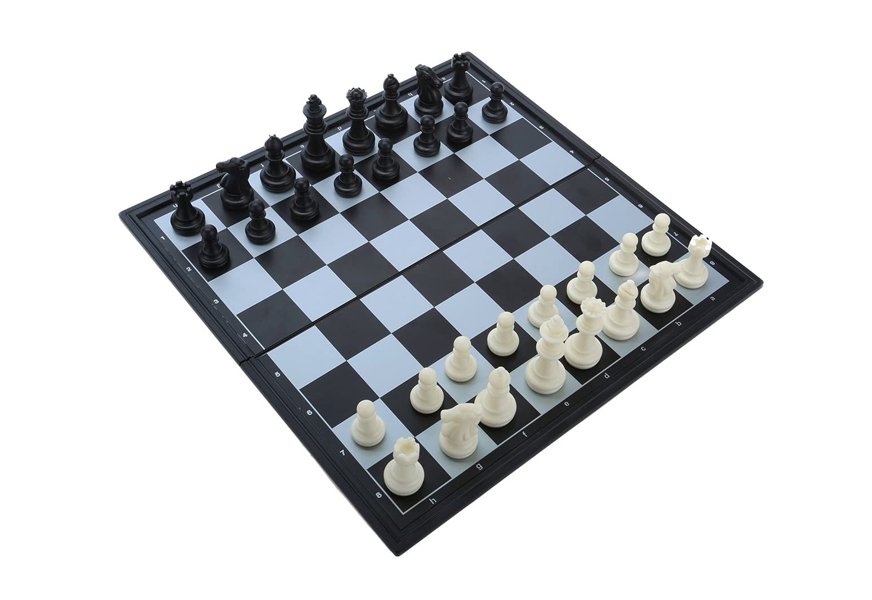 Starting with our best choice, the QuadPro Magnetic Travel Chess Set. Foldable, magnetic, and durable are the name of the game in regards to traveling and travel chess sets and boards.
The set is HIPS plastic, and the smooth pieces entertain a quality feel. The chessboard has feet for stability during a game. Each piece has a small magnet, attracting it to the chessboard for a solid playing field without hindering the player's ability to move their chess pieces quickly. The chess pieces store inside the board while traveling and two buckles on the board keep it closed and the pieces inside.
The board's size is approximately 10 x 10 x 0.75 inches unfolded. Stored, the size is about 10 x 5 x 1.5 inches. 
Key Features:
Foldable
Interior storage
Magnetic
HIPS plastic
Specification:
Brand

QuadPro

Weight

12.8 ounces
Pawnson Creations Magnetic Wooden Travel Chess Set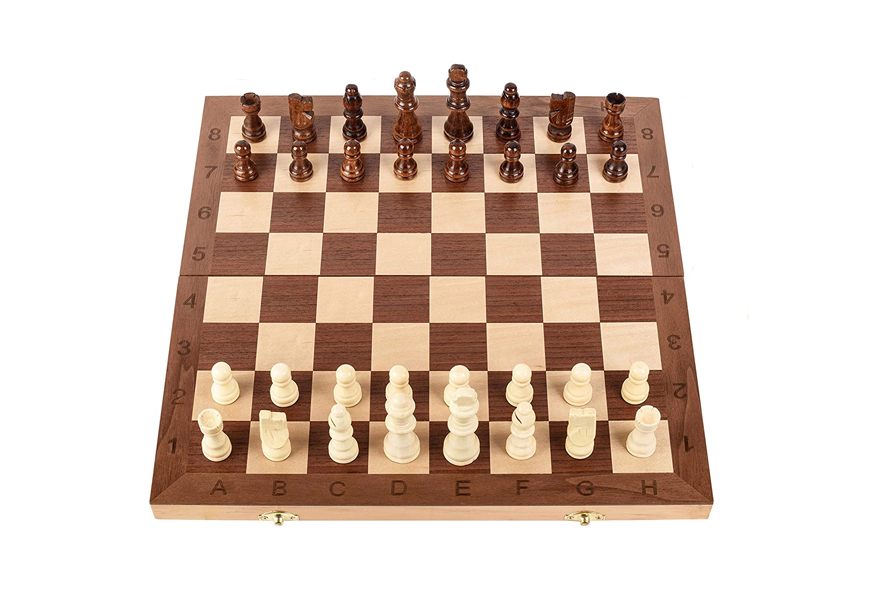 If you're new to chess and learning during your downtown while traveling, check out the Pawnson Creations Magnetic Wooden Chess Checkers Set. The set is a great starter set for both at home and on-the-go, so if you're just starting and don't want to spend money on two sets yet, this is an option for you. What more do you need with a foldable board, magnetic pieces, and an e-book on tactics and strategy?
The board measures 12 x 12 x 1 inch when laid flat; it is 12 x 6 x 2 inches when folded. The polished chessboard with inlaid walnut wood is marked with the algebraic notation around the board. Inside the board are storage slots for the hand-carved, magnetic chess pieces and a Checker set in a drawstring bag, in case you need a break from chess. Or a friend doesn't know the rules of chess.
Key Features:
Marked chess square coordinates
Magnetic pieces
Foldable
Includes checker set
Two extra queen pieces
Chess e-book
Specification:
Brand

Pawnson Creations

Weight

1.74 pounds
KIDAMI Folding Magnetic Travel Chess Set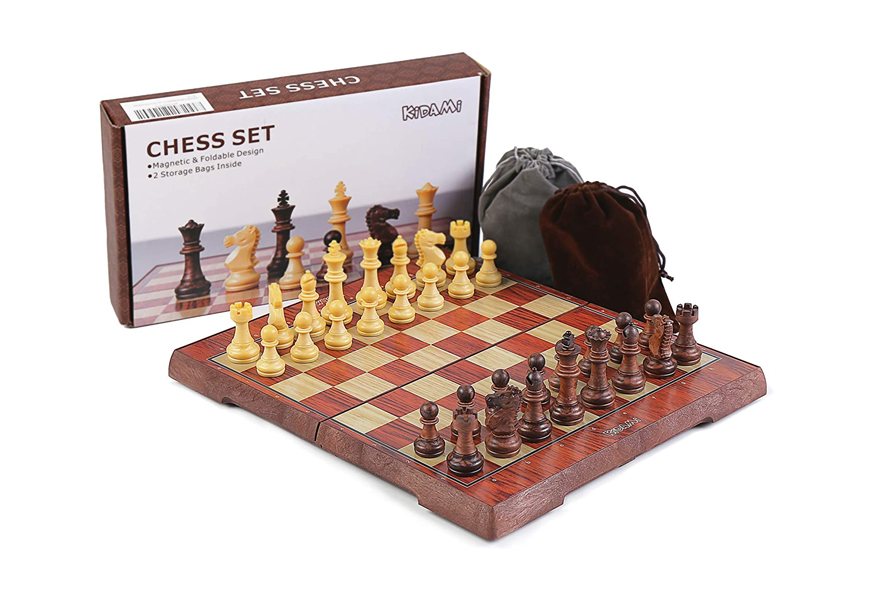 If you're looking for a luxury travel chess set, the KIDAMI Folding Magnetic Travel Chess Set is for you. The premium durable plastic mimics a wood texture for a lightweight but classic chess aesthetic. The chessboard is on the larger side, measuring about 12.5 x 10.5 x 1 inch unfolded with notation along the board's sides.
The chess pieces have a small magnetic attraction to the board for a reliable playing field and have two drawstring bags for storage while not in use. The bags fit nicely into the folded board; then, the chessboard fits back into the packing box to avoid scratches on the chessboard. To improve your skills as much as possible, make sure to also check out these top chess books.
Key Features:
Premium durable plastic
Classic aesthetic
Drawstring back storage
Magnetic playing field and pieces
Algebraic notation
Specification:
Brand

KIDAMI

Weight

1.43 pounds
Peradix 2 in 1 Magnetic Travel Chess Set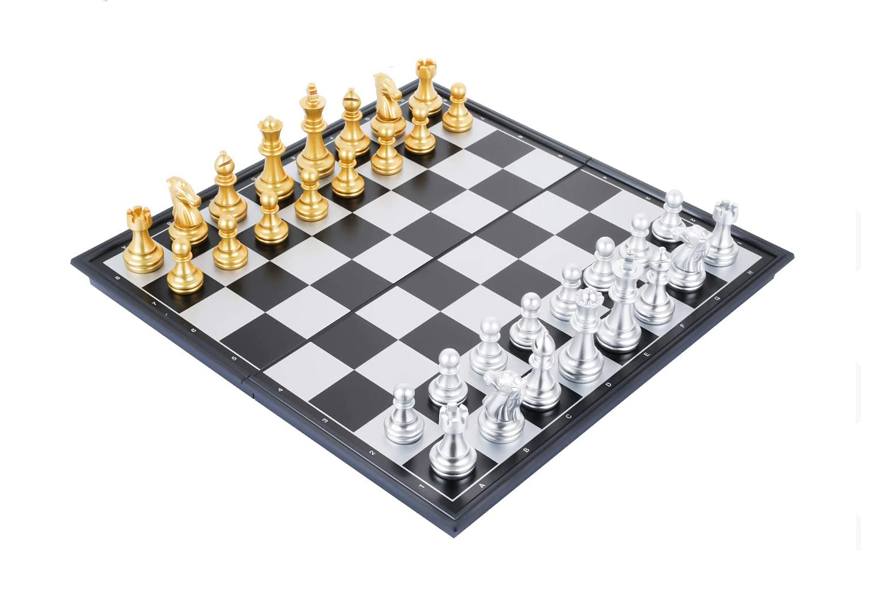 For chess and checker lovers, the Peradix 2 in 1 Magnetic Travel Chess Set is a classic rustic travel set take on your travels with you. The chessboard and pieces are HIPS plastic in golden and silver colors giving an authentic look. The checker and chess pieces have a small magnet to connect to the inlaid magnet playing field to avoid jostling your game during bumpy rides.
When you're not playing, the parts store nicely in two drawstring bags inside the folded board, closed with a latch design. A small carpet on the bottom of the chess pieces keep the board in good shape and the game atmosphere quiet. The board weighs 1.7 lbs and measures 12 x 6 inches when folded, ideal for a larger backpack or briefcase.
Key Features:
Inlaid magnetic board and chess pieces
2-in-1 chess and checkers
Hips plastic
Interior storage with drawstring bags
Latch board closure
Specification:
Brand

Peradix

Weight

2.01 pounds
Chess Armory Travel Chess Set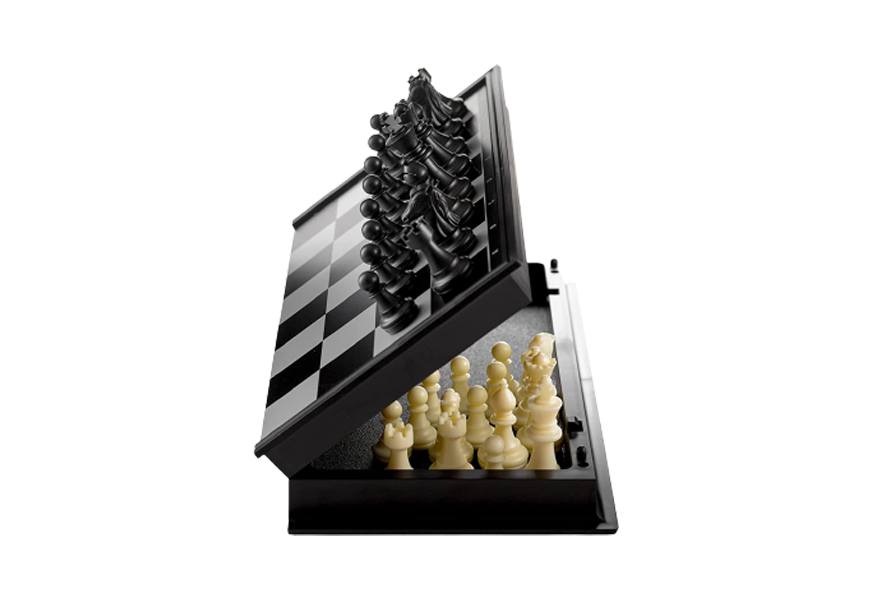 Chess Armory makes all-around excellent travel chess sets and boards, taking care and pride in chess. A great option, the Chess Armory Travel Chess Set packs a punch and hits all the travel chess set requirements. The magnetic chessboard doubles as storage for the pieces when folded. The pieces have matching magnets to keep your game from fumbling and a felted bottom for a pristine playing surface.
The chessboard measures 9.5 x 9.5 inches with 1.1-inch squares and the algebraic notation around the game board. Around the edge of the board is a lip, giving the board a lifted aesthetic. The king piece measures 2 inches in height. The set comes with two extra queens, and if you accidentally lose a part, Chess Armory will quickly send a replacement piece for your magnetic travel chess set. If you want to get a nice set for your kids, too, check out our list of the best chess sets for kids.
Key Features:
Foldable with interior storage
Magnetic pieces and board
Algebraic notation
Two extra queens
Replacement parts
Basic instruction booklet
Specification:
Brand

Chess Armory

Weight

1.4 pounds
iBaseToy 3 in 1 Magnetic Travel Chess Set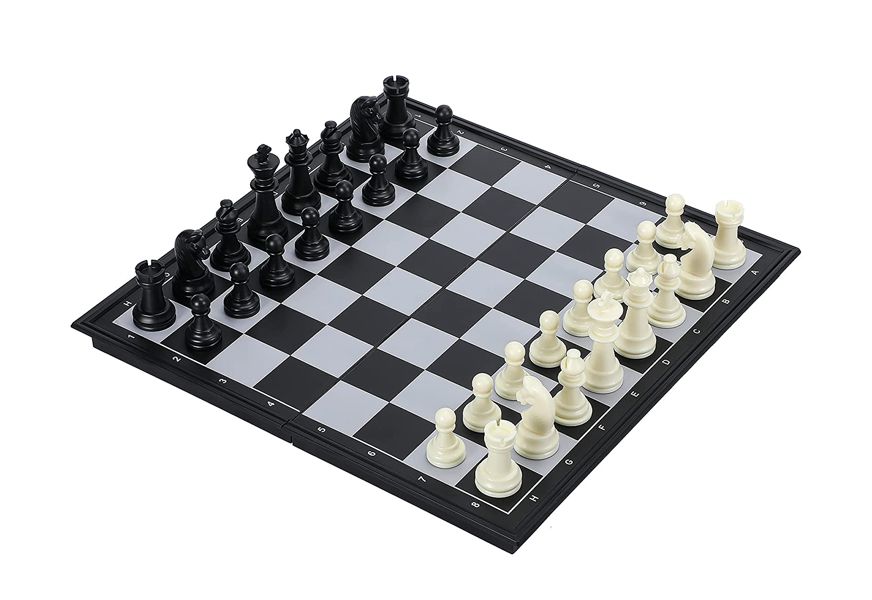 The iBase 3 in 1 Magnetic Travel Chess Set board is familiar to the previous board in color scheme and with the lipped edge. Except, if you open the folded travel chess set, on the interior is a backgammon board, and storage pieces for chess and checkers, along with how-to playing cards for each game. The folded gameboard measures 12.6 x 6.3 inches, perfect to tuck into the back of a seat during a road trip or even your overnight bag.
The travel set is great for adults and kids wanting to learn the tactics and strategies of chess while playing different board games. The set is magnetic to avoid unwanted piece movement, and the pieces have a flocking pad to increase your board's longevity. When your games are finished, pack up the pieces into the drawstring bags and tuck everything inside the game board.
Key Features:
Foldable with interior storage
Drawstring bags for game pieces
3-in-1 chess, checkers, backgammon
Magnetic
How-to instructional game cards
Specification:
Brand

iBaseToy

Model

58810

Weight

2.2 pounds
ChessBazar Magnetic Pocket Travel Chess Set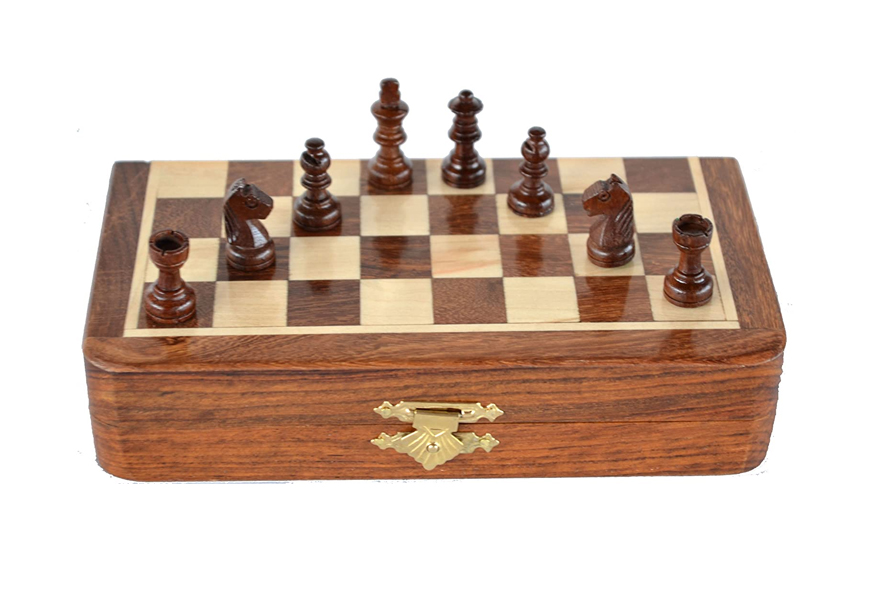 Looking for small travel chess sets? The ChessBazar Magnetic Travel Pocket Chess Set measures 7 x 7 x 1.5 inches when unfolded, making it the smallest option on our list of best travel chess sets. The chess set folds down to 7 x 3.5 inches with latch closure and fits into an included small travel bag. Due to the smaller pieces, this is an excellent travel chess set for adults.
The chess pieces store inside the chessboard. The pieces won't rattle around inside during travel; they will be tucked inside the interior green velvet cushion. They won't jostle around the board during play, either. The magnet bottoms hold them firmly in place. For more must-have items for true chess lovers, take a look at these awesome chess shirts.
Key Features:
Small – 7x7x1.5 inches unfolded
Magnetic pieces
Interior storage
Small travel sack
Specification:
Brand

ChessBazar

Weight

1.06 ounces
Sondergut Leather Roll-Up Travel Chess Set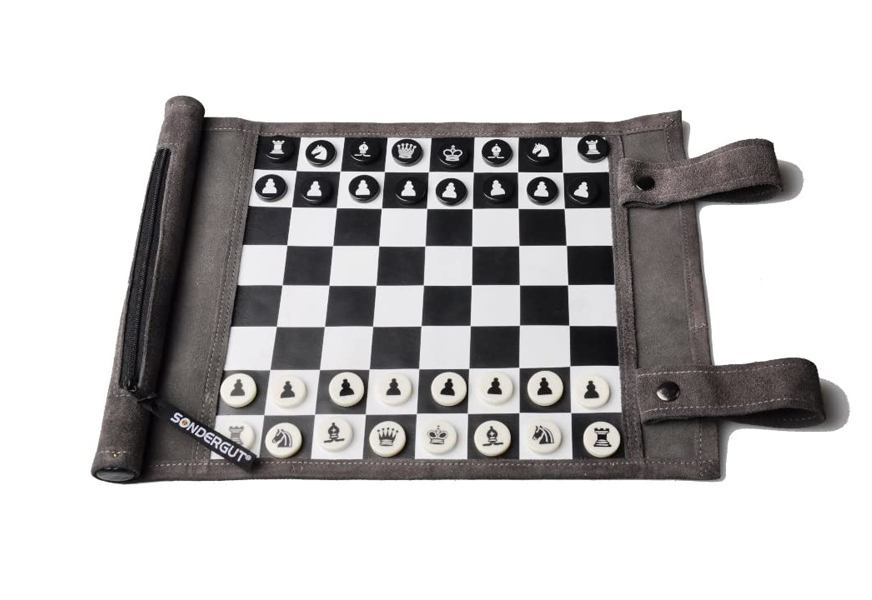 The Sondergut Leather Roll-Up Travel Chess Set may be our last option, but it is most definitely not the least. Untraditional but still aesthetically pleasing and practical, the leather chessboard, travel case mashup is a hit.
The two-in-one set pieces are the shape of checker pieces with depictions of chess pieces etched on the top. On one side of the gameboard is a zippered storage pocket and on the other, snaps to hold the rolled board together during travel. When rolled out, the game board measures approximately 10 x 12 inches. Designed by backpackers, the set is the ideal travel chess set for space-savers on the road.
Key Features:
Roll-up design with snap closures
Zippered storage pocket
Untraditional chess pieces
Genuine leather
2-in-1 chess and checkers
Specification:
Brand

Sondergut

Weight

2.4 ounces
Travel Chess Set Buying Guide and FAQ
Features to Look for in Travel Chess Sets
When deciding on a travel chess set, there's more to it than choosing the best looking one. You go for the best-looking set when it's going to sit in the corner of your parlor. But when you're traveling, you go for practical. Be practical when considering what you need in a chess set. Do you often lose game pieces? Do you carry a briefcase or small purse? How are you traveling — train, plane, car? Are you traveling locally?
Features like size, weight, storage, and portability should factor into your final decision. Some basic information should get your gears turning around what you need in a travel chess set.
Size - For multiple reasons, you'll want to make sure the size of your travel chess set is right for you — right for the environment you'll be playing in, that the pieces aren't too small for your fingers, the purpose your playing chess on-the-go.
If you're playing through opening strategies on the train ride to work, a small travel chess set that tucks neatly into a briefcase or small purse is ideal. A novel-sized board would be great for partners playing with each other on the plane. A game of chess over coffee at your favorite coffee house never disappoints; a standard size travel chess is best for those games. Just remember, the smaller your board is, the smaller your pieces are, so make sure your set comes with a good storage option.
Storage - Whether you're slipping your travel chess set into your briefcase or playing across a coffee table, there will always be 32 individual pieces to gather up and safely store. Many boards will fold in half, and the storage for the chess pieces will be inside the folded board. Others, the travel chess set will come with drawstring bags for the pieces. Just be sure you always remember to grab both the pieces and the board before heading out on your trip.
Weight - If chess is your downtime go-to activity, your travel chess set is with you every day. You can't have the weight of a nice wooden set dragging you down while on-the-go. But you also don't want the pieces to be too light that they might skip a square while going through some turbulence. Be sure to assess the weight of your chosen travel chess set against where you'll be playing and what you'll be carrying.
Magnetism - Most travel chess sets will have magnetic boards and pieces. Weigh the size of your fingers, the size of the pieces, what you're traveling in against the strength of the magnets in the pieces. If you're traveling on a train, the magnets don't need to be as strong; train rides are relatively smooth. But in planes and cars with unexpected bumps and turns, a travel chess set with stronger magnetism is ideal.
Portability - Consider all of the features above, be objective, and decide the conditions in which you'll be using your travel chess set. A travel chess set is just a chess set if you can't take it with you. If you can't fit it in your bag with lunch and your laptop, you're not going to use your new travel chess set.
The best travel sets will not only have portability while on the move but also stability during play. Some travel chess sets will have "feet" of sorts that keep the board sturdy during play; some will have fasteners to keep the board level if moved across tray tables. Portability is the whole reason you're looking for a travel chess set and not a chess set.
Travel Chess Set FAQ
Q: Do travel sets lay flat?
A: Depending on the type of travel set, yes. Some travel sets have roll-up boards made of leather or vinyl with a painted chessboard on the interior. Travel chess sets made with plastic or other materials will lay flat.
Q: Are magnetic chess boards good?
A: Yes, magnetic chess sets are great for bumpy and windy rides or unstable surfaces. They're not always necessary, though, if you're only taking your chess set to a friend's house or on vacation to the cabin. It's safe to say if you're not just taking your chess set traveling with you, but you'd also like to play during your travel time, look for a magnetic travel chess set.
Q: What is the best size for a travel chess set?
A: That is up to you and how you travel. If you're a frequent backpacker, our last option packs down to nearly nothing. It's easy to shove larger travel chess set into a nook throughout the road trip with car travel. Or the smallest option is great for briefcases and smaller purses. The size of your travel set depends on you and your needs.
Sign Up Now
GET THE VERY BEST OF GEARHUNGRY STRAIGHT TO YOUR INBOX