Gifts for Chess Lovers in 2022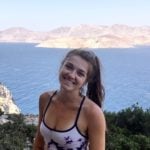 This product guide was written by Chloe Matthews
Last Updated
December 30, 2020
Chloe Matthews
Based in Austin, Texas, and bred in the Midwest, Chloe joins our team with a background in Health and Human Physiology, team management, and a wealth of customer service knowledge. After years of personal writing and journaling, her enthusiasm for the outdoors, travel, and continued learning has brought her to a professional journalism career. Chloe is an avid rock climber, currently enjoying the Texas limestone bluffs, and a passionate, lifelong runner. When she's not seeking sunshine outdoors, you can find her reading history books, volunteering at running events, or working on her latest automotive project.
GearHungry may earn a small commission from affiliate links in this article.
Learn more
Beyond the chessboard, the obsession for the game doesn't stop when the timer stops. Chess is an all-consuming game once you've taken the dive. Once you have a board and pieces, gifting to a chess aficionado isn't as easy as we thought. Some gift ideas you've probably never heard of; maybe your chess lover hasn't heard of them either. Some of the items break down chess to fundamentals for training, some are chess with bent rules, and some are humorous ways to poke good fun at your favorite chess lover. Home decor centered around Chess gives off a nerdy but chic vibe. We've dug around to find the best chess gifts and compiled them all into our comprehensive guide of gifts for chess lovers. Take a peek!
Gifts for Chess Lovers
Harry Potter Wizard Chess Set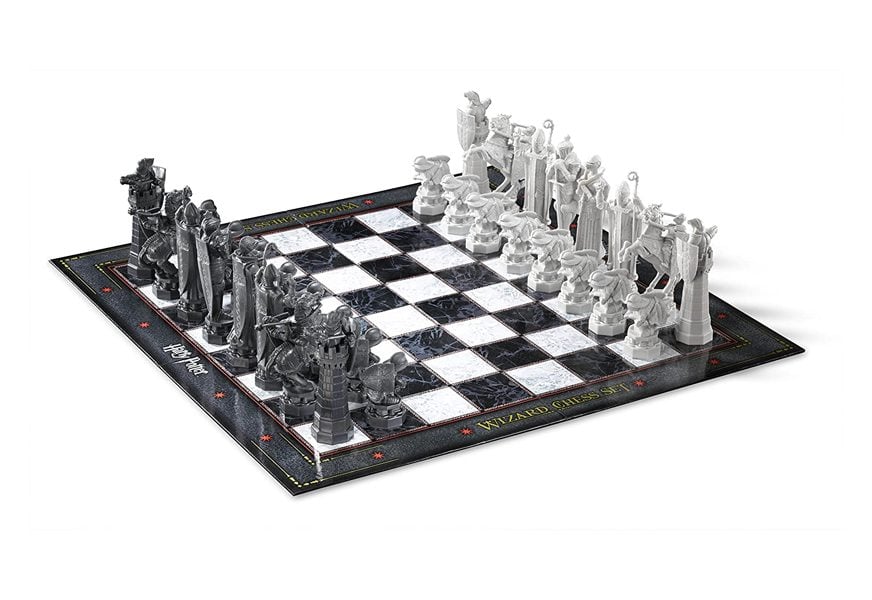 Did someone say Wizard Chess? Keep your voice down! There's no need to get all the Muggles riled up! When they hear you say, Harry Potter Wizard Chess Set, they'll go mad and assume the worst of wizards and witches. Especially if they see Wizard Chess — the royal statues breaking their molds and plunging their swords across the board — there's no telling what'll happen.
The Harry Potter Wizard Chess Set is our best choice. Not only is this chess set great for chess lovers, but it'll also be a hit with Harry Potter fans. The set is a replica of the board pieces challenged by Ron, Hermoine, and Harry during their pursuit to find Professors Snape red-handed with the Sorcerer's Stone. Each white and black set has a drawstring bag to keep track of the pieces, and the board measures 18.5 by 18.5 inches.
Key Features:
Harry Potter and The Sorcerer's Stone replica
Drawstring bags for each piece set
Made by The Noble Collection.
Specification:
Brand

The Noble Collection

Model

NN7580

Weight

3.75 pounds
Feeling Good Tees Sarcastic Funny T-Shirt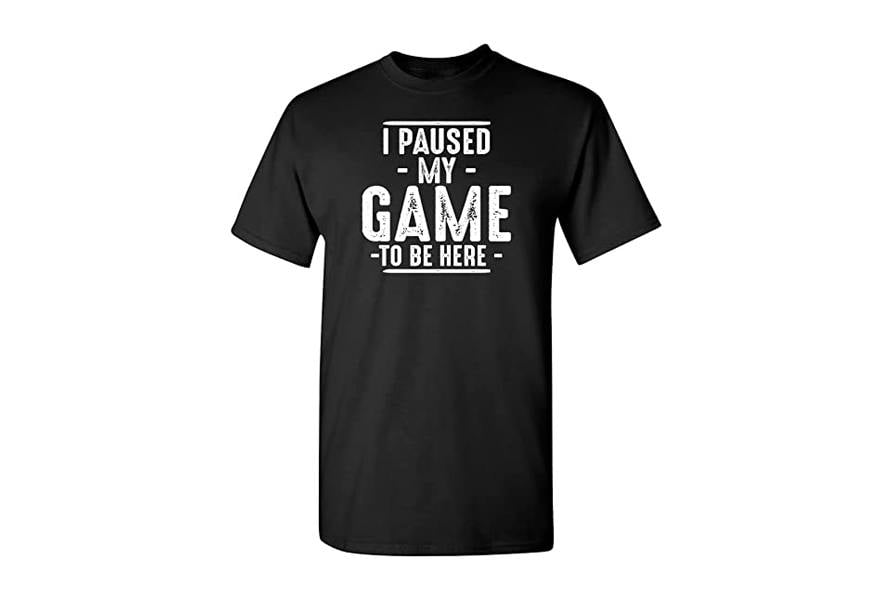 There's an attitude on a chessboard. Friendly banter or a hard-headed opponent — there's bound to be a mood. Chances are, if you have a chess shirt, you're a seasoned vet at the chessboard. Whether you're wearing your shirt loud and proud or hiding it under standard formal chess get up at your tournament, the "I paused my game to be here" motif gives an impression that you have more worthy opponents.
The Feeling Good Tees Sarcastic Funny T-Shirt is available in 17 different colors, each with big, bold white lettering. Each shirt is pre-shrunk for accurate sizing, and for easy care, the shirt is machine washable. The cotton and polyester blend gives a soft finish to your skin.
Key Features:
17 Colorways
Preshrunk
True-to-Size
Specification:
Brand

Feelin Good Tees

Model

PS_2802_PAUSED_GAME_CHARCOAL_YM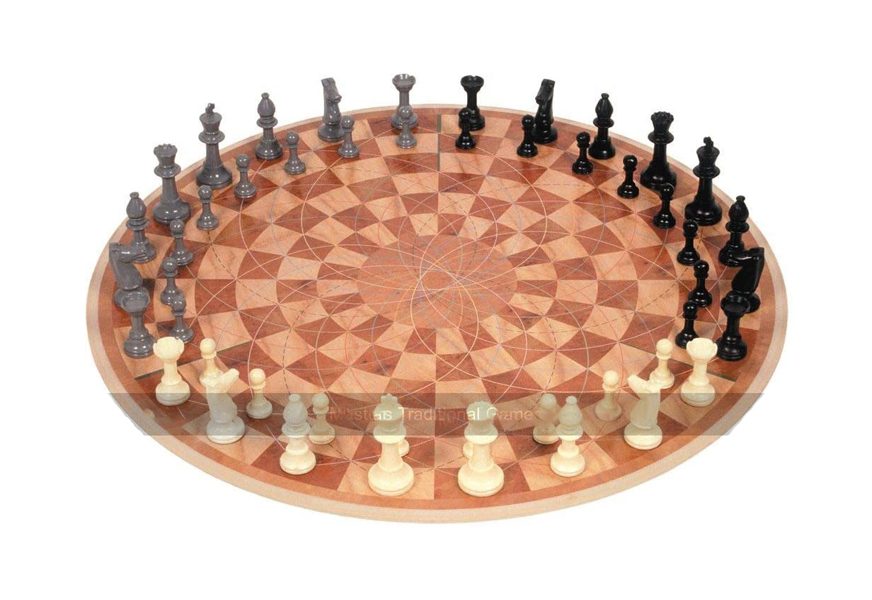 3 Man Chess looks like a cross between a Wiccan table and a circular chessboard for trios. If you have three chess enthusiasts and only a traditional chessboard, one player is always left to play the game over the shoulder of those playing. With the 3 Man Chess, test your skills against two players instead of one. Save your time and take them both out in one game rather than two.
The 3mm thick board is PVC plastic, hinged in three portions, for a foldable, durable game board. Each set has the traditional 16 pieces in three colors: black, ivory, and gray. The pieces are plastic with a felt bottom. Rules and regulations of a conventional board remain with a few twists to accommodate the third player. Each set comes with a game board, 48 pieces, and a rule book.
Key Features:
13+ years old
Plastic and felt pieces
PVC game board
Portable
Specification:
Brand

3 Man Chess

Model

3 Man Chess

Weight

2 pounds
Game Nest Chess For Beginners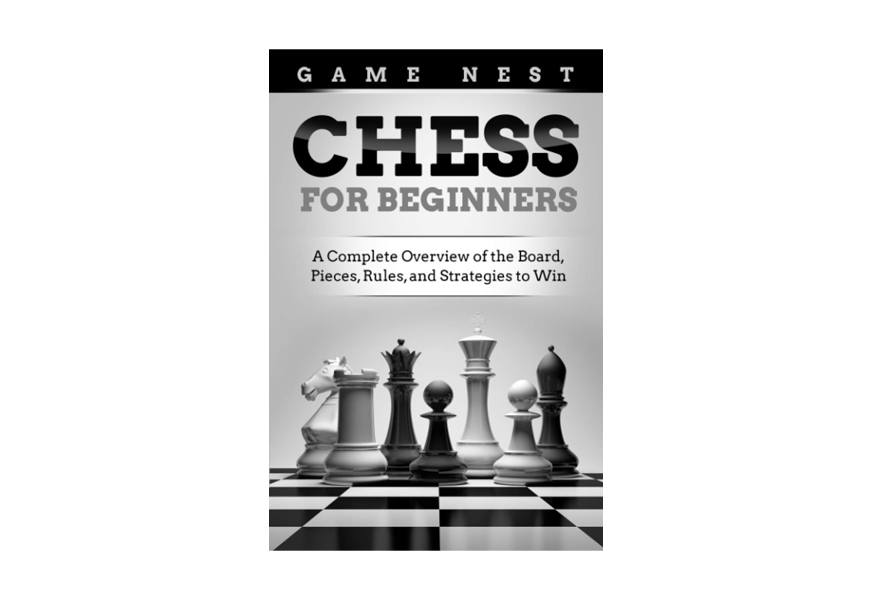 The Game Nest Chess for Beginners is a great option for new chess learners. Have a kiddo that is obsessed with the chessboard and pieces in their grandparent's house? Or a curious spouse after binging the Queen's Gambit. Gift the Game Nest beginners book! This chess book has the names and abilities of each piece, strategies of chess champions, and actions for any stage of the game.
Not only will this jumpstart a love of chess, but Chess also provides ample opportunity for brain training. The strategy and critical thinking that Chess requires translates to life skills and helps exercise those parts of a child's brain early.
Key Features:
Chess rules
Chess pieces and movements
Chess Strategies
Brain training
Jinhuoba Decorative Bookends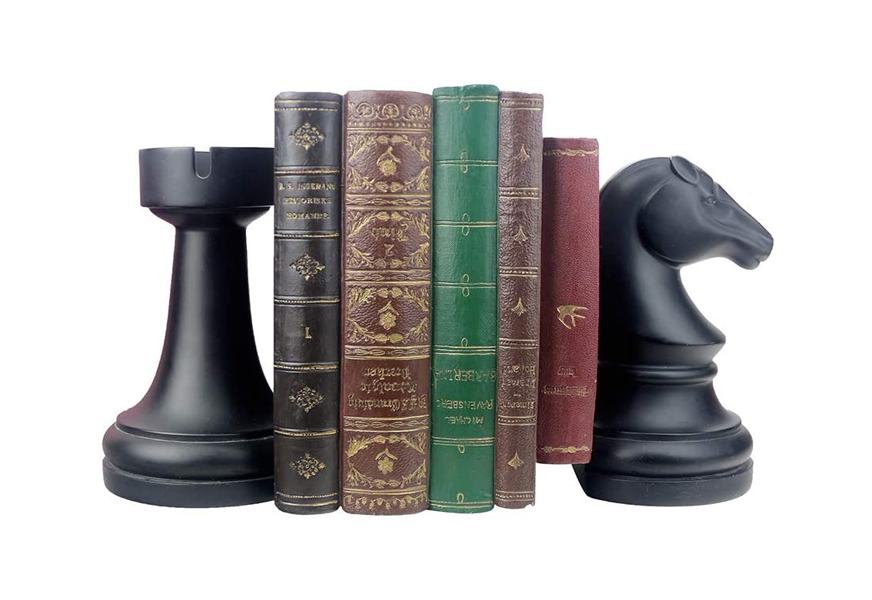 When you think of chess, do you think of a musty, dark study or a library of first editions? Chess has been around for generations, and as chess rises in popularity — unless you're living in an old mansion — the stereotypical chess atmosphere won't look the same. Gift these Jinhuoba Decorative Bookends to your chess lover to create their ideal chess sanctuary. The large Knight and Rook will look great on a living room, library, or office bookshelf.
The book ends are a durable resin, weighing 3.5 pounds each; heavy enough to hold your books in perpetuity.
Key Features:
One pair
Durable Resin
Heavy
Holds books, DVDs, and CDs
Specification:
Brand

Jinhuoba

Weight

2.86 pounds
Oooh Yeah Men's Novelty Crew Socks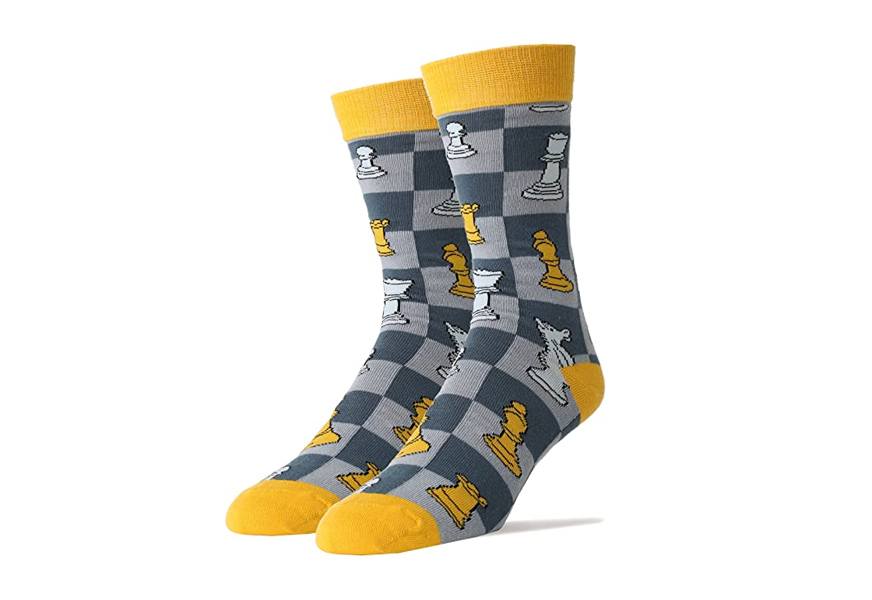 The chess pattern of the Ooooh Yeah, Men's Novelty Crew Socks will make a fun chess gift for dad. The dark and light gray checkered patterned won't draw too much attention under dress pants or chinos, but the mustard yellow chess pieces will still let people know a fellow chess lover is in the mix. The socks are 70% cotton, 27% nylon, and 3% spandex and are machine washable.
Key Features:
Sizes 10-13
Cotton, Nylon, Spandex blend
Dress socks
Durable construction
Specification:
Brand

Ooohyeah

Weight

2.4 ounces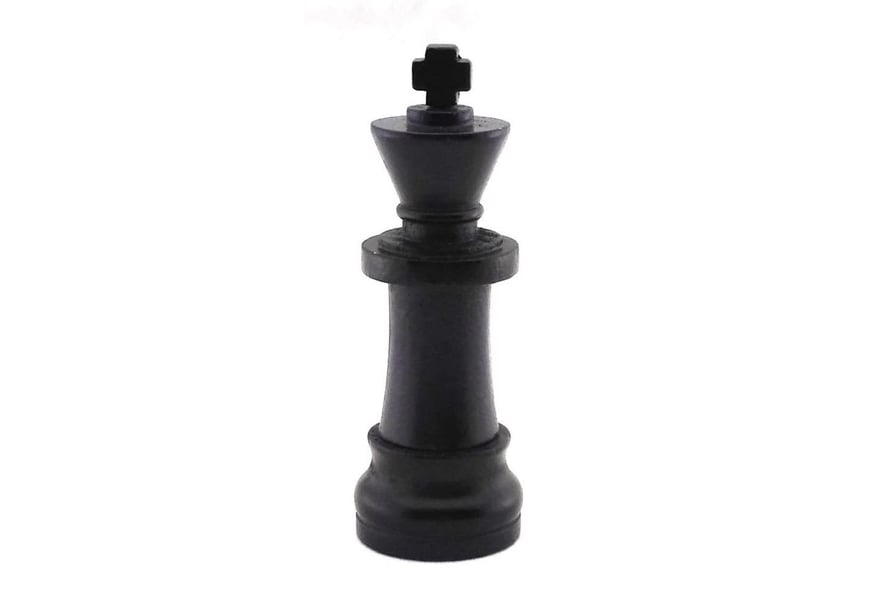 The Aneew Wood Pendrive would make a great stocking stuffer. Slide it in between oranges and candy bars in your loved one's stocking for a gift that will last longer than the treats. If you're looking for a chess gift for dads, the Pendrive hits the king on the head. It's a King piece, and the base of the piece comes off to reveal a USB flash drive.
The rest of the piece is quality wood material, and the black King piece fits perfectly in your pocket or an accessory pocket of a laptop sleeve. It has 16GB of memory storage and is compatible with updated Windows and Mac OS X systems.
Key Features:
16GB storage
Black King Chess Piece Pendrive
Supports certain Windows and Mac systems
USB flash drive
Specification:
Brand

Aneew

Model

L01216GB

Weight

0.8 ounces
STARS BY NATURE Vintage Chess Prints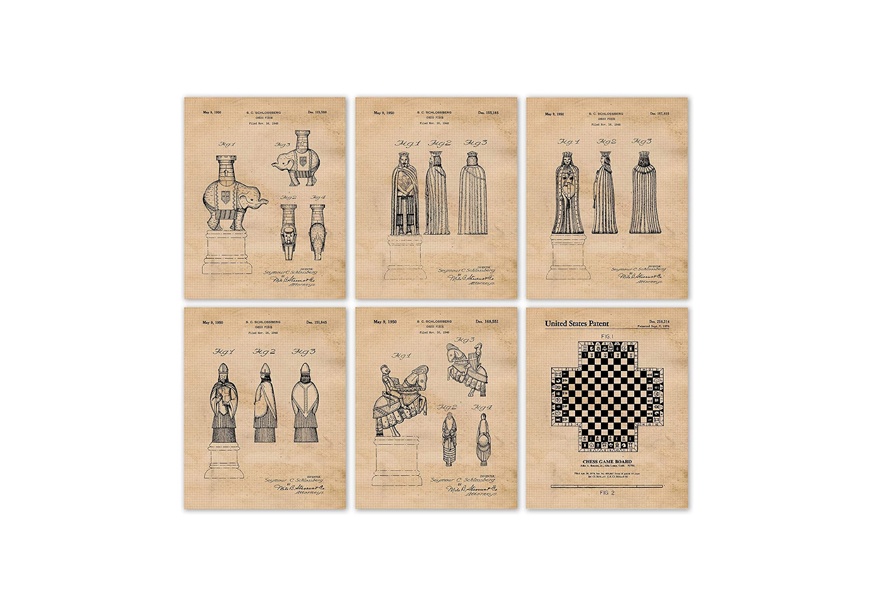 Give the gift of art, chess, and history combined with these STARS BY NATURE Vintage Chess Prints. The prints depict the origins and innovations of the pieces and chessboard. Add a vintage touch to your modern home; the images come unframed, so you can pick out frames that fit your loved one's style or let them find frames themselves.
In our opinion, dark frames would be a nice contrast against the yellowed vintage paper. Measuring 8″ x 10″, there will be no hassle finding frames that fit. They are printed on Fuji Crystal Archive Paper for a durable finish.
Key Features:
Printed on Fuji Crystal Archive Paper
Patented, detailed images
Unframed
8″ x 10″
Specification:
Brand

STARS BY NATURE

Weight

3.99 ounces
BoredKoalas Fathers Day Daddy Gifts Pillows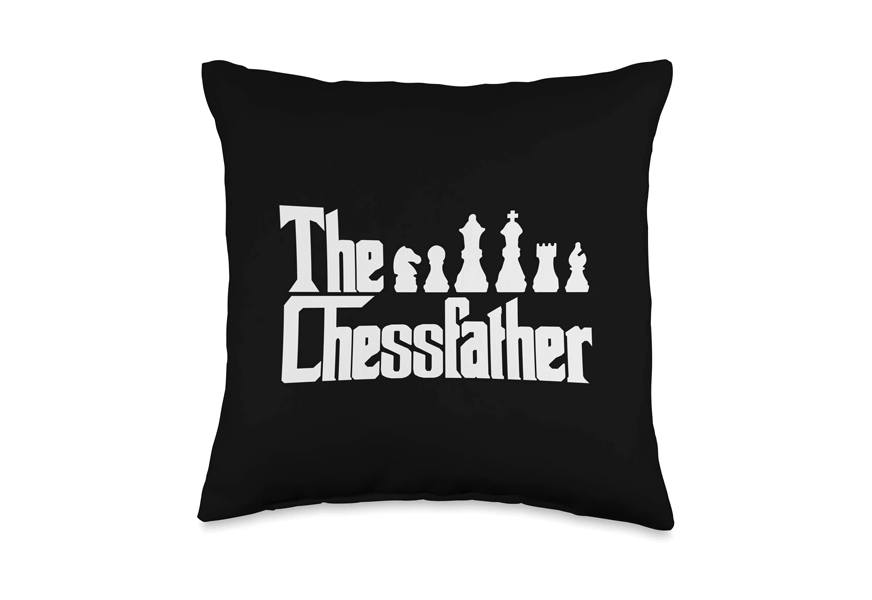 Put a spin on a classic movie with a classic game. If you're looking for customized chess gifts, consider BoredKoalas Fathers Day Daddy Gifts Pillows, which dubs your loved one "The Chessfather." The double-sided pillow is black with white font and is the standard 12 by 12-inch pillow. It is 100% spun polyester with polyester stuffing and sewn closed. Since it is sewn closed, the pillow can only be spot cleaned only. "The Chessfather" cool chess gift for any chess fanatic.
Key Features:
Polyester fabric
Double-sided
Standard 12×12″ throw pillow
Specification:
Brand

BoredKoalas Fathers Day Daddy Gifts Pillows

Model

T645K6EN6AFUS_16X16

Weight

1.1 pounds
Tyrion Lannister Chess Player Quote T-Shirt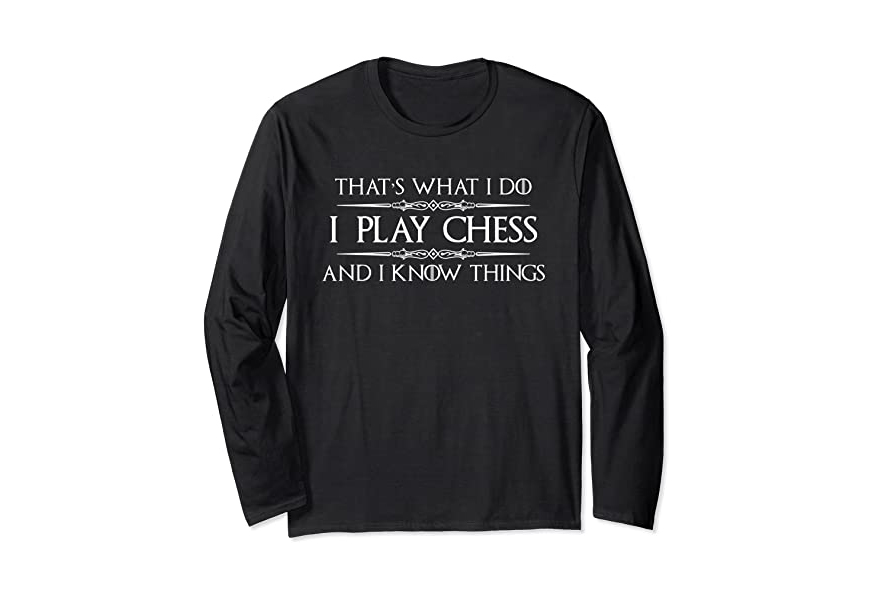 Tyrion Lannister has many infamous lines in the Game of Thrones series, but one of the most iconic is "That's what I do. I drink wine, and I know things." And if you have a loved one that is a Game of Thrones fan and a chess lover, this Tyrion Lannister Chess Player Quote T-Shirt is a gift for the best of both worlds. Instead of 'wine,' creators have replaced it with 'chess.'
At the rate Tyrion Lannister drinks wine, you'd assume he's no stranger on the block. Gifting this shirt is a great way to tell someone that their chess playing skills are second to no one — the ultimate compliment.
It is available in four colors, is 100% cotton material, and easy to care for in a cold machine wash. The long sleeve is lightweight and has a classic fit.
Key Features:
Long sleeve, classic fit
Cotton and Polyester materials
Unisex
Specification:
Brand

Chess Player Gear

Weight

8 ounces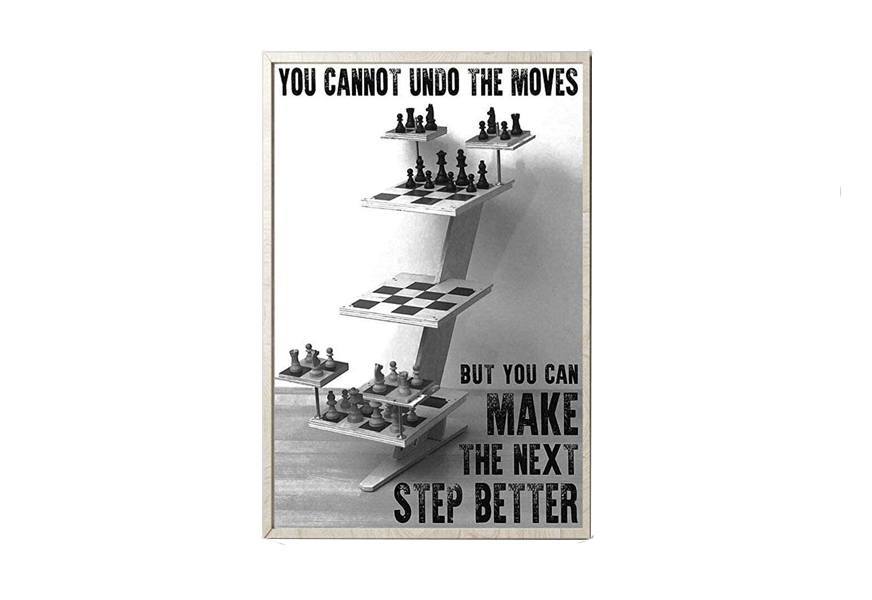 We've talked about the mental benefits of practicing and playing chess, but there's another lesson to be learned from Chess, and the Reindeer Chess Poster highlights it perfectly. "You cannot undo the moves, but you can make the next moves better" is another lifelong lesson. To not give up if something doesn't pan out how you anticipated and adapting to these circumstances put in front of you. Time only moves forward, and we cannot undo the decisions we make in life, but we can make our next moves different. The same is to be said in Chess.
The black and white poster is available in three different sizes. It is printed on an enhanced matte paper to decrease tears. A frame is not included, but if you have an empty frame, one of the standard sizes is bound to fit! The poster is a unique last-minute gift for chess lovers and is fit for any room in the house.
Key Features:
Three different sizes
USA made
No frame included
Printed on Enhanced Matte Paper
3dRose Eat Sleep Chess Mug
One never has too many coffee mugs, and coffee mugs make great gifts for anyone, not just chess lovers. But this particular mug by 3dRose is for a chess player. The 3dRose Eat, Sleep, Chess Mug is ceramic with a white finish and black accents. The 11-ounce mug is microwave safe, but to preserve the life motto printed on each side of the mug, hand washing the cup is best.
Key Features:
11oz capacity
Ceramic
Microwavable safe
Hand wash only
Specification:
Brand

3dRose

Model

mug_180389_4

Weight

12 ounces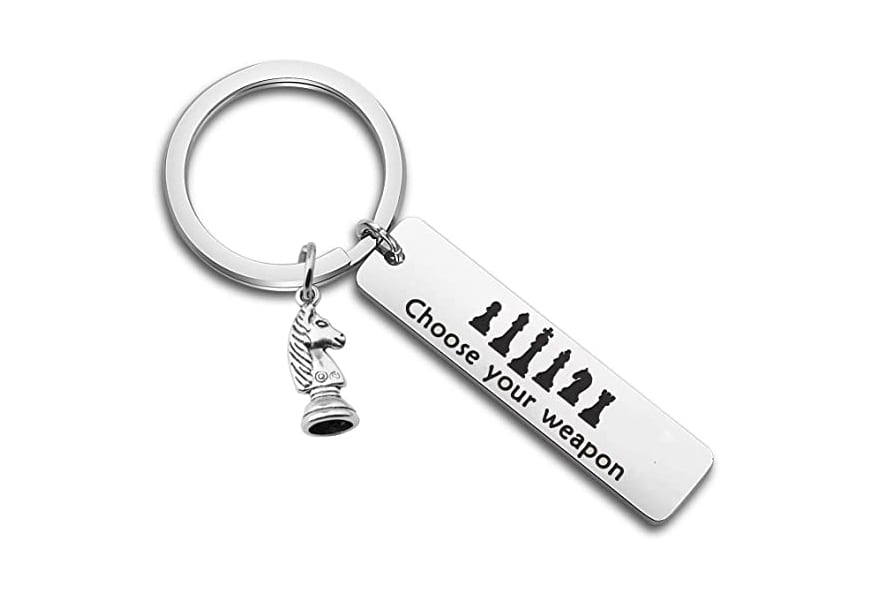 Since each chess piece has its own talents, each chess player probably has a favorite piece. Chess is a game of attack and defend, and to attack, you need a weapon. So, let's say, a favorite piece is a player's favorite weapon. And what perfect way to learn more about your chess lover than gift this SEIRAA Chess Keychain. Engraved on the keychain is the motif, "Choose Your Weapon," and a small knight charm. Hopefully, your chess lover will let you in on their weapon and tactics when you gift the keychain.
The keychain is stainless steel and is rust and tarnish resistant. The engraved pendant measures approximately 2 inches by 0.5 inches.
Key Features:
Stainless steel material
2×0.5 inches
Strong keyring
Additional small knight charm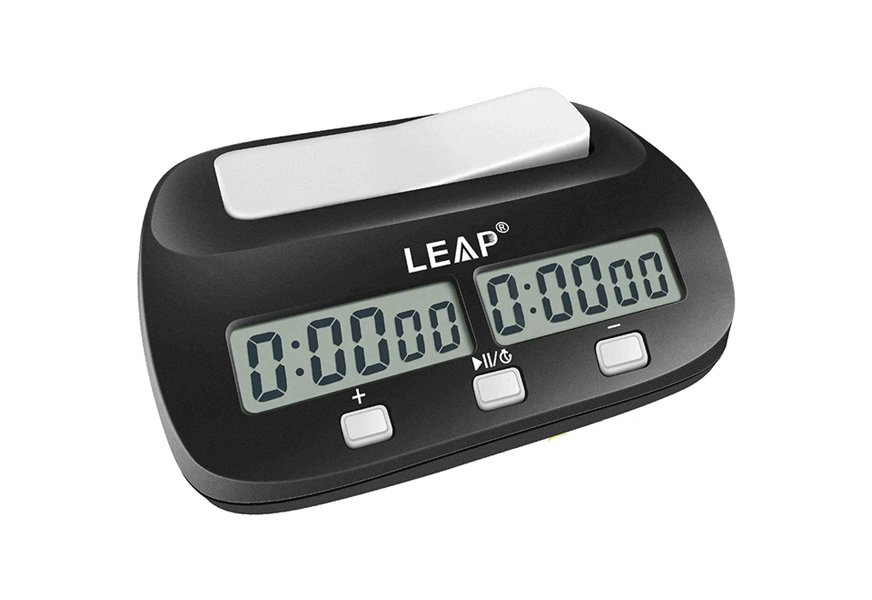 Every chess player needs a timer, and it's probably something they're not going to buy themselves, so a LEAP Digital Chess Timer will make a great birthday gift for chess lovers. With the easy-to-read LED displays and the large coating button, it's an ideal timer that won't draw your eyes away from the board for too long.
The timer has 30 pre-programmed time settings and has a 10-hour maximum playing time. It has a setting memory and is FIDE or International Chess Federation certified.
Key Features:
Two colorways
FIDE approved
AA battery powered
10-hour maximum
LED display
Specification:
Brand

LEAP

Model

chess

Weight

9.6 ounces
CRAFKART Chess Set Queen Spectacle Holder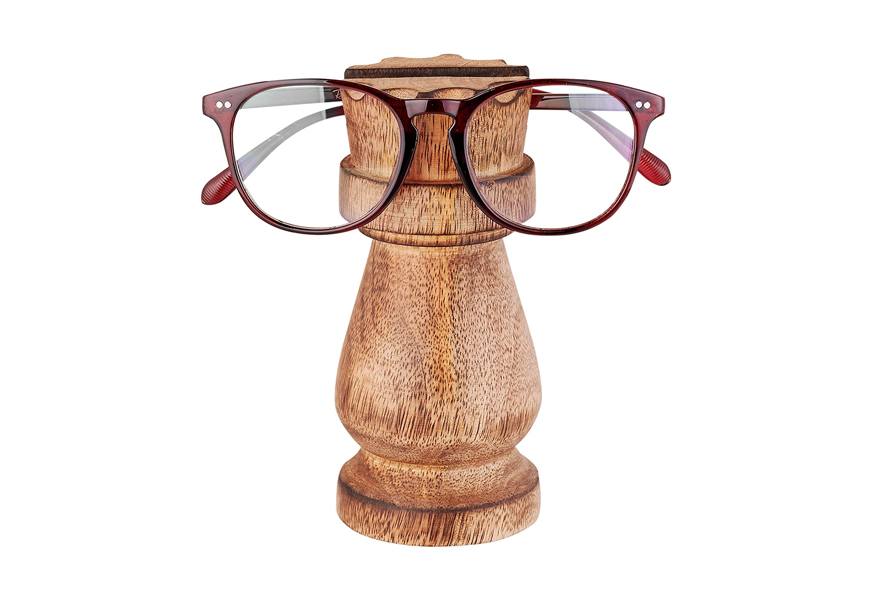 Life can't be all play. We wish it could, but sometimes the chessboard must be cleared, and work needs to be done. That doesn't mean the love of chess needs to cast aside. More than a few items made our list of unique chess gifts that would make great decor for your office. The CRAFKART Chess Set Queen Spectacle Holder is no exception.
The queen's crown is split into halves, and the legs of your folded glasses sit nicely into the split. The result looks like your queen chess piece wearing your reading glasses. The piece is of mango wood and measures 5 inches tall and 2.5 inches wide. The Queen Spectacle Holder, making it one of our most handsome gifts for chess lovers.
Key Features:
Mango wood
2.5 x 2.5 x 5 inches
King or Queen option
Specification:
Brand

CRAFKART

Weight

6.8 ounces
Xinxin International Chess Wall Clock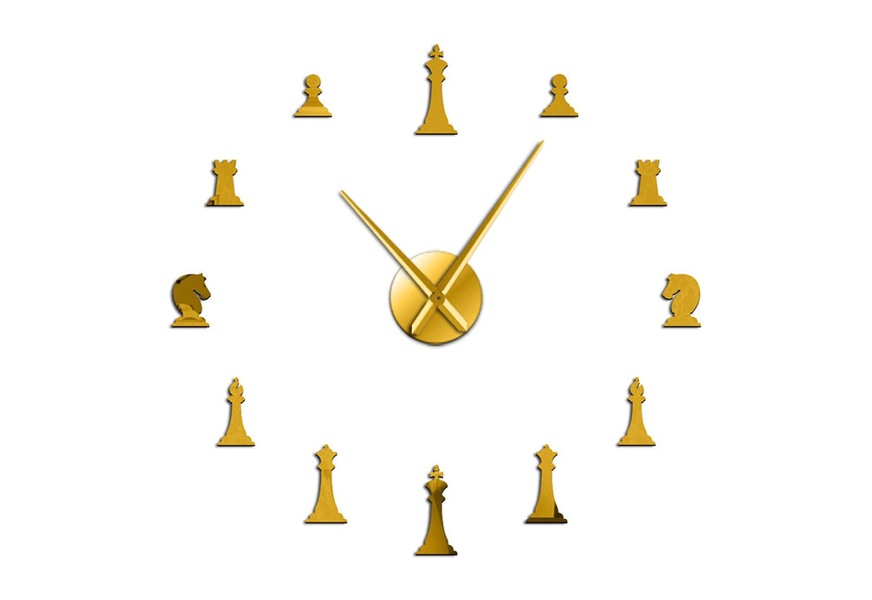 Is chess becoming sleek and stylish? Modern, even? With this Xinxin International Chess Wall Clock, it most certainly is. When chess originated, this wall clock would not have made an appearance.
Designed for a blank wall, the "pieces" or hour markers are self-adhesive and create a 3D appearance on your home wall. The clock movement is completely silent, and the quartz movement keeps accurate time. With both gold and silver acrylic available, the clock will match any home decor.
Key Features:
Gold or Silver options
Easy install
Silent movement
Quartz movement
3D wall effect
Sign Up Now
GET THE VERY BEST OF GEARHUNGRY STRAIGHT TO YOUR INBOX