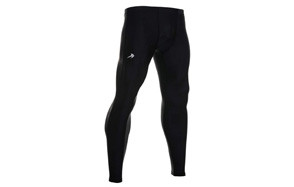 Men's Compression Yoga Pants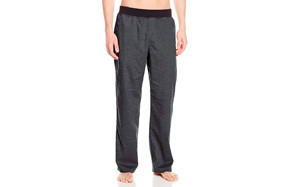 prAna Men's Vaha 32 Inseam Yoga Pants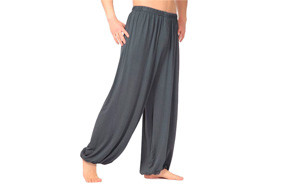 Hoarev Men's Super-Soft Modal Spandex Harem Yoga Pants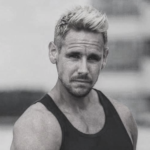 A good workout is great for your mind, body and soul and yoga has quickly gained popularity as a fantastic exercise routine that strengthens core muscles and gives us a general sense of well-being. Yoga involves an incredible amount of bending and stretching so wearing the right clothes is a top priority. One of the most important items of clothing you need if you intend on practicing yoga is a good pair of yoga pants.
There are so many options of pants available online and in stores so choosing the best yoga pants for men can prove to be a difficult decision. There are a number of factors to consider when choosing a great pair of yoga pants such at the cut, style and type of material used in production. We've looked at dozens of yoga pants and put together a list that we think will give you lots of comfort and flexibility so you can get the best out of your yoga routine.
The Best Yoga Pants
Yoga Pants Buying Guide and FAQs
How We Chose Our Selection of Yoga Pants for Men
Brand – We chose our selection of yoga pants for men from brand names that specialize in producing sportswear. These manufacturers always look at new technologies in the materials used for sporting apparel. When it comes to yoga pants, we specifically looked for brands that understand the necessity for quality, freedom of movement and reliability.
Material – There are generally three types of materials that are used in the production of yoga pants and they are cotton, synthetic or a blend of the two. Cotton being a natural fiber is very breathable and is soft to the touch. Synthetics such as Lycra and spandex have sweat wicking properties and they tend to keep their shape for much longer. The cotton-synthetic blends tend to embody the best qualities of both making the garment comfortable, yet durable. We looked at fabrics that would allow for a transition from one yoga pose to another with ease. The wearer should always be focusing on the exercise, and not on the fabric.
Quality - Yoga clothes are put through a lot of bending and stretching and for regular yogis this will equate to a considerable amount of wear and tear. That is why quality is of the utmost importance when choosing yoga pants. You want something that will not lose its shape and would not scuff so easily despite the fact that the pants will most likely see hundreds of yoga routines and washing cycles.
Reviews – The customer experience is always one of the best ways to narrow down the selection process and this also applies when looking at the best yoga clothes for men. We don't usually get the opportunity to try before we buy so it's hard to determine which ones are good and which ones are not so good. By checking reviews from ordinary we can get a reasonably honest idea and an unbiased view of how a product looks feels and functions, particularly in a yoga routine.
Price – Our main criteria when it comes to the price of yoga pants for men is to ensure there is something for every budget. At the same time, you're not exactly going to be making a fashion statement in your yoga gear so the look, while still important, isn't on the top of the list. We looked at prices that reflect the quality of the garments and the key features so you can be sure you are getting value for your money, regardless of the price.

Features to Look For In Yoga Pants
Fit - When it comes to any type of physical activity, the fit of the clothing is crucial. When it comes to choosing a men's yoga outfit, particularly the pants, you want something that fits well around the waist without being too tight. The rest of the fit comes down to personal choice. Some yogis prefer loose pants that are not restrictive in any way, while other opt for leggings that are just as comfortable but also offer a little support. The waistband, in particular, needs to fit snugly around the waist so that the pants will not slip down during a yoga routine.
Versatility - Today we can get specialized clothing for everything we do, but that doesn't mean we need or want to wear a particular garment exclusively for that purpose. When it comes to yoga pants it's great when you can wear them for other uses as well. Men's light yoga pants are a perfect example. These pants give you complete freedom of movement during your yoga routine but are also great for lounging around the house because they are so comfortable. Similarly, a lot of the leggings style yoga pants are quite versatile and can be worn for other sporting activities. This versatility means you will definitely get a lot of good use out of your purchase.
Pockets - Most people have the tendency to stash a lot of their everyday items into their pockets. It's convenient and eliminates the necessity for carrying bags or satchels. For that reason a lot of men's yoga wear also features pockets. Of course, this comes down to personal choice. Some people like their workout gear to have pockets, others don't. One thing to remember when it comes to your yoga routine is that with or without pockets, you can't have personal items like phones, keys, etc. stuffed in your pockets during the actual routine because it will cause discomfort and be quite distracting.
Compression - Many athletes have become advocates of compression clothing and we can often see a compression garment underneath the shorts of footballers or on the arm of basketball players. The main purpose of compression style clothing is to support the muscles and joints during physical activity, whether it's in competition or not. This compression clothing is now also prominently featured in men's workout tights. Not only do compression tights give a great deal of support to the joints and muscles, but they also improve circulation and help with post-workout recovery.
Features - Women have long enjoyed a variety of great features in yoga gear and male yoga clothes have finally caught up with this trend. The main features to look for in a pair of yoga pants is the quality and types of material used. Are you looking for something solely for comfort or do you want a pair of yoga pants with breathable, moisture wicking properties. Compression is also a feature do consider and, of course, the choice of loose or tight fitting pants. The width of the waistband and cuffs is also an important comfort feature, as is the type of stitching.

Things to Avoid In Yoga Pants
One of the first things to avoid is overly tight yoga pants. An effective yoga routine requires fluid, natural movements and a lot of stretching. If your yoga pants are too tight the movements will be very limited and uncomfortable. It will also result in limiting your circulation which can cause a whole lot of problems.
Another thing you need to avoid is a transparent material. It's not a really good look if the people behind you can literally see right through your yoga pants. The best yoga pants are never transparent so you don't need to worry about displaying anything inappropriate. The transparent material is also an indication of a poor quality imitation product which should always be avoided.
Avoid yoga pants that are too low cut in the waist. When you are bending and stretching, low cut pants will tend to bunch and start to slide down your waist. This means, after almost every change of position you will need to pull up your pants which is annoying and distracting. Pants that are too low cut can also produce the dreaded muffin top look, particularly if they are a little tight.
You should also steer clear of cheap, synthetic materials that don't allow your skin to breathe. Sweating is inevitable during a workout and if your yoga pants stick cloyingly to your skin you will feel extremely uncomfortable and you'll literally be soaked by the end of your routine. Synthetic materials are fine, as long as they allow your skin to breathe.

Yoga Pants FAQs
Q: What Are Yoga Pants?
A: Yoga pants are essentially pants that have been designed to be worn during yoga practice and other physical activities that require a lot of movement and stretching. Yoga pants are typically worn during exercise or other sporting activities, however, they have gained a lot of popularity as leisure wear as well. The materials used in the production of yoga pants are natural fibers such as cotton, synthetic fibers or blends of the two.
Q: What to Wear To Yoga Classes?
A: If you're relatively new to practicing yoga than knowing what to wear can be tricky. However, you don't actually need much to attend a yoga class. What you do need is a good pair of yoga pants. Loose or form-fitting, it is entirely up to you. The main thing is to choose what is the most comfortable for you. Alternatively, you may prefer to wear yoga shorts. The key is to find bottoms that give you freedom of movement and allow sweat to wick away. Comfort and flexibility should always be your top priority.
Up top, you can choose between a t-shirt or a tank top. If you choose a t-shirt you need one that is loose, but not too loose. You don't want it swimming around your torso hindering your stretches. Choose a light cotton t-shirt that naturally absorbs sweat, yet lets your skin breathe. If you prefer tank or sleeveless tops, these can be a little more form fitting as your arms will be completely free. Manufacturers of yoga apparel have included breathable materials in their tops as well as bottoms so you may even be able to get yourself a matching set.
You don't need shoes or a tracksuit jacket or top for your workout. However, you will need shoes to get to the class and depending on the weather, you may need a tracksuit top or hoodie to wear before and after your class. Also, bring a towel with you and a bottle of water.

Q: What Is The Difference Between Yoga Pants And Regular Trainers?
A: Regular trainers or sweatpants are great for exercising in but they are not so great to wear during a yoga session. Most sweatpants come with a drawstring and are quite loose, which is not very comfortable for yoga. The material is usually thicker as well which may hinder your ability to move through many of the yoga poses, particularly where a lot of stretching is involved. The overall cut and fit of sweatpants has been designed for the type of exercises you see on a treadmill or running track.
Yoga leggings or pants, on the other hand, are made of lighter materials and are generally form fitting to allow more natural body movements we commonly see in yoga. Good yoga pants allow you to stretch out at any angle to get the full benefits of the stretches. The materials used have a considerable amount of elasticity for greater flexibility and are breathable so you remain comfortable for the duration of your routine.
Q: How Often Should I Wash My Yoga Pants?
A: You've come home from yoga class and your black yoga pants don't look dirty. Do you wear them once or twice more, or do you throw them in the wash? When it comes to your yoga pants, think of what you did in them. You participated in a rigorous routine and you got quite sweaty. That sweat has now permeated into your workout clothes, including your yoga pants and now the microbes in your sweat are multiplying within the folds of your pants.
You really need to wash your yoga pants after every use. If your pants are synthetic or a cotton-synthetic blend, they will already be a little on the nose as these tend to absorb smells. These types of yoga pants need to be washed after every use using a mild detergent and a cold washing program. If your pants are cotton, you can wash them in the same way, but a higher washing temperature can be used. Either way, good hygiene should be observed and you need to keep your pants fresh and clean for your health and the life of your yoga pants.
Conclusion
If you're serious about practicing yoga then the right pair of yoga pants is an essential part of your gear. Comfort is the most important factor when choosing yoga pants so that your focus is on the proper alignment of your body during the various stretches and poses. You also want to look at the materials using in manufacturing. The fabric should be lightweight, breathable and easy to keep clean.
Whether you choose loose or form-fitting yoga pants, the main thing is to enjoy your routine and get the most out of your workout. If you've chosen wisely from our list, you will have chosen a comfortable and good quality pair of pants that you'll barely notice giving you the freedom to move with fluid like motions and immerse yourself completely into your yoga class.