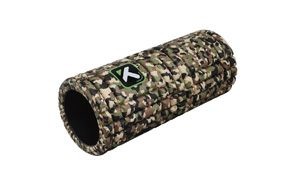 TriggerPoint GRID Foam Roller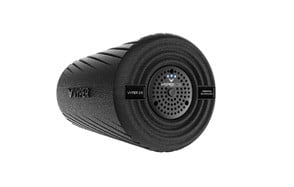 Hyperice Vyper Vibrating Fitness Foam Roller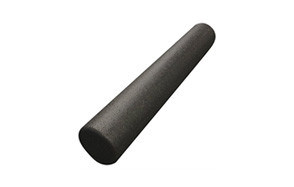 LuxFit Premium High Density Foam Roller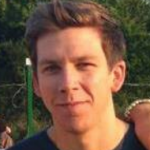 There was a time when foam rolling (also known as "self-myofascial release") was the exclusive domain of pro athletes and physical therapists. In recent years however foam rolling – and by extension foam rollers – have emerged from the trainer's room and been adopted by health conscious individuals everywhere. This outstanding type of self-serve physical therapy is used to facilitate various forms of exercise, to relieve muscle tightness and to aid in muscle recovery following workouts or sports injury. Below are the 12 best foam rollers on the market today.
The Best Foam Roller
Foam Roller Buyer's Guide
How We Chose Our Selection of Foam rollers:
Quality - The quality of a foam roller is largely a subjective matter, yet we still search for objective criteria by which to judge. As such we look primarily at foam roller benefits as well as objective qualities of firmness, comfort, noise levels, versatility and durability.
Price - While we take price into consideration when selecting the best foam rollers we're far more concerned with value. A cheap roller that performs well and lasts a long time is, in our considered opinion, a better value than an expensive roller that loses its integrity after a month of use. 

Features To Look For In Foam Rollers:
Size - 36 inch foam rollers are typically used on large areas of the body like the torso, (specifically the back), the hamstrings and the quads. For calves, arms, neck and even feet most folks will use a smaller roller; something 18 or perhaps 24 inches wide. As for diameter, the majority of foam rollers are 5 to 6 inches across. This is fine for most people but others who may be more diminutive typically find a 6 inch roller to be a bit much. Not to worry though. Smaller diameter rollers are available, including the Original Tiger Tail Massage Stick profiled above.
Firmness - The firmness of a foam roller equates to its ability to penetrate deep into the muscle to work out knots and alleviate stiff joints. Low-density rollers will provide the least penetration and are typically employed to achieve effects roughly equivalent to a spa massage. While high-density rollers are used to work the muscle aggressively in order to obtain relief from deep seeded tightness. They are, in effect, the rough equivalent to a traditional Thai massage. Meanwhile medium-density rollers are soft enough to provide some low impact relaxation but stiff enough to smooth out more stubborn rough spots if you encounter them.
Shape - Foam rollers come in a few different shapes. There are half-round rollers that are basically the standard round roller cut in half lengthwise. These are used to massage the arches of the feet and to supply support for various types of leg stretches. Then there are roller sticks like the Tiger Tail we just mentioned. These allow for more precise control. And then there are standard foam rollers that make up the bulk of the products on our list. These are simple in concept and have wide ranging applications for the entire body.
Texture - When it comes to foam rollers most people start with smooth surface rollers. These are low impact and allow for the more or less even distribution of pressure across the targeted area. Smooth rollers also have the advantage of being a bit cheaper (not that any foam rollers are going to break your bank). Textured foam rollers are usually preferred by foam roller veterans who, after much roller experience, understand exactly what works and what doesn't. They then choose a textured roller to target specific areas they felt were underserved by smooth rollers. Often experienced rollers will have several different kinds of rollers at the ready, including ones with various kinds of textured surfaces.
Durability - Most of the best foam rollers are extremely durable. Even the standard polyurethane roller should last a good long time even with frequent use. Still, if durability is a specific priority for you, you might want to consider one made of EVA foam.
Types of Foam Rollers:
Low-density foam rollers - The standard medium-density foam roller is sometimes a little too firm for a person who is new to this type of muscle therapy. In those cases it's often a good idea to go with a low-density sponge roller until you get used to the concept, the feel and become adept at manipulating the device. Low-density rollers are good for alleviating soreness after a workout or to achieve an overall sense of relaxation at the end of a long day.
Medium-density foam roller - Medium-density foam rollers are considered standard because they have the widest number of applications. They can be gentle if you like or you can apply more pressure and really let them dig in. Anyone serious about using foam rollers to obtain muscle relief should have at least one in their closet or gym bag.
High-density foam rollers - High-density rollers are commonly used by pro athletes, trainers, massage therapists and others who are adept at manipulating rollers to obtain specific results. You should know what you're doing before diving in with a high density roller or you may be put off by the stiffness. High-density rollers are typically made of EVA foam which has excellent tensile strength and is quite durable.
Short foam rollers - You will have noticed when reading through the above list that many rollers are available in a variety of lengths. When choosing a roller for yourself you'll want to keep the length in mind. A short roller will fit easily into most gym bags. As such it can be brought, for example, to the starting line of the race to help you loosen up before the gun. Longer rollers will be harder to tote around and so are normally found in health clubs or home gyms.
Bumpy foam rollers - Bumpy or textured foam rollers attempt to mimic the hands of the masseuse. They can have knobs that imitate fingers, flat areas that imitate palms and/or ridges that emulate the side of the hand or knuckles. Learning how to make the most of textured surfaces will take time but most roller vets will tell you it's worth it.
Foam Roller FAQs
Q: What are foam rollers?
A: A foam roller is a combination exercise and therapeutic device that provides the user with a variety of applications related to the muscular system. They come in a variety of shapes and sizes as noted above and may be used to facilitate a specific exercise or work out knots, muscle cramps, stiff joints or problem areas known as "trigger points". The process of working one's muscles in such a way is called "myofascial release".
Q: What are foam rollers used for?
A: Foam rollers are used in stability exercises, to relieve muscle aches and pains and to help recover from sports injury. Foam rollers are one of the most effective ways yet devised to relieve muscle tension, alleviate stress and restore flexibility. They are also widely used to augment exercise routines and are a common fixture in Pilates and yoga classes. In such settings rollers are used to produce a type of physical instability that demands a response from the body's core. This response typically leads to strengthening of the muscles and an increase in overall flexibility.
Q: How to use foam rollers?
A: Foam rollers have many different potential applications. The following tips will help you make the most of their therapeutic possibilities.
Position the foam roller under the area you wish to treat.
Make sure you are properly balanced and roll the affected area back and forth over the roller.
Typically you'll want to work from the center of the area outward.
Hold your position when the roller hits a particularly tight or troublesome area. When you feel the area soften, move on.
Roll over each affected area until it feels relaxed and loose.
Try to avoid rolling directly over joints or bones.

Q: How often and for how long should you use it?
A: Use a foam roller when you are experiencing muscle stiffness or if you want to warm your muscles up a bit before working out. You should avoid using the foam roller every day, particularly when you are just starting out. Keep your first session short and low impact. Perhaps no longer than 15 minutes each. As time goes by you can gradually increase the length of your sessions and begin using a higher density roller.
Q: Is it normal for the foam roller to feel painful when using it?
A: Foam roller exercises and therapy sessions can increase muscle strength or provide comprehensive relief from muscle tension and stiff joints. However, just as a deep penetrating massage can be painful at times so too can a foam roller session. You should not be concerned about experiencing a bit of discomfort or even pain, as long as that pain doesn't have you in tears. While the session itself may produce discomfort you should end up feeling loose and relaxed and any pain should dissipate quickly. If pain persists after your session or even worsens stop using the device and contact your doctor.