Beat The Heat With The Best Cooling Towels In 2022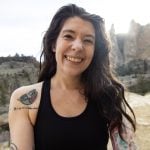 This product guide was written by Tuesday Kirby Kahl
Last Updated
April 13, 2022
Tuesday Kirby Kahl
Tuesday Kirby Kahl is a contributor at Gear Hungry. Her fierce love for the outdoors fuels everything she does. Her professional pursuits include writing, creating art, and photography. These professional passions allow her the time to live life outside as a rock climber, skier, runner, backpacker, paddle boarder, swimmer, and explorer. When Kirby is indoors, she enjoys tea, whisky, old films, cooking, and baking. Her product testing and feedback have shaped the design of everything from climbing shoes to candles.
GearHungry may earn a small commission from affiliate links in this article.
Learn more
If you're a dedicated runner, chances are, you already know what a cooling towel is and probably never leave home for a long summer run without one. For the rest of our readers, you will no doubt have seen your favorite tennis player or golfer nonchalantly wrapping one around their neck in an attempt to stop them from getting too hot under the collar.
Affordable and portable, the best cooling towels will keep your core temperature down for at least a couple of hours no matter what you're doing. They're perfect to have on hand when you're working outside, running, cycling, playing tennis, or hiking. They're super-simple to use as well: usually made of microfiber or polyvinyl acetate (PVA), all you have to do is wet them, wring them out, and snap them a couple of times to activate the cooling tech.
Without further ado, here are our favorite cooling towels for sweaty workouts, bike rides, outside work, and more. They come in a variety of sizes and colors, so you're guaranteed to find one or two to your liking!
The Best Cooling Towel
Mission Original Cooling Towel
The Mission Enduracool Microfiber Cooling Towel is one of the best cooling towels around and by the time we are done rambling, you will see why. For one, it's very affordable and comes in an array of unique colors. Most (up to 90%) of this cooling towel's material is made of polyester which means it is stretchy and flexible, and the remaining 10% of its material is nylon – the blend of these two fabrics is processed into long-lasting brushed microfibers using the best technology, leaving an end product that is soft and smooth.
Like all microfiber towels, this one too is machine-washable and can be reused over and over again, offering cooling relief around your neck or any other body part for that matter. Whether you are on vacation on a tropical island, hosting a barbeque, are a fitness enthusiast or an athlete, work under the sun, or are attending a festival, this handy towel is the key to staying refreshed. Irrespective of the amount of sweat you work up, this bad boy can bring your temperature down in less than half a minute. Best of all, when activated with water, it chills to 30 degrees below average body temperature in just 30 seconds. The cooling relief begins instantly and can last for up to two hours.
Key Features:
90% polyester, 10% nylon
Activates in ~ 30 seconds
Stays cool for up to 2 hours
UPF 50 protection
Specification:
Brand

Mission

Model

107166-P

Weight

7.8 Ounces
The Alfamo Cooling Towel is made of lightweight, pliable and silky soft material that not only improves its breathability but also makes it foldable – perfect for a travel pack or gym bag, irrespective of the size you buy. Speaking of size, what you want to use your towel for should determine the size you buy as far as the Alfamo is concerned. The available sizes are small, medium, large and extra-large. The smallest available size measures 33 x 11 inches, and the largest is 60 x 29 inches. Depending on the size you go for, it is perfect for use during hot flashes, as a golf club head cover, or when you're working or exercising outside, all while enjoying its great cooling effect which can last up to three hours without reactivation.
It can be used for post-surgery cold therapies or if you catch a fever as it decreases your temperature up to 30 degrees almost instantaneously. And if you like to spend time outdoors under the sun, this towel is for you as it also provides UPF 50 sun protection.
Key Features:
45% polyester, 55% polyamide
Stays cool for up to three hours
UPF 50 protection
Comes with a carrying pouch
Chill Pal PVA Cooling Towel
The Chill Pal PVA Cooling Towel offers all the same great cooling comfort but in brand new packaging. Gone is the hard plastic tube design and instead this multi-purpose and versatile towel is presented in a handy carry pouch for even more convenience and portability. This option is one of the best around and comes in one handy size measuring 32 x 12 inches. The Chill Pal also happens to be thicker than many of the other PVA towels available today. That means that it can deliver a longer-lasting cooling effect even in the hottest of hot weather. No complicated instructions to follow in order to activate your Chill Pal, simply soak it in cold water, wring out the excess moisture, give it a quick "snap" and it's ready to wear around your neck.
Perfect for keeping you cool while you are gardening, hunting, fishing or hiking. Manufactured from high-quality, extra-thick PVA, it retains water and moisture for longer which means the cooling effect also lasts for longer. Durable, reliable and designed to deliver instant relief. If you are looking to upgrade your gym equipment, then make sure you read our our gym shorts review.
Key Features:
95% polyvinyl alcohol, 5% polyester
Stays cold for several hours
One size – 32 x 12 inches
Carrying pouch included
Specification:
Brand

Chill Pal

Weight

7.2 Ounces
Tough Outfitters Cooling Towel
As one of the best cooling towels, the Tough Outfitters Cooling Towel's primary purpose is to provide a refreshing cooling experience as soon as you activate it, which it does. But beyond that, this towel also helps protect your neck from ultraviolet rays which makes it ideal for activities that take place under direct sunlight (still, don't forget your sunscreen!).
This towel can keep your skin protected and refreshed for several hours thanks to the hyper-evaporative cooling and absorbent mesh fabric it is made from. This enables it to absorb moisture and retain it for as long as possible, depending on the environmental humidity in the surrounding air. What's more, the breathability of its microfiber mesh materials prevents the growth of odor-causing bacteria and mold on it, reducing the chances of it smelling funky. It comes in only one size (38.5in x 12 inches), but it is big enough to work just fine regardless of the size of your neck. Like many other good cooling towels, Tough Outfitters cooling towel is extremely easy to use. Simply wet it with cold water for about a minute, bring it out and twist it to get excess water out, and then give it a tap. It will cool you down as the water evaporates.
Key Features:
Polyamide/polyester blend
UPF 50 sun protection
Cooling lasts up to two hours
Small and compact design
The Frogg Toggs Chilly Pad is all about the ability to stay cool no matter how hot and bothered you might get. When wet, the Chilly pad works to very quickly and effectively deliver a burst of much-needed cooling during yard work, while playing golf, cycling, hiking and more. Whether you've worked up a sweat in your home gym, during a hot yoga class or on a challenging cycle, you can count on this cooling towel to deliver instant relief while allowing you to exercise longer.
You can store your Frogg Toggs Chilly Pad cooling towel in the fridge so that it's ready to grab and go next time your head out for a grueling run in the scorching sun. It's the perfect size to wear over your shoulders and around your neck. When you get this towel dirty, your can hand wash it with warm water and a mild detergent, or better yet toss it in your washing machine.
Key Features:
Hyper-evaporative synthetic material
Reinforced with internal mesh to last for years
Cools as long as it remains wet
UPF 50 sun protection
Specification:
Brand

Frogg Toggs

Model

MGT910-LIME

Weight

5.6 Ounces
SYourself Instant Cooling Towel
For instant cooling relief on the spot and on the go, this SYourself towel is a great choice. It quickly gets to work cooling you down, lowering your body temperature and the cooling effects of the towel when activated can last for hours. All you need to do is soak with cold water, wring, snap and repeat to have hours of chilling refreshment for you or even for your pet! Dogs get hot on a summer's day too and yours will love you all the more for keeping them cool with the right cooling towel when they literally start to get too hot under the collar.
This towel is soft and gentle and comes in a wide range of attractive colors. At 40 x 12 inches, it should be large enough to meet all your needs yet still a good size for traveling with. Use it as a towel, a neck scarf, headband, or even a bandana. It's certified eco-friendly too so good for you and for the environment. Perfect for all you outdoors adventuring folks, make sure to wrap your SYourself cooling towel around your neck next time you head out on a run, bike ride or for a long weekend hike.
Key Features:
Microfiber reusable towel
Comes with a waterproof portable pouch
Stays cool for up to three hours
Portable pouch included
Specification:
Brand

SYOURSELF

Model

SYNCHKG128964

Weight

2.4 Ounces
Ergodyne Chill It's 6602 Evaporative Cooling Towel
Made from a highly evaporative PVA material, the Chill-Its 6602 provides cooling relief for up to four hours, making it ideal for outdoor workers. Fight heat and fatigue and keep yourself very much in the game with this cool towel around your neck. Like many cooling towels (and certainly all cooling towels in this guide!), this one too is 100% reusable and machine washable. However, if you wish to prevent color bleed for as long as possible, we suggest washing it by hand in warm water. Whatever way you choose to wash this towel, make sure you air dry it.
To activate it, all you need to do is run the towel under water for about one minute, wring out the excess moisture, and snap it a couple of times. The results last for hours and you can use it for all kinds of outdoor chores, indoor sports, active pursuits, and generally just any time you need to cool down a notch or two.
Key Features:
Evaporative PVA material
One single soak can last up to four hours
Machine washable and treated with antimicrobial agents
Comes in a plastic tubing container
Specification:
Brand

Ergodyne

Model

6602

Weight

6.4 Ounces
Chill Pal Mesh Cooling Towel
Stay cooler for longer with this cooling towel from Chill Pal. Made from polyester mesh, this towel is a great way to keep the heat at bay when you are out and about doing all of the activities that you love. It's thinner, comfier and more breathable than most cooling towels so it does a good job letting the air circulate while it cools you. If you like to golf, run, hike or bike then this is the perfect cooling towel as it's compact and portable, and comes with a carry pouch so you can toss it in your golf bag or backpack.
The Chill Pal mesh fabric is soft against the skin but has superior built-in evaporative technology that helps to keep the cloth cooler for longer. Easy to carry, easy to use and easy to maintain for ongoing on-the-spot heat relief. Purchase several for yourself and your friends and family this summer!
Key Features:
100% polyester mesh
Soft, light and comfortable on the skin
Stays cool for hours
Comes with a carry pouch
Specification:
Brand

Chill Pal

Weight

2.4 Ounces
Way 2 Cool Mesh Cooling Towel
Measuring 38 x 12 inches, the Way 2 Cool is the perfect towel to pop in your gym or golf bag to provide on-the-spot instant relief when you need it the most. The perfect choice for anyone who likes to keep active and wants to stay chilled! Whether you are participating in a sports activity or like to garden, a cooling microfiber towel like this one is a genius way to bring your temperature quickly down when you are working up a sweat.
Way 2 Cool Mesh Towel also provides that all-important UPF 50+ sun protection, making it great for outdoor sports and activities. Its unique mesh design makes it breathable, comfortable and very lightweight so you can embrace the towel's cooling properties without making your pack too heavy. Available in all the colors of the rainbow, there's a cooling towel that's just right for you.
Key Features:
Microfiber, mesh towel
Stays chilled for several hours
Offers UPF 50 sun protection
100% money-back guarantee
Specification:
Brand

Way 2 Cool

Weight

2.2 Ounces
Way 2 Cool Microfiber Cooling Towel
Using Way 2 Cool Microfiber Cooling Towel couldn't be easier: all you need to do is soak it, ring it, wrap it, then re-wet it. It retains water like a dream keeping you cool and fresh when you need it the most. Importantly, even when soaked, it doesn't pass water to anything else, so your clothes will be safe.
This convenient towel is also incredibly soft so it won't irritate your skin when it is around your neck even when you wear it for several hours. It comes with UPF 50+ sun protection and has a supreme level of absorbency which makes it great at holding water for maximum cooling effect. Perfect for when you've worked up a sweat but also gentle enough for you to use on babies and pets too. Be sure to follow the care instructions for the maximum lifetime of your towel.
Key Features:
Microfiber hyper-evaporative composition
Guaranteed to dry soft so that its always comfortable
Super absorbent with the highest level of water retention
UPF 50 sun protection
Specification:
Brand

Way 2 Cool

Weight

4.8 Ounces
Why Trust Us
Having grown up under the hot, hot Texas sun, you have to come up with a lot of ways to cool down. Temperatures over 100 degrees are common there six months out of the year and southerners are pros at beating the heat. Cooling towels are one option we've used to keep our body temperature down and get through walks and outdoor activities under the blinding summer sun.
Who This Is For
This guide is for anyone looking for a cooling towel for outdoor activities, hikes, dealing with hot weather or for general cooling relief anytime your body temperature soars.
How We Picked
Selecting a group of the best cooling towels was a matter of first considering all the common user groups and making sure we had plenty of variety in our options. From there we looked for the best cooling towel for sports, golf, outdoor workers, and more!
Features To Look For In Cooling Towels
To make sure your new cooling towel remains chilled for a long time, is protective, and easy to keep clean, it's a good idea to pay attention to the following things.
Material - Good-quality cooling towels should be made from hyper evaporative material that is absorbent and can remain cool for at least an hour or two. PVA (polyvinyl acetate) is a great choice because while highly absorbent, it remains dry to touch when wet. It also remains cold for several hours.
Another great material for a cooling towel is microfiber mesh. While it usually won't remain as cool for as long as a PVA towel, a microfiber cooling towel still remains reliably chill for a good amount of time. It's also much softer and often more breathable than most PVA towels. On the other hand, many microfiber towels won't remain dry to touch when soaked. Still, a quality one shouldn't soak your clothing.
Size - When it comes to cooling towels, bigger is not always better. If you need something chilled for your neck or head, go with a smaller towel as it's easier to fold up and pack. However, if you want something for your yoga mat for example, or a towel that you can wrap around your waist or even your entire body, look for larger towels, ideally made from PVA.
SPF protection - If you're going to use your towel outside, we highly recommend opting for one with a high ultraviolet protection factor (or UPF for short). UPF 50 is plenty because it blocks 98% of UV rays or allows just 1/50th of the V rays to pass through it. Of course, for maximum UV protection, you should still apply your regular SPF!
Care - Finally, pay attention to the care instructions. Like all towels, cooling towels do get dirty and if you're going to use yours while working outside, it's bound to get dirty fast. Thankfully, most cooling towels can be machine washed on a gentle cycle.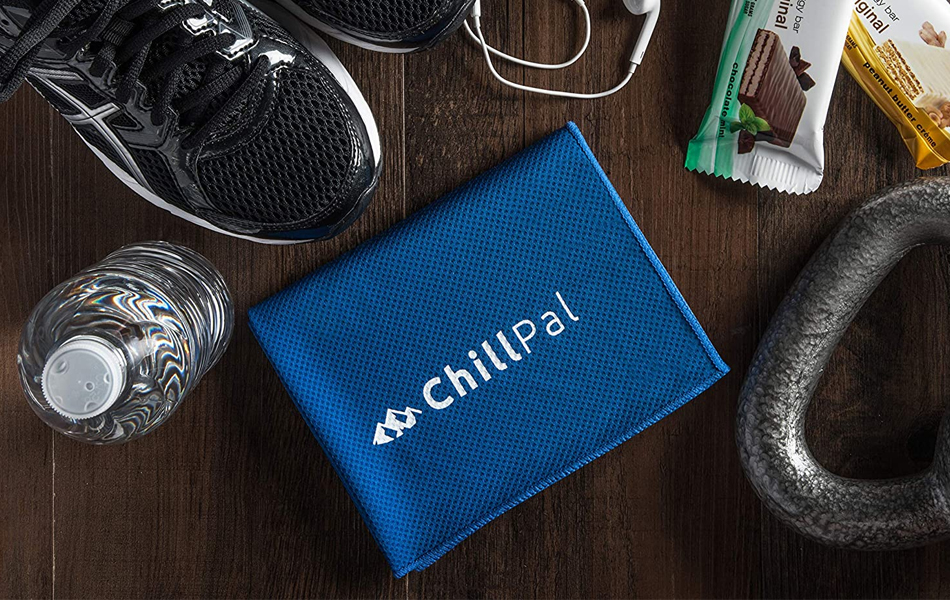 Cooling Towel FAQ
Q: What are cooling towels?
A: A cooling towel is more like a cold compress rather than a full-on bath towel: functional rather than fluffy! Typically extremely affordable, a cooling towel is designed to keep you cool when the temperature soars and is best used around the neck to bring some instant relief. Whereas with a normal towel you might just be able to wipe away the sweat from physical exertion, a cooling towel can be dampened to bring more targeted and effective relief.
You might also have heard them referred to as "snap towels". That's because to activate it, you need to dampen the towel with water, wring it out, then "snap" it to circulate air through it. Rather than just drying you off, a cooling towel will help to bring your temperature down.
Q: How do cooling towels work?
A: Cooling towels work by bringing down your body temperature when in contact with your skin. The best cooling towels are made of PVA materials or microfiber mesh, as these materials are absorbent and stay cool while air drying for up to four hours or longer.
Most cooling towels are designed to be worn around your neck but many can also be worn as a hoodie towel, over a shoulder, or as a blanket if they are large enough. Since the towel can stay cool for so long, it can help you stay cool by moderating your temps for hours on end. Some towels are designed to stay in the fridge or freezer until you need them but many towels only need to be soaked with water, then wrung out and snapped a few times to be activated.
Q: How long does the towel stay cool?
A: The answer to that question depends on what material your cooling towel is made from. Typically, towels made from PVA remain cooler for longer (up to four hours) but some folks may find them irritating on their skin. Microfiber towels usually cannot stay cool for as long as their PVA counterparts (usually up to two hours, tops), but they're softer and therefore gentler on the skin. As a general rule of thumb though, as long as you can keep the towel damp, it should stay cool.
Sources:
PVA For Cooling Explaind - PVA Materials
Sun-Protective Clothing - The Skin Cancer Foundation
Sign Up Now
GET THE VERY BEST OF GEARHUNGRY STRAIGHT TO YOUR INBOX