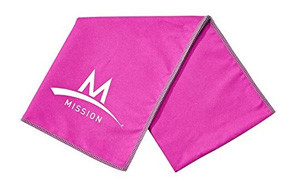 Mission Enduracool Microfiber Cooling Towel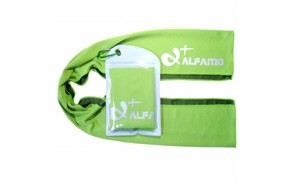 Alfamo Cooling Towel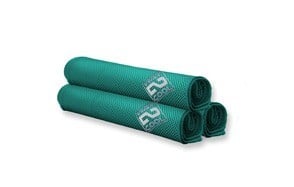 Way 2 Cool Mesh Cooling Towel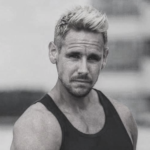 Chances are if you are a dedicated runner then you already know what a Cooling towel is and probably never leave home for a long summers run without one. For the rest of you, who prefer to do your workouts on the couch at home, you will no doubt have seen your favorite tennis player or golfer nonchalantly wrapping one around their neck in an attempt to stop them from getting too hot under the collar! In more ways than one we might add. Competitive spirits and soaring temperatures make for an explosive combination. There is only so much that a cooling towel can do to diffuse a heated and tense situation. Chill you down a bit though it most certainly can! So whether you are an outdoors seasonal worker, or a very fair weather athlete, let's take a look at some of the best cooling towels currently available.
The Best Cooling Towel
Cooling Towel Buying Guide & FAQs
What to consider when purchasing a cooling towel:
The below are a couple of things we recommend you consider before you purchase your next (or first) cooling towel
Material
Size
Weight
Portability
Durability
In particular, the material they are made from is important, as it needs to be able to effectively evaporate over time and hold on to plenty of moisture. Ideally you don't want something that has been chemically treated either so look out for a special breathable mesh design. You also want your towel to be made from soft material too so that its comfortable to wrap around you and won't go rigid when it dries out. The size and weight is down to you, depending upon when and where you intend using it. They can come in a range of sizes from a small bandana size right up to a larger more traditional towel size that can be draped around the body. Do your research and decide what you want first.
Cooling Towel FAQ
Q: What are cooling towels?
A: A cooling towel is pretty much as the name suggests. Think of it rather like a cold compress, rather than as a full on bath towel. It's functional rather than fluffy!It's designed to keep you cool when the temperature soars and is best used around the neck to bring some instant, temporary relief. You'll no doubt have seen sports stars and athletes with their dampened cooling towels, casually draped around them. You know, in between a tennis set for example, or just as they've completed the latest hole in a round of golf.
Whereas with a normal towel you might just be able to wipe away the sweat from all that physical exertion, a cooling towel can be dampened to bring more targeted and effective relief. You might also have heard them referred to as "snap towels". That's because the action of activating your cooling towel is to dampen it with water, wring it out, then "snap" it in the air vigorously to activate. Rather than just drying you off, a cooling towel will help to bring your temperature down. Great if you've just run a gruelling marathon in the scorching midday sun! A cooling towel is also re-useable, will most probably be machine-washable and should be able to cool the skin for hours whilst it's still damp. If it's dried out, simply bring it back to life by moistening it.

Q: When do you need a cooling towel?
A: When the going gets tough but you very much still need to get going! That's when you'll be glad you packed your cooling towel. If you've worked up a sweat and need to bring some instant relief to the situation, then a cooling towel is a bit more socially acceptable than throwing a bucket of water over your head! When the weather heats up, if you work or exercise outdoors, then you will find immediate relief from the instant refreshment of a cooling towel. They're also really handy to pack for the gym post workout or for a beach holiday. They also are regularly used by first responders too who might need to act quickly to bring down someone's core temperature a notch.
Q: Do cooling towels really work?
A: Yes, they work! We wouldn't have written a guide recommending the best ones around otherwise. Do you really need one though? Well, that's down to you. If you are one of those "all the gear, no idea types" then you will want one in your arsenal of gym kit. Just because! If you work outdoors or regularly do endurance style exercise where you work up a regular sweat, then you will totally benefit from the chilling effects of an instant cooling towel Could something else deliver a similar function? Quite possibly but not with as much function, finesse or versatility. So yes, a cooling towel is a nifty and ingenious little invention for helping you quickly cool off. Doesn't work though on hot tempers!
Q: How long does the towel stay cool?
A: The answer to that question depends upon what material your cooling towel is manufactured from. Some of the more popular brands on the market are refutably made from a proprietary blend of fibres so we can't even be entirely sure what they are made of! Sorry! However, as a general rule of thumb, as long as you can keep the towel damp, it should also help keep it cool. As long as you properly look after your cooling towel too, it should last you literally for years to come.
Q: How to wash a cooling towel?
A: You should just be able to pop your towel into the washing machine like you would any of your workout or general bathroom towels.