The Best Protein Bars Of 2022 To Supplement Your Training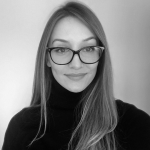 This product guide was written by Jovana Dosenovic
Last Updated
February 3, 2022
Jovana Dosenovic
Jovana is a writer and copy editor living with her lazy calico cat and thousands of (mostly unread) books. She has worked as a copywriter, fact-checker, QA analyst, and librarian, but this has been her favorite gig so far. A bit of a bookworm since she was tiny, she loves nothing more than curling up with a giant cup of coffee or tea and a good book. When not hunched over a keyboard or book, Jovana enjoys going on long walks, short hikes, and occasional camping trips. She also has an unfinished novel she'd like to publish one day. No, really.
GearHungry may earn a small commission from affiliate links in this article.
Learn more
If you're serious about your fitness and health, you're already aware of the importance of protein in a diet, so we won't go into details here. If you're not, here's a short recap: proteins are the building blocks of your body and you need them not only to make new cells but to repair old ones too. Protein is essential for building lean muscle, increasing strength, speedy recovery after exercise or injury, and can even help reduce your hunger levels and encourage healthy weight loss. Suffice it to say, protein is an essential nutrient for everyone – not just bodybuilders and athletes.
The problem is, maintaining a high or even balanced protein diet can be difficult, especially if you don't eat a lot of meat and other animal foods, but it can be challenging even if you are. This is where high-protein bars and snacks come in. Tasty, packed with protein, and easy to add to any diet, protein bars can help you boost your protein intake without changing much of your (hopefully balanced) diet.
But not all protein bars are made equal. Some are so high in sugar and calories, they may as well be called candies; which is great if you're exercising a lot and trying to bulk up, but pretty bad if you're not. To give you the very best protein bars, we've spent days researching the market, comparing the best-sellers, studying their ingredients, and testing some of the bars ourselves. We focused on high protein bars that are either low or moderate in sugar and calories, that also contain at least 3 grams of fiber so that you can feel fuller for longer.
Without further ado, here are some of the best protein and fiber bars that deserve a place in your work or gym bag.
The Best Protein Bar
Built Coconut Brownie Chunk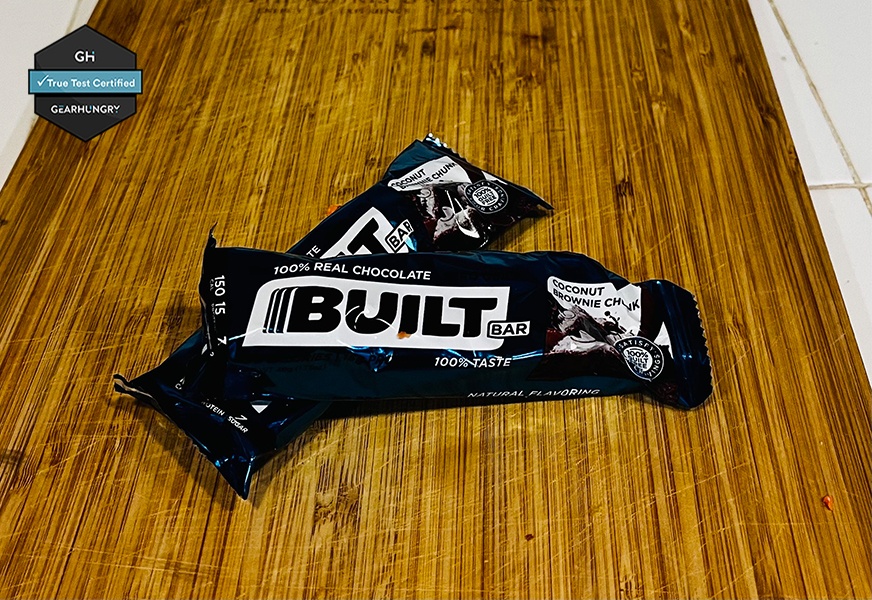 If you tend to crave candy, particularly chocolate bars, the Built Bar is the best protein bar for you. These bars are loaded with 15 grams of protein, 18 grams of carbohydrates, and only 4 grams of fat. In addition, there's only 4 grams of sugar, but they don't skimp on the sweetness. Best of all, one bar contains only 150 calories.
These protein bars are our tester's favorites. "I'll run the gamut of their flavors," he says. "The texture, the taste, and the dopamine hit are all the same as what I get with a Snickers bar. Minus the guilt." Some of our tester's favorite flavors are Churro, Salted Caramel, and Cherry Barcia. But above all, Coconut. The Coconut Built Bar has dark chocolate outer with a rich coconut-flavored middle that's sprinkled with brownie chunks throughout. Can't decide? No worries. Built Bar has an option that lets you build your own box, so you can create a sampler of your own. Read the in-depth review here.
Key Features:
Protein 15g
Fiber 5g
Total fat 4g
Sugar 7g
Calories 150
Specification:
Brand

Built

Weight

49 Grams
Delicious flavors, very similar to actual candies
Low in calories and fat
Decent fiber content
The center filling can sometimes be a bit gummy
Quest Nutrition High Protein Bar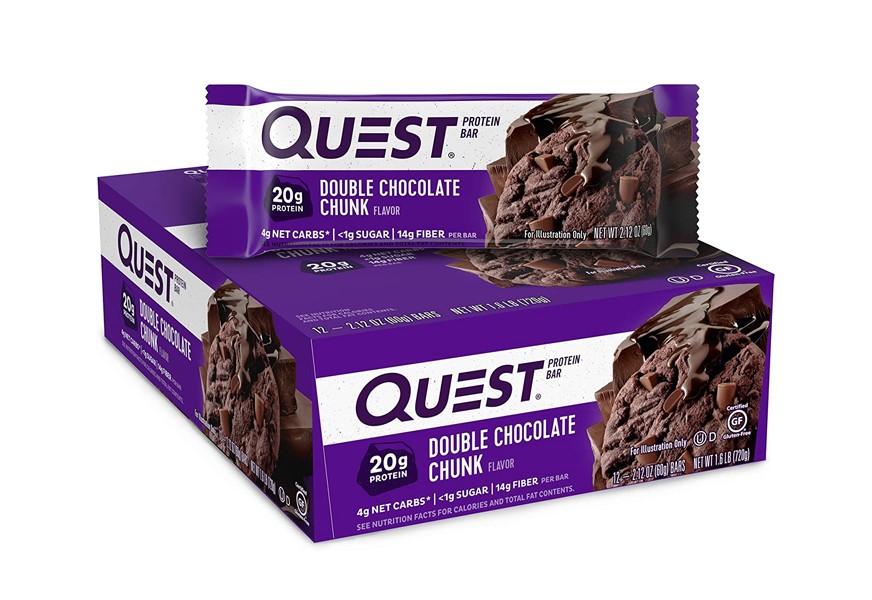 With a ton of tasty and healthy protein snacks to suit every fitness need, including bars, cookies, chips, and shakes, Quest Nutrition is a sports nutritional brand you can trust to understand your pre-workout and post-workout recovery needs. This particular Quest High Protein Bar contains a whopping 20 grams of protein and only 24 grams of carbs out of which 14 are fiber. The bars come in a range of sweet flavors to satisfy your cravings including Double Chocolate Chunk (our favorite), Mocha Chocolate Chip, Blueberry Muffin, plus many others.
If you're looking for healthy sports bars, these are some of the best options as they're made of simple but nutritious ingredients, including milk and whey protein isolate, corn fiber, almonds, and cocoa butter. Unfortunately, this does mean that the Quest bars are no good for anyone with dairy intolerance.
Key Features:
Protein 20g
Total fat 7g
Fiber 14g
Sugar <1g Calories 180
Specification:
Brand

Quest Nutrition

Model

QPBDCC12

Weight

1.8 Pounds
Contains a whopping 20g of protein
Packed with fiber to keep you fuller for longer
Very low in sugar and calories
Not suitable for folks with dairy and nut allergies
Depending on the flavor, the texture can be gummy or chewy
RXBAR Chocolate Sea Salt Protein Bar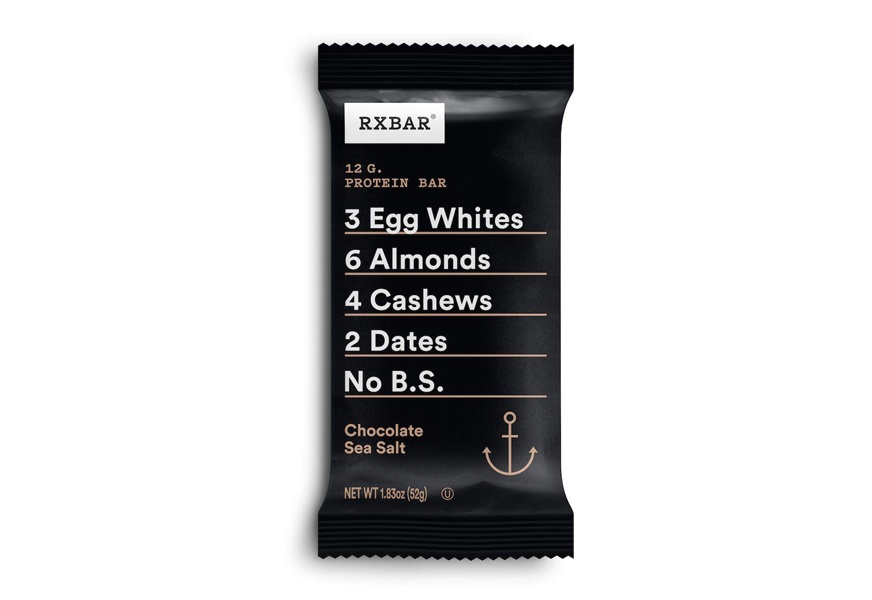 Looking for a great natural protein bar? Definitely check out RXBAR, especially their tasty Chocolate Sea Salt bar. Made with real, clean ingredients, such as egg whites, dates, cashews, and almonds, this simple but delicious health bar is as straightforward as it gets – no preservatives, no added sugars, and gluten-free. It contains 12 grams of protein per bar as well as 5 grams of fiber, so it makes for the perfect wholesome snack.
Being that it's dairy and gluten-free, the RXBAR is also great for keto dieters, gluten-free folks, and anyone following a "clean" diet. Get the energy you need from this simple protein bar and enjoy the chewy texture typical of date fruit. Bear in mind that because it's made solely of natural ingredients, this keto bar also contains quite a bit of sugar – 13 to 15 grams per bar. The good news is, this is fructose which comes from fruit and is easily digestible so it's suitable even for folks prone to indigestion or stomach issues. This is one of the best protein bars for muscle gain.
Key Features:
Protein 12g
Fiber 3 to 5g
Total fat 9g
Sugar 13 to 15g
Calories 210
Specification:
Brand

RXBAR

Model

RXF006

Weight

1.76 Ounces
Made with clean, wholesome ingredients
No added sugars or preservatives
No whey protein, so suitable for those with dairy intolerance
While natural, the bar is pretty high in sugar
Avoid if you have egg or nuts allergies
Pure Protein Bars Variety Pack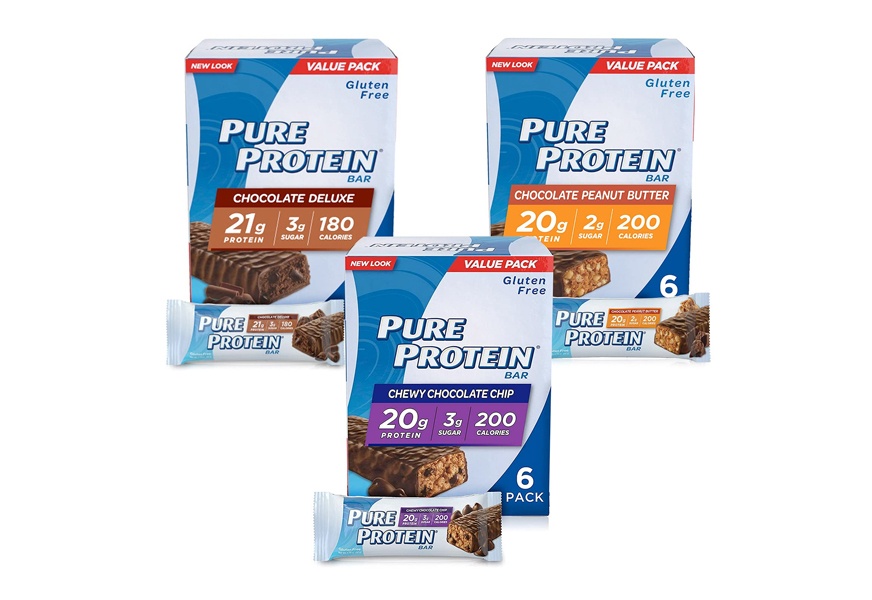 With flavors like Chocolate Peanut Butter, Chocolate Deluxe, and Chewy Chocolate Chip, the Pure Protein Bars Variety Pack will not only satisfy your chocolate cravings but also fill you up with protein with 20 to 21 grams per bar – perfect for quick and sustained energy. And with only 2 to 3 grams of sugar depending on the recipe, they're ideal for anyone trying to lower their sugar intake and definitely belong to the best protein bars on the market.
The bars are made of a protein blend – both whey and soy protein – and they also contain hydrolyzed collagen, plus cocoa butter and almond butter, but despite this, they're pretty low in fat. Unsurprisingly, they're also low in fiber (no whole grains or fruits here) but the 20-gram protein is plenty to keep you full and energized. They also taste really good for protein bars – quite sweet and chewy with just a touch of that dry taste that typically accompanies protein bars.
Our handy guide to the best multivitamins for men features more great products like this. Check them out.
Key Features:
Protein 20 to 21g
Fiber 2g
Total fat 2g
Sugar 2 to 3g
Calories 180 to 200g
Specification:
Brand

Pure Protein

Model

13801

Weight

4.8 Ounces
Loaded with protein to help you build muscle
Very low in sugar and calories
Great taste, will satisfy your sweet tooth
May be too sweet for some
Low in dietary fiber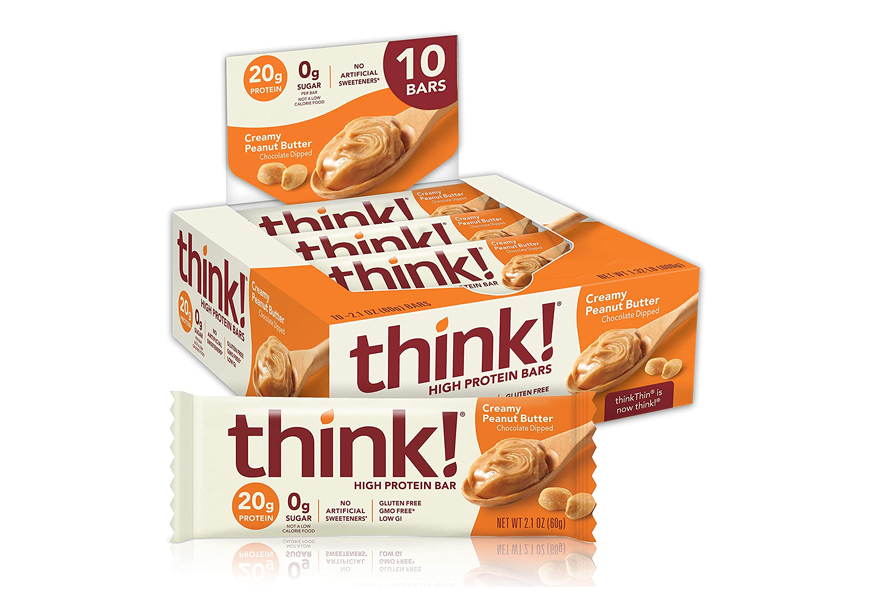 If you're looking for good protein bars with no added sugar, the Think! bars are a great choice. Available in various flavors, including Creamy Peanut Butter (our fave), Lemon Delight, Brownie Crunch, and more, these tasty bars blend delicious flavors with the energy-boosting protein punch, making them ideal post-workout snacks.
Creamy and tasty, these high-protein bars contain a blend of proteins, including soy protein isolate and whey protein isolate, plus peanut butter, cocoa butter, and chocolate. The bars are sweetened with maltitol, a sugar substitute that is not only low in calories but also has a lesser effect on blood glucose. This said, maltitol is not ideal for everyone – if you find that sugar alcohols are hard on your stomach, you may want to steer clear from these too. We also wished the bars contained more fiber; as it stands, there's only 1 gram of fiber per bar. Luckily, there's plenty of protein to keep you full and satisfied. For more amazing snacks like this, check out our selection of the top energy bars.
Key Features:
Protein 20g
Fiber 1g
Fat 9g
Sugar 0g
Calories 230
Specification:
Brand

think!

Model

1074661

Weight

1.43 Pounds
Contains zero sugars so won't spike your blood glucose
Packed with protein to keep you sated for longer
A great variety of flavors
Maltitol doesn't agree with everyone's stomach
Very low in fiber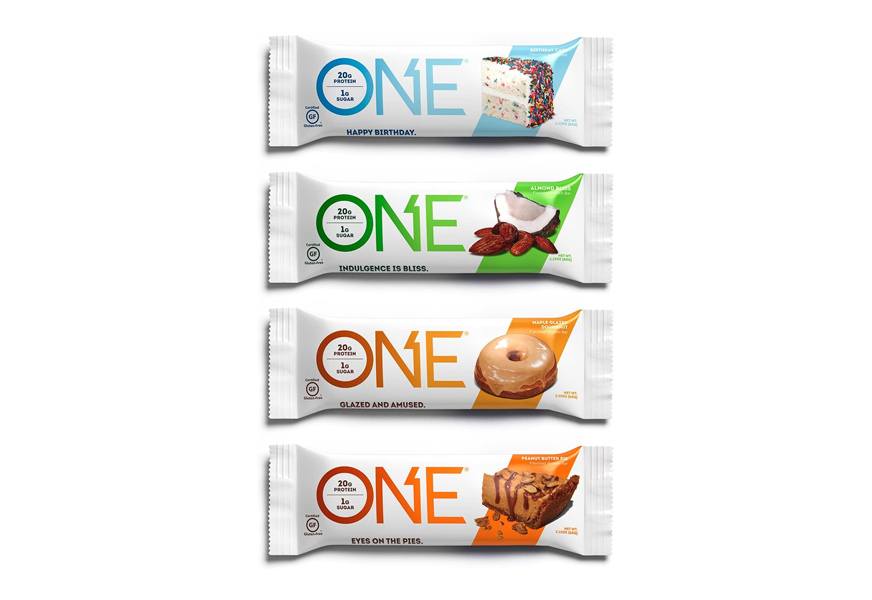 Sick of sickly-sweet (no pun intended) and chalky protein bars that never satisfy your sweet tooth? Boy, do we have a treat for you – and we mean this quite literally. The One Protein Bars are hands down some of the best-tasting bars on the market. In fact, they're so darn delicious, that customers compare them to actual desserts. One protein bar review compares Blueberry Cobbler to "heaven in your mouth". Exaggeration? Perhaps; but these are definitely one of the best-rated high protein bars on the market.
This variety pack comes with four different flavors: Birthday Cake, Almond Bliss, Maple Glazed Doughnut, and Peanut Butter Pie. Each bar contains 20 grams of protein and only 1 gram of sugar, while the fiber content varies between 3 and 8 grams per bar. The ingredients include milk and whey protein isolate, vegetable oils and fiber, peanut butter, almonds, coconut and more. While we'd like to see more nutritious, especially fiber-rich ingredients, these are decent enough and are sure to satisfy your sweet craving without overloading you with sugar. You may also be interested in some of the most reliable creatines from our list. Be sure to browse them.
Key Features:
Protein 20g
Fiber 3 to 8g
Fat 8 to 9g
Sugar 1g
Calories 220 to 240
Specification:
Brand

ONE

Model

01-100390

Weight

1.7 Pounds
So delicious, they're often compared to actual desserts
Loaded with protein to keep you energized
Decent fiber content
The ingredient list leaves much to be desired
Contains sucralose, so not be ideal for a sensitive stomach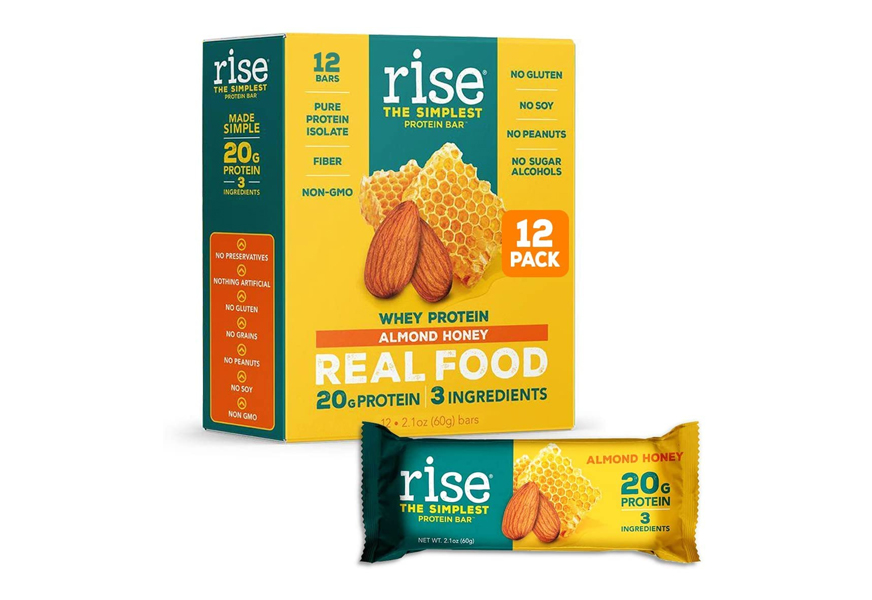 Made with simple and natural ingredients, the Rise Whey Protein Bars are tasty and easy to digest. No artificial additives of any kind, no gluten, soy or peanuts either, these are ideal for folks with food sensitivities. With only three ingredients – almonds, honey, and a generous 20 grams of whey protein isolate – these are pleasantly sweet, with a hardy and chewy texture. If you want wholesome, clean ingredients, you can't get better than this.
With Rise bars, the focus is on more protein power and fewer ingredients so they're excellent for refueling after strenuous workouts. Available in several different flavors, including Almond Honey, Chocolate Banana, and Mint Chocolate Chip among others, there's something for everyone here. Whether you are on a Paleo diet, are Vegetarian, or simply choose to eat natural, Rise Bars are a great option. The only con? The texture can get quite hardy on cold days. Also, these are relatively high in fat and sugar, which is not surprising considering they're packed with almonds and honey. Be sure to also check out our comprehensive guide to the best-tasting protein powders.
Key Features:
Protein 20g
Fiber 4g
Total fat 16g
Sugar 13g
Calories 280
Specification:
Brand

RiseBar

Model

PROAHO

Weight

6.1 Ounces
Lots of protein to keep you full and peppy
Made with 100% natural, clean ingredients
No GMO, soy, or gluten
Pretty high in sugar and fat (albeit natural)
Nut butter can make the bar a bit oily in hot weather
Robert Irvine's FitCrunch Whey Protein Bar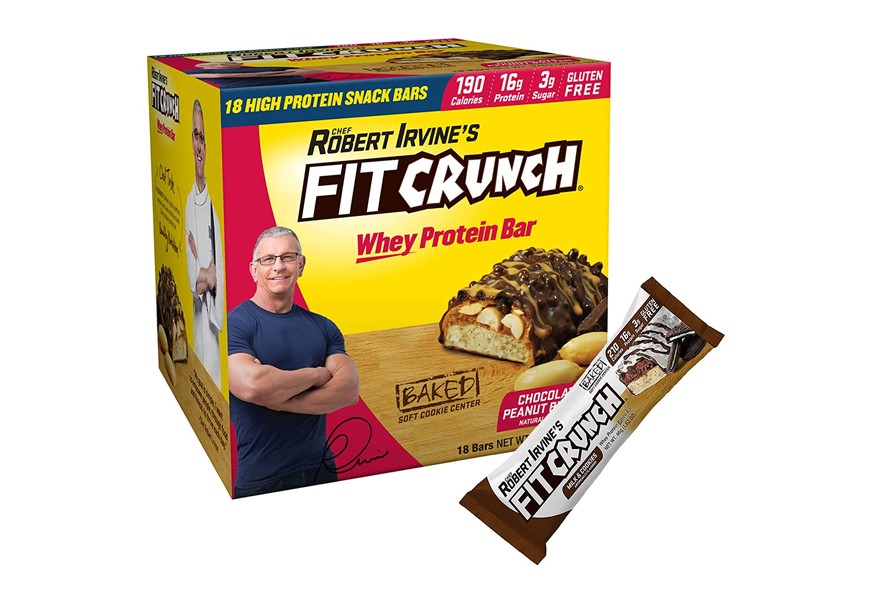 Created by Robert Irvine, a celebrity chef and talk show host, the FitCrunch Whey Protein Bar combines excellent nutrition with amazing taste to help support your fitness goals. With 16 grams of protein, 3 grams of sugar, and only 190 calories per bar, these are among the best protein bars that belong in everyone's gym bag. Made from a protein blend – whey protein isolate and why protein concentrate – they're packed with top-quality protein that's great for the whole family, not just the adult gym-goers. They're also incredibly tasty (they're probably the closest you can get to a candy bar), so kids are guaranteed to like them too.
The FitCrunch comes with six different delicious and textured layers that are baked to perfection. While scrumptious and low in calories, these bars are not exactly "natural" when it comes to the ingredients; aside from a little bit of added sugar, they also contain maltodextrin, caramel color, and corn syrup. Nothing wrong with either of these though, unless you're sensitive to some of the ingredients or prefer to eat more clean. 
You may also like to check our guide to the best mass gainers for more great products like this.
Key Features:
Protein 16g
Fiber 4g
Total fat 8g
Sugar 3g
Calories 190
Specification:
Brand

Fit Crunch

Weight

2.4 Pounds
One of the tastiest protein bars you'll find
Low in calories and sugar
Great crunchy, slightly chewy texture
We'd like to see fewer additives and more natural ingredients
Prone to melting on hot days
BSN Protein Crisp Bar By Syntha-6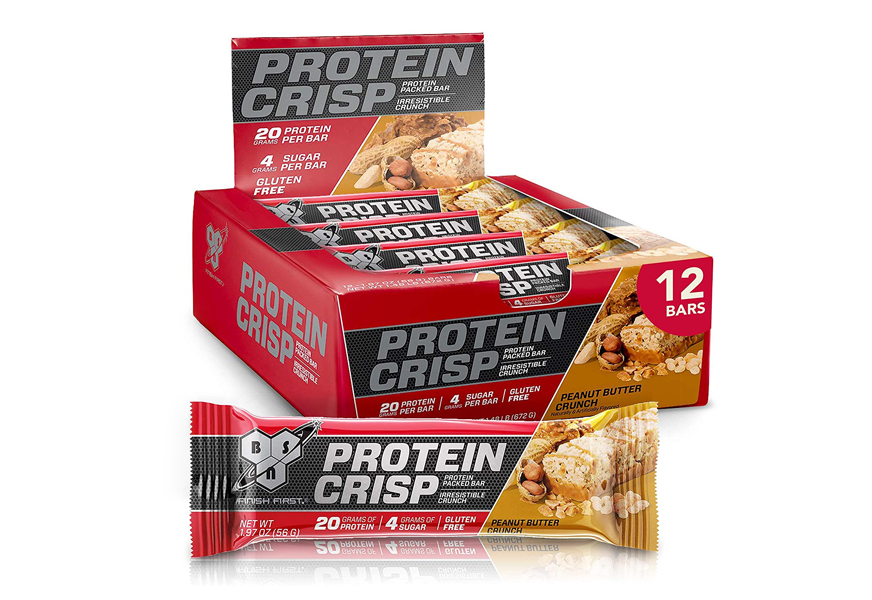 The BSN Protein Crisp Bar comes with 20 grams of protein, 4 grams of sugar, and a light, crispy texture, making it a great recovery protein bar or a snack on the go. And since the bars are available in several different flavors, including Peanut Butter Crunch, Vanilla Marshmallow, Salted Toffee Pretzel, and many more, your taste buds are highly unlikely to get bored even if you snack on them every day.
These are also gluten-free, but they do contain maltitol which may not agree with everyone's digestion. The good news is, maltitol doesn't spike blood glucose as much as regular sugar, so it's safe for most diabetics. Also, bear in mind that aside from whey, the BSN bars also contain some soy protein – this is not a con in our book, but it may be for some. If you need some energy before your workout, check out our list of top pre-workout formulas and find the right one for you.
Key Features:
Protein 20g
Fiber 3g
Total Fat 7g
Sugar 4g
Calories 230
Specification:
Brand

BSN

Model

4332657392

Weight

1.76 Ounces
Lots of quality protein to help you build muscle
Crispy, light texture
Six delicious flavors
Contains soy, egg, and peanuts which may be problematic for some
Contains maltitol and artificial flavors, which again, may be a con for some
Grenade Nutrition Carb Killa Protein Bar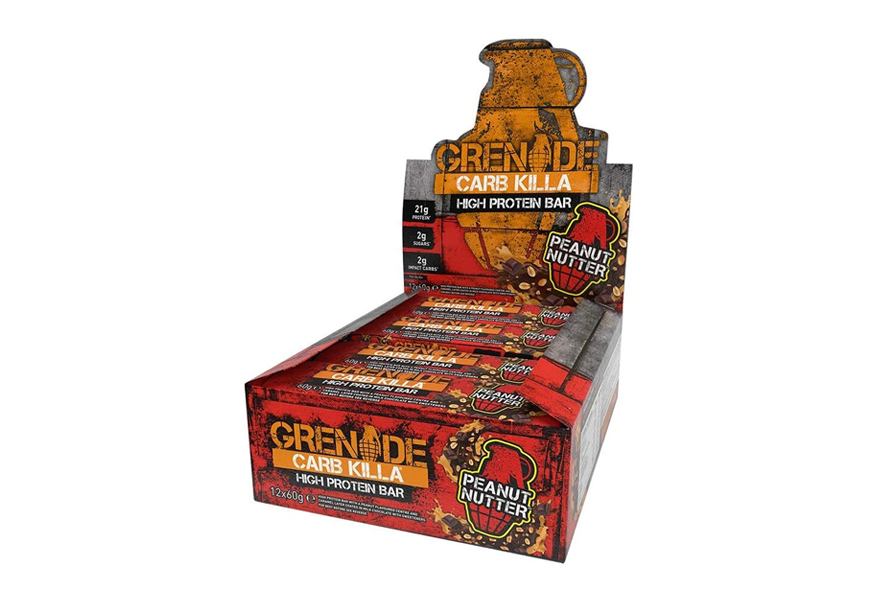 The secret behind the great taste of the Grenade Carb Killa bars is that they are made using their proprietary baking technology which helps create a uniquely fresh and crunchy texture. These bars offer a fantastic 21 grams of protein so are the perfect pre or post-workout snack. Best of all, they contain only 15.4 grams of carbs, out of which fiber makes 6.9 grams. Perfect if you're on a low-carb diet!
There is a wide range of delicious tasting bars to choose from too, including Peanut Nutter (contains almost 9% of peanuts!) Caramel Chaos, Cookie Dough, White Chocolate Cookie, and more. Bear in mind that they're all sweetened with maltitol, sucralose, and xylitol though.
Key Features:
Protein 21g
Fiber 7g
Total fat 9.3g
Sugar 2g
Calories 223g
Specification:
Brand

Grenade

Model

847534003165

Weight

1.6 Pounds
Low in carbohydrates and sugar, ideal for a low-carb diet
Packed with protein to help you build muscle
Plenty of fiber to keep you full for longer
Contains peanuts so avoid if you have allergies
Because of maltitol and sucralose, it's not ideal for sensitive stomachs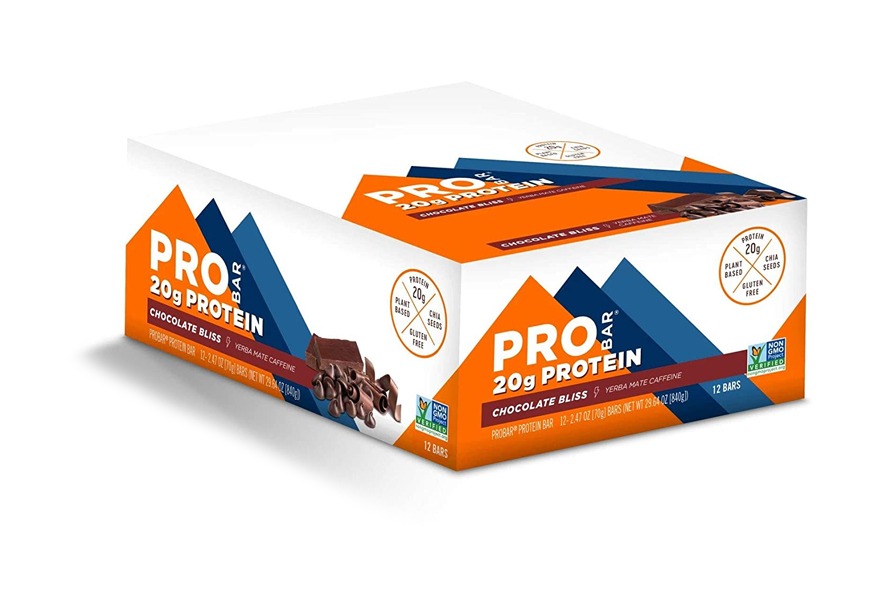 If you're vegan or just prefer plant-based protein snacks, the ProBar Base Protein Bar is a great choice. Made with soy protein isolate, it contains 20 grams of protein to help you build and maintain muscle mass. It also boasts antioxidant-rich organic cocoa, plus flax seeds and chia seeds which are packed with fiber.
Unfortunately, the bar is also pretty high in sugar – 14 grams per bar is a lot for folks who are mindful of their sugar consumption. The good news is, it's the natural kind (sugar cane and agave syrup) so in theory, it should keep your sweet cravings sated for longer. They also taste really good, and thanks to the real sugar, there's no artificial aftertaste either. 
If you are a runner, make sure to also check our best-selling supplements for runners.
Key Features:
Protein 20g
Fiber 4g
Total fat 8g
Sugar 14 g
Calories 270
Specification:
Brand

Probar

Model

853152120351

Weight

8 Ounces
Made with plant-based, wholesome ingredients
Packed with protein & has a decent amount of fiber
No artificial additives of any kind
Pretty high in sugar, albeit natural so it tastes better
Prone to melting on warm days
Detour Simple Whey Protein Bar
Fans of caramel desserts, rejoice, for we have found the best salted caramel protein bar on the market. The Detour Simple Whey Protein Bar in Salted Caramel contains simple ingredients (see what they did there?) that are covered in a creamy chocolate coating and a rich salty caramel layer on top. They also contain 20 grams of protein and 6 grams of fiber, so they should keep you sated for longer.
Some of the ingredients include their very own protein blend (why concentrate and isolate, and calcium caseinate), whole milk powder, sugar, chocolate chips, as well as non-GMO soy protein isolate. There are no artificial additives, so you know exactly what you're eating. If we were being nitpicky, we'd say the bar would benefit from a few more nutritious ingredients.
Key Features:
Protein 20g
Fiber 6g
Total fat 8g
Sugar 7g
Calories 230
Specification:
Brand

Detour

Model

733913010308

Weight

11.2 Ounces
Plenty of quality protein
Decent amount of gut-friendly fiber
Rich, delicious taste
Contains milk and soy, which may be problematic ingredients for some
Protein and fiber contents seem to vary depending on the packaging
Why Trust Us
GearHungry's team of athletes, gym junkies, hikers, and outdoor professionals is always on the lookout for the tastiest and most filling protein and energy snacks and bars. Aside from having personal experience with a variety of protein bars, we've also researched the topic far and wide – not only have we read dozens of reviews, but we've also read up on different kinds of proteins and sugars as well as their pros and cons. All this to say, we've done our research.
Who This is For
This guide is for anyone looking for tasty protein-rich bars they can snack on after the gym, during their hikes, or on the go. Whether you think whey protein is superior, are vegan and looking for plant-based protein snacks, or just want a guilt-free dessert, we have you covered. 
How We Picked
We picked the best protein bars by a) trying some of them, b) researching each brand and their flavors, and c) by reading dozens of customer reviews, both positive and negative. We capped calories at 280 per bar, and sugar at 15 grams per bar. Our focus was on high protein content and great taste.
How We Tested
While we didn't try all of the protein bars reviewed in this guide, we did try quite a few and the rest come highly recommended by the gym junkies and fitness enthusiasts on our team. The Built bars, for example, have been our tester's favorite protein bars for years.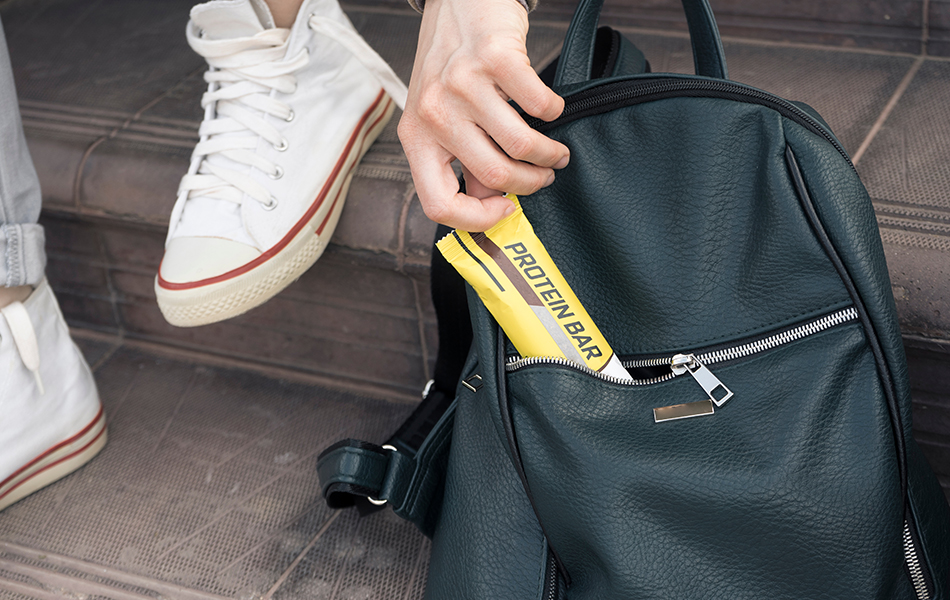 Features To Look For In Protein Bars
While there are hundreds of protein bars available on the market, the majority of options are either loaded with sugar, fat or sketchy ingredients. But finding the right protein-rich snack is not as difficult as it may seem. Here's what to look for when shopping for protein bars.
Lots of quality protein – If you're looking for a protein bar that you can eat as your post- or even pre-workout snack, look for bars containing between 20 and 30 grams of protein. If you're looking for something that you can snack on between meals, bars with 10 to 15 grams of protein are plenty. As for the source of the protein, whey is considered the best because it contains a range of amino acids and is easily digestible and absorbed quickly. Of course, if you don't consume dairy or are vegan, soy protein is a solid choice.
Wholesome carbohydrates – No matter what some folks might tell you, carbs are not the devil; well, at least the unrefined carbs aren't. Protein bars that contain wholesome carbohydrate sources such as whole grains, nuts, and seeds can be very healthy as they're typically also high in fiber. Fiber is a slow-digesting type of carb that helps stabilize your blood sugar and curb your hunger and is your digestion's best friend. Lots of refined carbs, on the other hand, is something you want to avoid in protein snacks.
Low to medium sugar and fat – Speaking of "bad" carbs, sugar is something you'll want to consume in small quantities if you're not training hard or you have insulin resistance. Ideally, higher sugar content should be paired with higher fiber and protein content, and it should also come either from stevia or natural sugar (cane, honey, etc.). Sugar alcohols such as maltitol, sorbitol, xylitol and erythritol are fine too as they're lower in calories and some seem to be gentler on your blood sugar; however, when consumed in large amounts, they tend to cause bloating and other unpleasant stomach issues.
Protein Bar FAQ
Q: What is a protein bar?
A: Protein bars are essentially nutrition bars that contain a higher level of protein versus carbohydrates or fats. They're not dissimilar to energy bars but typically have much less carb content overall. This said, the nutritional composition of protein bars and snacks differs greatly from brand to brand.
Generally speaking, there are three different types of protein bars: snack bars that you can enjoy between meals or as a pre-workout snack, which contain medium amounts of protein and calories; recovery bars, which are best consumed right after a grueling workout, which are higher in both calories and protein; and meal replacement bars that you can eat instead of breakfast or lunch, which contain the highest amounts of nutrients, including calories, carbs, fat, and protein.
Q: Can protein bars replace meals?
A: Protein bars that are rich in protein and fiber can indeed be eaten in place of a proper meal from time to time. They're great to have on hand on busy days and when you're hiking as they can provide you with a burst of needed energy, plus help satisfy your sweet tooth. However, nothing can replace a full, healthy meal that, aside from all the macros, also contains other nutrients your body needs, including vitamins, minerals, and antioxidants. The same can be said for protein shakes which are designed to complement a healthy diet, not replace meals.
Q: Should you eat protein bars before or after workout?
A: They're great both as pre- and post-workout snacks as they provide energy to help power your performance and refuel and replenish your body after exertion. They are also a convenient snack to keep in your work or gym bag for when you are on the go and struggling to sit down for a quality, balanced meal.
Q: How often should you eat protein bars?
A: If you are working out regularly and using a protein bar to refuel after strenuous exercise or to give yourself a quick boost before you start an intense session, feel free to eat a protein bar whenever you exercise. However, if you're planning to eat bars every single day, do make sure they're made with wholesome and healthy ingredients and avoid recipes that are super high in sugar.
Q: Are protein bars healthy?
A: You probably already know the answer to this one! While there is no substitute for a healthy and balanced diet, protein bars are convenient and if you choose the right one, you can reap their health benefits. It's probably a good idea to check the ingredients list to make sure that the bar you're regularly eating is not full of added sugar, additives, trans-fats and other questionable ingredients though.
Q: Can protein bars make you gain weight?
A: If consumed in moderation, i.e. as pre- or post-workout snacks, protein bars cannot make you gain weight; in fact, they may help you lose excess weight or maintain a healthy weight and body composition. This is because they're rich in protein which is essential for building and maintaining muscle mass, as well as helpful for making you feel full and satisfied. However, like any other food eaten in excess, protein bars can contribute to weight gain.
Q: Are protein bars good for muscle growth?
A: Yes, protein bars can help you build muscle mass, especially if you pair them with good strength and resistance exercises and a healthy, protein-rich diet, plus a protein shake. Bear in mind that if you're trying to build muscles, you should be consuming about 1 to 1.7 grams of protein per kilogram of body weight, or 0.5 to 0.8 grams per pound of body weight.
Sources:
Low-Calorie Sweeteners – Harvard T.H. Chan School of Public Health
Soy Protein: Good or Bad? – Healthline
Meal Replacement Shakes and Nutrition Bars: Do They Help Individuals With Diabetes Lose Weight? – American Diabetes Association
Sign Up Now
GET THE VERY BEST OF GEARHUNGRY STRAIGHT TO YOUR INBOX