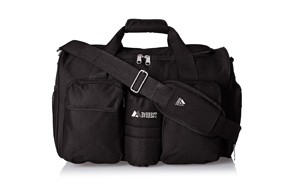 Everest Wet Pocket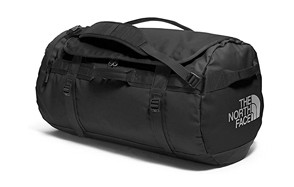 The North Face Base Camp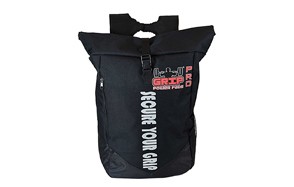 Grip Power Storm Pads Roll
In order to help you make an informed decision when it comes to selecting the right gym bag our product review experts have scoured the landscape and come up with the following 13 gym bags that are certain to deliver for you in every way that matters. So sit back, push that salty snack aside, and have a look at our choices for best gym bags of 2018.
13 Best Gym Bags in 2018
See More Reviews

The North Face Base Camp duffle bag has the most pleasing style of any of the gym bags on this list. It's a box without being boxy, is roomy without looking unwieldy and it sports high quality materials all around. It's as durable as it is attractive and as versatile as it is durable.
The North Face Base Camp duffle bag is that rare combination of style and functionality. It's the Ferrari of gym bags without a doubt and will protect your belongings while burnishing your image. The bag feels rock solid without feeling hard or boxy and that's a testament to the quality of materials. Without a doubt our favorite gym bag.
Specification:
Brand

The North Face

Model

CA6V

Weight

3.8 pounds
You may wind up using it as one of your primary travel bags.
Stout, high quality zippers abound.
Robust haul-handles at each end.
See More Reviews

Mier takes a slightly different approach to gym bags that sees them reaching back and embracing the tall, tube-like structures of yesterday but with more insistence on structure.
We love the way this bag feels when you carry it like a backpack. We love the big open space. We love the end compartments that allow us to put the sweaty stuff aside. And we also love the fact that it can be stuffed into an overhead with no problem.
Specification:
Brand

MIER

Model

10110019-207

Weight

1.25 pounds
The simple tube design maximizes internal space and comfort.
Empty it weighs a scant 18 oz so the bag itself won't wear you out.
Great for the gym but also as a carry-on bag when traveling.
If you overload the bag you may have problems with the straps.
See More Reviews

The second North Face bag in our list the Big Shot is another beauty. While the Big Shot is without a doubt one of the great gym bags it's really a whole lot more than that as well.
The North Face makes some truly outstanding gym bags and this is a prime example. Beautiful lines meet beautiful balance meet high-quality materials and smart organization. You're going to take this bag traveling with you so you might as well get used to the idea.
Specification:
Brand

The North Face

Model

CLG7JK3

Weight

2.8 pounds
Some of the most comfortable shoulder straps you've ever experienced.
Fleece-lined tablet sleeve inside makes this a great work/workout bag
Ergonomic main compartment keeps the weight in close for better balance.
It's a fair question to ask if gym bags need a pocket for your tablet.
See More Reviews
The BB (Bags and Backpacks) Light Foldable Duffle Bag makes our "Best Of" list based on the quality of its construction, its spaciousness and its portability.
The BB Light Foldable Duffle Bag lets you easily carry everything you need to the gym and doubles as a travel bag. The lines are clean and the memory foam shoulder pad makes carrying a breeze. Unlike some other gym bags the waterproof nylon fabric keeps your gear nice and dry in the rain.
Specification:
Brand

BB Bags&Backpacks

Model

BLL168943

Weight

1.3 pounds
There's a lot of space here to carry everything you'll need for the gym.
The bag is constructed of high-quality 420D waterproof nylon fabric.
100% satisfaction guarantee.
The style conscious may want something with a bit more visual panache.
See More Reviews
The Team Speed Medium Size Duffle Bag is one of the best looking gym bags the company makes and is available in a range of colors.
The adidas "Team" Gym Bags are great looking bags that are attractively priced to fit into the often tight budgets teams are working with. They have a lot of space inside and 3 zippered pockets on the exterior to allow you easy access to your gear whether you're on the practice field or the court.
Specification:
Brand

adidas

Model

Team Speed Duffel Medium

Weight

1.8 pounds
A compact bag that's actually more spacious than it appears.
Doesn't bend under a full load.
Waterproof bottom keeps the contents dry when you're on a wet practice field.
The shoulder strap is not the most comfortable we tested.
Grip Power Storm Pads Roll
See More Reviews

The Grip Power Gym Bag sports a hybrid design that's somewhere between a backpack and a classic duffle. It's compact, but not small, and built to last.
This is not a huge bag but it's big enough to carry everything the average gym-rat will need for their workout and it's comfortable enough to carry all day without becoming a burden. The bag looks as tough as it is and we like the stripped down lines and lack of unnecessary strapping.
Specification:
Brand

Grip Power Pads

Model

1.15 pounds

Weight

GPP-MP-GM
Extremely comfortable to carry backpack style.
PVC coated polyester makes for a tough, waterproof bag.
Plenty of space inside for everything.
No pockets either inside or out.The excessive branding on the exterior of their gym bags distracts from an otherwise outstanding design.
See More Reviews

Adidas makes another appearance on our gym bags list with this small, extremely versatile duffle. It's a gym bag that has at least 3 ways you can carry it about depending on circumstances.
This is a great bag for a woman who goes to the gym toting a minimum of equipment. It doesn't scream "I work out!" like some gym bags. It says "Going to the gym". The lack of pockets is a curious thing. However by leaving them out they've maximized the interior space.
Specification:
Brand

adidas

Model

258681-PARENT

Weight

1 pounds
Equal parts gym bag and classic backpack.
Ventilated compartment to air out the sweaty stuff.
PVC coated 600-denier polyester.
As with the other gym bags in this product line the branding is intrusive.
See More Reviews

Where the Adidas Diablo Small bag is quietly effective the Grip Power Pads duffle is meant for those who take their gym bags seriously. It's a big bag with lots of space and plenty of pockets.
We would love to see these gym bags with 50% of the branding removed. They would be epic. That said from a functional standpoint this bag should fulfill the needs of even the most gear-crazed gym-rat. It's easy to carry, holds a ton of stuff and maintains its profile even when half full.
Specification:
Brand

Grip Power Pads

Model

GPP-MP-GM

Weight

3.85 pounds
Tote it about using the carry handles, adjustable shoulder strap or end loop.
100% water resistant polyester.
Fashionable design cues make it a great gift for her.
No pockets either inside or out.
See More Reviews

If what you want is a large gym bag with some structure that will stand up to the elements and whatever else you dish out the Nike Brasilia 6 duffle Bag is the bag for you.
This bag is big enough to handle anything you've got but still fairly easy to tote around even when it's full. The build quality is right up there, the zippers are strong and work without issue. The ventilated pocket allows you to air out those nasty gym shorts. Another of Nike's excellent gym bags.
Equal parts gym bag and classic backpack.
Ventilated compartment to air out the sweaty stuff.
PVC coated 600-denier polyester.
As with the other gym bags in this product line the branding is intrusive.
See More Reviews

The Adidas Defender II is a classic looking gym bag with plenty of interior space, 3 large pockets and a padded base that stands its ground when you take it outdoors.
If you're looking for simple, durable gym bags at an affordable price Adidas has them. This bag doesn't win a lot of points as far as aesthetics go but it provides plenty of space for all your gear and keeps that gear safe and secure against the ravages of the environment.
Specification:
Brand

adidas

Model

Defender II DufJ0fel Small-Parent

Weight

2 pounds
Plenty of pockets inside and out with high quality zippers or Velcro closures.
Carry over the shoulder or at your side.
Highly durable 600D waterproof polyester makes for a bag that's both light and tough.
It's likely bigger than some customers think it is going to be.
See More Reviews

The smaller cousin to the Nike Brasilia 6 this gym bag is likely more appropriate for a lot of people who, if they bought the full size Brasilia 6, would be walking around with a half-empty gym bags.
As mentioned this is a streamlined version of the full size Brasilia 6. So if you love what those gym bags have to offer but don't need all the space this bag is the answer. It's a great bag that is well-built from the 600D polyester to the double stitching and Velcro wrap around the carry handles.
Specification:
Brand

Nike

Model

BA4832-001

Weight

13.6 ounces
Can be carried over the shoulder or at the side.
2 zippered exterior pockets and 1 large interior pocket for the dirty stuff.
Lifetime warranty on materials and workmanship.
The shoulder strap can be a bit harsh.
See More Reviews

The second Team Speed bag from Adidas on our list exhibits all the quality traits you expect in Adidas gym bags for less than the price of a decent sweatshirt.
This small version of the company's Team Speed gym bags is a great size for the dedicated fitness buff. It's also stylish, water resistant, easy to carry and light. It might be a bit larger than you think it's going to be so be aware.
Specification:
Brand

adidas

Model

Team Speed Duffel Small Blk

Weight

1.8 pounds
Carrying straps held together with Velcro wrap for easy handling.
600D polyester is fully water resistant.
Breathable mesh side pocket.
Shoulder strap is not very comfortable if the bag is topped up.
See More Reviews

Last but by no means least we come to the Everest Gym Bag with Wet Pocket. It's a medium size bag that's surprisingly attractive and well-built for the price.
An all-around great bag that, while not large, is not exactly small either. You'll be able to fit all your gear and then some inside this gym bag and still have room in the exterior pockets for extra socks, sweatbands, snacks or whatever.
Specification:
Brand

Everest

Model

S223-BK

Weight

2 pounds
FreshPak ventilated compartment at the end for the dirty stuff.
Water resistant base lets you leave it next to the field while you practice.
Discreet interior pocket for valuables.
Pockets impose on the center compartment pretty significantly.
Buyers Guide
Here are some common questions people have about gym bags.

What Is The Best Gym Bag?
Normally we don't like to touch one product on the shoulder and anoint it special but in this case we have to do just that with the North Face Base Camp Duffle bag. It's just a superior bag no matter how you look at.
What Is The Best Gym Bag For Swimming?
For our money we'd take the Adidas Team Speed Medium Size Duffle Bag or the Nike Brasilia 6 X-Small Duffle Bag. Both are fully water resistant, easy to carry, fairly compact gym bags with pockets for wet stuff.
What Gym Bags Can I Fit My Kit And Trainers In?
Any gym bag on this list will accommodate your kit and trainers. Some like the Nike Brasilia 6 Duffle Gym Bag profiled above are large enough to accommodate several pairs of trainers and any type of kit you can think of.
What To Keep In My Gym Bag?
Of course different people are going to put different things in their gym bags depending on their age, comfort level in the gym, history of injury or any special equipment they're trying on for size. Generally speaking though typical gym bags include some or all of the following:
Again this is not a scientific list just a general idea of some things that are often found in gym bags.
What Is The Most Stylish Gym Bag?
Once again we have to default to the North Face Base Camp Duffle bag; the number 1 entry on our list and our clear favorite. It's just a beautifully designed and executed bag.
Things To Consider When Buying A Gym Bag
Gym bags are gym bags. Right? Actually, not so much. Gym bags run the gamut from extraordinary bags like the North Face Camp Duffle to the extremely cheap, unattractive and poorly made. With that in mind consider these things before laying down your hard-earned:
Space – Some folks go to the gym laden with everything they can think of. Others bring a pair of cross trainers and a small towel. Most however, come down somewhere between the two extremes. Few, in fact, are the gym denizens who actually need the biggest gym bags.
Functionality – There should be a pocket to put your tech, a pocket for your footwear and a separate pocket to put the dirty stuff. In the old days gym bags were just big sacks with a drawstring. Thank the maker the old days are gone.
Materials – If you need a waterproof bag that's also durable look for a bag that's at least 600D polyester that's had some form of PVC or other type of waterproofing sprayed on the back of the fabric to keep the water from filtering through. As for zippers, they should be robust with smooth action. Look for double stitching in the seams as well.
Maintenance – Gym bags are by definition bags you're not going to be treating with kid gloves. As such they should be extremely durable and low maintenance. Wiping your bag down thoroughly with a damp cloth and disinfectant now and again should be all the regular maintenance it needs.
Conclusion
Good gym bags are essential to making the most of our visits to the gym. Thankfully, today there are a vast array of gym bags in all sizes and types so there's sure to be one that suits you to a T. We hope you found this information on gym bags helpful and don't forget to bookmark gearhungry.com and stop by regularly for more product reviews and guides.