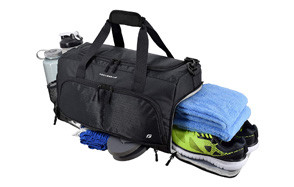 FocusGear Ultimate Gym Bag 2.0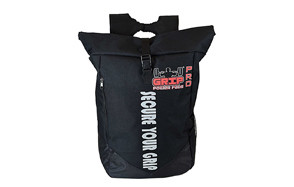 Grip Power Storm Pads Roll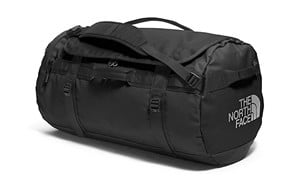 The North Face Base Camp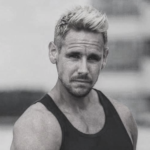 In order to help you make an informed decision when it comes to selecting the right gym bag our product review experts have scoured the landscape and come up with the following 13 gym bags that are certain to deliver for you in every way that matters. So sit back, push that salty snack aside, and have a look at our choices for best gym bags of 2020.
The Best Gym Bag
Gym Bag For Men Buyers Guide
Here are some common questions people have about gym bags.

Q: What Is The Best Gym Bag?
A: Normally we don't like to touch one product on the shoulder and anoint it special but in this case we have to do just that with the North Face Base Camp Duffle bag. It's just a superior bag no matter how you look at.
Q: What Is The Best Gym Bag For Swimming?
A: For our money we'd take the Adidas Team Speed Medium Size Duffle Bag or the Nike Brasilia 6 X-Small Duffle Bag. Both are fully water resistant, easy to carry, fairly compact gym bags with pockets for wet stuff.
Q: What Gym Bags Can I Fit My Kit And Trainers In?
A: Any gym bag on this list will accommodate your kit and trainers. Some like the Nike Brasilia 6 Duffle Gym Bag profiled above are large enough to accommodate several pairs of trainers and any type of kit you can think of.
Q: What To Keep In My Gym Bag?
A: Of course different people are going to put different things in their gym bags depending on their age, comfort level in the gym, history of injury or any special equipment they're trying on for size. Generally speaking though typical gym bags include some or all of the following:
Again this is not a scientific list just a general idea of some things that are often found in gym bags.
Q: What Is The Most Stylish Gym Bag?
A: Once again we have to default to the North Face Base Camp Duffle bag; the number 1 entry on our list and our clear favorite. It's just a beautifully designed and executed bag.
Things To Consider When Buying A Gym Bag
Gym bags are gym bags. Right? Actually, not so much. Gym bags run the gamut from extraordinary bags like the North Face Camp Duffle to the extremely cheap, unattractive and poorly made. With that in mind consider these things before laying down your hard-earned:
Space – Some folks go to the gym laden with everything they can think of. Others bring a pair of cross trainers and a small towel. Most however, come down somewhere between the two extremes. Few, in fact, are the gym denizens who actually need the biggest gym bags.
Functionality – There should be a pocket to put your tech, a pocket for your footwear and a separate pocket to put the dirty stuff. In the old days gym bags were just big sacks with a drawstring. Thank the maker the old days are gone.
Materials – If you need a waterproof bag that's also durable look for a bag that's at least 600D polyester that's had some form of PVC or other type of waterproofing sprayed on the back of the fabric to keep the water from filtering through. As for zippers, they should be robust with smooth action. Look for double stitching in the seams as well.
Maintenance – Gym bags are by definition bags you're not going to be treating with kid gloves. As such they should be extremely durable and low maintenance. Wiping your bag down thoroughly with a damp cloth and disinfectant now and again should be all the regular maintenance it needs.
Conclusion
Good gym bags are essential to making the most of our visits to the gym. Thankfully, today there are a vast array of gym bags in all sizes and types so there's sure to be one that suits you to a T. We hope you found this information on gym bags helpful and don't forget to bookmark gearhungry.com and stop by regularly for more product reviews and guides.