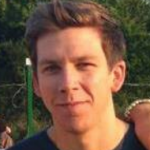 Support us! GearHungry may earn a small commission from affiliate links in this article.
Learn more
Best Tasting Protein Powder
Protein powders come in literally dozens of different flavors, so you can certainly find one that you're going to love. But, this also carries a lot of risk. If you decide to give one flavor a shot, it may backfire – what if you don't like it?
You might think that the solution is to try out each flavor by buying smaller packages. The problem is that such a solution isn't too cost-effective. A bigger container equals a better price. For instance, it's much wiser to buy 10 lbs than go with a 2 lbs container.
But, if you go with a large pack, you might end up buying a protein powder that you don't like. So, what are you supposed to do in that case? Well, rather than throwing it away or keeping yourself from puking each time you have to drink it, you can make the shake taste better.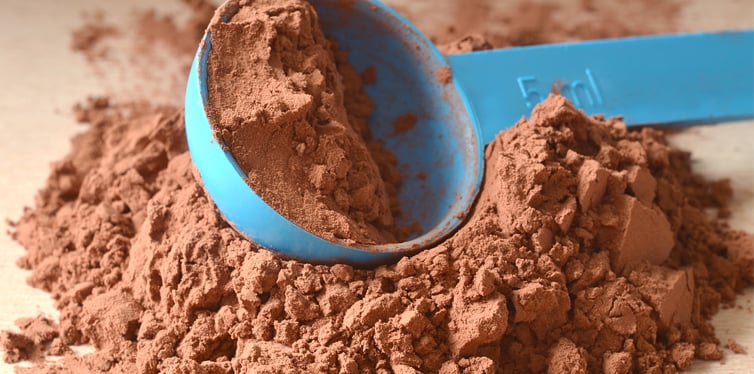 Believe it or not, making protein powder taste better is actually a pretty easy thing to do. In fact, there are a lot of hacks which can improve its taste greatly. You can find dozens of them online, but unfortunately, not all of them work.
We have tried a lot of those hacks; some disappointed us, but some really did improve the taste of the protein powder. Of course, we're not gonna keep this knowledge secret. We are gonna share it with you. So, with no further ado, here are the best 8 methods for improving the taste of protein powder!
 1. Sugar It Up!
"Pour some sugar on me" – your protein powder is singing. With a little bit of sugar, everything tastes better. Believe it or not, sugar is used to improve the taste not only of sweets but savory foods as well. It's found in stuff like peanut butter, ketchup, mayo, BBQ sauces, and so on.And that goes double, actually quadruple, for beverages that are supposed to be sweet. If your protein shake is lacking sweetness, adding sugar will make you fall in love with it.
Of course, regular white sugar has a very bad rep these days. So, what should you do? Well, better stay away from it as it's very unhealthy. There are lots of sugar alternatives that will create basically the same effect on making the protein powder taste better.
You can use stevia if you're being careful about your calorie intake. If you're concerned about your health, then adding honey is a better option. If you're taking your protein powder shake prior to weight training, then you actually need a lot of calories. And you need those calories ASAP. That's why your best choice is dextrose, a kind of sugar that's not digested but gets directly into your bloodstream.
2. The Good-Old OJ
Orange juice can rally save the day. If you don't like the taste of your protein powder, you can mask it by using OJ instead of water. The flavor of orange juice will out-power the flavor of the protein powder, making you forget about it. And if the unpleasant flavor won't go away, the trick to get rid of it is to add even more juice.
Of course, OJ isn't the only kind of juice you can use. Actually, you can use any kind of fruit juice which flavor you like. The thing that makes orange juice stand out is that it goes well with all kinds of flavors. If the protein powder is vanilla flavor, it will make a really good combination with OJ. The same goes for flavors like strawberry, blueberry, and even chocolate.
3. Make a Milkshake
You may hate your whey protein now, but if you make a milkshake out of it, the chances are you're gonna fall in love with it. But, first, we have a little disclaimer – not all flavors should be mixed with milk. Sour flavors like lemon, grapefruit, and some types of berries will probably taste bad in a milkshake.
That said, other flavors are likely to work fine. So, the things you will need is milk (instead of water), and a few ice cubes. Put everything in a milkshake maker or blender and mix until you make a real milkshake. You can always add a sweetener to make it taste even better.
And when it comes to taste of the milkshake, it also depends on what kind of milk you use. "The more fat, the better" is the rule of thumb here.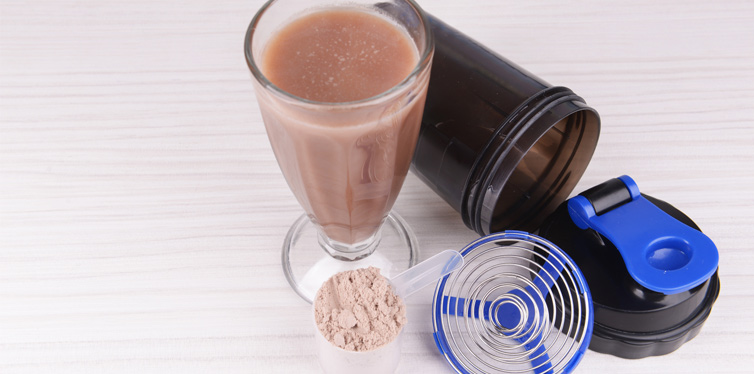 4. Add Fruit to the Mix
Strong-flavored fruits are the ones you should go for, as they're gonna kill of the flavor of the whey protein that you hate so much. Depending on your taste, a good choice might be mango, strawberries, bananas, etc.
Or simply, choose the fruit you love the most. This way, you will surely have no problems drinking the shake. You can even add some strong-flavored spices that would mask the real taste and flavor of the powder. Some that we recommend include:
Mint
Cinnamon
Fenugreek
Cardamom
Nutmeg
Lemon balm
5. Make a Smoothie
If all the previous tips haven't brought you the solution, maybe it's time to use all of them at once. Take sugar, juice/milk, fruit, and spices and mix everything in a blender. You can even add some nuts to improve the flavor. Adding chia is also a good choice, not cause of the taste of the smoothie, but to make it jelly-like.
Apart from making it easier to consume the protein powder, such a smoothie will also improve the nutrient content. A handful of hazelnuts contains 5-6 grams of protein, which is actually a significant improvement, considering that an average protein powder serving contains about 25 grams. So, making a smoothie will boost the protein content by 20%.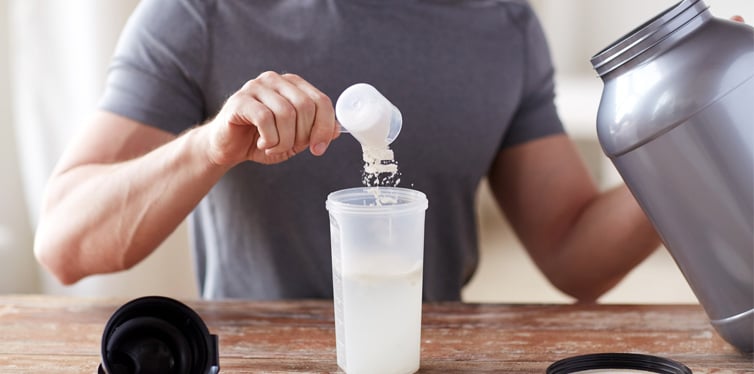 6. Make a Cake
Who said that the only way to take your protein powder is to drink it? You can eat it in the form of a cake. You can make literally any kind of cake you want. The trick here is to replace one-third of the flour with protein powder. Or, you can use protein powder-only plus baking powder. Actually that's the only change you need to make; the rest goes according to the cake recipe.
You can even make pancakes using protein powder. The best thing is that it's pretty easy to make them. Wanna learn how? Here's a simple recipe:
Step 1 – Take two servings of protein powder, one tablespoon of baking powder, ½ cup milk, and one whole egg
Step 2 – Mix everything with a whisk (or in blender if it's more convenient)
Step 3 – Heat the pan and grease it with olive oil (or whatever oil you prefer)
Step 4 – Pour the batter in the hot pan
Step 5 – Flip the pancake when you notice bubbles appearing on the top side
Step 6 – Leave for half a minute before taking the pancake out on a plate
Step 7 – Eat it either on its own or add some fruit, peanut butter, maple syrup, etc.
7. Mix with Another Protein Powder
The worst thing you can do with a protein powder you don't like is to throw it away. If you buy a new one with the flavor you like, there's no need to stop using the 'bad' one. Instead, why not try to mix them up together?
Sure, if you're afraid that the flavor of the bad powder will ruin the taste of the good one, you need to use a different ratio. Instead of going with a half a serving of each, go with the 2:1 ratio. Use two-thirds of the one you like and one-third of the powder you don't like.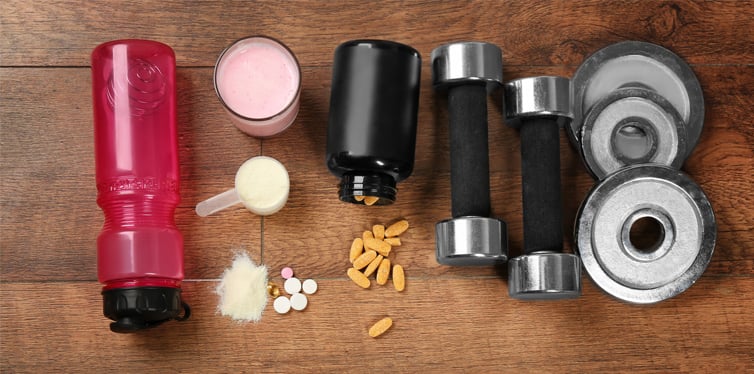 8. Hardwire Your Brain
We're not feeling taste with our tongues but with our brains. And our brain is sometimes pretty easy to hack. There are ways of making food taste much better than it actually is. For instance, it's proven that music can improve the culinary experience.
You can take this knowledge to your advantage – play your favorite music in the background while drinking the shake. Another good brain hack is to use garnish. If the beverage looks nice, your brain will make it taste nice as well.
And if those things don't do the trick, the next one will – use social distractions. Engage in a conversation with a friend, watch an entertaining TV show, or play an exciting video game while taking the protein shake. The last one might actually be the best thing to do – there's no way you'll notice the taste of the shake while being focused on shooting everybody in GTA.
Final Piece of Advice
Maybe the best solution to make the protein powder taste better is to simply drink it. No pain, no gain – even if its taste is horrible, the powder will provide the protein that your muscles crave. So, perhaps the best advice we can give you is to stop complaining and start drinking it!