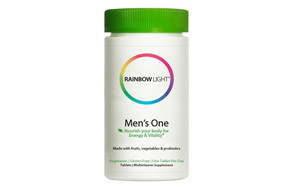 Rainbow Light Multivitamin for Men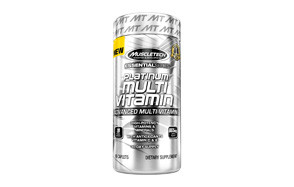 MuscleTech Multivitamins For Men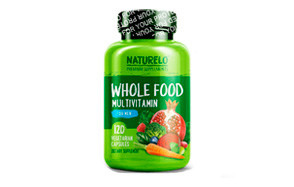 Naturelo Whole Food Multivitamin for Men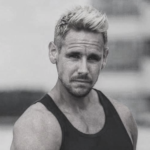 You're all about physical fitness, personal health, and the mental clarity that comes with both. We're the same way, and after seeing your passion for fitness and health, we've compiled our personal favorite multivitamins that are either specifically designed for men, or a unisex vitamin. We'll break down every last little bit of knowledge you need to know about multivitamins, from the good, the bad, and the unintentional. It's all here; check out our list of the best multivitamins for men on the market today.
The Best Multivitamin For Men
Men's Multivitamins Buying Guide and FAQs
How We Chose Our Selection of Multivitamins for Men
These are fairly straightforward products, but you need to look a little further under the hood. We took a look at the following criteria to compile our list:
FDA approval ratings
Quality of ingredients
User reviews
Brand reputation
Multivitamin pill light resistance
We've cut out all the guesswork so that you don't have to. Read below, circle back, and select; it really is that simple.

Features To Look For in Multivitamins
If you're going to commit to taking a daily multivitamin, you've got to understand a bit more about how it's going to affect your body. Everything you ingest is a potential health boost or decrease, which is why we cannot stress this fact enough: do your homework before committing to a purchase. These are what you should be looking for:
Ingredients - It's everything; the capsule ingredient, the actual ingredients on the inside. Keep in mind, you only absorb about 50% of the dosage. This doesn't mean you should take two at a time, but that you should be looking out for ingredients in your breakfast that give strength to your receptors along the digestive tract. Ingredients to look for are:
Vitamin D - This helps you absorb another vitamin in this list: calcium. As you age, your bones lose density. Calcium and phosphorus are both key for this. Alternatively, vitamin D also helps prevent cancer, heart disease, and clinical depression.
Magnesium - Magnesium isn't just the primary compound for sturdy alloys, it's critical in the construction of bodily fluids, as well as a major fighter in diabetes and pre-diabetic conditions. Magnesium also helps with calcium absorption, which most adult males don't get enough of on average.
Calcium - The bone-builder, the blood-clotter. Calcium is one of the most essential nutrients in our diet, aiding in your tooth strength, and helping muscles to contract (which is especially helpful for exercise). Calcium is a super nutrient.
Zinc - Essential for immune system health, zinc is an ultimate nutrient to combat wounds, scrapes and scratches, as well as build proteins in your DNA. All your cells require bits and pieces of zinc to operate properly.
Iron - Iron, or medically known as a hemoglobin compound, is another essential for blood clotting. It's also the carrier for oxygen through your blood, transporting to your lungs and heart.
Folate - Folate is also known as folic acid, which is the main nutrient that women need when they're pregnant. Even so, it's still vital for men's health; it builds red blood cells, and repairs the synthesis of your DNA.
Vitamin B-12 - This is critical for preventing Alzheimer's Disease, prevent clogged arteries, produce proper cognitive function, and so many other things. It's also a vital component to the "feel-good" effect, producing serotonin and other happiness effects in your brain.
Dietary Concerns - You should always ask your doctor if you're healthy enough or require the aid of multivitamins. Dietary concerns usually come in the form of overdosing, which with multivitamins, is very, very rare. Still, we can't understand your medical conditions. Anemia, weight control problems, and numerous other factors all play into the way your body either utilizes, or doesn't utilize.
Dietary restrictions should come from your doctor, first and foremost. Overdosing on multivitamins is very difficult to do on its own, since you're roughly going to absorb 50% of the active ingredients, and usually not much more than that.

FAQs
Q: What Are Multivitamins?
A: Multivitamins pack minerals, nutrients and vitamins into convenient pill-sized capsules or gummies. These are designed to imbue additional properties into your current diet, supplementing nutrition and providing hard-to-find components that you don't come across normally, which are vital to your health. If you took a good look at everything your body needs in a day, there's no way you can eat that much food; multivitamins are the secret weapon of fit and healthy men and women all over the world.
These can add a little extra energy into your day, as well. If you're constantly working out every day, you'll need a little bit extra oomph in your nutrient and vitamin ritual to keep you going. Multivitamins help prevent or prolong age-related diseases, complications, and also promote good bone and joint health. If you're not taking a multivitamin, it's time to get on the bandwagon.
Q: Should You Take Multivitamins?
A: Absolutely. We're willing to bet that you're not getting a perfect, well-rounded nutrition on a day-to-day basis. That's nothing against you, your fitness, or your dieting, it's just really difficult to be able to do that. We're thrown so many processed foods these days. There are some foods that are processed, that really don't even need to be at all; it's all marketing, addiction through food, and negative results; there's no benefit.
So here, we're going to list the major benefits of taking multivitamins. We've already stated this, but just to get it through one more time, you will not absorb 100% of the multivitamin that you take. You will, on average, get about 50% of each multivitamin. Don't look at it as a bottle only being 50% effective; look at it as getting more nutritional benefits than before. There's no such thing as pure, proper, perfect 100% absorption, and we want to be clear and transparent about that.
If you're deficient in specific nutrients, minerals or vitamins, then you're going to have a really rough time absorbing them through diet alone. Having a deficiency doesn't always mean that your diet is off track; sometimes, it just means your body's specific chemical composition has a difficult time.
If you're heading to the gym frequently, you're exerting your body. When you work out and break down fat or build muscle, your body is going through a very odd process. It's trying to utilize fats that you've stored, while also being forced to use new energy that you've ingested through food. Your body goes through a lot. Frequent exercise often beckons a multivitamin being added into your daily routine.
Our nutritional needs constantly develop as we age. Usually, it goes like this: we're not getting enough, and we need it from sources that aren't solely our diet. As we age, our organs heavily rely on additional vitamin sources. They carried the weight through heavy drinking in our early twenties, so it's time to take care of them.
Multivitamins have been proven time and time again to reduce your risk of heart disease, stroke, and heart attack, and lower your chance of developing cancer. When your body lacks nutrients for so long, cancer cells are given a wide open field to run rampant in.
We live in an unhealthy sociey, with numerous food and drink that feels good for a split second, and wrecks us for days afterwards. Multivitamins help you fight back against being lethargic, even if you fell off the wagon and got that McDonald's meal on your way home from work. Feel better more often.

Q: How do Multivitamins Work?
A: Everything works through your digestive system. The inside of your mouth is actually the first contact with your digestive system (try not to get grossed out). Your body immediately breaks down food and multivitamins from the second saliva touches it. Smaller pieces need to be broken off to make it easier to digest, which is when your body starts actually absorbing these nutrients.
Some of the minerals are going to break down, but others will carry on through until it gets through your esophagus to your stomach, where acids continue the process of breaking it down. Everything has been slowly being absorbed through your digestive tract, starting with the mouth, though most of it will be done in your stomach. These enter your bloodstream through various avenues, and imbue the properties with your blood.
Some brands tell you to take a protein-rich food before ingesting your multivitamin, because there are two types: fat soluble, and water soluble. They'll break down differently and enter your bloodstream differently. While it's all very fascinating, and I could continue on about this for ten pages, we've covered the basics.
Q: How to Take Multivitamins Properly?
A: Depending on what you're primarily going for, you'll have different tactics to retain as many of the vitamins as possible. Some multivitamin brands will tell you a specific time of day to take them, as they best interact with your metabolism firing up for the day. Others will tell you that you're better off taking them with certain foods.
One rule applies: never take them on an empty stomach. This is still an unnatural way for your body to process this many nutrients at one time, meaning even the best vitamin supplements in the world could be hard on your stomach. It's just part of the game. Don't take them on an empty stomach under any circumstances, even if it means you have to wake up earlier to whip up a quick breakfast, then you'll have to do that.
Q: Are Multivitamins Safe?
A: It would take a lot of vitamins to make them unsafe. As always, you should consult your doctor before committing to a specific multivitamin, but yes, they are safe. Different companies use different materials to make up gel capsules or whatever carrier the multivitamin comes in, so you'll need to make sure you don't have any allergies or sensitivities to those compounds.
If you've ever heard that multivitamins only do so much, it's true: it's impossible to absorb 100% of what your vitamin supplements have. Even if you took four capsules (beyond not recommended), you're not getting four full doses of what's on the bottle, because digestion is going to claim some of them. The best multivitamins for men take this into consideration, formulating them to withstand the obstacles that the male body faces. Natural vitamins are often absorbed more easily, so you might have a better chance with those.

Q: Will Multivitamins Cause Weight Gain?
A: No, they will not. Multivitamins (at least the ones we recommend) are nutrient-packed, with very little to no sugar and/or carbohydrates. Weight gain occurs when you have excessive sugar, a surplus of calories beyond your needs, and/or medical issues that interfere with your ability to properly store and extract body fat.
If you're experiencing unexpected weight gain, this could be the sign of a hormonal imbalance, or a thyroid disorder which will bring on those similar effects. If you're taking enough multivitamins (recommended by your doctor) to supplement nearly all of your core nutrient needs, and you're piling a high caloric, high vitamin-enriched diet on top of it, your body is going to tell you, "Hey, I'm all set," and store that surplus as fat.
This is your body's mechanism (for certain vitamins and minerals) to stash it for later in your body fat. We've never been in a greater time in human history, where food is never in short supply (in most areas of the world), meaning we don't need to store fat away like we used to. Our bodies are still saying, as they should, "I need to hold onto as much as I can, just incase there's no food later."
That's why we fast, train our body to use fat as energy, and use multiple exercises to keep weight gain at bay. There's a million things you can try, but even the most Hollywood elite bodybuilding trainer will tell you, it's all for nothing if you don't have proper nutrition. Multivitamins are an excellent source to meet your daily nutrient needs without added weight gain. You really have to be trying to gain weight from multivitamins.
Q: What is the Best Time of the Day to Take Multivitamins?
A: Multivitamins are almost always best-used at the beginning of the day, but it also depends on when you plan on using that energy. If you're going to hit the gym, take the multivitamins beforehand. If you work the graveyard shift and don't get up until 2:00 PM, then you're better off taking it when you get up.
You use a lot of energy throughout the day, multivitamins help replenish, and in some cases, disperse that energy throughout the day. Your body digests them fairly quickly, leaving a short amount of time to extract those vitamins and nutrients. Try to take them with your meal (about halfway through) if you're still doing breakfast, to give yourself a higher chance to absorb everything.
Notice: Gear Hungry provides this article without medical professional consultation, affirmation, or promises regarding the quality of these products. We research products and display information that's known to the public, and information compiled from our research. In no way is Gear Hungry responsible for adverse effects from taking any of the multivitamins listed above. This article is purely for entertainment purposes.