Best Protein Shaker
Protein shakes have become wildly popular in the last few years, mainly because of the benefits it provides for those who work out. Back in the day, making one's own protein shake was more inconvenient, unlike today where shakers are now being used solely for that purpose. There are lots of them available right now and I am here to help you narrow them down. Read on if you want to learn more about the best protein shaker on the market.
Our Top Picks For The Best Protein Shaker
BlenderBottle Classic Loop Top Shaker Bottle
The BlenderBottle brand has the aim of empowering millions of athletes through their innovative and premium products such as the Classic Loop Top Shaker Bottle. This protein shaker features the signature BlenderBall wire whisk, which mixes the contents of the bottle to a smooth consistency. The wire is constructed from surgical grade stainless steel that will never rust, chip, or peel and is designed to ensure that the ball will stay inside the bottle. This protein shaker also has a StayOpen flip cap, which will make it easy for you to carry it around. It also is BPA and Phthalate free, ensuring that they will not interfere with your health. It has a 28-ounce capacity and is dishwasher safe. Lastly, with its screw-on lid, wide mouth, and embossed measurement marking, you will be able to enjoy secure, accurate, and easy mixing of protein shakes.
BlenderBottle SportMixer Tritan Grip Shaker Bottle
Another offering of BlenderBottle is the SportMixer Tritan Grip Shaker Bottle, a shaker bottle that is both versatile and beautiful. It is made from premium materials, making it one of the best protein shakers on this list. Like the previous BlenderBottle product, the SportMixer still features the BlenderBall wire whisk for mixing even the thickest nutrition and energy shakes. It also features the StayOpen Flip Cap, a rubberized over-molding for a firm grip, a screw-on lid for additional security, a large spout for pouring and drinking, and embossed markings for measurement accuracy. The SportMixer now is stain and odor resistant through the use of Eastman Tritan, which is a medical grade plastic, popularly known for its quality, clarity, and extreme durability. In addition, it is BPA and Phthalate free and is leak proof.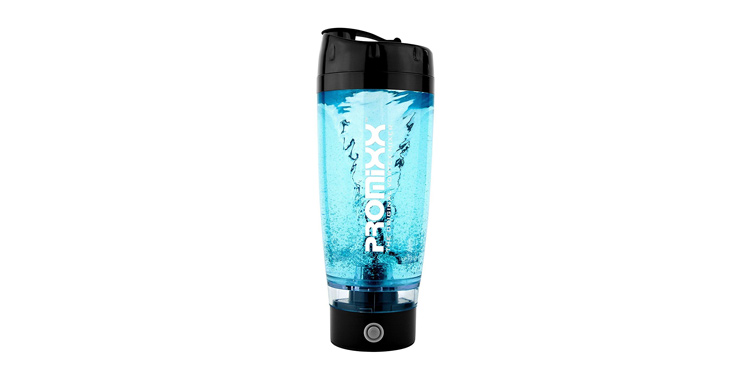 Promixx: The Original Vortex Mixer
The Promixx is one of the most powerful battery-operated protein shakers, with its high torque motor that has the capability of blending even the most stubborn ingredients. With this feature, you can have the assurance that no lumps will form at the bottom of the shaker. The Promixx Vortex Mixer has been applauded by athletes around the globe because of its ergonomic design that comes with a blunt blade for preserving the micronutrients that aid in enhancing protein performance. While it is BPA and DEHP free, it is also odor resistant and very easy to clean after use. Lastly, it is 100% leak proof and the brand offers 1-year warranty.
HydraCup Dual Threat Shaker Bottle
The HydraCup is a dual shaker that lets you take complete control of your pre game energy and post game recovery drink. It has the ability to deliver perfectly blended drinks through its dual mixing grids. Using this shaker bottle also can save you a lot of time because you can carry two drinks instead of one. Every shaker bottle offered by HydraCup also has slogans, which will motivate you and may be a great conversation starter. Another great feature of the HydraCup is the differently colored flip caps that tell you what side you are drinking from. It also has a hiking loop for securing to your backpack, as well as volume measurements for each side. Lastly, it is BPA free and leak proof.
HydraCup – 28oz Dual Shaker Bottle
Another great offering by HydraCup is the 28oz Dual Shaker Bottle, where you can easily store pre and post workout drinks. It is very easy to use and you will no longer have to endure the inconvenience of carrying two separate bottles. It has the capacity of holding up to 28oz total, enough for a scoop and a half of your favorite protein shakes. It is also very durable due to its locking clips that are tested to last. Like the previous protein shaker, this one is leak proof, with its lid design. Lastly, it is BPA free and is dishwasher safe.
Umoro V3
The Umoro V3 is a 3 in 1 water bottle, shaker bottle, and storage compartment. This shaker bottle will allow you to carry protein powder, meal replacement, supplements, and pre and post workout drink. Surely, this will eliminate the need for carrying more than one bottle whenever you go to the gym. With a push of a button, this shaker bottle will transform from being an ordinary water bottle to a protein shaker. It is BPA free and is constructed with durable and odor resistant materials.
Contigo Shake & Go Fit Mixer Bottle
The Contigo Mixer Bottle has a leak proof lid that will make clean and convenient mixing and shaking. It also utilizes the Taste Guard Protection technology that ensures that the taste maintains, while resisting odors. You can also store at least two servings of powder when not in use with its storage container. It has a rounded bottom, as well as a weighted shaker ball that work collaboratively to reduce buildup and clumps that are common in most bottles. It is also a BPA free bottle and is dishwasher safe. Lastly, it has a carry handle that allows easy transport.
321 STRONG Stackable Shaker Bottle
The shaker bottle offered by 321 STRONG features two storage compartments where you can fill them with pre and post workout protein shakes. It also has a vitamin tray that sits neatly on the top compartment. With these features, you can carry all that you need for your workout in a day. What's great about this protein shaker is that the expansion sections can also fit into the main bottle. You also get the CrazyTension spring that helps reduce lumps and buildup of protein powder at the bottom of the bottle. It is leak proof and can hold a total of 360 ml of liquid. In addition, it is BPA/BPB free and is dishwasher safe.
Trimr Duo Classic Protein Shaker Bottle
The Trimr shaker bottle incorporates both the wide mouth and straw combination. It is specially designed for the premium features of a water bottle, combining it with the functionality of a protein shaker. It is BPA free, reusable and environment friendly. It is also odor resistant and is dishwasher safe. Its lid houses the flip straw, chug option, and the patented straw, perfect for those who engage in yoga, bodybuilding, cross fit, weight loss, and fitness. It has the capacity to hold 24oz and can effortlessly mix the contents through its surgical grade stainless steel agitator. Lastly, all products manufactured by Trimr are backed by 1-year guarantee.
Grenade Shaker with Protein Compartment
Just like the brand's advertisement, this is no ordinary shaker. It has a distinctive grenade design and branding. It also has a removable storage compartment for your protein powder, supplements, and vitamins, among others. With this feature, you can conveniently hold at least 3 full servings of your favorite protein powder. It is also BPA/DEHP free and is microwave, freezer, and dishwasher safe.
Ice Shaker Protein Shaker
This premium quality protein shaker is a 26oz double wall vacuum insulated bottle that will be able to hold ice for up to 30 hours. You won't need a blender ball, as you only need to add ice and shake the bottle with your hand. It is a very convenient protein shaker that can blend your protein powder with ease. It is BPA free and leak proof, preventing accidental messes and spills in the gym. It is also very easy to open, as you only need one hand to do it. It is made from kitchen grade stainless steel that, at the same time, does not absorb odor. With this feature, you will no longer have to endure a smelly protein shaker. The Ice Shaker protein shaker is also sweat proof, avoiding the sweat rings all over your table. This feature is made possible by the double wall vacuum insulated bottle, which prevents condensation from building up. Lastly, it has a tapered design that would mean easy clean up after every use.
Things To Consider When Buying A Protein Shaker
Tight Seal and Leak Proof – Obviously, one of the most vital factors to consider when choosing a drink bottle is that it has to be leak proof. There is no use if your protein shake only ends up on the gym floor or worse, inside your gym bag. You have to choose one that can guarantee you no leaks from the moment you lock the lid.
Capacity – This factor would matter especially if you know that you will be drinking a lot of protein shakes. Capacity is an important thing especially if you want to carry around all that you need within a day. With this feature, you will be able to drink as much as you need, eliminating the hassle of mixing the powder over and over again.
Mixing System – A lot of the products reviewed in the previous section feature the wire-mixing ball, which ensures that there are no lumps and powder buildup especially at the bottom of the shaker. This would ensure that you get all the nutrients, as well as the benefits, of your protein shake.
Dishwasher Safe – This factor would be most beneficial for people who work out everyday. Your protein shaker should be one that can be washed with ease. In addition, people who do not have much time would opt to just place their protein shakers on the dishwasher. Just remember to carefully evaluate the reviews as some of them only can be placed on the top rack of the dishwasher.
Dual System – Some of the protein shakers presented above now have the very interesting dual system, which allows you to carry two different drinks at the same time. This would be most beneficial for people who carry both pre and post workout shakes.
Material – Durable protein shakers are made from stainless steel, whatever grade it is. In addition, you should look for a shaker with a lid that can endure as many bends as it can. In addition, choose the one that has odor resistant features, because you do not want to smell last week's protein shake, right? Lastly, the protein shaker being BPA free is a relief, as exposure to BPA can cause serious health problems.
Ease of Carrying – Some protein shakers do have a loop for easy transport. This factor would be beneficial for you if you just want to attach it outside your gym bag.
Extra Storage – Though not a requirement, it would be better if the protein shaker you get has an extra storage for your other serving of protein powder, as well as vitamins and other supplements. Having this feature would ultimately mean that you do not have to carry around lots of separate containers when you can all place them in one protein shaker.
Conclusion
Choosing the best protein shaker might confuse you especially if you are just beginning to take fitness into a more serious note. With the reviews discussed in the previous sections, you most likely will have a general idea of what makes a good protein shaker. To add, factors to consider such as its capacity, mixing system, ease of carrying and material are all important in narrowing down your choices. Mixing drinks can be a real hassle but getting an effective protein shaker is a clever way of making every protein shake as well shaken as you need it to be.