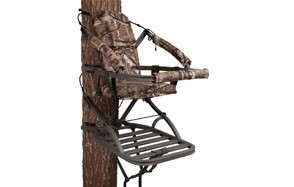 Summit Hunting Tree Stand Viper SD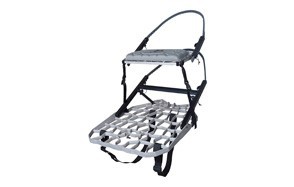 Lone Wolf Hand Climbing Tree Stand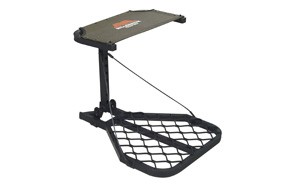 Millennium M7 Microlite Hang-on Tree Stand
Hunting season has come around, or you're heading halfway across the country – either way, it's off to the races. A hunting tree stand is going to be your secret weapon. Primarily used for hunting whitetail deer, tree stands are the quintessential component to proper hunting gear. We've found the seven best, most-reliable tree stands on the market, and laid it all out: what to expect, what to look for when purchasing, and how to get your money's worth out of every last penny.
Best Hunting Tree Stands (Our Picks)
Summit Hunting Tree Stand Viper SD
See More Reviews

It's hard to argue – Summit is the king of tree stands, and they've been undefeated for years now. After testing seven models on our own, we can attest to the fine-tuned craftsmanship that Summit puts into everything. From the lightweight (20.0lbs) aluminum frame, right on down to the quietly-moving parts when you scoot around in the seat, it hits home on all fronts. The key points are there, but a few inconsistencies revolve around the paint quality along the footrest, and the all-inclusive shoulder straps being a bit generic. You'll be comfortable up to 300lbs without dead leg, pins and needles, or stiff joints when you climb down for the day. Summit looks like it's going to hold the crown for a long time, and we can't wait to continue relying on them for hunting trips.
Key Features:
Supports up to 300lbs
Product weighs 20.0lbs
2:3 seating (12" x 18")
Specification:
Brand

Summit Treestands

Model

81120

Weight

20 pounds
Built for 8+ hour days with no aching joints or stiffness
Quiet, even when you move around a bit
Includes harness, bungee, and more
Footrest paint chips off very easily
Included shoulder straps are poor quality
Millennium M150 Monster Hang-on Hunting Tree Stand
See More Reviews

Very simple to mount and comfortable as can be, Millennium put their best efforts to the test, and we'd have to say that they passed with flying colors. We were skeptical to try one reviewer's test, but we bounced up and down on the thing, and it didn't make a single noise, making it optimal for hunting conditions, including human error and the occasional seat adjustment. Speaking of adjustments, there's a slight and very specific issue. It adjusts perfectly fine, but the knob is touchy, and is easy to pop-off and drop down to the forest floor if you're not careful. If you're going with this model, try to set up your spot as reasonably close to your parking as possible; it's a bit awkward to carry. Once it's positioned, you'll be seriously amazed at the comfort and quiet components.
Key Features:
17" x 20" seating
Product weight of 19.5lbs
Weight capacity of 300lbs
Specification:
Brand

Millennium Treestands

Model

M-150-SL

Weight

19 pounds
You can jump up and down on it, and it won't make noise
Extremely comfortable; cuts down on fatigue and aches
Simple to secure to the tree
Touchy tightening knobs; easy to drop once positioned
Wider dimensions make for an awkward carry
Ameristep 15" Two-Man Ladder Hunting Tree Stand
See More Reviews

Short, sweet, and to the point – Ameristep didn't waste any time, and didn't want you to waste of money. For one of the best prices you'll find anywhere, and certainly the best price on our list, you'll get two seats, with a full 500lbs of weight support. For under a Benjamin, that's some serious power. We believe that you get what you pay for, so you're not going to get much camouflage coverage on this, nor an ultra comfortable seat. You do get two harnesses and a TMA certification, ensuring maximum safety when you're resting up in the treetops. You're getting durability, a heavy tree stand (which will require two of you to bring on the initial setup), all while keeping plenty of green in your wallet.
Key Features:
500lbs weight capacity
Includes two harnesses
Simple to assemble and set up against the tree
Lowest cost tree stand on our list
Easy to get in and out of
Built for hunting partners to hoist themselves in
Not overly comfortable
Minimal camouflage coverage
Very heavy
Lone Wolf Hand Climbing Tree Stand
See More Reviews

As we descend into our top countdown, we're going to run into a few irregularities that aren't on the first-tier models. Kicking off the second-tier batch, the Lone Wolf hand climbing stand comes with a few flaws, such as a rough time setting it up (which is a common issue with hand climbing stands), and a difficult time climbing it once it's been set if you're not in good shape. It's rated for up to 350lbs of weight capacity, holding you comfortably with padded foam cushioning. You also get an all-inclusive six-point fall arrest system, capitalizing on every potential pressure point to give you maximum traction against the tree of your choosing. A median-priced hunting tree stand, lightweight enough to carry on your back with no issue, albeit with a few downsides.
Key Features:
Product weighs 17.5lbs; lightweight enough for solo travel
3D camo platform helps reduce risk of falling
Rated for 350lbs of weight capacity
Specification:
Brand

Lone Wolf Treestands

Model

45572

Weight

6.4 ounces
Six-point fall arrest system
Good for up to 19" tree diameter
Comfortable foam seating
Designed for physically fit, above-average health to get the easy climb out of it
Difficult to set against the tree; it won't budge once it's there, but it can take awhile to set it up
Millennium M7 Microlite Hang-on Tree Stand
See More Reviews

This budget-friendly minimalist tree stand is the most lightweight on the list, coming in at 8.5lbs, which is perfect for the sedentary hunter. You'll have to be a touch bit careful with the wire suspension regarding the footrest, and pack a cushion if you're planning to be up in the tree for more than three hours – the fabric isn't very supportive. Apart from those few minor issues, you'll get up to 350lbs of weight capacity, as well as the Safe Link safety line, which comes with a carabiner and safety rope. We can't hand it to them enough regarding mobility; you also get backpack straps included, making this the most convenient aluminum tree stand for transport on our list (and that we've personally ever used).
Key Features:
Product weighs only 8.50lbs for maximum mobility
300lbs of weight capacity
Includes useful backpack straps
Specification:
Brand

Millennium Treestands

Model

M-007-SL

Weight

8.5 pounds
Completely quiet use; no worry about fending off prey
Includes "Safe Link" (carabiner and safety rope)
Fabric seat doesn't offer great support/comfort
Safety concern regarding footrest wire suspension; it's easy to get your boot stuck behind them
Lone Wolf Assault II Hang-on Tree Stand
See More Reviews

We're nearly finished, and we're getting down to viable choices, but with a few issues that are going to be a money thing: if you can't live with them, it will be better to go with the first-tier models. This hang-on stand is very small, which aids in portability and helps with setup, but also makes for close-knee quarters when you're actually sitting on the thing. This tree stand isn't going to make a peep, so alerting nearby prey won't be an issue. Although it doesn't look like it, you can set up to 350lbs of weight on this bad boy, and to make you feel doubly safe, you also get a six-part fall arrest system, completely TMA-approved. For the budgeter who plans 2-3 hour excursions in the trees, this is a great stand.
Key Features:
TMA-approved six-part fall arrest system
350lbs of weight capacity
Product is lightweight at 11lbs
Specification:
Brand

Lone Wolf Treestands

Model

45569

Weight

6.4 ounces
Relatively fast setup process
Absolutely silent use; refrain from scaring off prey
You won't have much wiggle room/storage space
Pricey for what you get
See More Reviews

Not to be confused with the Assault II, the Alpha II comes with everything you need in one convenient kit. Last but not least, this all-in-one set comes with a harness, six-point TMA-approved fall arrest system, and backpack straps to carry it in, and out of the woods with ease. Being lightweight, it's simple to set up, yet still holds up to 350lbs of max weight. We personally feel like Lone Wolf priced this item a bit high, though it does come with a bow holder, and all the necessary safety features. You will be sacrificing comfort – from the footrest to the miniature seat, it's not designed for all-day use, but for two to three-hour excursions, you'll get more than your money's worth with Lone Wolf.
Key Features:
Outfitted to hold up to 350lbs
Six-point TMA-approved fall arrest system
Bow holder to accommodate parallel limb bows
Specification:
Brand

Lone Wolf Treestands

Model

45568

Weight

6.4 ounces
An all-in-one starter kit with harness and additional items
Extremely lightweight; easy to carry, easy to set up
Comes with backpack straps for mobility support
Higher price item for minimal comfort
No EZ hang hook capability
Hunting Tree Stands Buying Guide & FAQ
You're dealing with a precise piece of equipment. Success is going to depend on two things: your ability, and the quality of your tree stand. Let's break down every possible component of that success, and answer your burning questions. From deer-specific hunting protocol to height placement, it's all here. The last thing you'll want to do is improperly position your tree stand, and waste a whole day of hunting. We're aiming to ensure that.

Q: What Are the Advantages of Using a Hunting Tree Stand?
A: You get a superior line of sight, flank your prey, and it creates a more focused hunting dynamic. If you use a permanent fixture hunting stand, you'll have your own usual spot, giving you a sense of serenity, free from the daily grind of life. Cutting down on noise and testing your skills with a rifle also come into play.
Q: How to Use a Hunting Tree Stand for Maximum Results
A: We're human; we have human odors, habits, and make specific noises that prey don't hear in nature often. Tree stands are your foundation, but they're not you endgame. Interrupting the prey's line of sight by being out of sight is critical, but these three tips are going to be just as crucial for getting the most out of your tree stand, and your hunting trip overall.
Always mask your scent. Deer can smell oddities for an average of a ¼ mile to ½ a mile away, even when you can't see them, or hear them prancing through the woods to escape. You could be walking through the forest or sitting in a tree stand, scaring off deer without even knowing it.
Use an odor-masking spray. Deer can smell you from nearly a mile away, and that's not just an expression. Veteran hunters will already know this, which is why there's a running joke about hunters smelling of animal urine - yeah, you're actually going to have to put urine on your hunting clothes. Get ready.
Negating noisy habits, whether it's talking, snacking, or playing a small radio while you're up in your stand, all have to be eliminated. Even if you're hunting with a mate, avoid chitchat. Stay focused, and be aware of every move you make.
Optimum Height Setting for a Hunting Tree Stand
Everything is dependent upon your prey, and their FOV. For this, we're assuming you're hunting whitetail deer (most common tree stand use). Your prey doesn't look up often, but if you're not covered enough, they'll notice you. You'll have to be the judge of the height, basing your decision off of these guidelines:
Dense Forest: 10 feet above average ground level
Lush Forest: 15 feet above average ground level
Sparse Foliage: 20 feet above average ground level
Everything changes with the environment, and the prey. Even if you feel "more comfortable" at a lower level, it could seriously harm your chances of bagging game for that trip. You'll have to learn how to be ready in higher positions. The higher up you go, the more we urge you: remember your safety harness. Nobody is immune to falling.

Keep Yourself Safe With a Harness
Fools look in hindsight with regret; a wise man always comes prepared. Safety is a major concern for tree stand users, especially if you're heading into the woods alone. If you're budgeting for a tree stand, and it doesn't already come with a harness (it's a hit or miss for harness inclusion), then you need to factor-in purchasing an additional harness. At the end of the day, you'll take unnecessary risk out of the equation.
Picking the Right Tree to Set Up On
One of the golden questions: how do you know which tree to position yourself in? We all have the worst case scenario idea of the tree just falling over while we're in it; that floats around in our heads from time to time. Stave-off the worry, because we're about to tell you what you should be doing.
First thing's first: you need to figure out how to spot a good tree from a bad one. Common sense would tell us that the wider the tree, the more sturdy it is, but since we're applying a tree stand, that's just not the case. The best you can do is find a tree that remains the same diameter (as much as nature will allow it), and make your way up.
When you set up your tree stand, you're using part of the weight of the tree to position it. Getting the right angle is critical to keeping it comfortable for you. Too high, you'll be crushing your gut, and too leaned-down, you'll be using the traction on your boots to stay in one spot, which is going to hurt your legs after a few moments. You'll have to fidget around with your tree stand, but ideally, you want a perfectly flat seat when all it said and done.
Q: What Are the Different Types of Tree Stands?
A: Ladder - Self-explanatorily, these tree stands come with short (usually three to seven notch) ladders that allow you to climb up just enough into the tree to get out of prey's line of sight.
Climbing - Dubbed the portable tree stand, these are for more versatile, and work well if you're setting up on different areas/plots of land for different seasons. If you consider yourself a seasoned hunter who likes to switch up the location and take a challenge, this is the type for you.
Hang-on - These are more permanent fixtures, ones that you would apply to remote areas, or on private land that you own and hunt on. You'll be screwing these ones directly into the tree, which allow for more stability, and also allows you to make modifications such as a small canopy, storage, etc.
Q: How do I Set Up and Plan for the Perfect Tree Stand Hunt?
A: There's one specific rule of thumb to follow: open a kill lane. As ominous as that sounds, it simply means to have a clear shot, and if possible (though not likely), ample room to provide a second shot if your prey is simply injured, or manages to break away.
Planting your tree stand has a lot of factors: picking the right tree, having the right angle, and being near a food or water source for your prey. Your stand is going to partially use the resistance of the tree, as well as your restraints. You want to set up a comfortable spot, where you're not going to get dead leg or pins and needles after ten minutes. For that, we have a little test for you.
If you have trees at home or a nearby park, try testing about two feet off the ground (from the lowest point), and get comfortable. Find a position that works for you where you're not putting immense pressure on arteries or joints, so that when the time comes to retrieve your kill, you're not also applying an Icy Hot patch to your back at the same time.

Staying Safe When Using a Tree Stand
So you know that a tree stand is vital to your hunting game, and that a harness is vital to safety, but there are a few other tips to keep in mind when you're hosting yourself up.
If your tree stand has a ladder, the FWS wants you to maintain three points of contact at all times to reduce the risk of falling. Hunting tree stand accidents are becoming an increasing cause of injuries, particularly in the south-eastern United States.
Never underestimate the weight and distribution of your gear. Having too much weight on one side and swaying just a few inches too much, can seriously set you into a loss of control.
Be prepared for specific weather. Forecasting isn't enough; pay attention to the conditions, and be sure to remain safe when climbing in and out of your tree stand when it's raining, or if the ladder becomes slick from accumulated frost in the winter months.
Things to Consider
Weight - You don't want to lug something overtly heavy through the woods. You'll use up your stamina, run through blood sugar, and have a half-baked experience. Look at your personal capabilities, and plan accordingly.
Portability - Storage and the awkwardness of carrying something is key. Does your car fit it? When you think of portability, you usually think of getting it up into the tree, but few think of getting it down during the purchase process. Walk yourself through from start to finish, and determine what you need for portability.
Weight Capacity - We're all built differently, and no load-out of gear is the same, either. Take everything into consideration: the weight of your boots, jeans, rifle, and everything in between. Rule of thumb dictates to steer 10-15% south of the maximum weight capacity for your tree stand of choice.
Using a Tree Stand for Hunting Whitetail Deer
We're going to get in-depth with a bit of whitetail knowledge, so if you're already accustomed to hunting them, you can gloss over this part (though you'll find a few interesting facts). We all know that hunting tree stands are primarily designed to hunt deer and other sensitive game, but a lot of us don't exactly know why. These tidbits of information could seriously help you out when you're in the middle of the wilderness, and aim to get the most out of your tree stand.
Whitetail deer can hear extremely minor sounds for up to one mile away, making their senses super acute to sharp sounds, even when you're up in a tree stand. Namely, if you're going to play tunes, do it on some earbuds.
Whitetail have a really crummy line of sight, which is why tree stands are secret weapons. The key is to have your stand high enough above their FOV, without making it impossible to get down.
They don't need to drink water as often as most of us would think. They forage for mass amounts of food (their primary diet consists of over three-hundred different things), so sticking yourself near their food sources yield a better chance at actually landing game.
Sources
How to Set Up Your Tree Stand, Field & Stream
Tree Stand Safety Tips, US Fish and Wildlife Service
How to Use a Climbing Tree Stand, Bowhunting.com