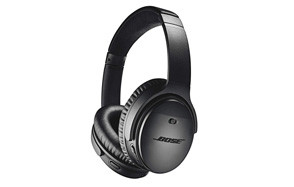 Bose QuietComfort 35 II
Beats Studio3 Wireless Noise Canceling Headphones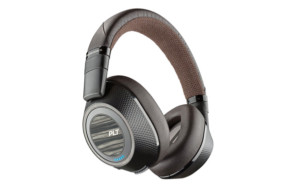 Plantronics Wireless Noise Cancelling Backbeat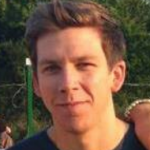 When it's noisy where you are, whether you're at work or trying to relax in the park on your lunch break, you have two choices that will allow you to hear the music through your headphones: you can turn the volume up or you can cancel out those exterior noises by using noise cancelling earphones. The default solution for most people is to turn up the music but if the music in your headphones reaches 105 decibels you can expect to damage your eardrums within 15 minutes. The smarter, healthier option is to keep the volume down and use noise cancelling earphones to neutralize the sound leaking in from outside. There are 2 ways they do that:
Noise Isolation – This is the "traditional" method often known as "passive noise-cancelling". Noise isolation in this instance combines a snug headphone fit with high quality insulating materials that absorb exterior sound in order to make the interior environment of the headphone quiet enough that you can easily hear what's being played.
Active Noise Cancelling – Active noise cancelling earphones are true high tech devices with microphones that sample outside noise, analyze its qualities and produce a counter-signal that effectively neutralizes the would-be incoming noise. Sure, it's fighting sound with sound but in a scientifically proven way that breaks up the incoming sound waves instead of just trying to overwhelm them by turning up the volume.
The Wireless Option – Makers of noise cancelling earphones recently had to scramble to address the fact that many new smartphones are being shipped without headphone jacks. It took a while to produce a wireless version of noise cancelling earphones that was worth the investment. But the newest generation of wireless noise cancelling headphones are now every bit as effective as the cord driven variety.
Now that we know what we're dealing with let's take a look at the 10 best noise cancelling earphones on the market, both wired and wireless.
The Best Noise Cancelling Headphone
Noise Cancelling Headphones Buyers Guide & FAQ
While plenty of people have heard of noise cancelling earphones not many know much about the technology behind them or whether they even work effectively. Some suspect they may be nothing more than a marketing ploy, like "rich Corinthian leather" (thanks Ricardo) while others have more technical questions and concerns. Below are some of the most common questions we encountered while testing the best noise cancelling earphones.

Things To Consider When Buying Noise Blocking Headphones
Because they represent relatively new technology and that technology can take a while to wrap one's head around shopping for noise cancelling earphones is not as easy as it may sound (so to speak). As with just about every other type of technology some companies do a better job of implementing the science than others. Some trumpet their product as noise cancelling earphones when they're just standard headphones with a little extra insulation around the ears. While others take the matter seriously and create an internal headphone environment that's so quiet people often use them with the music off just to enjoy the silence they produce. Here are some things to consider then when shopping for noise cancelling earphones:
Choose the Style of Noise Cancelling Earphones You Want First – As we've already mentioned noise cancelling earphones fall into 2 categories: passive and active. But beyond that, there are different styles of earphone as well. Roughly speaking these fall into 3 basic categories: earbuds, earpads and headphones. Most manufacturers produce noise cancelling earphones in all three categories so which you choose is really a matter of personal taste. But you should decide up front in order to simplify the selection process.
You Should Always Try Them Out First if Possible – It's difficult to decide which noise cancelling earphones are best if you can't actually listen to the final product. As such, once you've narrowed down your choices you should try and find somewhere to try them out before buying them. Even if you want to buy them online seek out a retailer and try them on then make your online purchase based on the results. Is it fair to "use" a brick and mortar retailer to try things out before purchasing online? That's up to you to decide.
In Most Cases You Get What You Pay For – While there are exceptions to every rule for the most part when it comes to noise cancelling earphones you're going to pay more for better quality. Anyone promising you the moon for $20 is simply blowing smoke trying to make a sale. Also, as with other things in life the law of diminishing returns sets in at a certain point. That means that while the difference between $50 headphones and $300 headphones can be substantial that difference begins to become harder to detect as overall quality improves. Eventually, you get to the point where the difference in audio quality between $300 headphones and $500 headphones is likely so small only an expert could tell.
Take Manufacturer Claims with a Grain of Salt – Every manufacturer wants you to believe there's is the quietest pair of noise cancelling earphones on the market. To do so they sometimes get creative with the facts. Not that the manufacturers lie, they just parse their claims with plenty of subtle but plausible deniability. If they say their noise cancelling system eliminates 'as much as' 99% of ambient sound keep in mind that could also mean it actually eliminates 38%. The only way to know for sure is to try them out, which you should always do if at all possible. All the techno-speak on earth is no substitute for putting them on and listening.
Get the Features You Want – Different models from different manufacturers offer different features. Make sure you understand exactly what your earphones will do before you lay down your hard earned money for them. Obviously, if you want active noise cancelling you'll need your headphones to have Bluetooth capability. You may also want a built in microphone so you can take calls while you're wearing your noise cancelling headphones. If comfort is important to you you'll want to make sure the ear shells are fit snug without pinching or pressing in toward your head too hard. You might want in-line control, voice prompts or 1 step connectivity. Read the fine print, ask questions and get the features you want.
Make Sure They Have a Good Battery – Noise cancelling earphones that use active technology have a processor built into them that needs power. It gets that power from a battery or batteries. Check to see what type of battery your would-be earphones use and how long they can be expected to last. You don't want to be changing or charging batteries all the time.
Make Sure You Get a Decent Warranty – Again, with earphones that use active noise cancelling technology, there are electronic components involved that not only need battery power, but can also fail. And the more expensive the headphones the more it will likely cost to repair them should any of those complex electronics quit on you. Because of this you want to be sure your noise cancelling earphones are covered by a robust warranty and that the company's customer service has a reputation for just that; service, and not evasion.

Noise Cancelling Headphones FAQ's
Q: What Are Noise Cancelling Headphones?
A: As we touched on at the beginning of this review guide noise cancelling earphones are a type of high tech headphone that uses state of the art audio technology to produce sound waves that actually break up and disperse incoming noise, thereby creating a silent environment in the headphone that allows you to listen to your music without having to raise the volume to 11. They have been gaining favor in recent years as the technology has improved. With more and more people using smartphones and other digital devices to stream music while on their way to work, lunching in the park or flying on noisy airliners their use is only likely to increase.
Q: Why Do You Need Them?
A: People choose noise cancelling earphones because they want to hear the music emanating from their smartphone or other listening devices. Large cities today are incredibly noisy places and until recently the only way you could hear your music was to turn up the volume on your headphones and drown out the background. This technique not only created a cacophony of muddled sounds in the headphones but also put incredible stress on the eardrums. Readily available statistics show that loud music is the number one cause of preventable hearing loss in the world today. So the "solution" of simply turning up the volume to counter exterior noise is not only minimally effective, it's also dangerous to your hearing.
Q: Wired or Bluetooth?
A: When they were first introduced wireless noise cancelling earphones were pretty laughable. Thankfully those days have receded into the fog of history and today's wireless noise cancelling earphones work as well – and in some cases better – than their wired counterparts. Therefore, making a choice between wired and wireless is no longer a matter of choosing between high quality and low quality. It's an embarrassment of riches where you get to choose between good and great.
Q: Can You Use these Types Of Headphones With Noise Cancelling Turned Off?
A: Sure. Even if you have active noise cancellation turned off you'll still be able to listen to music through your headphones using passive mode. Although not all makes and models will offer this option. Still, if you went through all the time and trouble of selecting the perfect set of noise cancelling earphones you'll want to keep their most important feature turned on. Otherwise, it's like buying a sports car and never taking it out of the garage.
Q: Are Noise Cancelling Headphones Worth The Investment?
A: The $64,000 question. As much as we love us some noise cancelling earphones we have to admit that they're an indulgence. As such you don't "need" them. They're simply great to have if you love music. So whether or not they're worth the investment will depend entirely on the value you place on being able to hear music in its pristine state. If that's important to you then you'll likely find this type of headphone to be of extreme interest and importance and you'll want to get the best pair you can reasonably afford. If on the other hand you like music but you wouldn't call yourself an audiophile you may want to think twice before dropping $400 on a pair of noise cancelling earphones.
Q: Is There Any Downside To These Types Of Headphones?
A: There are 3 potential ones:
Cost – This technology is not cheap as we just mentioned. It's taken these companies many years of expensive R&D to create and perfect this technology. They need to recoup that investment, which is one reason why your noise cancelling headphones cost so much.
The Battery – Active noise cancellation is an electronic process that requires a power source. Some use standard AAA batteries to provide the power. Others rely on rechargeable lithium-ion batteries. But no matter the battery type batteries wear down and you're eventually left either hunting for replacement AAAs or having to recharge the L-i battery. To minimize inconvenience associated with the battery make sure you purchase a headset with a battery that gets at least 15 hours on each charge.
Safety – The job of the noise cancelling earphones is to prevent ambient noise from entering the headphone environment and sullying your listening experience. They do that job really well. So well in fact that you could be riding your bike with them on and not hear that out of control taxi honking its horn furiously to warn you to get out of the way. Or your significant other may be trying to communicate with you while you sit there in a state of music induced detachment. And you should never wear noise cancelling earphones while driving a car or operating heavy machinery. Such behavior is an accident waiting to happen.
Conclusion
Noise cancelling earphones have revolutionized the way people listen to music and revolutionized their experience of that music. Even songs you thought you knew like the back of your hand are revealed to have a richness of hidden textures that were never apparent before when you had to listen through a blizzard of unrelated ambient sound. It's no exaggeration to state that you're going to spend most of your time going "Oh wow!" as you listen to your favorite songs for the first time with these unbelievable pieces of personal entertainment kit.
Any of the 10 best noise cancelling earphones we reviewed above will provide a revelatory experience akin to what your great-grandparents went through when they saw a movie in color for the first time or what your dad experienced when he bought his first stereo. If you're a true music fan who listens to lots of streaming music on your handset you owe it to yourself to pick up a pair of noise cancelling headphones and see what all the fuss is about. You won't be disappointed.
We hope you found the information in this noise cancelling headphones review and guide helpful and use it to make an informed decision when it comes time to purchase your first or next noise cancelling headset. Don't forget to stop back on a regular basis for more product reviews and guides and tell your friends about us too. Everyone can use good product info and that's what we're here to provide.