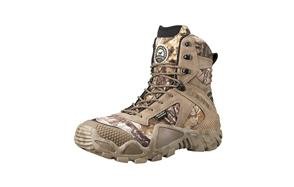 Irish Setter 2870 Vaprtrek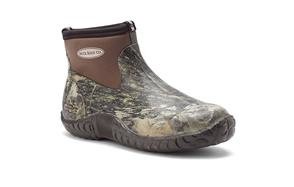 MuckBoots Camo Camp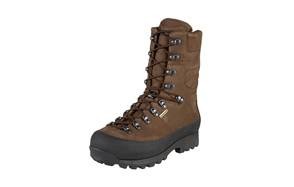 Kenetrek Mountain Extreme Ni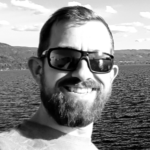 A successful hunt requires more than the right weapon, more than experience and more than the patience of Job; although it requires those things as well. More often than not the key to a successful hunt comes down to what you're wearing on your feet. That's because hunting often calls for you to slog through miles of sloppy, hazardous terrain in all types of weather. If your footwear isn't up to the challenge you'll be calling it quits and heading back to the car or campsite to dry and warm your feet while that 12 point buck disappears over the ridge.
It's your feet that carry you over hill and dale, through swamps and across rivers in pursuit of your quarry, not your rifle or sunglasses. As such the footwear you choose is of paramount importance. In this product review guide, we're going to take a close look at the top hunting boots on the market in order to provide you with the information you need to make an informed decision regarding footwear for your future hunting trips. Keep in mind that the opinions expressed here represent the consensus of our product review experts.
The Best Hunting Boot
Hunting Boots Buyers Guide
Buying hunting boots isn't like buying sneakers or loafers or even work boots. Hunting boots need to answer a very specific set of functional calls. They need to stand up to the elements, prevent your feet from getting soaked, prevent your feet from freezing and give you copious ankle support so that you don't have to be airlifted out of the woods. On top of all that they need to be comfortable enough and lightweight enough so that your feet don't feel like anchors at the end of a long day. Oh, and they need to provide rock solid footing on every type of terrain from swamp to bare rock. Now that we've clarified that, here are some common questions people have regarding hunting boots.
Q: How Tall Should Your Hunting Boots Be?
A: This will depend in large part on what you plan to use them for. If you plan to spend time wading into the marshes after duck and geese you're probably going to want a pretty tall boot just to be safe, even if you plan to wear waders. If on the other hand you'll be waiting stealthily in a blind for deer to eat the alfalfa you planted months before, you'll have no need for such a high boot. Many hunters suggest that an 8 to 10 inch boot is plenty high for the majority of hunting activities and you should only go higher if specific conditions demand it.
Q: What Is A Good Weight For Hunting Boots?
A: First of all there is no "ideal" weight for hunting boots. A good weight for one person might be too much for someone else depending on their size, age and physical condition. That said, however, as a general rule you want the lightest boot possible so that your legs don't feel like lead weights at the end of the day. Material advancements in recent years have led to ever lighter, more breathable and more water resistant boots, with some pairs now tipping the scales at just over a scant 2 pounds. Basically if you can keep the weight under 4 or 5 pounds for a pair of boots you'll be doing okay.
Q: What Is The Best Design For A Hunting Boot?
A: It depends on the function the hunting boots are intended to fulfill. If wading through the shallows or navigating muddy forest in pursuit of your quarry are in the cards you'll want a 100% waterproof boot that's pretty high. On the other hand chasing elk into the mountains during the fall and winter will call for hunting boots that are both waterproof and well insulated against the cold and wind. If you're hunting moose you're going to need waders or hip boots. If you're hunting deer during gun season you might want a tall-ish, warm boot with excellent traction like the Danner Pronghorn profiled above.
Q: What Is The Best Make For A Hunting Boot?
A: This is largely a matter of personal preference, like asking what's the best sports car or best pizza. We can say with confidence that the hunting boots in our list are as close to sure things as you're likely to find and their manufacturers all have airtight reputations for delivering quality and value. If pushed to pick a single make of hunting boots as the "best" a plurality of our experts would pick Irish Setter. The bottom line is that the right hunting boots for you are the ones that best fulfill your practical, aesthetic and budgetary requirements.
Things To Look For When Buying Hunting Boots

When shopping for new hunting boots there are an array of things you'll want to look for and keep in mind so that you get the right pair for you. Here are the most common considerations that go into choosing the perfect hunting boots.
Fit – This kind of goes without saying for any type of footwear but even more so with hunting boots. If your wingtips are pinching you can take them off while you're at your desk and give your feet a break. If, however, you're pursuing a big buck through the woods in the winter and your hunting boots are doing funky things with your little toe there's no taking a seat for a couple of hours and taking your hunting boots off. You're stuck with them. So making sure your hunting boots are a good fit before you go out with them is crucial. Also, if they're brand new you should wear them around the house for a while to break them in before taking them out the first time.
Waterproofing – If you're fond of spending long stretches in the woods in pursuit of game and your hunting boots are not 100% waterproof, you're going to be in for some long miserable experiences. When your hunting boots possess high quality waterproofing you can confidently make your way across rivers and streams as well as through muddy patches, puddles and areas of standing water. When they don't, you can't. It's about as simple as that. Boots that contain Gore-Tex linings will cost a bit more than other hunting boots but in the long run you'll be happy you spent the extra money to get the right level of waterproofing.
Insulation – Cold feet are no fun when you're miles from the campsite or car. Frostbite is an ever bigger threat and a very real possibility when you're in the wild in the middle of winter. In such conditions it's crucial that your hunting boots have adequate insulation, that they have a one piece upper to prevent cold air from seeping in and warm air from leaking out and that they fit fairly snug around the ankle, again to prevent warm air leaking out. When the weather is warm insulation is not such a big deal and may even be a hindrance that causes you to overheat.
Soles – Ultimately it's the soles of your boots that bear the brunt of your treks and it's the soles that need to be able to both withstand the pounding and provide you firm footing regardless of the type of terrain you encounter. If you hunt heavy, that is, if your backpack is loaded down with gear, the sole will need to be heavy and somewhat stiff. If you are a light traveler you can typically get away with a thinner sole for your hunting boots although even then it will need to provide adequate arch support as well as stability. The depths of the lugs will also depend on the type of terrain you anticipate encountering.
Height – We covered the issue of boot height to an extent in the Buyer's Questions section above so we're not going to spend a lot of virtual ink on it here. Suffice to say that the height of your hunting boots will depend on what you plan to do with them. High hunting boots if you think you'll be encountering water, mud and even snow. Shorter boots in a warmer, drier environment. But even then you should make sure whatever hunting boots you buy have adequate ankle support.
Lacing – Lacing is maybe the most overlooked aspect of picking the right hunting boots. The average hunting boot will be 6 or 7 inches high and lace to the ankle. For the most part an average height boot like that laced to the ankles will be fine for non-extreme hunting trips. It keeps everything in its place without constricting your ankle movements for no good reason. If, however, you typically carry a heavy pack over changeable terrain it's in your interest to get a boot that laces higher; up almost to the lower calf like the Kenetrek Mountain Extreme boot featured in our list. This will buttress the lower leg and help prevent twisted and broken ankles.
Breaking in Your Hunting Boots – Many of the heavier hunting boots with thicker soles and all leather uppers need to be adequately broken in before you head out into the wild with them. If you skip cathis important step your first foray into the woods with your new hunting boots is going to be a painful one. Wear your new boots around the house and around the neighborhood until they stop generating blisters and sore spots and your legs have acclimated to the new motions you're asking them to perform.
The Right Socks – Another often overlooked aspect of creating happy feet on a hunting trip is the socks you wear. For the most part you'll want to look for the following qualities in your hunting socks:
Moisture Repellent – The last thing you want to wear are cotton socks that are going to soak up the moisture in your hunting boots and turn soggy. Socks made of polyester/nylon blends or polypropylene or merino wool will make sure your feet stay nice and dry regardless of temperature or conditions.
Warmth – You don't need your socks to keep your feet warm all by themselves but they should provide some of the warmth. Polypropylene or socks made of merino wool will provide enough warmth to get things started with the hunting boots themselves carrying the bulk of the heat load.
Support – Again your hunting boots will provide most of the support but your socks should pull their own weight as well. They should have some sort of discernable structure that encourages circulation rather than just being tubes.
Overall Comfort – If you have sensitive skin you'll want to take a pass on the wool socks and stick with polypropylene or other synthetics. Essentially the socks should be comfortable enough that you forget you have them on.

Conclusion
Hunting boots will play a large role in determining if your hunting trip is a success and whether it's even any fun. Slogging through the woods all weekend with wet socks, cold feet and a sprained ankle isn't going to be any fun regardless of how many trophies you bag. Follow the above tips when selecting your new hunting boots and your trips should turn out fine.
We hope you found this information helpful and that you check back regularly for more product reviews, comparisons and guides from gearhungry.com.