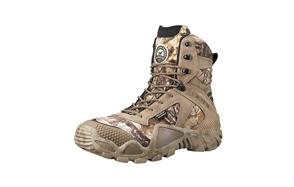 Irish Setter 2870 Vaprtrek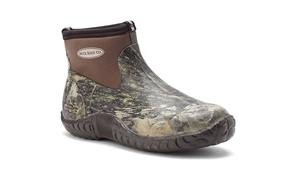 MuckBoots Camo Camp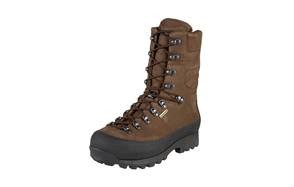 Kenetrek Mountain Extreme Ni
A successful hunt requires more than the right weapon, more than experience and more than the patience of Job; although it requires those things as well. More often than not the key to a successful hunt comes down to what you're wearing on your feet. That's because hunting often calls for you to slog through miles of sloppy, hazardous terrain in all types of weather. If your footwear isn't up to the challenge you'll be calling it quits and heading back to the car or campsite to dry and warm your feet while that 12 point buck disappears over the ridge.
It's your feet that carry you over hill and dale, through swamps and across rivers in pursuit of your quarry, not your rifle or sunglasses. As such the footwear you choose is of paramount importance. In this product review guide we're going to take a close look at the top hunting boots on the market in order to provide you with the information you need to make an informed decision regarding footwear for your future hunting trips. Keep in mind that the opinions expressed here represent the consensus of our product review experts.
Best Hunting Boots Of 2018
Kenetrek Mountain Extreme Ni Hunting Boots
See More Reviews

These hunting boots are as effective as they are attractive and, as you might guess, they'll set you back a bit more than most other hunting boots. But they're worth it. Whether you're bounding over rocky crags or silently working your way into position along the riverside, Kenetrek's Mountain Extreme Hunting Boot has your back. And more importantly, your feet.
There's a lot to like about the Mountain Extrem Hunting Boot from Kenetrek. From the waterproof, breathable membrane that underpins the thick, 1 piece leather outer to the nylon midsoles that ensure support regardless of the load or terrain and the extra grip of the K-talon outsoles. They're also warm, comfortable, durable as all get-out, they provide excellent ankle support and they don't weigh a ton so they won't become a drag on your pursuit. Just a great hunting boot.
Specification:
Brand

Kenetrek

Model

KE-420-NI

Weight

5 pounds
Excellent traction on all surfaces regardless of composition or whether it's wet or dry.
Full grain leather uppers reach to your lower calf muscles for support and protection.
Sole is comprised of reinforced rubber.
At less than 4 pounds per pair they won't tire you out on long slogs.
One of the most expensive mass produced hunting boots on the market.
They're going to take time to break in.
Lowa Men's Tibet GTX Hunting Boots
See More Reviews

Lowa has been around for nearly a century and in that time they've outfitted everyone from serious mountaineers to hunters and everyone in between. Their Tibet GTX Trekking Boot is just the latest in a long line of high quality outdoor footwear from Lowa and a boot that understands that hunting is more than just getting out of the car and aiming: it's pursuit and hazardous terrain and long days of scurrying through underbrush in all types of weather.
Like all great hunting boots these will start out stiff and soften with wear. Also like any great hunting boot they'll provide you with plenty of support and a warm, dry platform to work from. The Vibram sole can handle any terrain with aplomb and the snug fit makes these hunting boots feel like natural extensions of your feet. The flexible ankle, anatomically accurate tongue and rock solid lacing ensures your footwear will never be the thing to hold you back.
Specification:
Brand

LOWA Boots

Model

Tibet GTX-M

Weight

2 pounds
Beneath the classic mountaineering boot profile lurks the heart of quality hunting boots.
Seamless upper keeps you warm while the Gore-Tex lining keeps you high and dry.
Vibram outsole lasts until the cows come home and provides a sure footing on any surface.
Plenty of support in the ankle.
As with a lot of hiking/hunting boots they tend to be narrow so you may want to consider going up 1 size.
You'll need to wear them a lot to soften them up.
Irish Setter 880 Elk Tracker Hunting Boots
See More Reviews

Irish Setter makes some of the best looking hunting boots on the market today. They also happen to be some of the most durable, comfortable and effective as well. The Men's 880 Elk Tracker is a perfect example of the company applying its years of know-how to create hunting boots that are an asset and not just something to wear on your feet.
Anyone who's worked in the trades will recognize the work boot-like profile of the Elk Tracker and that makes perfect sense because these are work boots. Hunting work boots. As such they employ aspects of both standard work boots and classic hiking boots with a few other features thrown in for good measure. Comfortable, waterproof, warm, high topped and lined with genuine Gore-Tex these hunting boots will get you where you need to be every time.Anyone who's worked in the trades will recognize the work boot-like profile of the Elk Tracker and that makes perfect sense because these are work boots. Hunting work boots. As such they employ aspects of both standard work boots and classic hiking boots with a few other features thrown in for good measure. Comfortable, waterproof, warm, high topped and lined with genuine Gore-Tex these hunting boots will get you where you need to be every time.
Specification:
Brand

Irish Setter

Model

880

Weight

2 pounds
Lined with 200 gram thinsulate for both warmth and breathability.
The genuine rubber sole never lets you down regardless of how gnarly the terrain gets.
Being 100% waterproof there's no having to chart detours around water hazards.
Steel shank provides additional support.
Support in the arch is not the greatest and could cause fatigue over a long pursuit.
Customer service is okay, but not great.
See More Reviews

If you spend any time in the woods you know how quickly 2" of standing water can turn into a foot of water. When that happens you don't want to be wearing ankle high hunting boots that will let in the deluge and end your hunt before it even begins. The LaCrosse Men's Grange 18 inch Hunting Boots will provide you maximum flexibility to go where you need to go.
There's nothing worse than slogging through muddy terrain and having the bottom fall out. When you're unexpectedly up to your calf in water or muck you need to know your hunting boots have you covered. The LaCrosse 18 inch hunting boots are some of the tallest on the market and designed especially for those who need their hunting boots to provide optimal flexibility but don't want to spend hundreds and hundreds of dollars to get it.
Specification:
Brand

LaCrosse

Model

18

Weight

4 lbs
The outsole lugs shed debris and provide you constant, effective traction.
The boot rubber is tear resistant and ribbed for enhanced durability.
Form fitting to the ankles to ensure these hunting boots stay in place once you put them on.
Sizing can be an issue for some customers as they tend to size a bit small.
No longer made in the USA if that matters to you.
See More Reviews

MuckBoots Woody Sport Hunting Boots are another tall boot that is perfect for duck hunters or even treestand hunters. With the rubber foot overlay and cushioned midsole they're the perfect combination of outdoor waterproof practicality and thoughtfully designed comfort. They'll slip on easy and provide you all day protection from Mother Nature.
You can wear this boot all day slogging through mud and marsh in the cold and your feet will stay dry and comfortable the whole time. This is a unisex design that incorporates 4-way stretch nylon, a 100% waterproof upper, plenty of padding for all-day comfort and is surprisingly breathable. It takes virtually no time to wear these hunting boots in and they make sure you always have solid footing wherever your pursuit takes you.
Specification:
Brand

Muck Boot

Model

WDM

Weight

2 pounds
Fully breathable lining keeps your feet dry and comfortable.
The waterproof camouflage upper provides you stealth above the mud-line.
High abrasion outsole is tough as nails and provides sure all-terrain footing.
They're not going to win any style points but they're comfortable and effective for what they are.
See More Reviews

Our second MuckBoots entry on this "Best Of" list, these MuckBoots Camo Hunting Boots are for less intensive forays into the wild or for relaxing around the fire after the sun goes down. The airmesh lining is extraordinarily breathable so your feet stay nice and dry whether it's below freezing or 85 degrees out.
We're probably not going to go chasing wolves up the mountain with these but you might see them on our feet when we've got an elk in our sights. They're ideal for less extreme pursuits but that doesn't mean they're a slouch. The waterproof protection makes them great fishing gear whether you're on foot or in a boat while the camo upper lets you slip them on for some duck hunting as well. All for a very attractive price.
Specification:
Brand

Muck Boot

Model

Camo Camp Boot-M

Weight

1 pounds
A comfortable, flexible booty that can be worn in pursuit or simply when gathering firewood the end of a long day.
Perfect for wearing while clearing the yard of heavy wet leaves in the autumn.
Upper has a stretch fit binding that holds it close to the ankle to avoid environmental intrusions.
It's a low boot so don't go wading into the shallows without putting something over it.
Don't expect a ton of traction from the sole.
See More Reviews

Box Boots are an Italian brand that has embraced practicality and understated style and produced hunting boots for men and women that set the bar for affordable comfort. Sporting a Vibram sole and a suede upper these waterproof all-purpose outdoor boots lace up nice and snug and keep the outdoors where it belongs; out of your shoes. These are excellent hunting boots whether you're hunkered down in the blind or hiking out to the car.
While there are other hunting boots on this list that take great pride in the way they look this is the only one that can be said to be a bit self-conscious about it. The suede upper being a dead giveaway. But that aside these are excellent all around outdoor boots for men or women who want to keep their feet dry and comfortable whether they're on a sleigh ride or stalking bull elk on the high plains.
Specification:
Brand

Box Boots

Weight

2.16 pounds
1 1/4 inch Vibram sole provides excellent shock absorption and traction on any terrain.
The simple but fashionable look means you can wear them out with your buddies after returning from your hunting trip.
Waterproof upper also provides copious ankle support.
The quality of the glue on the inside can be suspect.
LaCrosse Men's Alphaburly Pro
See More Reviews

The LaCrosse Alphaburly Pro 18" Hunting Boots are- like their men's Grange boots profiled above- for those who need their hunting shoes to provide them options as much as warmth and comfort. With the Alphaburly you won't be caught off guard if you encounter an area of standing water or if your foray into the shallows turns out to be deeper than you imagined.
The LaCrosse Alphaburly Pro 18" Hunting Boots are- like their men's Grange boots profiled above- for those who need their hunting shoes to provide them options as much as warmth and comfort. With the Alphaburly you won't be caught off guard if you encounter an area of standing water or if your foray into the shallows turns out to be deeper than you imagined.
Specification:
Brand

LaCrosse

Model

Alphaburly Pro 18 Realtree Xtr-M

Weight

7 pounds
Genuine rubber hunting boots provide an impenetrable barrier against water.
Liner is specifically designed to promote air circulation and keep your feet dry from within.
The form fitting profile gives the Alphaburly the feel of custom made hunting boots.
They tend to size large which means you may want to try one size smaller than your normal.
Not for the style conscious.
Under Armour Speed Freek Bozeman
See More Reviews

Under Armour has made a name for itself by outfitting some of the world's top athletes and now they've set their sights on competing in the outdoor footwear business. The good news is that they have done a remarkably good job with these Bozeman hunting boots. They're just about everything you want in a pair of hunting boots: breathable, waterproof, tough and comfortable. Oh, and they look great too.
All in all the UA Bozeman is an impressive foray for the company into the field of hunting boots. The Bozeman has a distinctive look that is part hiking boot and part running shoe but it's all business when it comes to keeping your feet dry and providing outstanding grip in all conditions. It's a surprisingly light shoe as well which was a welcome surprise and will do you well over the course of a long day in the field.
Specification:
Brand

Under Armour

Model

1250115

Weight

4 pounds
Upper comprised of tough abrasion resistant nylon and suede.
Lugs on the solid rubber sole grip the terrain so you always have solid footing when taking aim.
Under Armour's trademark scent control technology keeps your hunting boots smelling as good as they look.
Tongue is somewhat clumsily attached.
Shock absorption is better on other similarly priced hunting boots.
Danner Pronghorn Realtree
See More Reviews

The Danner Men's Pronghorn hunting boots bring both looks and functionality to the table and do so at a price point more amenable to those who don't want to spend the kid's college fund on a pair of hunting shoes. The tough high quality leather of the upper perfectly complements the hungry rubber lugs of the outsole with the end result being a boot that will take you wherever you want to go in style and comfort. Like a limo for your feet.
This is a pair of hunting boots that is greater than the sum of its parts and one that will provide you years of reliable service. From the sure grip rubber sole to the way the boot cradles and embraces your heel, everything about the Pronghorn is intended to ensure that your footwear is never an issue. And all for significantly less than you'd likely expect to pay.
Specification:
Brand

Danner

Model

Pronghorn Realtree Xtra 1200G-M

Weight

4 pounds
Outstanding, high quality combination hiking/hunting boots for changeable terrain.
Triple cushioning in the footbed for enhanced comfort.
Gore-Tex lining provides a waterproof environment for your feet.
High top delivers excellent ankle support when the terrain gets tough.
Like a standard hiking boot they'll take a little while to break in so patience is required.
The camo segments are nice but unnecessary.
Irish Setter 2870 Vaprtrek
See More Reviews

Last but certainly not in any way least are the Irish Setter 2870 Vaprtrek Mens hunting boots. These are another eye-catching creation from the company that makes footwear design seem effortless. The most effective camo boot on our list and one of the best on the market the 2870 is made for less than ideal conditions when you need to remain unseen.
It's fitting that the Vaprtrek 2870 from Irish Setter are the last hunting boots we're profiling because in many ways they embody what's best about today's hunting footwear. They're incredibly lightweight hunting boots, with a waterproof upper and plenty of support and they take a tight hold on the terrain, whatever it may be. They embody the versatility and innovation that are the hallmarks of modern hunting boots and they do it all for an extremely affordable price.
Specification:
Brand

Irish Setter

Model

2870 Vaprtrek-M

Weight

5 pounds
Great looking camo hunting boots that embrace what they are.
Vaprtrek technology makes for a lighter boot that nonetheless stands up to the weather.
Waterproofing system is one of the most effective out there.
The tread, while effective, is not the most durable one on the market.
Can be a bit narrow so you may want to consider going up a size.
Buyers Guide
Buying hunting boots isn't like buying sneakers or loafers or even work boots. Hunting boots need to answer a very specific set of functional calls. They need to stand up to the elements, prevent your feet from getting soaked, prevent your feet from freezing and give you copious ankle support so that you don't have to be airlifted out of the woods. On top of all that they need to be comfortable enough and lightweight enough so that your feet don't feel like anchors at the end of a long day. Oh, and they need to provide rock solid footing on every type of terrain from swamp to bare rock. Now that we've clarified that, here are some common questions people have regarding hunting boots.
Q: How Tall Should Your Hunting Boots Be?
A: This will depend in large part on what you plan to use them for. If you plan to spend time wading into the marshes after duck and geese you're probably going to want a pretty tall boot just to be safe, even if you plan to wear waders. If on the other hand you'll be waiting stealthily in a blind for deer to eat the alfalfa you planted months before, you'll have no need for such a high boot. Many hunters suggest that an 8 to 10 inch boot is plenty high for the majority of hunting activities and you should only go higher if specific conditions demand it.
Q: What Is A Good Weight For Hunting Boots?
A: First of all there is no "ideal" weight for hunting boots. A good weight for one person might be too much for someone else depending on their size, age and physical condition. That said, however, as a general rule you want the lightest boot possible so that your legs don't feel like lead weights at the end of the day. Material advancements in recent years have led to ever lighter, more breathable and more water resistant boots, with some pairs now tipping the scales at just over a scant 2 pounds. Basically if you can keep the weight under 4 or 5 pounds for a pair of boots you'll be doing okay.
Q: What Is The Best Design For A Hunting Boot?
A: It depends on the function the hunting boots are intended to fulfill. If wading through the shallows or navigating muddy forest in pursuit of your quarry are in the cards you'll want a 100% waterproof boot that's pretty high. On the other hand chasing elk into the mountains during the fall and winter will call for hunting boots that are both waterproof and well insulated against the cold and wind. If you're hunting moose you're going to need waders or hip boots. If you're hunting deer during gun season you might want a tall-ish, warm boot with excellent traction like the Danner Pronghorn profiled above.
Q: What Is The Best Make For A Hunting Boot?
A: This is largely a matter of personal preference, like asking what's the best sports car or best pizza. We can say with confidence that the hunting boots in our list are as close to sure things as you're likely to find and their manufacturers all have airtight reputations for delivering quality and value. If pushed to pick a single make of hunting boots as the "best" a plurality of our experts would pick Irish Setter. The bottom line is that the right hunting boots for you are the ones that best fulfill your practical, aesthetic and budgetary requirements.
Things To Look For When Buying Hunting Boots

When shopping for new hunting boots there are an array of things you'll want to look for and keep in mind so that you get the right pair for you. Here are the most common considerations that go into choosing the perfect hunting boots.
Fit – This kind of goes without saying for any type of footwear but even more so with hunting boots. If your wingtips are pinching you can take them off while you're at your desk and give your feet a break. If, however, you're pursuing a big buck through the woods in the winter and your hunting boots are doing funky things with your little toe there's no taking a seat for a couple of hours and taking your hunting boots off. You're stuck with them. So making sure your hunting boots are a good fit before you go out with them is crucial. Also, if they're brand new you should wear them around the house for a while to break them in before taking them out the first time.
Waterproofing – If you're fond of spending long stretches in the woods in pursuit of game and your hunting boots are not 100% waterproof, you're going to be in for some long miserable experiences. When your hunting boots possess high quality waterproofing you can confidently make your way across rivers and streams as well as through muddy patches, puddles and areas of standing water. When they don't, you can't. It's about as simple as that. Boots that contain Gore-Tex linings will cost a bit more than other hunting boots but in the long run you'll be happy you spent the extra money to get the right level of waterproofing.
Insulation – Cold feet are no fun when you're miles from the campsite or car. Frostbite is an ever bigger threat and a very real possibility when you're in the wild in the middle of winter. In such conditions it's crucial that your hunting boots have adequate insulation, that they have a one piece upper to prevent cold air from seeping in and warm air from leaking out and that they fit fairly snug around the ankle, again to prevent warm air leaking out. When the weather is warm insulation is not such a big deal and may even be a hindrance that causes you to overheat.
Soles – Ultimately it's the soles of your boots that bear the brunt of your treks and it's the soles that need to be able to both withstand the pounding and provide you firm footing regardless of the type of terrain you encounter. If you hunt heavy, that is, if your backpack is loaded down with gear, the sole will need to be heavy and somewhat stiff. If you are a light traveler you can typically get away with a thinner sole for your hunting boots although even then it will need to provide adequate arch support as well as stability. The depths of the lugs will also depend on the type of terrain you anticipate encountering.
Height – We covered the issue of boot height to an extent in the Buyer's Questions section above so we're not going to spend a lot of virtual ink on it here. Suffice to say that the height of your hunting boots will depend on what you plan to do with them. High hunting boots if you think you'll be encountering water, mud and even snow. Shorter boots in a warmer, drier environment. But even then you should make sure whatever hunting boots you buy have adequate ankle support.
Lacing – Lacing is maybe the most overlooked aspect of picking the right hunting boots. The average hunting boot will be 6 or 7 inches high and lace to the ankle. For the most part an average height boot like that laced to the ankles will be fine for non-extreme hunting trips. It keeps everything in its place without constricting your ankle movements for no good reason. If, however, you typically carry a heavy pack over changeable terrain it's in your interest to get a boot that laces higher; up almost to the lower calf like the Kenetrek Mountain Extreme boot featured in our list. This will buttress the lower leg and help prevent twisted and broken ankles.
Breaking in Your Hunting Boots – Many of the heavier hunting boots with thicker soles and all leather uppers need to be adequately broken in before you head out into the wild with them. If you skip cathis important step your first foray into the woods with your new hunting boots is going to be a painful one. Wear your new boots around the house and around the neighborhood until they stop generating blisters and sore spots and your legs have acclimated to the new motions you're asking them to perform.
The Right Socks – Another often overlooked aspect of creating happy feet on a hunting trip is the socks you wear. For the most part you'll want to look for the following qualities in your hunting socks:
Moisture Repellent – The last thing you want to wear are cotton socks that are going to soak up the moisture in your hunting boots and turn soggy. Socks made of polyester/nylon blends or polypropylene or merino wool will make sure your feet stay nice and dry regardless of temperature or conditions.
Warmth – You don't need your socks to keep your feet warm all by themselves but they should provide some of the warmth. Polypropylene or socks made of merino wool will provide enough warmth to get things started with the hunting boots themselves carrying the bulk of the heat load.
Support – Again your hunting boots will provide most of the support but your socks should pull their own weight as well. They should have some sort of discernable structure that encourages circulation rather than just being tubes.
Overall Comfort – If you have sensitive skin you'll want to take a pass on the wool socks and stick with polypropylene or other synthetics. Essentially the socks should be comfortable enough that you forget you have them on.

Conclusion
Hunting boots will play a large role in determining if your hunting trip is a success and whether it's even any fun. Slogging through the woods all weekend with wet socks, cold feet and a sprained ankle isn't going to be any fun regardless of how many trophies you bag. Follow the above tips when selecting your new hunting boots and your trips should turn out fine.
We hope you found this information helpful and that you check back regularly for more product reviews, comparisons and guides from gearhungry.com.