Best USB WiFi Adapters in 2022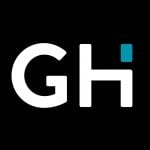 This product guide was written by GearHungry Staff
Last Updated
October 2, 2020
GearHungry Staff
GearHungry Staff posts are a compilation of work by various members of our editorial team. We update old articles regularly to provide you the most current information. You can learn more about our staff
here
.
GearHungry may earn a small commission from affiliate links in this article.
Learn more
In the 21st Century, it's easy to get frustrated with poor internet connectivity; the rapid evolution of WiFi speeds has spoiled us all. But even the best WiFi can have its off days, which is why the best USB WiFi adapter is a useful addition to any household. An adequate WiFi adapter will maximize your streaming and gaming experiences, eliminate lag, and prevent buffering so you can relax.
Convenient, compact, and capable of boosting WiFi speeds to levels that won't have you huffing and puffing all day long, here are the top USB WiFi adapters.
The Best USB WiFi Adapter
EDUP LOVE 600Mbps & Bluetooth 4.2 USB WiFi Adapter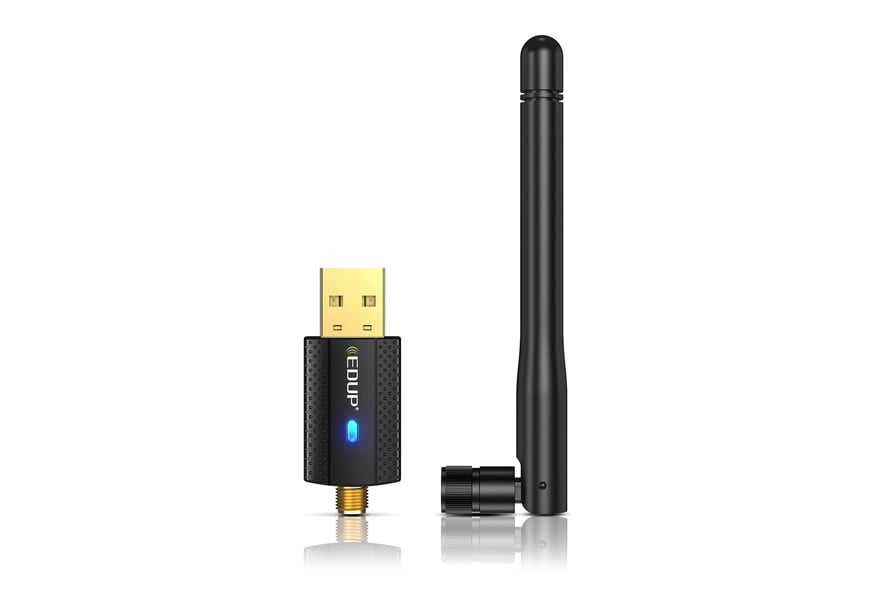 The EDUP LOVE 600Mbps & Bluetooth 4.2 USB WiFi Adapter for PC is a versatile choice and one of the most reliable and user-friendly options on the market. It provides speeds up to 600 Mbps for unfettered streaming and gaming.
The dual-band transmission prevents tricky and frustrating interference so you can enjoy everything uninterrupted. This tech gadget is ideal for both experts and novices, and its broad compatibility makes it highly appealing, while the Plug and Play installation (for Windows 10) means you can get started straight away.
Key Features:
Up to 600Mbps high speeds
Dual band transmission
Bluetooth 4.2 functionality
Wide compatibility
Energy-efficient and safe for travel
Plug and Play installation for Windows 10
Specification:
Brand

EDUP LOVE

Model

EP-AC1661

Weight

1.58 Ounces
EDUP LOVE Nano 650Mbps USB WiFi Adapter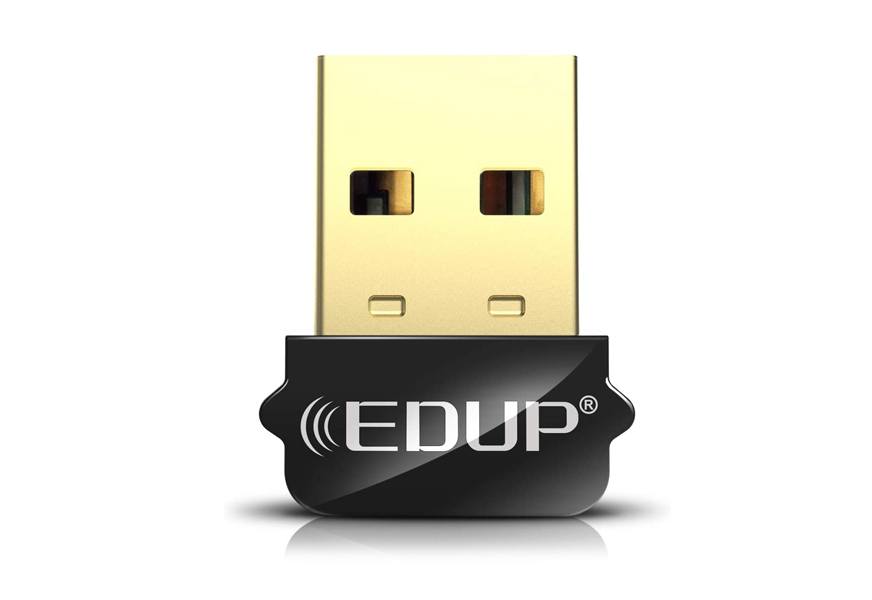 If you're looking for a USB WiFi adapter that provides exceptional convenience and fantastic value, the EDUP LOVE Nano 650Mbps USB WiFi Adapter is a fantastic choice. It delivers super fast WiFi speeds while taking up minimal space. The beamforming technology provides a stable connection perfect for online gaming, streaming, or video calls. It is compatible with both Windows and Mac and offers MU-MIMO technology that enables multiple people to use the signal without experiencing a significant drop in quality.
If you are a passionate gamer, make sure to have a quality gaming router, too.
Key Features:
Up to 600Mbps WiFi speeds
Sleek miniature design
Beamforming technology for a stable connection
Compatible with Windows and Mac
Lag-free streaming and gaming
MU-MIMO technology
Specification:
Brand

EDUP LOVE

Model

EP-AC1651

Weight

1.27 Ounces
QGOO 1200Mbps USB WiFi Adapter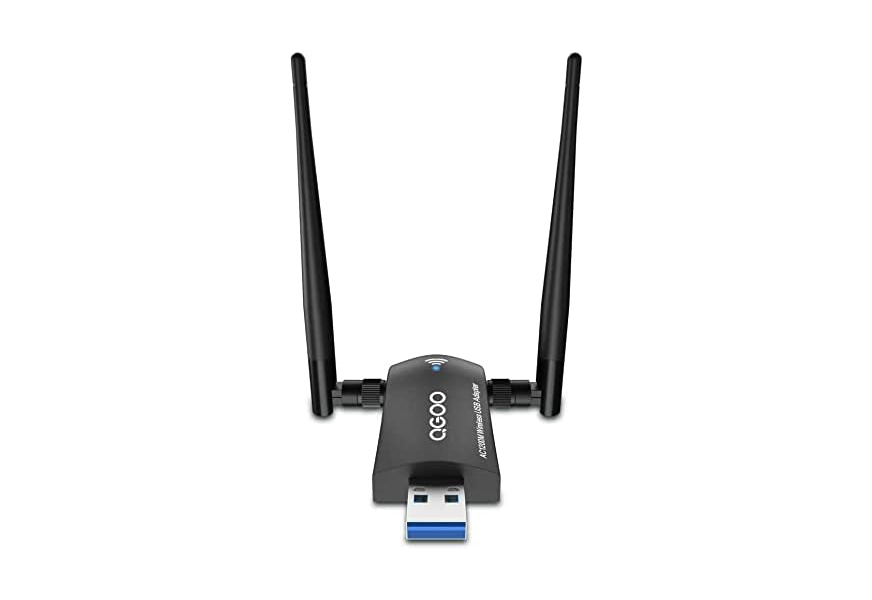 Boasting two long-range wireless transmitters and a combined speed of 800 Mbps, the QGOO 1200Mbps USB WiFi Adapter is an excellent choice for those needing a heavy-duty internet connection. It's compatible with the latest USB 3.0 technology for simple installation and fast performance. As if this wasn't enough, the SoftAP (software enabled access point) feature also works as a mobile WiFi Hotspot.
Key Features:
2 long range wireless transmitters
Over 800Mbps wireless internet speeds
USB 3.0 compatibility
Simple installation
Reduces freezing and lag
Soft AP feature for WiFi Hotspot
Specification:
Brand

QGOO

Weight

0.9 Ounces
Blueshadow 600Mbps USB WiFi Adapter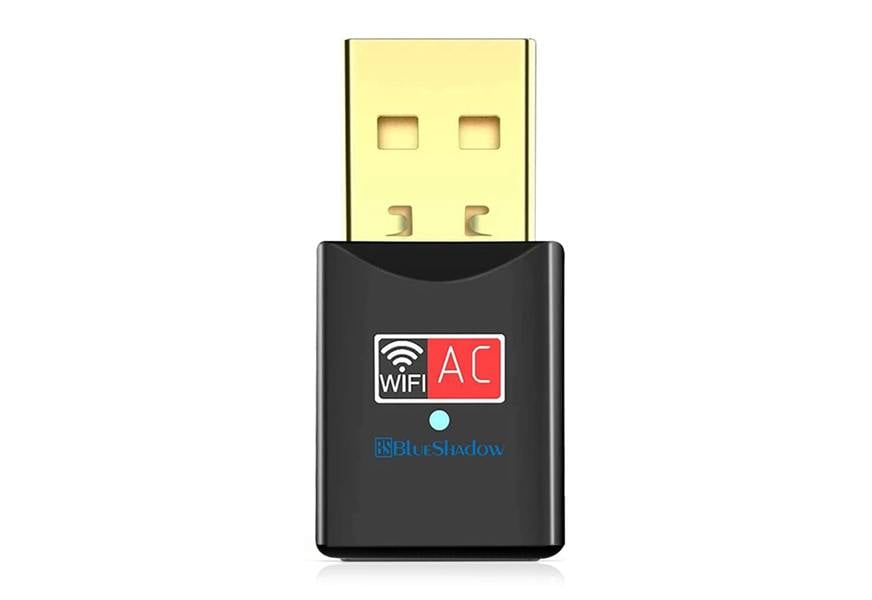 For high speeds and dual-band technology, the Blueshadow 600Mbps USB WiFi Adapter is a superb choice with a powerful signal. It works with any WiFi router, enabling you to connect with ease no matter your setup. The broad device compatibility and the compact size are convenient, and the low-profile design slides modestly into the USB port with little chance of catching on anything. It also uses advanced security features to keep your data safe. It can be a thoughtful electronic gift for men who love tech.
Key Features:
High-speed dual band design
Compact size
Wide device compatibility
Works with any WiFi router
Strong signal
Advanced security features
Specification:
Brand

Blueshadow

Model

802

Weight

1.12 Ounces
Cudy AC 650Mbps USB WiFi Adapter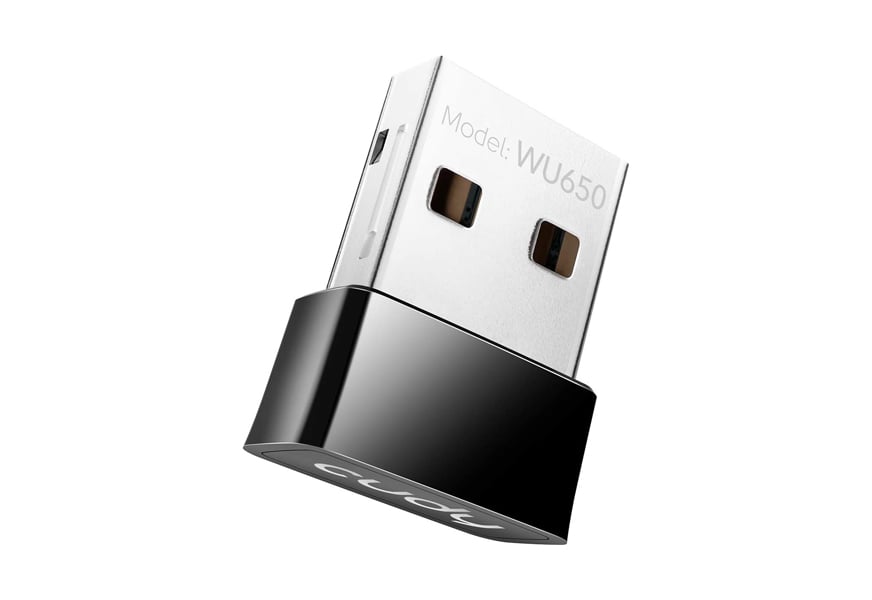 The compact Cudy AC 650Mbps USB WiFi Adapter increases speeds by an impressive 300%, achieving a maximum of 433 Mpbs on the 5GHz frequency. You can also use the SoftAP feature to create your own WiFi Hotspot.
If you are a serious gamer, make sure to choose one of these Thunderbolt 3 docks, as well.
Key Features:
Provides 300% speed boost
433Mbps maximum speed on 5GHz
Prevents lag and freezing
Broad compatibility
Soft-AP mode for WiFi hotspot
Compact and convenient design
Specification:
Brand

Cudy

Model

WU650

Weight

0.81 Ounces
NETGEAR AC600 Dual Band USB WiFi Adapter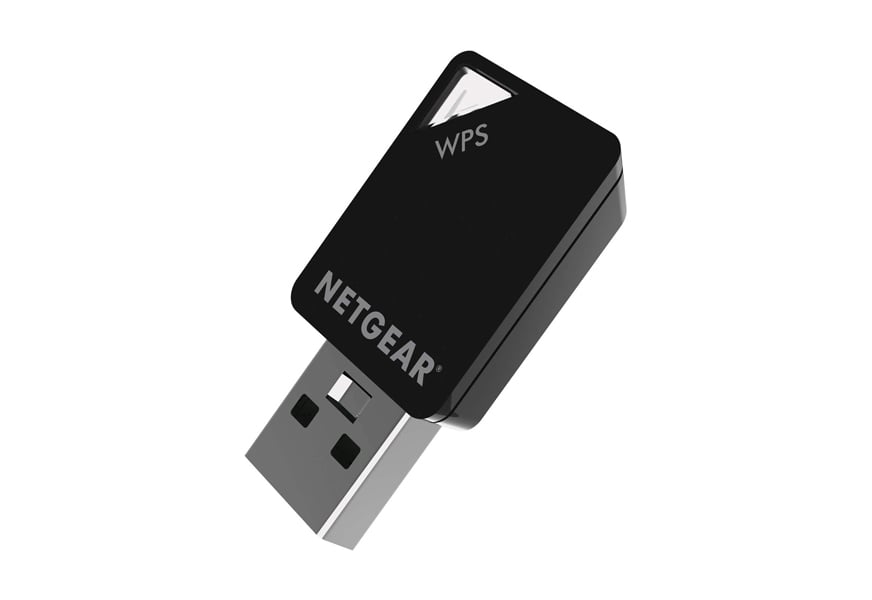 A well-known and respected name in internet technology, the NETGEAR AC600 Dual Band USB WiFi Adapter boasts internet speeds over 430 Mbps on 5GHz and 150 Mbps on 2.4GHz. The dual bands make high-speed, uninterrupted connectivity possible across multiple devices simultaneously. And the Push 'N' Connect security safeguards your data.
For more amazing gadgets to boost your WiFi signal, here are some reliable outdoor access points you might also need.
Key Features:
WiFi speeds up to 150 / 433Mbps
Extended range and performance
Innovative mini design
Stream HD videos simultaneously
Push 'N' Connect security
Simple setup
Specification:
Brand

NETGEAR

Model

A6100-10000S

Weight

3.21 Ounces
Techkey 1750Mbps USB WiFi Adapter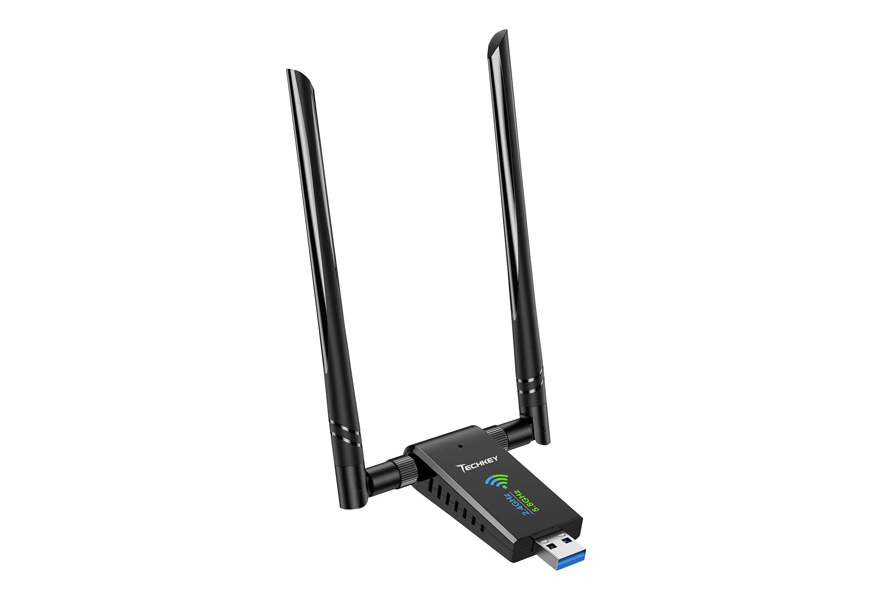 Arguably the best option for speed demons, Techkey 1750Mbps USB WiFi Adapter features two long-range WiFi antennas to boost signal through the entire house and provide speeds up to 1,300 Mbps, ideal for the latest games and the upcoming next-gen consoles.
Despite its power and performance, Techkey's adapter is easy to install and includes a SoftAP feature for setting up personal hotspots.
And don't forget to check out the latest buying guide to the top network storage devices.
Key Features:
2 long-range WiFi antennas
1300Mbps maximum speed
Simple installation
USB 3.0 port
Soft AP feature for WiFi hotspot
Support multiple Operating Systems
Specification:
Brand

Techkey

Model

9B06

Weight

0.9 Ounces
USBNOVEL 600 Mbps USB WiFi Adapter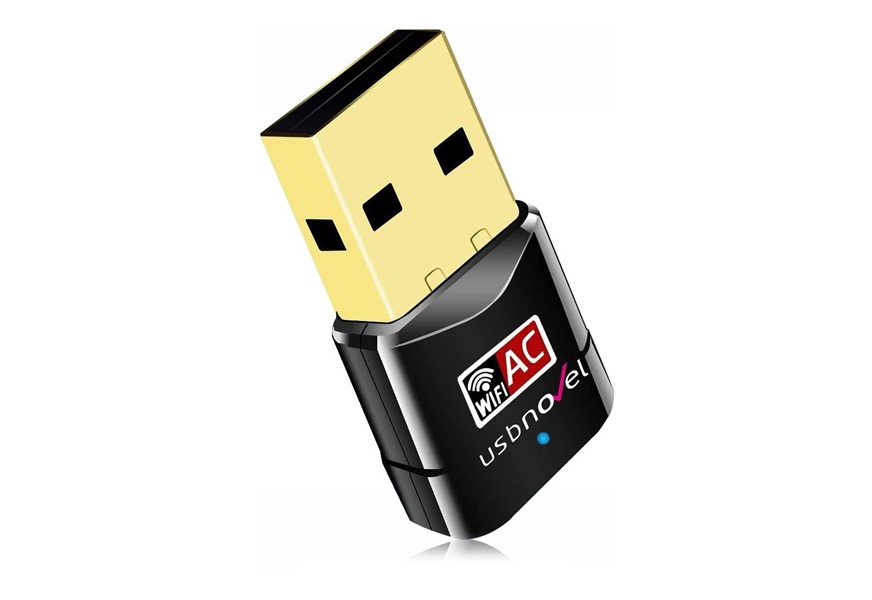 The USBNOVEL 600 Mbps USB WiFi Adapter offers a slim, compact design to reduce damage risks while you're on the go. It comes with dual-band technology and up to 600 Mbps on 5GHz.
This model supports a broader range of devices than its previous iterations, but it's still compatible with older USB ports, too.
Planning to travel abroad? Make sure to pack a quality travel adapter.
Key Features:
Innovative mini adapter design
Dual-band transmission reduces interference
Up to 600Mpbs on 5GHz
Upgraded version for improved device support
USB 2.0 / 3.0 support
Simple setup
Specification:
Brand

USBNOVEL

Model

USBNOVEL01

Weight

0.8 Ounces
TP-Link AC1300 USB WiFi Adapter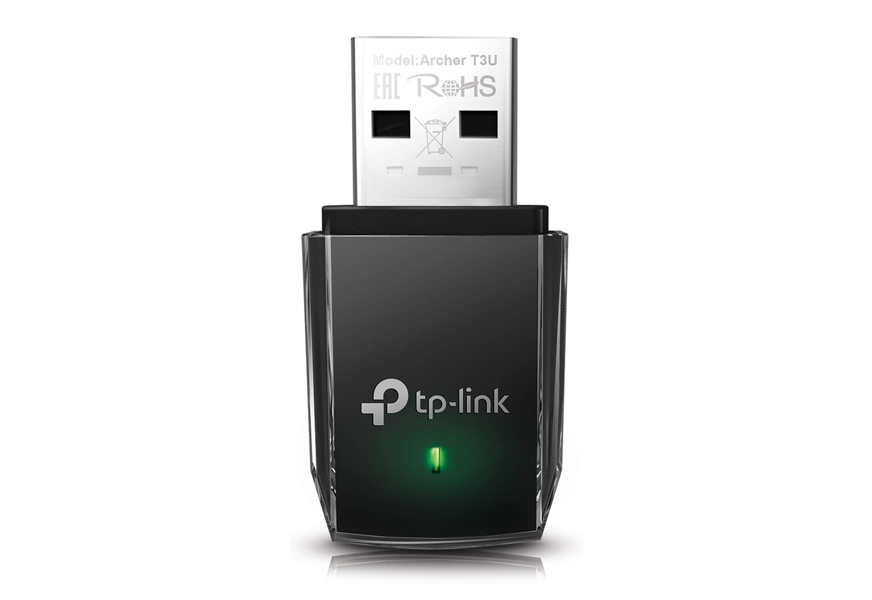 The TP-Link AC1300 USB WiFi Adapter is an excellent option for anyone regularly on-the-move. It uses both 2.4GHz and 5GHz frequencies, providing consistent connection throughout the home and the office, and the USB 3.0 technology provides speeds up to 10x faster.
Beamforming ensures a lag-free experience and the Mu-MIMO technology is ideal for multi-user households.
Scope out this guide to the best USB hubs while you're at it.
Key Features:
2.4 / 5GHZ connection throughout home or office
10x faster speeds with USB 3.0
Supports Windows and Mac
Beamforming technology for lag-free experience
MU-MIMO technology
Compact design
Specification:
Brand

TP-Link

Model

AC1300 Dual Band

Weight

2.08 Ounces
ASUS AC1200 Dual-Band USB WiFi Adapter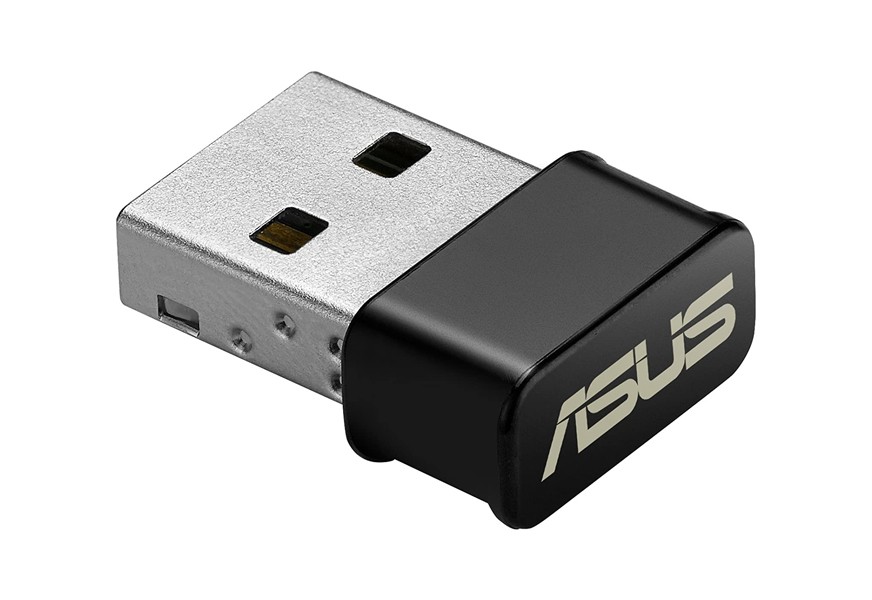 The ASUS AC1200 Dual-Band USB WiFi Adapter offers dual-band technology for consistency, and the MU-MIMO technology makes it suitable for multi-user households and offices.
Its simple Plug and Play installation puts your devices online immediately.
Key Features:
Dual-band WiFi connectivity
MU-MIMO technology
Plug and Play for easy setup
Upgrade WiFi for laptops and desktops
Download speeds up 867Mbps
Compact travel friendly design
Specification:
Brand

ASUS

Model

USB-AC53 Nano

Weight

2.4 Ounces
USB WiFi Adapter Buying Guide & FAQ
Features to Look for in USB WiFi Adapters
Before choosing the best USB WiFi adapter for your device, make sure you check out these key features so that you can purchase an adapter suitable for your situation.
Speed - The whole reason you are purchasing a USB WiFi adapter is to increase your internet speed. So, speed should be the first thing you look for in a WiFi adapter, right?
Devices with dual-band technology are the best option to ensure consistent internet speeds, as they will help to reduce interference, and it also doesn't matter what frequency your existing router operates on. By offering transmission for both 2.4GHz and 5GHz, you are guaranteed a stable connection at all times.
Even so, some devices are not as powerful as others. If you want to stream HD movies and games, high speeds are crucial, but if you simply want a more streamlined browsing experience, you should get by okay with slightly lower speeds of around 450 Mbps, as an example.
Encryption - Cybersecurity is always something you need to remember when purchasing a device. As your adapter will require access to your network, it must come with reliable encryption to prevent the risk of a breach.
Any decent adapter will offer such protection through WPA technology. WPA will block any malicious threats and ensure you can browse and stream in safety. However, if your adapter doesn't feature WPA, you will need to install drivers onto your computer that provide additional protection. Don't risk having your information compromised.
Ease of Installation - If you're the first to admit that you don't consider yourself the best with technology, the ease of installation is an important thing to consider. The good news is that many adapters come with simple Plug and Play technology that kicks into action as soon as you plug them in, meaning all you need to do is sit back and relax.
This process should be relatively simple, but you will need to know your WiFi router password and maybe administrative information to ensure it can connect easily.
If your device doesn't have Plug and Play capability not, you will need to use an installation disc, just like the good old days, but this is relatively straightforward.
Compatibility - Broad compatibility is another essential feature to consider, and it is vital for providing flexibility across a range of platforms and operating systems. Ideally, you want an adapter that works with both Windows and Mac systems, but this is only for using a laptop or desktop.
If you want to find the best USB WiFi adapter for gaming, you'll need one compatible with Xbox and PlayStation, whether the current-gen or next-gen consoles. Finding the right adapter means you don't need to worry about the poor connection (or no connection at all), allowing you to stream games and connect to online lobbies with ease.
Range - Excellent transmitter range is ideal for large households that use many devices at any one time, and if you find yourself on the other side of the house from the WiFi router, it can reduce the risk of lags, freezing, and buffering.
A typical range is about 200 meters, allowing you to connect easily with no sudden and frustrating drops in the signal's quality. The range enables you to enjoy consistent connectivity regardless of if you're streaming the latest release or getting into your online gaming experience.
Warranty - A good warranty is always something to look out for when purchasing any product. With a USB adapter, it can be of utmost importance to guarantee consistent performance for various internet needs.
There is, however, a range of warranties, so this is something to consider. Unlike larger devices and appliances, it is unlikely you will receive longterm warranties. Instead, you may only receive 30 to 60 days to test your new WiFi adapter. So, try the adapter as soon as possible so you can arrange for a refund or replacement.
USB WiFi Adapter FAQ
Q: What is a USB WiFi adapter?
A: A USB WiFi adapter is a device used to boost your WiFi connection and improve performance. For devices without a built-in WiFi card, this is an essential purchase that will enable you to connect to the WiFi and enjoy endless streaming and gaming without the risk of lag. However, it is also useful for devices that come complete with a wireless internet card.
The adapter will override the existing component and will increase your WiFi speeds. This is especially useful for households with multiple devices, including laptops, computers, game consoles, tablets, and even smart home devices.
With this device, you get a stable connection, and as many boast dual-band features, working on both 2.4GHz and 5GHz transmission, you can eliminate the risk of interference. They are easy to install with a Plug and Play setup and compatible with a range of devices and operating systems.
Q: Is a USB WiFi adapter better than an internal?
A: Deciding if a USB WiFi adapter is better than an internal component depends on which type of device you choose. As many adapters are compact, they do not boast the external antenna, which means you don't always get a stronger connection, or at least not as strong as you hoped, especially compared to internal transmitters, which usually come with three.
Despite this, some adapters will come with dual antennas, which may provide a more consistent and reliable connection, although they will take up more space.
And space is another thing you'll need to consider. For laptops, you may prefer a compact USB device that slots easily into the USB port, especially if you need to move around often, as this will prevent the adapter from catching on tables or chairs, which could damage the device.
However, if you use it for a desktop or a games console, a larger adapter with an antenna will be ideal if it will stay connected to your computer or console.
Q: How long do USB WiFi adapters last?
A: A USB WiFi adapter would not be much use if it failed after a few months or even a few weeks. Thankfully, they are durable enough to survive for a long time. Typically, the plug/unplug cycle of these devices is somewhere around 1,500. So, if you plug and unplug three to four times a day, you are likely looking at around two years maximum before you see a clear drop in quality.
Of course, quality is also impacted by how well you take care of it. While suddenly unplugging it from the USB port won't cause any significant damage (despite the many warnings you might receive), it's still a good idea to eject safely. You should also make sure you do not bend or knock the device when transporting your laptop, as this will loosen the components and affect your connection's reliability.
Q: How do I set up a USB WiFi adapter?
A: USB WiFi Adapters are one of the easiest devices to set up. For most models, all you need to do is plug it into the USB port. The internal setup driver will automatically launch the installation process (although it may prompt permission to allow it to proceed), and the software will install all by itself. Considering the size of the device, this should only take a few minutes at most. From there, you can connect to your WiFi and enjoy a more stable connection and increased speeds.
However, not all adapters use Plug and Play technology. With these, you may need to use an installation disc. As most laptops no longer come with a disc drive, this could pose a problem. Never fear, though; you will likely receive an installation code to input on the brand website if this is the case.
For other devices, such as a desktop or console, you should use the installation disk with no issues if it does not automatically use Plug and Play to initiate the installation.
Sources
Sign Up Now
GET THE VERY BEST OF GEARHUNGRY STRAIGHT TO YOUR INBOX