Best WiFi Extenders In 2022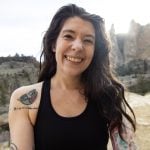 This product guide was written by Tuesday Kirby Kahl
Last Updated
December 1, 2018
Tuesday Kirby Kahl
Tuesday Kirby Kahl is a contributor at Gear Hungry. Her fierce love for the outdoors fuels everything she does. Her professional pursuits include writing, creating art, and photography. These professional passions allow her the time to live life outside as a rock climber, skier, runner, backpacker, paddle boarder, swimmer, and explorer. When Kirby is indoors, she enjoys tea, whisky, old films, cooking, and baking. Her product testing and feedback have shaped the design of everything from climbing shoes to candles.
GearHungry may earn a small commission from affiliate links in this article.
Learn more
Struggling with poor WiFi signal? Tired of shifting around the house trying to find the strongest WiFi hotspot? If so, you are certainly in need of the best WiFi extender. The constant struggle with network coverage in our homes or offices can be incredibly frustrating, especially with the various responsibilities we hold and the duties we have to perform. This and many more reasons are why we all need a WiFi extender.
Be it in the comfort of your home or office, WiFi extenders are smart home devices that help increase your network signals around your preferred space. The extenders listed below are great performing units that won't have you breaking the bank. Welcome to the only article that describes some of the best WiFi extenders currently on the market in detail, giving you all their highs and lows, leaving no secret in the dark. For 2019's list of the best Wifi extenders, keep reading.
The Best WiFi Extender
NETGEAR N300 WiFi Extender
With the Netgear N300 WiFi range extender, your access to an extended WiFi coverage is just an outlet away. With this essential extender, you can now say goodbye to WiFi dead zones by boosting your existing network range and speed. As well as offering all users with up to 300Mbps of WiFi service, it is a device that discreet, convenient and straightforward to set up. It doesn't matter the type of device you own, be it an iPad 2, iPhone 5, Xbox or a Galaxy S3, this extender works perfectly with a broad range of mobile devices, keeping them connected as you go about your home duties.
The Netgear N300 features external antennas that ensure you have access to better WiFi coverage at a higher speed. It also features a wall-plug design, helping you save space. Simple in design yet sophisticated in performance, this WiFi extender is a fantastic unit with a fast Ethernet port for all your wired devices. It is undoubtedly one of the best WiFi inventions of this year. Find more great products like this by checking out our guide to the best gaming routers.
Key Features:
Offers up to 300Mbps of WiFi service
Works perfectly with a broad range of mobile devices
Has external antennas
Comes with a wall-plug
Specification:
Brand

NETGEAR

Model

EX2700-100PAS

Weight

8 ounces
Super simple setup
Compact design
Two large adjustable antennas
Pricey
Only one Ethernet port
Extends WiFi up to 300 Mbps
NETGEAR Nighthawk X6S WiFi Extender
Another product manufactured by yet another leading name in the tech industry is the Netgear Nighthawk mesh extender. This device enables you to create your mesh WiFi which will, in turn, improve service coverage in all corners of your home or office. The Nighthawk signal booster can be moved from place to place within your home or office, without it getting disconnected. Many reviewers also identify it as a highly compatible device that extends effortlessly to your existing WiFi with your current router, gateway or ISP-provided a gateway. 
Enjoy all other exciting features offered by the Netgear Nighthawk, some of which include four Gigabit Ethernet ports, a combined speed of up to 3 Gbps, a quad-core processor which allows for better lag-free 4k streaming and smart roaming, an element that enables all users to connect effortlessly to the best available WiFi networks. To reduce congestion, this extender features a Tri-band WiFi, which increases all available WiFi bandwidth. Experience fast connection all day long, no matter where you find yourself in your home. Our handy guide to the best external hard drives features more great products like this.
Key Features:
An in-built Gigabit Ethernet ports
A combined speed of up to 3 Gbps
A quad-core processor which allows for better lag-free 4k streaming and smart roaming
The extender has Tri-band WiFi
Specification:
Brand

NETGEAR

Weight

3.2 pounds
Combine speeds up to three Gbps
One WiFi name for all connected devices
Easy to setup
Pricier than most extenders
Bulky
No pass-through outlet
NETGEAR AC2200 Mesh WiFi Extender
Netgear makes an appearance one more time with their exceptional network extender, the Netgear AC2200 Mesh WiFi Extender. With this extender, there is a massive improvement in the overall WiFi coverage in your home, as you're given the power to create your own Mesh WiFi. Like many other models manufactured by the brand, this is one extender crafted carefully and precisely for universal use. It is highly compatible, and this attribute helps it extend your current WiFi with your existing ISP gateway, router and other gateways.
The Netgear Mesh Extender comes with a full coverage range which means that you can move freely in your home, from your bedroom to the kitchen and into the kids' rooms, without fear of being disconnected. Upon purchase, users are given a package that includes a Gigabit Ethernet Port to help them connect wired devices such as their game consoles or smart TVs. With this wireless range extender from Netgear, you're assured of a consistently fast and reliable wireless connection from every room in your home.
Key Features:
An in-built Gigabit Ethernet ports
A combined speed of up to 3 Gbps
A quad-core processor which allows for better lag-free 4k streaming and smart roaming
The extender has Tri-band WiFi
Specification:
Brand

NETGEAR

Model

EX7300-100NAS

Weight

1.05 pounds
Solid throughput in testing
Supports Multi-User Multiple Input streaming
Easy to install
Bulky.
No pass-through outlet.
Pricier than most extenders
Linksys AC1900 Gigabit Range WiFi Extender
Away from the familiar territory, we explore a new device known as the Linksys Gigabit range extender. The AC1900 is an extender that boosts your WiFi coverage up to 10,000 square feet. It is a unit that is meant to eliminate all WiFi dead zones while raising the WiFi coverage in and around your home. Setting up the Linksys extender is a comfortable process that doesn't require a lot of time, for optimal placement and performance, this unit features a Push Button Connect and Spot Finder Technology. Installation can be done anywhere within your home, office or any other space that requires a stable network connection.
Thanks to the installation of an advanced dual-band, this WiFi amplifier enables your WiFi speed up while optimising all your connections. Its beamforming and cross-band technologies work together to help this device gain an enhanced wired speed for your game consoles, Smart TVs, Blu-ray discs or other WiFi using tools you may own, using the Gigabit Ethernet port. Join a family that's never disconnected from the world; join the Linksys family and experience perfection. Make sure you also check our guide to the best HDMI cables.
Key Features:
Can expand Wi-Fi coverage in your home or office for up to 10,000 square feet
Offers advanced dual-band Wi-Fi Speeds up to AC1900+
Features a Push Button Connect and Spot Finder Technology
Offers enhanced wired speed thanks to the Cross-Band technology
Specification:
Brand

Linksys

Model

RE7000

Weight

6.2 ounces
Audio streaming capability
Powerful
Simple to setup
Expensive
Bulky design
Not as efficient as sure pricier alternatives
TP-Link AC750 WiFi Extender
Enjoy fast and strong network connections in rooms that were once WiFi dead spots by getting the TP-Link AC750 WiFi Extender for your home. Developed by one of the leading manufacturers of tech devices in the world, this extender strengthens your router's WiFi by making use of a powerful Wireless AC technology. This technology is also capable of boosting your network signals into parts of your home it can't reach on its own. It is a device suitable for use with the iPhone 7, PlayStation 4, iPad 4 and other devices, and it can be used for extending WiFi to Alexa/Echo devices.
Setting up this WiFi extender is very easy, and it can be placed anywhere within the comfort of your home or office. Its flexibility regarding placement allows movement of the range extender after initial setup to any outlet you choose. It features a smart signal indicator which helps users in identifying the ideal locations for maximum WiFi coverage and is also able to work with any standard gateway or router.
Key Features:
Can be used for extending WiFi to Alexa/Echo devices
Offers a high-speed mode for HD streaming and gaming
An in-built smart signal detector that identifies ideal locations for maximum WiFi coverage
Use a powerful Wireless AC technology
Specification:
Brand

TP-Link

Model

RE200

Weight

11.2 ounces
Ease of installation
Good value
Ethernet connection
Large
No pass-through outlet
double sockets aren't accessible by a second plug
TP-Link N300 Wifi Extender
Another WiFi extender developed by TP is the TP-Link N300 WiFi Extender. This extender provides a secure and stable WiFi service to your home by expanding your router's signal. With such an extender, you get to thoroughly enjoy listening to your favourite podcasts, watching movies or streaming music without worrying about spotty signals or dead zones. It is suitable for all kinds of houses, even those with multi-levels where wifi coverage may prove to be a challenge. It features two antennas on its exterior that ensure you receive a faster and more reliable WiFi service.
Another feature of this extending device is its ability to support the AP mode. In doing this, it enables users to create a new WiFi access point with ease. There is a Range Extender Button that once pressed, allows the extender to quickly expand your wireless coverage, boosting your wireless performance and coverage at the same time. Employ this WiFi booster with any wireless access point or W-Fi router.
Key Features:
Works with any wireless access point
Supports AP mode
Two external antennas
free 24/7 technical support
Specification:
Brand

TP-Link

Model

TL-WA855RE

Weight

5.6 ounces
Very easy to set up
Affordable
Provides good WiFi signal 75 feet from the router
Weak signal strength beyond 75 feet.
No Gigabit speed supported on Ethernet port
Too large
TP-Link N300 Range WiFi Extender
The N300 Range Extender by TP-Link is a wall-mountable and small-sized device crafted by professionals to boost wireless signals to previously hard-to-wire or unreachable areas effortlessly. Its compact nature and lightweight frame make it extremely flexible and easy to move, making it easy to deploy as well. Just like other TP-Link models, this WiFi extender features a Range Extender button that quickly expands the wireless coverage of their network at a single push of a button. Concerning compatibility, this device can be used with other smart devices such as the Samsung Galaxy mobile devices.
It features an LED control function, a night mode that allows you to sleep with ease, and a Tether app that allows easy access and management via any mobile device. The price of this unit and its promised performance may be hard to believe, but in taking that step of faith, you'll be availing your home or office of nothing but the best. This WiFi repeater can function as a wireless adapter through its Ethernet port that helps you connect other wired devices.
Key Features:
Wall-mounted design
Compatible with other 802.11n/g/b products
Range Extender mode boosts wireless signal
Easy to deploy and move flexibly
Specification:
Brand

TP-Link

Model

TL-WA850RE

Weight

4.2 ounces
Very easy to roll back to factory settings
Good WiFi signal at up to 75 feet
Affordable
Weak signal strength beyond 75 feet
No Gigabit speed supported on Ethernet port
Not as efficient
NETGEAR Orbi Compact Wall-Plug Whole Home Mesh WiFi Extender
With two Ethernet ports on its router, the Netgear Orbi WiFi System is here to stay and provide you with unlimited network coverage. Blanket every space in your home, from all the rooms to the walls, and even the floors by creating your personal Mesh WiFi network. The Netgear Orbi is a device that is easily compatible with your modem, can replace that old router, and work in unison with your internet service provider. Extending your WiFi to any room with a standard electrical outlet is made possible thanks to this device's slim profile wall-plug satellite. To operate, you only need to plug it in and stream all your songs, movies, and documentaries with speed. 
The coverage of this WiFi booster is consistent and spans up to 3,500 square feet at speeds amounting to 2.2 gigabytes per second. While other extenders make use of the dual-band system, the Netgear Orbi extender utilizes that tri-band technology and this helps maintain the speed of your network, even with other devices joining in to have their share of the cake. Such an exciting feature is a reason why this device stands out from among its competition day in and day out. Included with this device is an Orbi app that enables all users to access parental controls, create guests network, and run speed tests from their preferred mobile device. Make sure you also check our guide to the best ethernet switches.
Key Features:
Simple setup with the Orbi app
4 Gigabit Ethernet ports
super-fast, seamless WiFi
Expandable for more WiFi coverage
Specification:
Brand

NETGEAR

Model

RBK20W-100NAS

Weight

3.2 pounds
Super simple installation
Compact design
Dedicated 4×4 radio for backhaul
Pricey
Physically more substantial and more visually obtrusive
The USB port is currently dormant
WiFi Extender Buying Guide & FAQs
When it comes to WiFi extenders, several features hold court as must-haves, and we have listed a few of them below.
Setup - In purchasing an extender for your home, be sure to look for one that is easy to install. Installation is made easier with instructions that are easy to follow. Try as much as possible to avoid models that involve tedious and confusing actions, as you may end up fixing your device wrongly, messing it up.
WiFi Band - There are two band types, the single or dual, and these are found in several extenders and routers. Since dual-bands can direct the flow of network traffic, they're considered highly beneficial. They're able to send some devices to the 2.4 and 5 GHz, and also prevent signal interference.
Ethernet Port - All top speeds are attained with ease with the help of Ethernet ports. The number of items demanding power from your WiFi network can be drastically reduced, by hardwiring some devices into your Ethernet ports. There are some extenders on the market with a single Ethernet port, while others offer you as many as five ports for use. Depending on the intended use of your extender, you should be on the lookout for the models that provide you with enough Ethernet ports.
Compatibility - The name used for the technology and procedure used by WiFi extenders to interact with any router is the protocol 802.11ac. This protocol is the most commonly used by recently manufactured extenders as well as those mentioned above. It works perfectly with older routers and equipment that occasionally make use of older protocol versions, such as the 802.11n. This backward compatibility makes it highly effective as a device and enables its use in any space.
Concerning compatibility, it is advised that you purchase newer models of WiFi extenders as they will work with both old and new protocols. This may mean you get to spend more, but it'll be worth it in the long run.
Radio Frequency - Just like compatibility, newer extenders feature a 5 GHz frequency which is an increase from the 2.4 GHz used by older extender models. The new rate is less prone to signal interference and congestion as its relatively new. Purchasing a newer model is advised if you are looking to buy a router that relies on the more current frequency, as this will be a better match.
Speed - Speed is often referred to as standard when speaking abbot extenders. The extender operation speeds required by professionals and reviewers alike are speeds of up to 1,200 Mbps, 867 Mbps, and 750 Mbps respectively.
Desktop -Some WiFi extenders can be placed comfortably on your desktop, and those that come with wall-mounting features. Preference comes to play actively when selecting your extender thus, look out for a type you would love to keep in your home and one that won't take up a lot of space.
Plug-In - The ease of use of a WiFi extender should be of top priority when you're about to make a purchase. Some extenders require the connection to a power source, to be able to connect and automatically configure with the router. Others employ the use of a setup wizard via a mobile app, while the last category requires the simple push of a button.
Types Of WiFi Extender
WiFi Repeaters - These kinds of extenders are often installed between the part of your home or office in need of network connection and your wireless router. It is the first and necessary kind of extender in the market currently. The dominant feature of the repeater that sets it apart from other extenders is that the potential speed of your device's network connection is cut in half.
WiFi Extender - this is also known as a wired-wireless network extender, and its operations vary ever so slightly from the repeater. The wireless signal brought to the dead zones in your office or home is done using both wired and wireless technologies. With such techniques, you get to benefit from high speed and reliability of cables, instead of being solely dependent on wireless signals.
WiFi Extender FAQs
Q: What is a WiFi Extender?
A: You may know WiFi extenders by another name, such as WiFi repeater, but all names refer to a single device that works singly. This is a device used when your WiFi coverage isn't as fast as you expected, or when it isn't reliable in every room within your home. Having a WiFi booster, repeater or extender helps crank up your WiFi signal in various spaces within the house. It provides network coverage everywhere, even to areas that were once considered dead zones.
Q: Do WiFi extenders work?
A: WiFi extenders have been proven to operate perfectly by many users and online reviewers.
Q: Do Range Extenders reduce speed?
A: WiFi extenders capture and broadcast the wireless signal from your router. The speed of your extender tends to reduce only when your repeater is placed at the far edge of your main network. Many people do this as they believe it helps strengthen the network signal, which isn't true.
Q: Can you have 2 WiFi Extenders in house?
A: Yes, it is possible to use two extenders in your home. However, you're advised not to connect them wirelessly. Instead, to keep them both connected to the main router as any wireless connection between them will cause the performance of one extender to reduce drastically.
Q: Where is the best place to put a WiFi extender?
A: First of all, make sure that your extender is within the wireless router's range and then make sure its placed halfway between your computer and the wireless router.
Q: How can I boost my WiFi signal?
A: Some ways with which your WiFi signal can be boosted are:
Updating your router firmware
Switching your frequency
Migrate from your default network channel
Replace your antenna
Get yourself a wireless range extender!
Sources
LED - Wikipedia
Tri-band - Wikipedia
Ethernet - Wikipedia
Sign Up Now
GET THE VERY BEST OF GEARHUNGRY STRAIGHT TO YOUR INBOX