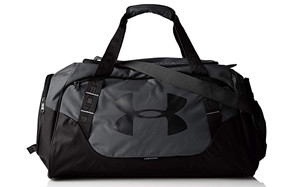 Under Armour Undeniable Duffle 3.0 Gym Bag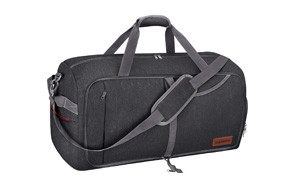 Canway 65L Travel Duffel Bag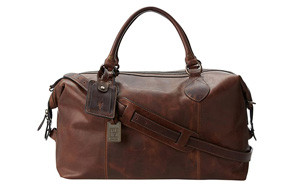 FRYE Logan Overnight Duffel Bag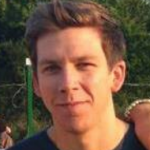 The essential gym companion, the make-do suitcase for your next trip; whatever the occasion, a duffle bag is a perfect accomplice. Originally designed to hold your gym shorts and sneakers, these durable bags gained a reputation that crossed over into air and road travel. When you don't need a series of luggage pieces, or you're just trying to crash on a bud's couch for the weekend, the duffel bag is the perfect reach-in traveller's inventory. Per usual, we've sorted the best of the best for you today.
The Best Duffel Bag
Duffel Bag Buying Guide and FAQs
How we Chose Our Selection of Duffel Bags
It sounds like a relatively simple purchase, but just grabbing whatever you see on the shelf at the department store isn't going to cut it. There's a lot that goes into these bags. We looked at the following criteria to determine our list.
Brand name (usually helps pinpoint durability and lifespan)
Weight capacity
Materials used
Overall durability
Strap strength
Color and design
Internal pockets
Zipper strength (YKK zippers are the goto)
Overall cost

Nobody wants to grab something like this, something they'll rely on to keep their personal belongings safe and covert, only to find that it's not up to snuff. We've taken the necessary precautions to weed-out the hundreds of bad duffel bags on the market, giving you a well-rounded list to choose from.
Features to Look for in Duffel Bags
Size - You're getting it for storage, but bigger is not always better. Duffel bags and rollaway suitcases are two different things; you'll be carrying your duffel bag by your side, or over your shoulder. Capacity is important, but don't overstuff the bag.
Material - Duffel bags usually come in canvas, giving you a lot of durability (more on that later). The material and thickness of said material are going to define how valuable the bag is, and how long you can expect to use it before it wears down.
Design - Some duffel bags come in a square shape, allowing you to pack them more efficiently in the car, or have an easier time stashing them in the carry-on compartment on the plane.
Color - This is mostly up to preference. If you're planning on cleaning your duffel bag, pay attention to strong dyes. You don't want to meld them with your clothing in a white wash, especially if you go for a blue bag (most common duffel bag color).
Durability - You wouldn't buy anything if you didn't think it was durable. Duffel bags are usually made out of canvas, giving you a lot of room to toss them around without risking ripping them. Canvas is fairly durable, and it's simple to patch up a hole if you catch it in time.

Types of Duffel Bags
Sports - Whether you're hitting the gym or you have a load of sneakers and sports gear (baseball, footballs, etc.), a duffel bag can be the perfect medium between the field, and your car.
Casual - We would consider using these for travelling around the city on a Sunday, or having an overnight adventure go bag at-the-ready for those times where you just need to get away for the weekend.
Duffel Bag FAQ
Q: What is a Duffel Bag
A: Duffel bags are canvas-crafted cylinders on a handle, designed initially to house your gym gear, keeping the smell on the inside. This was especially helpful for executives who took a gym-based lunch break, and didn't want to stink up their office after they hit the showers.
Since then, duffel bags have become one of the goto travel bags for men all across the globe. These can either be carried by your side, or if they're heavy enough, over your shoulder with the longer strap. These are traditionally used as a gym, sports, or travel bags, giving you a quick way to just reach into your inventory and pull out just about anything. There's rarely dedicated interior storage pockets, but there is a correct way to pack them.
Q: Should You Take a Duffel Bag or a Suitcase on Your Next Trip?
A: Duffel bags come in various sizes, partially to fit as carry-on bags for air travel. They're one of the best companions, because you can skip additional costs, and the ever-annoying baggage claim all at once. If you're heading on a short business trip, you're able to forgo the aggravation, and get from the airport to the hotel faster, all by using a duffel bag.
If you're expected to show up in your suit and briefcase, you may be thinking that it's a smart idea to pack these in your duffel bag. It can be, but just be certain to have your briefcase unlocked and ready to show to TSA. They traditionally don't like bags inside of other bags, but if you're doors-wide-open about it, you should be okay. Just be certain that your briefcase has a TSA-approved lock feature, as well.

Q: How do You Pack a Duffel Bag?
A: It's sort of a free-for-all for your personal belongings, so you have to figure out how to cushion the electronics, and keen things from rumbling around. Nothing is more dangerous than a fully-loaded duffel bag, especially since it's difficult to hold onto if you're not packing the right muscle. Here's a step-by-step guideline for what you should be doing.
Pack clothing on the bottom
Place electronics on top of clothing; apply additional clothing layer for more fragile electronics (two-shirt layer for a MacBook, etc.)
Place personal items (depending on air or ground travel), such as soaps and grooming items, dopp kits, etc., in a Ziploc bag to reduce the risk of spills
If you're bringing back souvenirs, plan on having a little bit of extra room; they'll go with your electronics when you return home
Pack the walls with rolled-up clothing to cushion bumps and bruises, protecting your valuables
You guessed it - line the top with another layer of clothing, and utilize external straps to lightly compress your inventory, if applicable