Walk, or Skate, the Line – The Best Vans Shoes in 2022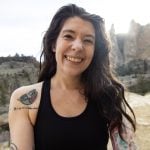 This product guide was written by Tuesday Kirby Kahl
Last Updated
October 15, 2021
Tuesday Kirby Kahl
Tuesday Kirby Kahl is a contributor at Gear Hungry. Her fierce love for the outdoors fuels everything she does. Her professional pursuits include writing, creating art, and photography. These professional passions allow her the time to live life outside as a rock climber, skier, runner, backpacker, paddle boarder, swimmer, and explorer. When Kirby is indoors, she enjoys tea, whisky, old films, cooking, and baking. Her product testing and feedback have shaped the design of everything from climbing shoes to candles.
GearHungry may earn a small commission from affiliate links in this article.
Learn more
Since 1977, when Vans opened their first storefront in California, making shoes upon request, they've served skaters and had an iconic look that they've carried forward to the present day. Vans has come a long way since that small storefront and has made millions of shoes and no longer only serve skaters. Vans now makes snowboard boots, surf shoes, sandals, shoes for the general public, BMX shoes, and more.
Vans is known all over the USA and the world for its classic sidestripe and dependability when it comes to "Off the Wall" sports. I've been wearing them for over a decade, as have many folks I know—few shoes go better with any outfit than a pair of black Vans shoes. No matter your style, there's a shoe for you in their lineup, so we've brought you a list of the best Vans shoes and a guide on finding the best fit for you!
The Best Vans Shoe For Men
Vans Classic Slip-On Shoes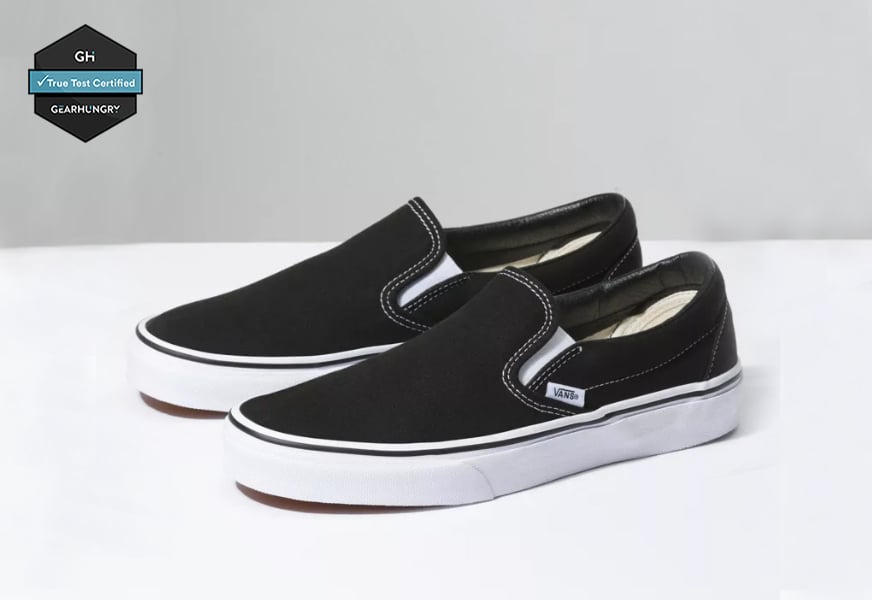 The Vans Skate Slip-On was my first Vans shoe model and is my current favorite. Since 1977, it has been a style icon and one of the most popular silhouettes from the brand. As a route setter in a climbing gym, I often need to slip in and out of my shoes, and the slip-on style allows me to do that without ever using my hands. The waffle tread patterns and rubber outsole allow me exceptional grip when ascending ropes and trying moves while I set.  
Additionally, a classic black slip-on goes well with any outfit, and you can wear them anywhere. I'd argue they are one of the best-looking vans shoes. I even wore these shoes to walk my friend into her wedding while holding her dress, put on heels for the ceremony, and promptly changed back into my Slip-On for the reception and danced the night away.  
As a longboarder, I need a comfortable shoe that grips well and doesn't come off easily but doesn't have to be so fitted since I'm not doing drops and tricks. I need a comfy shoe for carving and cruising through my neighborhood while I run errands. The Vans Skate Slip-On offers me comfort, grip and exceptional board feel while I ride and navigate the terrain.  
The board feel translates well to approaches to rock climbing areas, and I frequently choose these shoes for hikes under three miles because the feel allows me to navigate over talus and tricky terrain, and the rubber gives me plenty of stick when I need it. I only wish these shoes had a small loop or tab in the back to wear them to multi-pitches and clip them to my climbing harness so I wouldn't have to take my bulky approach shoes. Read the in-depth review here.
Key Features:
Rubber outsole
Flexible last
Padded collars
Fast break-in
Waffle tread pattern 
Specification:
Brand

Vans

Model

U CLASSIC SLIP-ON

Weight

1.76 Pounds
Vans Skate Chukka Low Shoes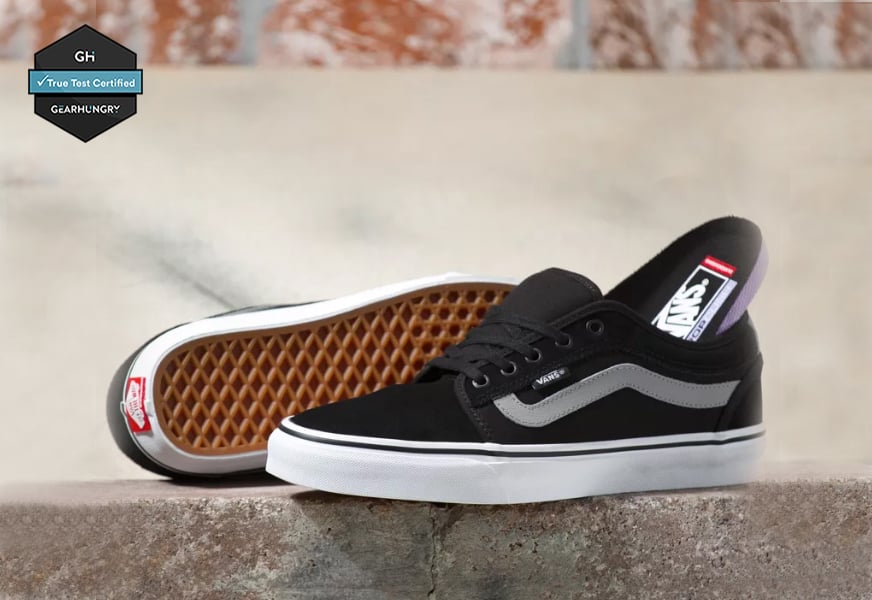 The Vans Chukka is a classic – a no-nonsense skateboard shoe that's built to last with an extra cushion where you need it. The low profile and muted color schemes keep it discreet. And in our tester's experience, it's outlived pretty much every other shoe he's ever worn.
The Chukka incorporates various proprietary components and construction, which all essentially add loft and resiliency. Compared to a normal Vans shoe, our tester found that they felt more thickly padded, more supportive, and more solidly built.
That played out over two years of testing, in which he wore Chukkas in situations ranging from kitchen and manual labor jobs to high-mileage backcountry hikes. He also wore them out on the town a fair amount and for his novice-level longboard outings. According to him, they were always on his feet because he never had a reason to take them off. The first pair held up for well over a year of near-daily abuse from wet floors, sand, and road abrasion before the outsole started to delaminate. He especially liked the grippy rubber, which never stopped sticking to wet tile or sand-sprinkled stone. 
After years of burning through Atwoods one season at a time, he says he'll never go back. Asked if he would change anything about the Chukka, he said some folks might find it narrow – however tight the toe box feels, the stiff construction exaggerates the effect. 
Bottom line: resilient, comfortable, and low-key, our tester would and does wear the Vans Chukka anywhere. 
Key Features:
Beefier padding and support via Vans Pro
Classic waffle sole
Low top but still supportive at the ankle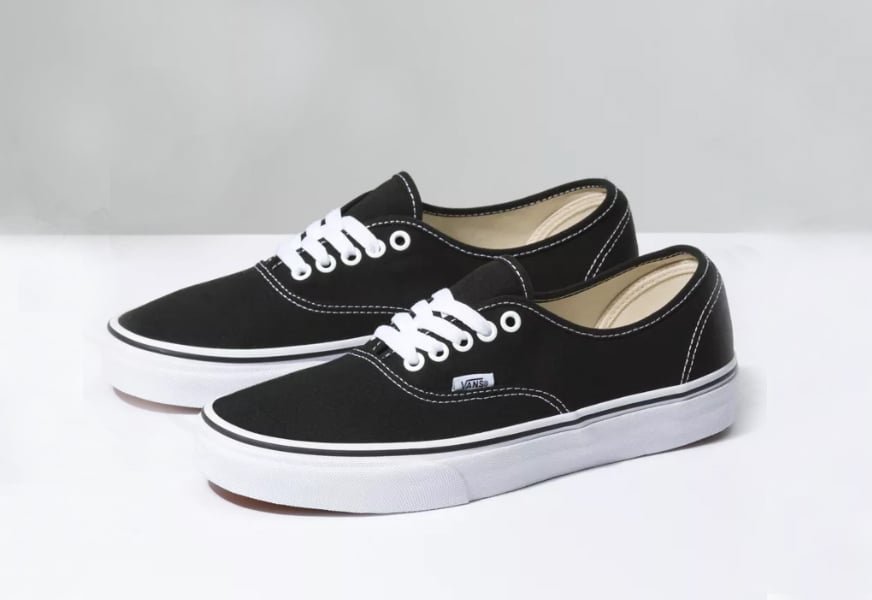 Tad, my climbing partner's favorite shoe from Vans, is also one of the best-selling Vans shoes, the Vans Authentic. A tight fit and flexible sole allows exceptional board feel, security and comfort whether he's skating or we are headed up to the boulders. The Vans authentic was originally known as the #44 Deck Shoes before its current name. This shoe features laces for a snug fit so the shoe stays on your foot and is well-fitted, and a sturdy canvas upper for support that breaks in quickly.
The rubber outsole features the classic waffle tread for maximum grip, but it isn't so thick that it minimizes the board feel. Tad loves the flexibility of these shoes and how easy it is to hop between talus and boulders, and how much of the ground he can feel under his feet. With so much feel, my feet get tired too quickly, but he's been wearing these shoes for so many years—they are comfortable all day. As for the looks, nothing beats this classic model; hands down, still the coolest Vans shoes.
I recently got swarmed by hornets and stung 37 times, and Tad lost one of his precious Vans Authentics while trying to help get me out of the talus we were in and away from the hornets. It was quite a tragedy, and we have yet to recover the lost shoe and my favorite sweater. 
Key Features:
Tight fit
Lace-up
Canvas upper
Flexible rubber outsoles 
Specification:
Brand

Vans

Model

VANS

Weight

2.43 Pound
Vans Skate Old Skool Shoes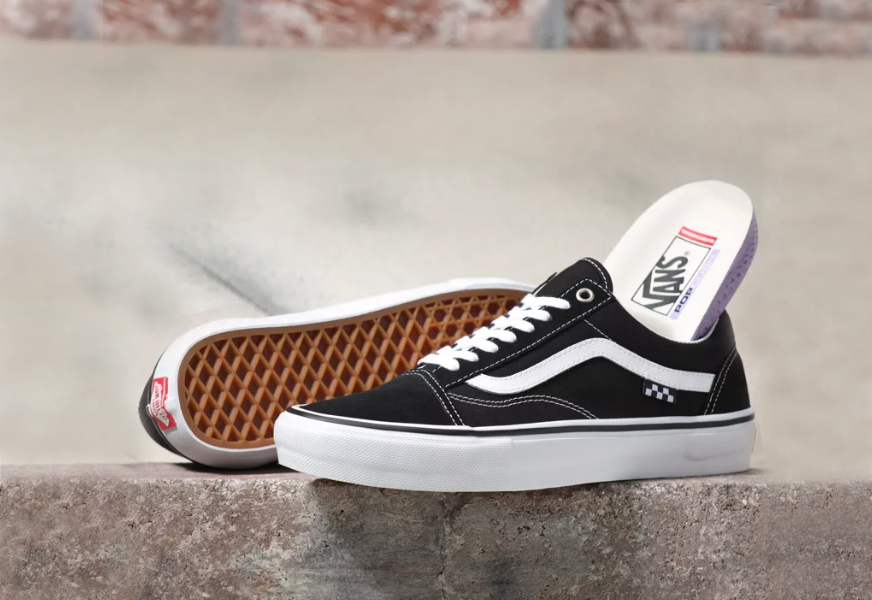 The Vans Skate Old Skool takes a classic Vans design to a whole new level of durability. This shoe has the everyday skater in mind who is used to blowing through shoes quickly. Vans reimagined the canvas and suede upper of this shoe and added reinforced materials to the major wear points of the shoe. The new design is durable and prepared for everyday abuse at the park or on the streets like the best Vans shoes.
Heel stiffeners and internal tongue straps allow for more board control and support through your entire foot. Vans even upgraded the rubber for additional grip and board feel. This shoe is arguably one of the most comfortable vans shoes. To minimize the impact on your feet, an additional insole provides stability and impact absorption so you can skate longer and try harder, no excuses.
While this shoe is for the hardcore, all-day skaters—it's a solid option if you are hard on shoes and want a little more support than traditional popular Vans shoes, and they certainly make our lineup of the dopest vans. For more cool-looking sneakers skaters will love, check out our guide to the best Etnies shoes.
Key Features:
Mid-top profile
Lace-up, Sturdy canvas and suede upper with padded collars
Heel stiffeners
Reinforced materials for durability 
Specification:
Brand

Vans

Model

VD3HSU

Weight

2.09 Pounds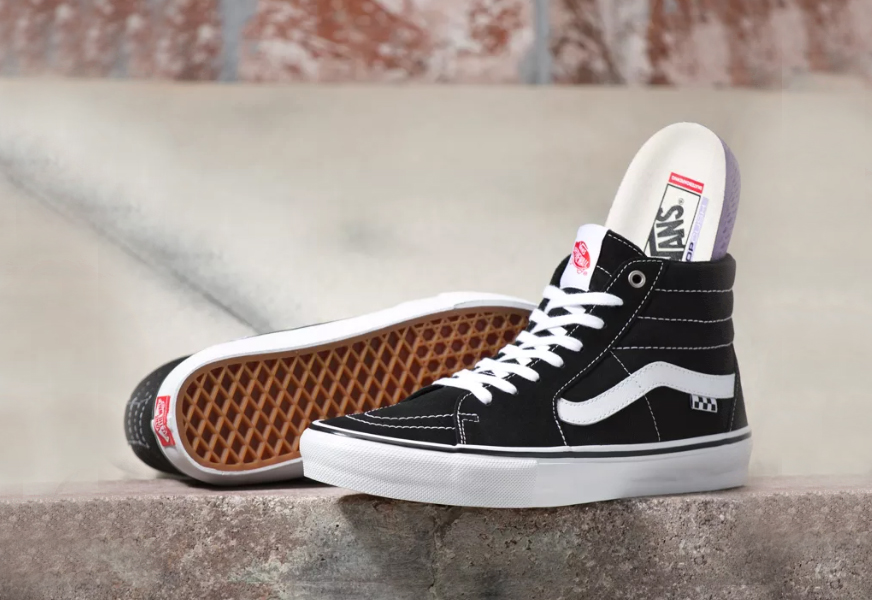 I love a good high-top shoe for looks and for ankle support, and the Vans Skate-Hi8 is a durable and fashionable high-top option for skating and daily wear. Much like the Vans Skate Old Skool, this model has reinforced materials throughout the suede and canvas upper where the shoe is most likely to wear out. The cushy padded collars are gentle on the ankle while providing plenty of support.  
One of our favorite features of this shoe is the inner liner that provides shock absorption and less fatigue for your foot and ankle, much like the Skate Old Skool. This inner layer allows you to play longer without getting tired. Sticky rubber gives you exceptional grip and board feel, while inner tongue straps lock your foot in place for a snug fit. Be sure to also browse our list of the top Nike sneakers for more iconic footwear like this.
Key Features:
Sticky rubber wafflecup outsole
POPCUSH liner
Padded collar
Suede and canvas upper
Specification:
Brand

Vans

Model

SK8-Hi

Weight

2.87 Pounds
Vans Heavy Textures Slip-On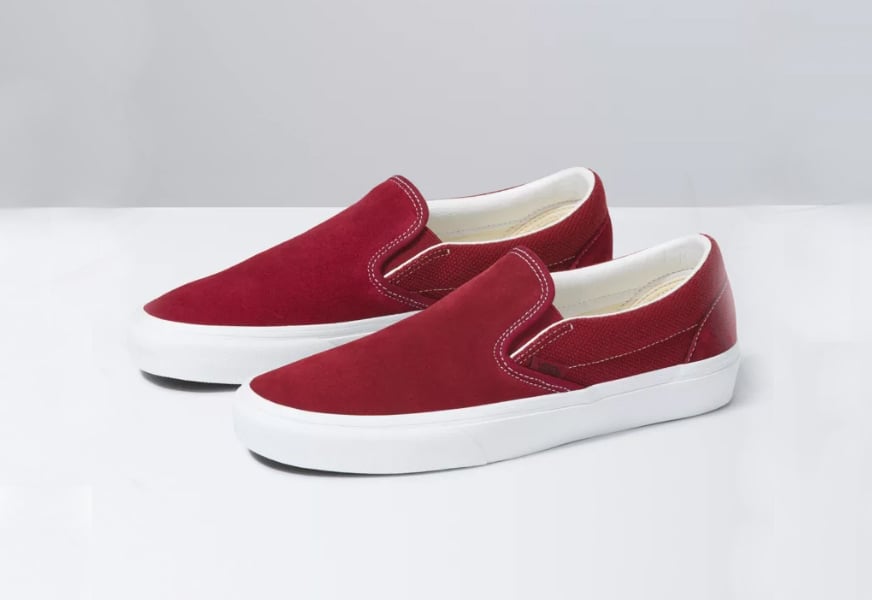 For the next shoe in our lineup, texture and feel is the name of the game. The Vans Heavy Textures Slip On stands out from the crowd with a mostly suede upper full of texture on a classic slip-on silhouette. You get the same iconic slip-on with a twist, a red suede twist.  
Like with the classic Slip-On, you get a cozy padded collar, a flexible sole, a rubber outsole with waffle tread, and elastic accents. This shoe might be for looks, but the function and classic features are all still there. Who says you can't have form and function in one suede box? You may also like some of the best-selling Puma shoes from our list. Don't miss them.
Key Features:
Padded collar
Suede upper
Elastic accents
Rubber outsole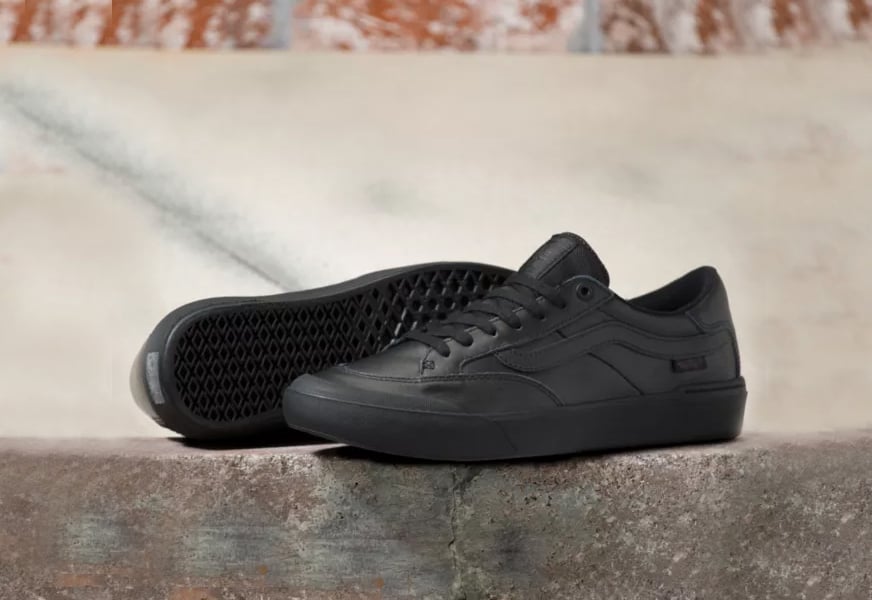 Vans athlete Elijah Berle wanted a durable and stylish shoe, so he and Vans teamed up to design the Vans Wearaway Berle. This shoe has an all-leather upper. The upper isn't very breathable, but it is warm and very durable. In fact, as the leather wears away, a new color emerges, so your shoes continue to be stylish even as they begin to fall apart.  
The waffle tread you see in many Vans shoes comes in all black on the sole of this shoe, providing excellent board feel and grip. You'll find a dynamic tread pattern on the bottom at different parts of this black sneaker for maximum grip. The tongue and insole fit snugly, so you get the tight feel needed for skating. You'll love this water-resistant, warm all-leather shoe because of how dynamic and durable it is.  
Key Features:
All-leather upper
Waffle tread
LuxLiner tongue
Increased durability 
Why Trust Us
Well, I've been wearing Vans and other skate shoes for the last 16 years since I started skating. I started skating at age 11 and was pretty terrible, so I took a break but still consistently wore Vans and other skate shoes. I've picked up longboarding again in my 20s, found so much joy in the sport, and realized that the shoes you wear matter for durability, board feel, comfort, and more. I've also consulted my climbing partner and longtime skater who has exclusively worn Vans as a skate, daily, and hiking shoe for the last 20 years, so his commentary is throughout this guide as well. Tad does tricks and drops regularly while I mostly cruise and carve on my longboard, so I've taken his commentary seriously.  
Who This Is For
This guide is for anyone interested in Vans shoes, whether you are a skater or not. This said, we will talk about skating, board feel, and more (board feel can be equated to how you feel the ground under you as you walk, run, etc) so if you're looking for great skate shoes, stay tuned. After all, when it comes to quality skateboarding shoes, Vans has been reigning supreme for decades. Personally, I like to wear Vans when I am route setting and for short but difficult or uneven hikes because I can feel the ground better than in a typical hiking shoe. If you wear or want to wear Vans shoes, you'll find a shoe in this guide for you.  
How We Picked
When picking our top Vans shoes, I first consulted Sam and Tad for their favorites, knowing they longboard and skate as well. From there, I went with a mix of tried-and-true classics and variety in materials to curate a well-rounded selection of shoes for skaters and non-skaters alike. Luckily, the list of Vans shoes is practically endless so finding a model for every style and need was easy.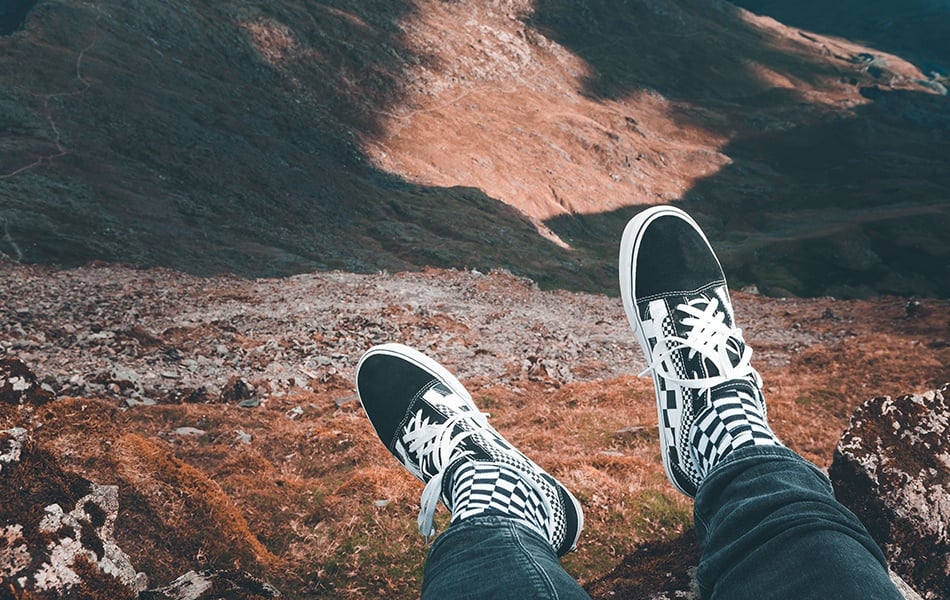 How We Tested
I tested Vans shoes in a variety of ways. Firstly, I longboarded around my neighborhood, to local bars, friends' houses, etc. I also wore my Vans for various hikes and to climb outdoors and day to day around town. One of my jobs is to route set in a climbing gym, meaning that I design and put up boulders and rock climbs in a climbing gym for people to climb. I wore my Vans for work too since they are comfortable, easy to take on and off, and allow me to feel what is under my feet without putting on climbing shoes.  
Why Choose Vans
Wearing a Vans shoe can be as simple as a stylistic choice or a choice you make to support your hobbies or sport. Vans started in 1966 in a small storefront in California and sold 12 pairs on their first day in business, making the shoes on the spot when the customer ordered them. By 1977, the shoes were spotted in skate parks and on feet all over California and have only boomed in popularity since then with skaters and non-skaters alike.  
Vans are a durable shoe built for "Off the Wall" sports, and to this day, the silhouettes and brand mission have not changed. People choose Vans shoes because they are tried and true.  
Features To Look For In Vans Shoes
Fit – Many Vans shoes fit snugly because that's what skaters need. However, Vans is aware that the general public enjoys their shoes in different ways and offers less snugly fitting shoes. If you buy a skate-specific shoe, you should expect a tighter, snug fit. However, other models are more comfortable. 
Style – There are hundreds of different types of Vans shoes these days, so you should look for one that fits your needs, sports or otherwise. High-tops, low-tops to sandals, and everything in between, there's likely an option that fits your style available.  
Durability – Vans started as skate shoes, and if you haven't heard—skaters are hard on clothes, shoes, and gear as we make a lot of contact with concrete. Skate shoes have to be durable, or skaters would never wear them. If you are concerned, Vans makes several models of skate shoes with extra durability and reinforced wear points.  
Design – Vans started as a skate shoe company, but they now have surf shoes, BMX shoes, shoes for the general public, sandals, and even apparel. When looking at the designs for a shoe, consider your personal needs. Do you need solid grip? Do you need something comfy for all-day wear or a durable shoe for work? Once you've answered these questions and determined your needs, you can look at the various designs to decide which suits you best.  
Material – Vans predominantly works with canvas, leather, suede, and denim but other materials exist as well. You should consider the use of your shoe, the area you live in, and what lengths you are willing to go to clean your shoes, if any, then consider which material fits you best. Leather provides durability and warmth but lacks breathability. Suede is beautiful and luxurious but hard to clean. Canvas is my go-to. It can be heavy but is flexible, breaks in easily, and is more breathable than suede and leather.  
How To Clean Vans Shoes
Suede – Suede is historically difficult to clean. We recommend a suede cleaning brush to maintain the integrity of the fabric. Stain erasers are also handy for truly set-in stains, and you can apply a suede protectant spray once completed. Vans recommends a cleaning solution of white vinegar and water for dark stains.  
Leather – To clean leather shoes, you want to brush off dirt and debris with a shoe brush, then clean them with Nikwax shoe cleaning gel and a brush. You should then leave your shoes to dry for 24 hours. If you want a deeper clean, you can apply a waterproofing product to the shoe before drying.  
Canvas – To quickly clean canvas shoes, you will want to brush off dirt and grime, then clean your shoes with warm soapy water and a toothbrush. Then, you'll use a damp cloth to wipe them down and leave them to dry. For a deeper clean, you can visit the Vans shoe care guide here: Vans.com
Vans Vs. Converse
I love a solid Vans slip-on and a stylish Converse high top. Neither brand is bad, nor is either better than the other. They are simply different. Vans are, or at least started as, a skateboard shoe. They are made to be durable for skating. Converse started as a basketball sneaker with the classic high top. Both make for great shoes for everyday wear. However, Vans has a thicker upper, which means more support but they are not as breathable. The soles of Vans are also thicker and stickier, giving them better grip, but they won't slide like Converse will when you need them to.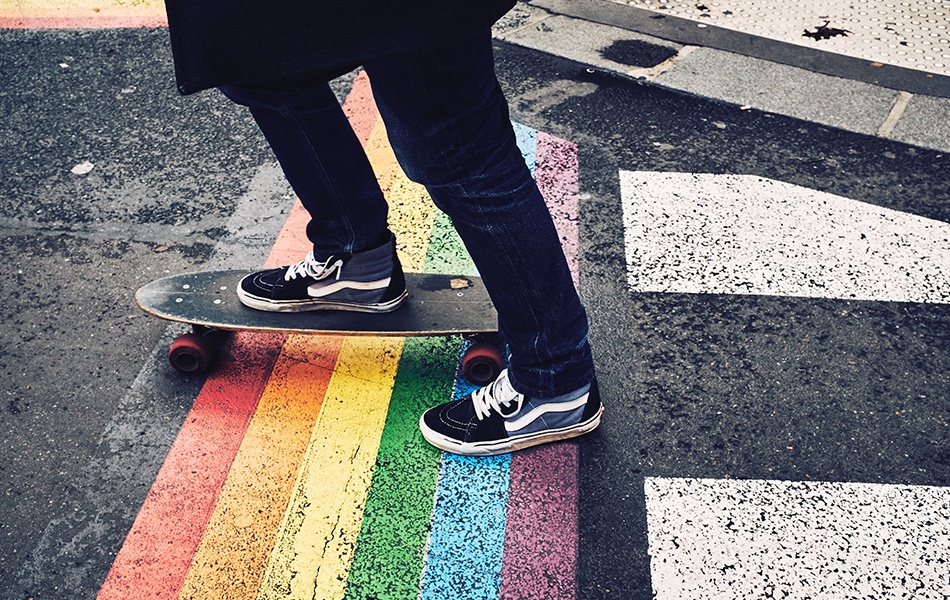 Vans Shoe FAQ
Q: Do Vans shoes provide support?
A: Some Vans shoes, like the pro skate line, provide arch support, but most Vans shoes do not have arch support. If you need arch support, these may not be the best shoe for you. I have flat feet and have found Vans comfortable for long periods, but for difficult, long hikes, I'd likely opt for a more supportive shoe. For day-to-day wear, I love Vans, but if you need proper arch support, you may want to opt for another shoe.
Q: Are Vans shoes comfortable?
A: Yes, at least I'd say so. Vans break in quickly, usually with one to two years, and are a comfortable and durable shoe. I've worn them for twelve-hour workdays on my feet the whole time, for longboard rides and approaches to climbing areas without hotspots or blisters. Most Vans shoes (aside from the pro skate line) do not provide much arch support so if arch support is a must for you, choose your shoe carefully. 
Q: Are Vans shoes good quality?
A: Yes, Vans has a long reputation for durability in their shoes, especially for skating since skating is hard on clothing, gear, and shoes given the amount of falling involved. 
Q: Are Vans shoes unisex?
A: Vans offers both men's and women's styles. However, both shoes can be worn by any gender as a unisex shoe. You may have to size up or down depending on what kind of shoe you usually wear.  
Q: Are Vans shoes slip-resistant?
A: Yes, many Vans shoe models are slip-resistant or non-slip. The rubber outsoles are sticky and provide grip even on wet and greasy surfaces. The tread patterns on the outsole also provide additional friction and slip resistance.  
Sources:
Skate Shoe - Wikipedia
How To Clean Suede Shoes So They Look Like New In Just 6 Easy Steps - One Good Thing By Jillee
Diy: How To Clean Vans Shoes - Vans
Sign Up Now
GET THE VERY BEST OF GEARHUNGRY STRAIGHT TO YOUR INBOX