DeMarini Voodoo Rebirth Backpack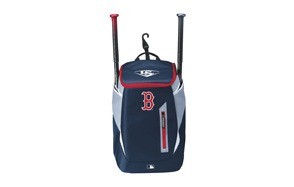 Louisville Slugger Genuine MLB Stick Pack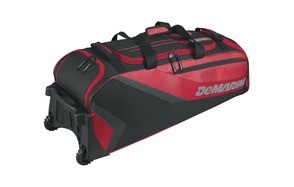 DeMarini Grind Wheeled Bag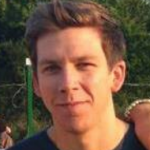 Baseball is one of those games that almost everyone can relate to in one way or another. It's fun to watch and even more fun to play. Best of all, you don't even need any real level of talent to go out there and enjoy yourself. All you need is a baseball bat and ball, a couple of gloves, an open field and a group of friends. A sunny day also helps and you've got a recipe for a fun afternoon away from the confines of work or home.
It also helps to have a neat baseball equipment bag to take all your gear with you. Whether you are a pro player, an amateur or just a recreational player, having everything neatly packed in a bag will make this iconic game simpler and more fun. The best baseball equipment bags will hold everything you need and make game day a fun day. Check out this great selection of baseball equipment bags.
The Best Baseball Equipment Bag
Baseball Equipment Bag Buying Guide
Features To Look For In A Baseball Equipment Bag
Storage –Different types of baseball equipment bags have been designed for specific gear. A field player needs to store a glove, cleats, helmet and bats whereas a catcher will need additional storage space as the catcher's helmet also has the protective face. Then there are other items that need to go in a baseball gear bag such as a change of clothes, a water bottle and personal items such as phones, wallets and keys. Consider everything you need to carry with you when you play baseball and choose a baseball equipment bag that is spacious enough to hold all of your essential gear.
Pockets- While a spacious compartment in a baseball equipment bag is essential for storing all of your gear, stuffing everything into one central compartment can end up being a time-consuming endeavor when it's time to take gear out. Digging around is not only a time waster, it's also the fastest way to leave an even bigger mess inside your bag. When it's time to get out into the ballpark, you'll be keeping everyone waiting while you search for that one little thing in your bag. Multiple storage pockets give you the option of compartmentalizing your gear so that it is all neatly organized for easy access. One of the most important compartments is the one for your cleats. Shoes get hot, sweaty and smelly so having a separate compartment or pocket for cleats will keep these stench and dirt away from the rest of your gear. Once you assign each item to a specific pocket and make a habit of keeping that item in its designated spot, you'll be able to subconsciously and automatically reach for that item when you need it.
Materials – Baseball players are notorious for being rough with their equipment and baseball equipment bags often bear the brunt of mistreatment. Bags made of flimsy materials just won't cut it so make sure the manufacturers used top quality materials that are tough and durable. Heavy duty nylons, polyesters and rip-stop fabrics feature prominently in the production of baseball gear bags for a number of reasons. Firstly, they won't tear so easily and secondly, many of these materials are also water resistant which is crucial in protecting your gear when an unexpected downpour occurs. Athletes also have a tendency to overstuff their equipment bags and this is where the real quality of materials is most obvious. The last thing a baseball player wants on game day is to have the material of his bag rip from being over loaded.
Size – Baseball equipment bags come in all shapes and sizes. There are compact ones that can be carried like a backpack and there are longer ones that can comfortable enclose everything, including your bats. The longer bags often come with telescopic handles and wheels for easy transport. The final decision when it comes to size, is to consider how much equipment you usually carry. If you like to double up on gear so you've always got spare bats, gloves and cleats on hand, then a larger sized bag is a must.
Lockable Zippers – The sad fact is, everything we leave unattended can be susceptible to sticky fingers. You may consider your team mates to be brothers and trustworthy, but you never know when someone will see an unattended bag and go rifling through the contents. When you step out onto the diamond, you don't want to be worrying about your valuables being stolen or your private items being displayed our touched. Lockable zippers give you the option of keeping everything safe and away from sticky fingers or prying eyes. You may also want to consider lockable zippers for when you travel. Some bags have lockable zippers built in; others can be locked with a small padlock after two pull tabs are brought together. Either way, you can never to be safe and secure.
Types Of Baseball Equipment Bags
Backpack – There's no denying to convenience of a backpack for taking baseball gear from game to game. They're easy to carry and are often compact with lots of compartments. Many backpack baseball equipment bags also have bat straps on the sides so you can also carry bats and water bottles with you.
Bat Bag – If your superpower in baseball is batting then you want to have a few different bats in your bag. This means a bat bag is a better option for you. A bat bag is longer, slimline and more specific for carrying 2 or more bats. They usually feature a bag strap that makes it easy to carry your bag on game day.
Wheeled Bag – For players who like to take several bats, gloves and other equipment a larger bag is needed. This can result in a cumbersome baseball equipment bag that is also heavy to carry. We've all seen suitcases with telescopic handles with wheels and many sporting goods manufactures have also used this principle in developing baseball gear bags to make carrying large, heavy equipment from the carpark to the diamond.
Catchers' Bag – Most baseball players have the same equipment and that makes choosing a baseball equipment bag relatively easy. Catchers, on the other hand, need a little extra storage space to accommodate their helmet and mask. Catchers can just get a larger bag to make room for a couple of bats, gloves, helmets and their masks or they can get a baseball equipment bag that has been especially designed with a designated compartment for the mask.
Whatever type of baseball equipment bag you choose can transform you from a recreational player into a serious one. Best of all, once you get used to carrying all of your gear in your bag, you'll streamline the routine of getting ready for your game, to the point where you'll do everything automatically and look cool and confident as you do.
Batter Up !!