Best Digital-to-Analog Converters In 2022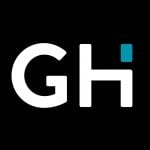 This product guide was written by GearHungry Staff
Last Updated
August 19, 2020
GearHungry Staff
GearHungry Staff posts are a compilation of work by various members of our editorial team. We update old articles regularly to provide you the most current information. You can learn more about our staff
here
.
GearHungry may earn a small commission from affiliate links in this article.
Learn more
A digital-to-analog converter, also known as a D-to-A or DAC, is a tech system that converts data in its digital form to an analog signal. While signals in digital format have useful applications, for that precise, high-quality sound delivery, the digital data needs to be converted to analog.
For music producers and disk jockeys, this is important because an excellent digital-to-analog converter makes for a better listening experience. So, you need to get the right product for tailor-fit needs to get the desired sound output. We have carefully researched and come up with this list of the best digital-to-analog converters the market has to offer. Save yourself some sweat and let this list guide you to make the best decision.
The Best Digital-to-Analog Converter
Audioengine D1 24-Bit DAC Desktop Digital To Analogue Converter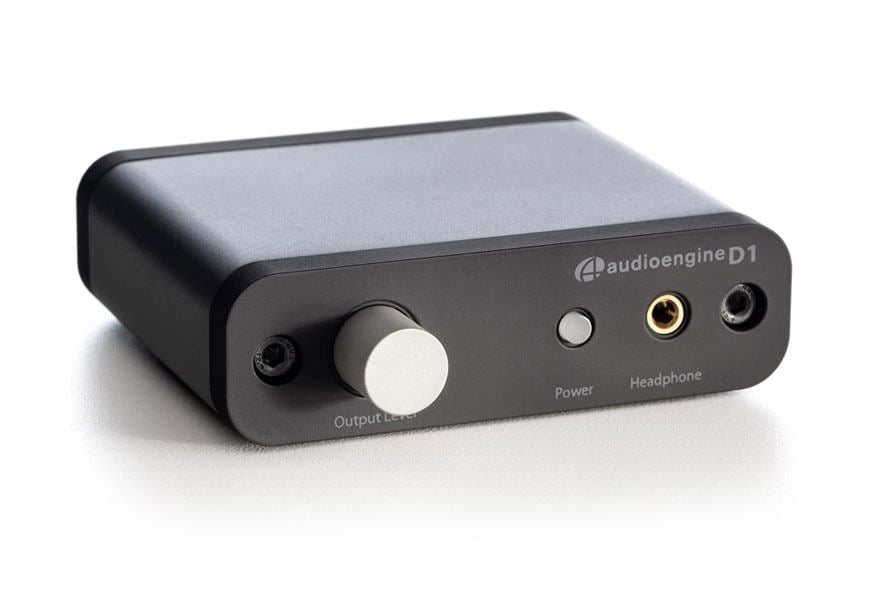 When people talk about compact, this is it. The D1 24-Bit DAC, Desktop Digital To Analogue Converter circumvents the sound card of your plugged-in computer and directs audio signal through USB or Toslink/optical input. This converter processes sound up to an input bit depth of 24-bit, and also offers an input sample rate of 192 kHz. It comes equipped with a high signal-to-noise ratio, and low distortion, so impressive sound quality is guaranteed.
Take advantage of the high-performance headphone output, which is compatible with a wide range of headphones operating at different impedance. It also works well with TV, Blu-ray and DVD players, and other portable audio devices. What's more, as compact as it is, the D1 still offers more than one digital audio input, i.e., USB and optical S/PDIF. This flexibility and versatility make it possible to connect your computer and another portable device at once. A dual analog RCA cable output and a 3.5 mm jack for headphones are also available.
Additionally, the D1 digital-to-analog converter supports instant Mac or PC plug-and-play, so you don't have to worry about the initial software or driver installation that synchronizes device and computer. The best part is, it's all USB-powered; so, there's no separate external power supply needed, and you won't need to worry about direct or alternating current or voltage requirements. So, if you travel abroad, you are still good to go.
You'll also find it easy to set up thanks to a convenient instruction manual. Lastly, Audioengine also threw in a travel bag for ease of carrying. If you are looking for simplicity and high performance under $200, then look no further.
Key Features:
Easy plug-in and play for both Mac & PC
Easily powered via USB
Headphone jack for private entertainment
Compact size
Specification:
Brand

Audioengine

Model

D1

Weight

1.1 Pounds
High-Quality 24-Bit 192 kHz Audio
No external power needs aside USB
Mac & PC compatible
Volume control devoid of meter indicator
Not for high demand application
No remote
eSynic 192kHz Digital To Analog Converter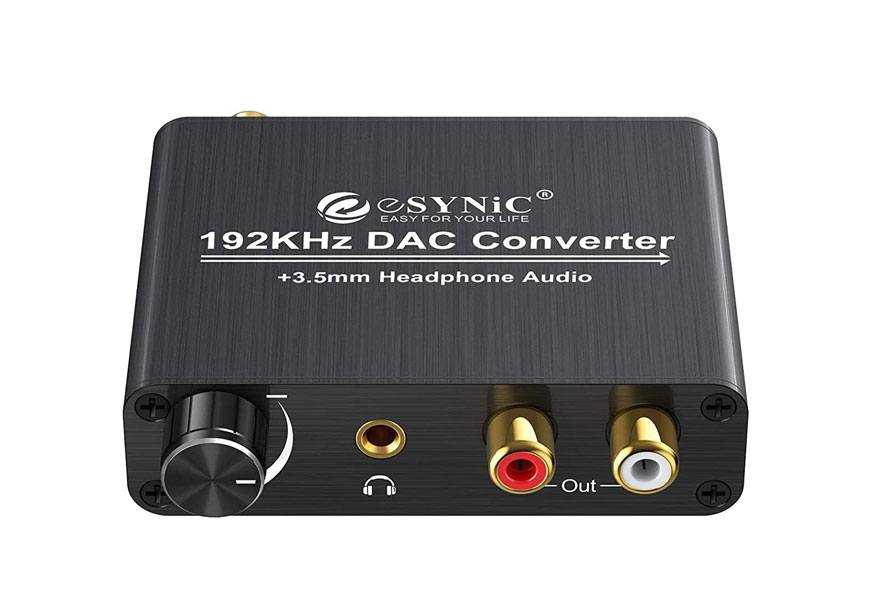 At a giveaway price of $25.99, turn up your listening experience while you use your LCD TV, Blu-ray, CD player, tv box, or video game console. This portable eSynic 192kHz Digital to Analog Converter will conveniently transform your digital source Coaxial/Toslink/Optical input to RCA analog audio output, and it does this by connecting to an external amplifier via a  3.5 mm headphone jack. The aluminum chassis design keeps it lightweight and protected. The gold-plated surface prevents interference from external sources, guaranteeing pure, crisp, quality sound your TV and other electronic devices can't ordinarily deliver.
This compact DAC delivers sound a bit depth of 24 bits and a sampling rate of 32~192 kHz. Add a signal-to-noise ratio of 105 decibels, and you have impressive sound quality worth bragging about to your friends. There's no need for driver installation – plug-in and enjoy.
eSynic added an easy-to-follow manual if you require some guidance for optimum user experience. It comes with a Toslink/Optical Cable and a power adapter supplying 5V/1A rated power for effective function. It's not the kind of DAV you would use for your studio, but it'll sure do the job for living room application. You'll also appreciate it if you are a DJ at small-capacity indoor parties
Key Features:
High-quality 24bits sound
Aluminum chassis design
Gold plated
Both optical & coaxial input
Specification:
Brand

eSynic

Model

zESY070-CA

Weight

6.4 Ounces
No separate drivers installation needed
Affordable
Versatile: compatible with many digital source device such as game console, LCD andLED TV, cable tv box
No USB  connect
No remote
No wireless connectivity
Avantree DAC Digital To Analogue Converter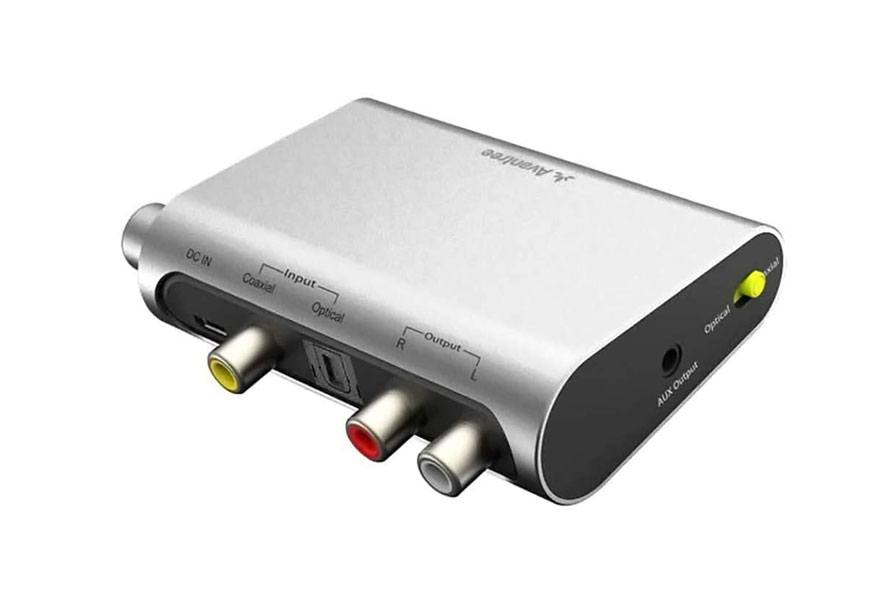 Here's yet another powerful digital-to-analog audio converter that processes coaxial or optical Toslink audio signals in its digital form and converts them to analog for your listening pleasure. This portable Avantree Digital to Analog Audio Converter features two separate audio inputs for flexible usage with devices compatible with either coaxial or optical input. The output is an RCA outlet and an auxiliary port for connections to wired headphones for private entertainment. Here's the thing – you might want to stick to headphones with impedance below 32 ohms.
Furthermore, a convenient switch is available to select between optical and coaxial functions. Unlike some digital-to-analog converters, Avantree made this one with a volume control knob that has an indicator meter. It's quite versatile and supports a whole range of digital devices, from video game consoles to HD DVD Home Cinema Systems, smart TV, and LCD television. It processes audio sounds to a depth bit of 24 bits and 192 kHz sampling rate. While it doesn't have capabilities to amplify audio signals, it does deliver impressive, quality audio sound. There's a 12-month warranty on the product.
Key Features:
Coaxial & Optical input
Bit depth of 24bits for quality output sound
Volume control knob for easy adjustment
The volume control knob has a meter indicator
Specification:
Brand

Avantree

Model

OTHR-DAC02-SLR

Weight

2.88 Ounces
Easy switch bottom between coaxial and functions
Auxiliary/headphone jack available
Good signal to noise ratio
Not compatible with headphones operating above 32 ohms impedance
No wireless connectivity
No USB input or HDMI output
Musou Digital Optical Coax To Analog Converter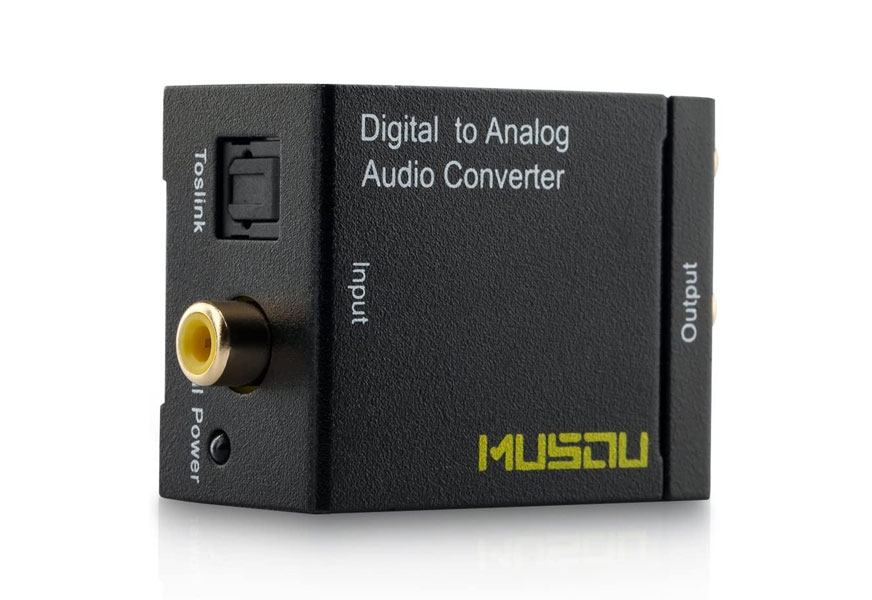 It gets even better in terms of compactness, portability, and price with the Musou Digital To Analog Converter. At a dimension of 5 x 4 x 1 inches and 2.72 ounces, portability just got redefined. And although some features present in more expensive digital-analog converters are absent here, this DAC from Musou is still capable of converting both coaxial or Toslink digital audio signals to analog audio. This audio is receivable with an external device such as an amplifier via standard RCA-style jacks.
A speaker or a compatible headphone will do just fine but stay away from the standard 3 mm headphone. It's also worth noting that because it doesn't come with a switch between coaxial and Toslink when connected to both cables all at once, it will automatically give functional preference to the digital device connected to Toslink input. It runs efficiently and effectively using a 5V direct current supply and is quite versatile and can convert sound from cable tv box, gaming console, DVD/ CD player, and music sound system. At $12.99, it's quite a lot of value, and there's a one-year warranty.
Key Features:
Multiple audio inputs for devices compatible with coaxial & Toslink sound inputs
Noise-free transmission
A sampling rate of 32~96KHz
Process 24bits sound
Specification:
Brand

Musou

Model

dd3

Weight

2.72 Ounces
Portable
Easy to install
Multiple device compatibility
No support for Dolby digital sound input
No USB input
No wireless connectivity
Signstek HiFi Digital To Analogue Converter
This next product is the Signstek HiFi Digital to Analogue Converter. It has a USB input in addition to coaxial, digital fiber output, and a light indicator to show the device is in use. You can turn up your computer and other portable device sound outputs by connecting this hi-fi tech via USB cable and creating a high-quality S/PDIF digital audio output signal. It also comes with a headphone jack that some higher-end digital-to-analog converters don't have. There's no need to worry about the power requirements for this device; it's USB powered, so plug it straight into your computer.
Wired connectivity with PC or Mac is seamless and requires no additional installation of drivers to synchronize with computer software. Just plug in and enjoy the output sound quality you deserve. Signstek audio converter works well with older versions of Windows.
For more must-have tech products, check out our choice of the top noise-canceling headphones.
Key Features:
All USB powered
Multi digital audio source compatible
3.5mm stereo output for ease of connection to speakers
LED indicator light
Specification:
Brand

Signstek

Weight

6.7 Ounces
USB output available
Windows & Mac compatible
No additional drivers needed for computer usage
No wireless connectivity
No power off /on button
Plastic chassis, prone to heat degradation
Wiistar Digital To Analog Audio Decoder Converter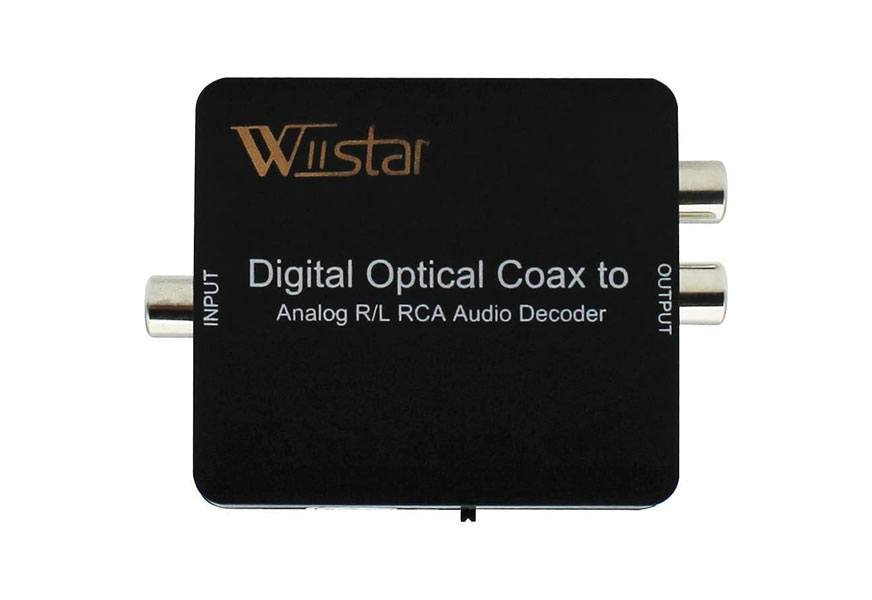 Unlike other DACs that don't process quality digital Dolby sound, the Wiistar Digital to Analog Converter does all that while being one of the most portable options out there. So, if you've got an LCD with Dolby digital surround sound, this is a must-have to experience higher quality sounds from that device.
It also supports PCM, digital audio input from devices with Toslink (Optical SPDIF), or Coaxial. And while it has a switch for you to select between either Toslink or coaxial function, output analog audio sound can be received with audio speakers using either the RCA output or 3.5 mm headphone output simultaneously.  Altogether, it's a small portable tech gadget with dimensions of only 5.9 x 4.2 x 2.4 inches.
Key Features:
Can process Dolby and PCM sound
3.5 mm headphone output for private entertainment
Supper Toslink and amp; Coaxial type of device
Specification:
Brand

Wiistar

Model

8541740541

Weight

6.4 Ounces
Can connect to a wide range of devices
Portable
Easy to connect
No wireless connectivity
No power off /on button
No USB
ROOFULL Optical-to-Coaxial Or Coax-to-Optical Digital Audio Converter
Roofull got creative with the production of this digital-audio converter offering bidirectional connectivity to produce more quality sound. As a result, the Roofull Optical-to-Coaxial or Coax-to-Optical Digital Audio Converter allows you to convert Optical to/from digital Coaxial. Using the input selection switch incorporated in the overall design, you can quickly select either coaxial input or SPDIF (Optical/Toslink) without pulling out the connected digital cables. It is also capable of processing LPCM and DTS/DOLBY, producing noise-free transmission at 24 bits, and a sampling rate of 192 kHz.
Power up your digital converter with the 5V/1A power adapter and plug-in easily into computers and tablets with no need for the reinstallation of drivers. Its wide range of device applicability cuts across Blu-ray Disc Player, cable TV receiver, Xbox 360, portable DVD player, Amplifier, Sound Speakers, and all devices with digital audio out port. Roofull is offering a five-year warranty on this device.
Key Features:
Bidirectional connectivity offering more range of digital sound conversion
Produces sound at a bit depth of 24bits and 192 kHz sampling rate
Switch button
Specification:
Brand

ROOFULL

Model

RF2017039

Weight

3.52 Ounces
Plug-in and play, no need for installation of drivers
Direct current powered
Noise-free transmission
Limitation in transmission rate hence no support for  DTS-HD and Dolby-TrueHD
No USB input
No wireless connectivity to smartphones and tablets
Easycel Audio Digital To Analog Converter
This device is yet another pocket-friendly digital-analog converter. Less than $13, it's not the best DAC around, but it can deliver quality sound, and considering its price, this is a win. The Easycel Digital to Analog Audio Converter offers the smooth conversion of digital PCM audio signals, Toslink or coaxial, to 3.5 mm jack audio and analog L/R RCA. However, it doesn't perform the function of an amplifier or preamplifier, so you can go ahead and connect an external amplifier via the RCA jacks or a headphone via the 3.5 mm headphone output jack.
Although this DAC may not be compatible with Dolby Digital or DTS sound, it can process PCM and LPCM. It operates at the sampling rate of  96 kHz, not the highest in the market; however, the sound quality in this range is quite impressive. As a consolation, it processes sound input to a bit depth of 24 bits. Its portability makes it easy to install and operate. Compatible devices include PS3, PS4, Xbox, Blu-ray Player, HD DVD, Home Cinema Systems, and more. That's a whole lot of flexibility for $12.99.
For more amazing devices like this, check out our list of the best USB hubs available right now.
Key Features:
It has a 3.5mm audio jack
96KHz sampling rate sound processing
Metal chassis
Process sound at a bit depth of 24bits
Specification:
Brand

Easycel

Weight

3.52 Ounces
Easy to install
Portable
Cheap
No extra connecting input ports like USB
No wireless Bluetooth connectivity
May have compatibility with Dolby Digital or DTS sound
Sign Up Now
GET THE VERY BEST OF GEARHUNGRY STRAIGHT TO YOUR INBOX