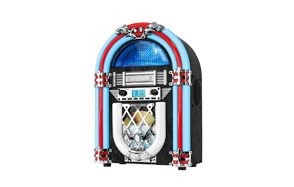 Victrola Retro Desktop Jukebox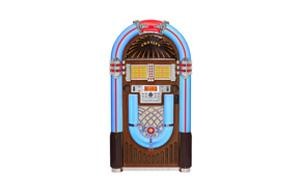 Crosley Full Size iJuke Bluetooth Jukebox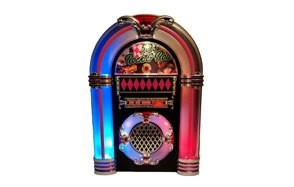 Rock N Roll 50's Musical Jukebox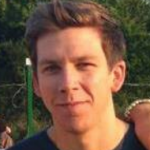 There was a time when music wasn't so easy to listen to. If you were lucky enough to own a record player, you'd have to listen to a whole album, then take it off and put the next one on. But then the jukebox was invented. Instead of listening to the whole album, people could pick their favorite songs and the jukebox would mechanically change the record. Jukeboxes were huge in the 50s, but since then the way we listen to music has changed dramatically.
Nowadays, vintage jukeboxes sell for thousands of dollars. But fortunately, there's a cheaper way to get a taste of the retro vibe. In this article, we've selected our favorite modern jukeboxes. They come in countertop or full-sized versions and offer all sorts of different music playing options like CDs, AM/FM radio, Bluetooth, and more. Also, at the bottom of the article, we've provided a Buying Guide and FAQ section to answer any jukebox-related questions. Here are the best jukeboxes we could find.
The Best Jukebox
Jukebox Buying Guide & FAQ
How We Chose Our Selection Of The Best Jukeboxes
Price – Jukeboxes are one of those items that can cost anything. You can pick a great countertop jukebox for under $100 or you can spend thousands. With the more expensive models, you're often paying for the size and the sound quality above everything else. Most of the jukeboxes on our list are towards the cheaper of the scale, but we have included a couple of premium jukeboxes. For the cheapest product, check out the Best Value and; for the most expensive, check out the Premium Product.
Brand – There are many famous, vintage brands associated with jukeboxes. On this list, we've selected a few newer brands that are making jukeboxes now. We've done some background research into the brands to make sure they're reputable.
Reviews – If you're looking for an honest opinion about a product, you've got to check out the customer reviews. It's impossible to really know about a product until you get it home and use it for a few weeks. That's why reviews are such a good resource for us.

Features To Look For In Jukeboxes
Size – Jukeboxes come in lots of different sizes. The main two are countertop and full-sizes. Countertop jukeboxes are designed to sit on top of a counter and act as a more stylish alternative to a CD player or radio. Full-sized jukeboxes are the classic size that you used to see in bars and diners – they take up a lot more space, but they're a great talking point in the home.
Sound quality – All jukeboxes have built-in speakers to play your music. The bigger the jukebox and the more money you're willing to spend, the better the sound quality you can expect.
Capacity – The capacity relates to how many tracks you can store in the jukebox. Traditionally, this would mean how many LPs you could stack in the jukebox, but now they are programmable. Most of the jukeboxes on this list don't have any capacity. Instead, you have to play your music using an external music device.
Vintage or modern – This is a big decision for people buying jukeboxes. If you want a vintage jukebox, you are going to have to spend a lot more money. That's why we've focused on modern jukeboxes for our list. They are much more useful in day-to-day life because they're able to play CDs, MP3s, and radio as well.

Types Of Jukeboxes
Digital jukeboxes – Digital jukeboxes are able to play digital forms of music like MP3s. They normally do this using Bluetooth so you can connect your smartphone or other devices.
CD jukeboxes – CD jukeboxes, as you might have guessed, play CDs. They don't sell as well these days, because more people are moving to digital music. But, if you've got stacks of CDs at home, they are a fun way to make use of them.
Vinyl-playing jukeboxes – This is where jukeboxes started out. Back in the day, when there was no automatic way to change music, the jukebox was invented. This meant that people could choose songs and hear them play, without having to listen to the whole album.

Jukebox FAQ
Q: Can I listen to the radio on my jukebox?
A: On some jukeboxes, you can. If you're looking for a jukebox that has a radio built in, check out the Key Features section of each product. We'll state clearly whether it has a built-in radio.
Q: Why should I buy a jukebox?
A: It's a great way to play music in the home. Not only do they sound great and make playing music easy, but they also look amazing in your home.
Q: Will my jukebox come with a remote control?
A: Most modern jukeboxes come with a remote control. Again, we'll mention this in the Key Features section.