Best Blu-ray Players in 2022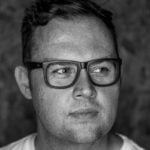 This product guide was written by Chris Worden
Last Updated
October 16, 2020
Chris Worden
Born and raised in Idaho, Chris's sensibilities are a small town, while his life experiences are anything but. He's had the chance to travel the globe with a camera in hand documenting action sports and cultural movements for over 15 years. His love of motorcycles, photography, adventure, and the outdoors has lent itself to a career telling stories and he wouldn't trade that for anything. Chris now resides in a small ski town in central Idaho and when he's not grinding away at his day job, he's feverishly penning articles at night about the products and playgrounds he loves.
GearHungry may earn a small commission from affiliate links in this article.
Learn more
It's hard to conceive of the need for a DVD or Blu-ray player in an age of streaming services. There's so much content at your fingertips with something like an Apple TV and a Netflix subscription. But there's just something about the additional content available on Blu-ray discs, the nostalgia of dropping one into the player, and the incredible definition and sound quality they deliver.
If you're already a cinephile and have a library of Blu-ray discs in your den, we don't need to convert you. But if you're someone who streams most of your content, we're here to tell you that a step back in time can deliver an amazing experience. So, here's a list of some of the best Blu-ray players around. Let's jump in.
The Best Blu-ray Player
Sony Home Theater Blu-Ray Player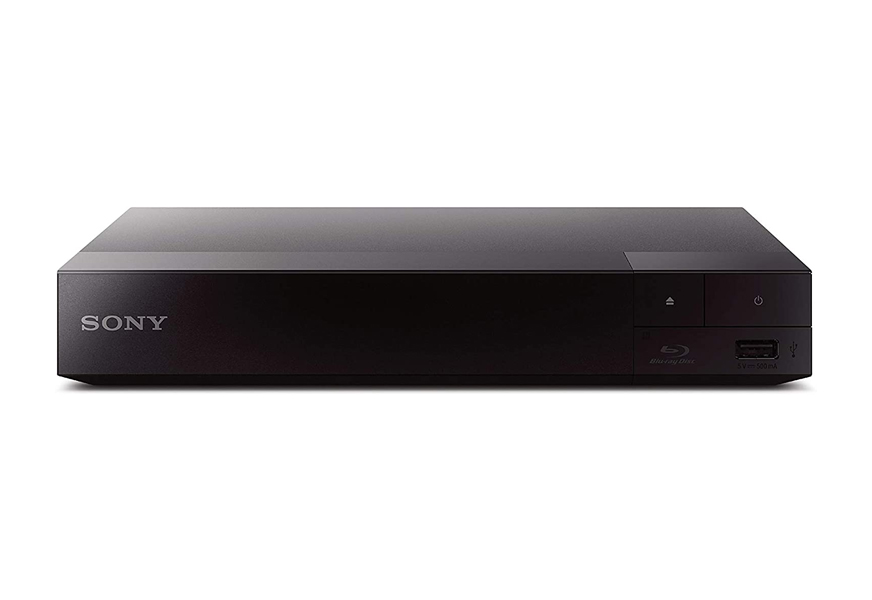 This Sony Home Theater Blu-Ray Player player offers some serious horsepower. Your apps are already integrated into the device, so no need to have multiple devices. But focus in on the player's details, and you're going to see a very well-honed 1080p machine that can produce great images and sound.
For under a hundred bucks, you're packing in a lot of technology here. The system is WiFi compatible, so you can easily connect without that ugly firewire cable. The interface is easy to configure, and the discs load incredibly fast (disc loading can be a drag on slower machines). Beyond the basics, this Blu-ray player offers the ability to play PS3 video games (game controller sold separately) for a small monthly fee, so you've got a gaming machine built-in. Win-win.
Key Features:
Built-in Wi-Fi for connectivity
Full Dolby sound
App compatible (YouTube, Netflix, Etc)
Super-fast startup
Specification:
Brand

Sony

Weight

2.54 Pounds
NeeGo 3D Streaming Blu-Ray Player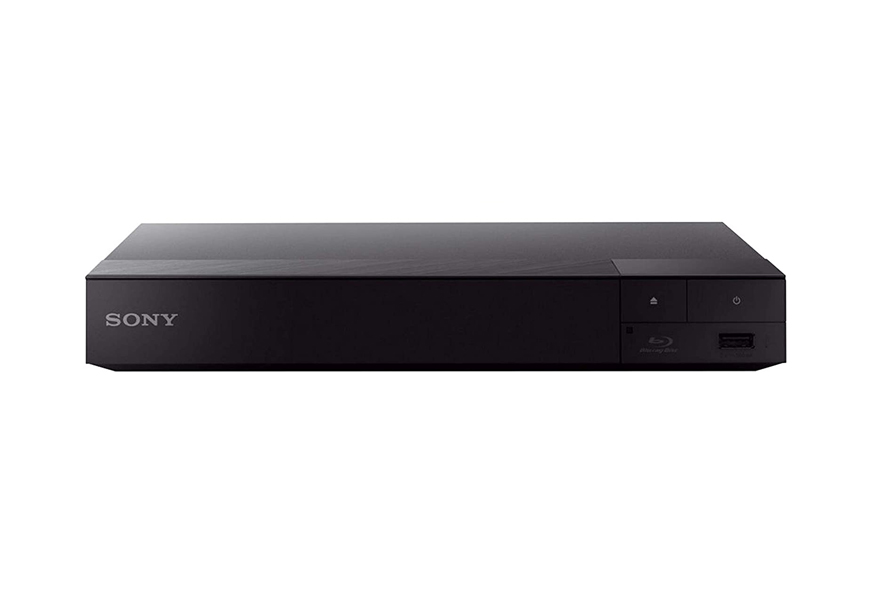 Looks can be deceiving, and with the NeeGo 3D Streaming Blu-Ray Player you can be certain that this book promises more than its cover leads on. Many reviews online point to this device as having superb picture quality. It's especially good at upscaling all those old school SD DVDs lying around.
While the design might leave some room for improvement, the fact that the Sony BDP-S6700 supports multi-room streaming (cause WiFi) is something that anyone with multiple smart TVs should be excited about.
Key Features:
Capable of upscaling lower resolutions
Large number of input and output ports
App compatible (YouTube, Netflix, Etc.)
Can play discs from all regions
Intuitive remote design
Specification:
Brand

NEEGO

Weight

3.34 Pounds
LG Blu-Ray Player With Dolby Vision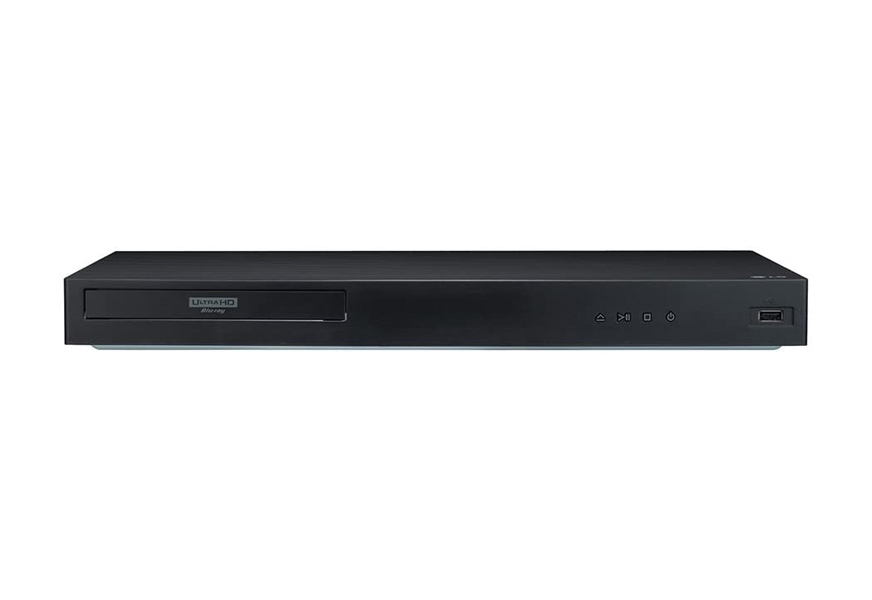 If you're looking for a simply designed HD Blu-ray player, the LG Blu-Ray Player With Dolby Vision is definitely one worth considering. The chassis is a mix of metal and plastic – like most – and the facade doesn't tell a very compelling tale. All the good stuff is inside, of course. The disc deck itself is 4K compatible, which means if you have some of those slightly fancier 4K Blu-ray discs floating around, this thing can handle the resolution upgrade.
Where this player really stands out is in upscaling and clarity. Taking your old DVDs and modernizing them is a thing of beauty, both in the ability to render a crisper and large-format picture and the smoothness of the shot transitions. Additionally, the UBK90 has Dolby Vision built into the system, which brings a brightness to brights and an inky blackness to the darks that you have to see to believe. If you want a more lightweight option, check out our selection of the best portable DVD players.
Key Features:
4K Resolution for cinematic effect
Supports high-resolution audio (HDMI)
DVD compatible
Clean, minimalist design
Specification:
Brand

LG

Model

UBK90

Weight

3.6 Pounds
We've included a few refurbished options in this list, and for a good reason. Amazon offers an extended warranty on these models, and oftentimes they have never been used. The Sanyo Blu-Ray Player is a middle-of-the-road option for consumers who want the basic tech of a Blu-ray without all the frills of the higher-end systems.
This model is DVD compatible, but it won't upscale your old discs. It will just play them in standard definition. It does offer a parental lock feature, which means if you're concerned with your kiddos popping something in the player, they shouldn't, they can't. The sizing of the device is also appealing. You won't have to find a huge amount of room in the entertainment center for this thing, sitting at just 1.3 inches tall — overall, great value for a solid performer. Our buying guide on best-selling Android TV boxes features some more products you might like, so make sure to check them out.
Key Features:
Refurbished model means it's a bargain
DVD compatible
Parental lock features for child safety
Low profile, doesn't take up much space
Specification:
Brand

SANYO

Model

FWBP505F

Weight

2.72 Pounds
Samsung Blu-Ray DVD Disc Player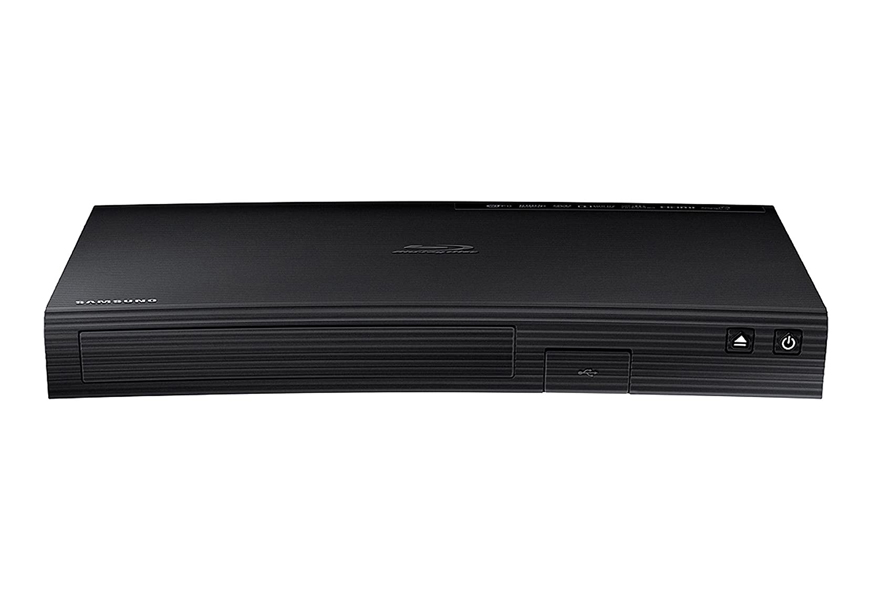 Pricey, yes. But the style and high function is worth it. The Samsung Blu-Ray DVD Disc Player can handle Blu-ray discs, DVDs, and even works as a CD player. Its built-in WiFi connectivity keeps the clutter under control, and the upscaling can bring your old DVDs back to high-resolution reality with ease.
But that's not why we love this model. Look at the form factor! Sleek and curved like the bow of a boat, the Samsung B01AQB looks good enough to put next to the rest of your high-end technology without wanting to hide it behind the family photos. Better yet, the looks are matched only by the addition of BD technology that allows you to connect to the Samsung system and view unique content that is otherwise not available to regular users. Bonus!
Key Features:
Built-in Wi-Fi for connectivity
USB Port for file sharing
Anynet+ networks all Samsung devices
Capable of upscaling lower resolutions
BD Live enabled
Specification:
Brand

Samsung

Model

Samsung Blu-ray Player built-in Wi-Fi

Weight

2.2 Pounds
iVid 3D Blu-Ray DVD Player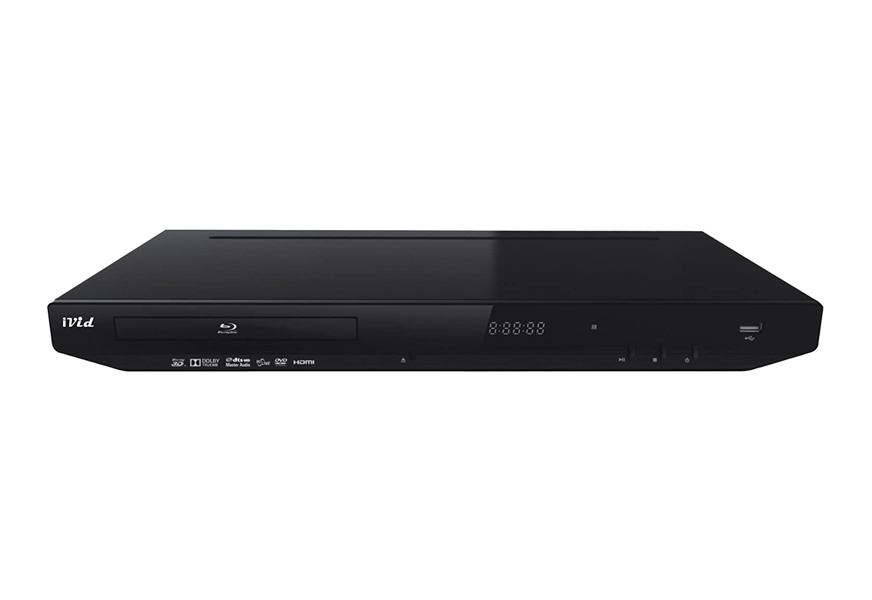 This futuristic-looking little cinema space station is ready to transport you into another world. The iVid 3D Blu-Ray DVD Player is capable of playing Blu-ray discs from all of the regions of the world, so no worries about those eBay disks you may have bought recently. With full 1080p playback and 3D capabilities, this thing can handle almost everything you throw at it unless it's something in 4K. The player also features a handy USB plug upfront and requires an ethernet connection outback for the internet. If you want only the best for your home theater, make sure to choose one of these innovative curved monitors from our list.
Key Features:
Can play discs from all regions
DVD Compatible
Capable of 3D playback
NTSC and PAL capable
Specification:
Brand

iVid

Model

BD780

Weight

4.4 Pounds
Sony Wired Blu-Ray Disc Player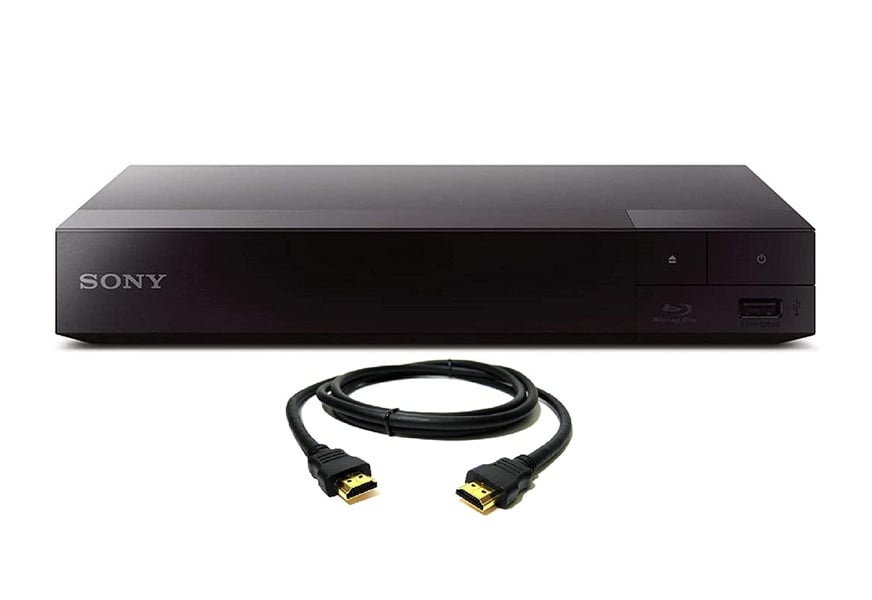 Sony is a name synonymous with quality in the technology space, and its Sony Wired Blu-Ray Disc Player is a bargain Blu-ray player. This is a refurbished model so be aware of that, but all that means is that it was returned, inspected, and any issues that it may have had have been fixed.
This model supports both DVDs and plays Blu-ray discs with a resolution up to 1080p and has the option to upscale old DVDs. It ships with an HDMI cord and many of the reviews claim the remote is designed intuitively and is easy to use. Our buying guide on touch screen monitors features some more modern devices for your home, so make sure to check them out.
Key Features:
Refurbished model means it's a bargain
USB Port for file sharing
Can play discs from all regions
Intuitive remote design
90-day warranty from Amazon
Specification:
Brand

Sony

Model

BD-PS1700

Weight

2.79 Pounds
Blu-Ray Player Buying Guide & FAQ
Features to Look for in Blu-ray Players
Analog audio out – Many cinephiles have invested in their audio system over the years, and occasionally the connections change. The most common connection for audio in modern systems is HDMI. However, a lot of the revolutionary and category-establishing home audio equipment was built when people were still using RCA cords. An analog out on a Blu-ray player allows the user to plug in their audio via RCA cables.
Often these systems offer this legacy connection alongside an HDMI.
HDMI audio out – HDMI audio is the modern connection for stereo systems. HDMI carries audio signals and video signals, so if you are using an HDMI for video, you won't necessarily have to plug in additional audio cables.
BD Live – This special connection allows Blu-ray devices to connect to and interact with special features such as internet chats, chats with directors, internet games, downloadable features, and quizzes. Downloadable trailers also allow the viewer to enhance their experience. While this may not be a novel concept for the Smart TV generation, this was a game-changer at the time of its release.
Remote control – Every Blu-ray device ships with a remote controller. This is your wireless connection to control what's happening on the machine. Many cinephiles opt for a higher-end universal remote that allows them to control everything with one handy handheld. But for most people, the small pile of remote controls stacked on the table is acceptable, if not occasionally confusing.
SD card slot – An SD card, or "Secure Digital" card, is a storage device, much like a thumb drive, external hard drive, or even a Blu-ray disc. These thumbnail-sized storage devices are most commonly used in cameras and audio recording equipment. In some cases, photographers like to load up pictures on their SD card, pop that thing into the SD Card Slot on their Blu-ray, and watch as their television comes to life with the images they took on their last vacation. This also allows people to review content on a screen much larger than their computer.
Additionally, if you wanted to load up some music files on an SD, you could easily make a playlist and pop it into the SD Card Slot on your player for some ambiance. This useful addition to any Blu-ray player can make a big difference in the device's utility and adds a layer of additional functionality.
USB ports – Like an SD Card Slot, the USB port is another option for loading up saved material. While both the USB connection and SD Slot can accommodate moving images content, the fidelity won't be the same as dropping a Blu-ray disc in the player, so don't make a buying decision based solely on the fact that you have a bunch of movies on a hard drive you can play through the USB slot.
WiFi – A WiFi-enabled Blu-ray player offers the user a number of worthwhile benefits. First, this piece of equipment will not need to be hard-wired into your internet system via an ethernet cable. Your internet router may not be anywhere near your player, so threading an ethernet cable around the house can be a real pain. Some WiFi-enabled players even allow phone-app-based interactions, eliminating the need for a remote.  More room for popcorn on your coffee table!
An internet connection for your Blu-ray player isn't necessary, but it does open up a whole host of options you may want. Not only can the device be updated to the most modern firmware, but your ability to download apps and stream content from popular services like Netflix should be a huge selling point. You get all the benefits and fun of a Blu-ray with the modern conveniences of app integration and easy upgrades.
Blu-ray Player FAQ
Q: What is a Blu-ray player?
A: Way back in 2006, the world of at-home movie viewing received two new compelling options. The Blu-ray player was one of those two – alongside the HD-DVD – and both delivered a huge bump in resolution and picture quality at that time. Now, if you can rewind your mental way-back machine a bit, you'll recall that the cinema world was entering a whole new level of fidelity at that point. Movies like March of the Penguins, Crash, The Chronicles of Narnia, and many other films with big potential for cinematic quality were at the top of the 78th Academy Awards list.
This was a transitionary phase in fidelity, and these two new formats really stole the show for those who cared about resolution, picture quality, and having the latest and greatest. A Blu-ray player in the home these days shows that you're either stuck in a decade's old technology loop, or you're actually interested in the fidelity of your picture and video experience. If you know, you know.
Q: Is it worth buying a 4k Blu-ray player?
A: It certainly can be! But that really depends on some important factors. First, the kind of media you consume will really play into the decision-making process. If you're more of a romcom and chill kind of person, and you don't care much for big action films, animation, and resolutions so extreme that the cast of 300 gets an extra set of abs, the Blu-ray setup isn't for you. However, if you appreciate a wide variety of films and want to make sure you get the best viewing possible, the Blu is for you.
Beyond just the fidelity, a Blu-ray player offers the film fanatic who may have bought and kept too many discs in their life as a way to upscale their lower resolution disks to a new experience. This unique feature of Blu-ray players can really give new life to older films stored on DVDs.
Q: Are Blu-ray players being phased out?
A: So long as there's a demand for a product, the market will deliver. So, your purchase of a new (or refurbished) Blu-ray is helping to keep the High-Fidelity Old-School Video Industrial Complex in motion just that much longer. Certain manufacturers have reduced the number of Blu-ray systems in their lineup to make production space for new devices, but we feel fairly confident that these systems will be around for quite some time. People are still making and buying record players, after all.
Q: Is there anything better than Blu-ray?
A: Sure. But we have to define "better" in this context. If by better, you're thinking more convenient, then yes, go ahead and download the Netflix app on your smart television and stream to your heart's content. But that will not deliver you the fidelity that a Blu-ray disc can bring. If by "better" you mean higher resolution, then yes, there's now a small segment of the market dedicated to Ultra HD Blu-ray films delivering higher frame rates and larger picture formats. However, that's still a small segment and will take years before films are actually shot and delivered at those resolutions. So, yes, in short, there are some better options, but we feel like a good Blu-ray player like you'd find on this list delivers the kind of fidelity that would make most cinephiles happy while also being able to upscale some of your old favorites. It's like buying a good record player and saving the coin by avoiding the ultra-lux HX record spinning device that doesn't deliver that much more in the way of quality.
Sign Up Now
GET THE VERY BEST OF GEARHUNGRY STRAIGHT TO YOUR INBOX